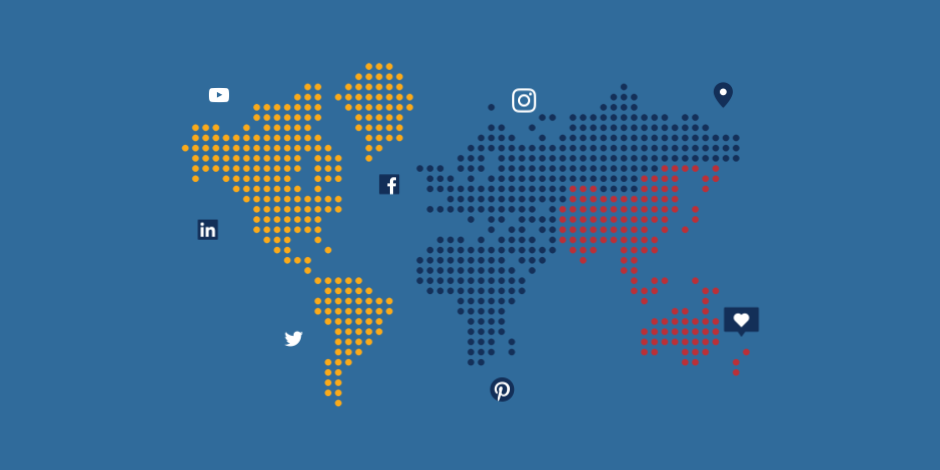 Social Media in Government: Benefits, Challenges, and How it's Used
Social media in government is a game changer.
After all, not many things have changed the way the public interacts with governments more than social media.
On social, people can engage in direct dialogue with politicians, civic officials, and even entire government agencies. It also gives them a chance to engage back.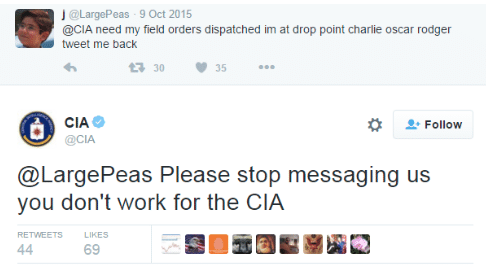 At Hootsuite, we've worked with local, state, and federal governments all over the world. We know the unique requirements for social communications at all levels of government.
We also know how important it is for governments not only to adapt to a rapidly advancing world but also to leverage the changes to their benefit.
That's why we want to break down the benefits of using social media in government—from building awareness to crisis communication. We'll also look at some of the challenges governments face on social media and offer solutions on how to mitigate risk.
Let's jump in.
Bonus: Download Hootsuite's annual report on government social media trends. Find out how leading government agencies are using social media, our top five recommended areas of opportunity, and more.
Key benefits of social media in government
Social media isn't just a good way to share memes and keep up with what's trending. It can also be a very powerful way for government organizations to interact with the public.
Below are five benefits of using social media in government.
Save money
Traditional public outreach is expensive.
In fact, federal agencies in the United States spend roughly $1.5 billion per year on public relations and advertising alone. And that's just a drop in the bucket compared to how much government agencies spend on answering questions and delivering services via call centers.
For example, the U.S. Social Security administration spends about $275 million per year on call centers to answer questions and solve issues.
Social media can dramatically cut those costs.
Instead of spending on advertising, government entities can now leverage more cost-efficient social platforms to raise awareness about issues the public needs to know about. After all, these are platforms their audience already uses.
Crisis communication
Social media has also transformed how government organizations communicate during an emergency.
Take for example the devastating California Camp wildfire that decimated more than 150,000 acres of land in November 2018. The inferno ultimately destroyed nearly 14,000 homes and became the most costly natural disaster of the entire year.
Due to extremely dry weather and shifting winds, the wildfire became a logistical nightmare for first responders and government officials who wanted to maintain public safety. Luckily, they could turn to social media in order to:
Promote evacuation protocols to help get the hundreds of thousands impacted by the fires to get to safety
Connect evacuated civilians with emergency relief resources
Provide up-to-date information to evacuated residents on the wildfire and the status of homes in the fire zone
The results ended up being extremely helpful in the dire times.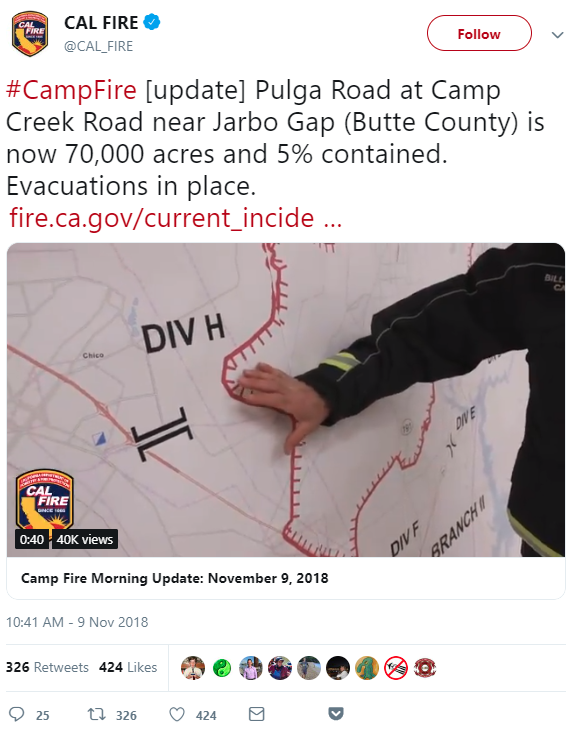 The California governor's office also used social media to directly provide aid resources for the state's citizens.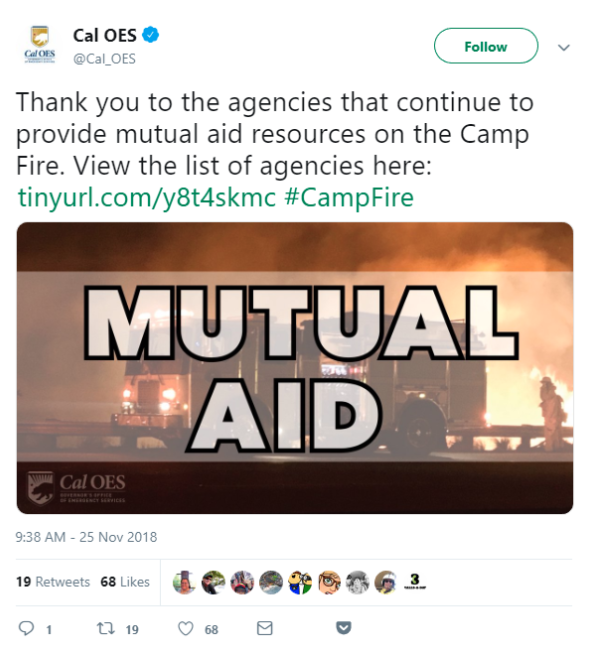 Citizen engagement
An engaged audience is a happy audience.
And when you keep the public engaged, you'll be able to keep them informed about the policy and issues that matter most to them.
This does double duty:
You build trust. Social media gives you an opportunity to be more transparent. And when you open yourself up, the public will trust you more (more on this below).
You humanize your brand. Too often people forget that there are actual people behind agencies and government offices. Social media gives you an opportunity to show audiences that hey, you're human too.
For example, take this video from the National Park Service's Instagram account. Even though it is merely 30 seconds long, the video was an engagement hit garnering more than 25,000 views.
And then there's the Nextdoor app, which local governments use to organize town halls, educate citizens on safety issues, and engage community groups. Check out our coomplete guide to using the Nextdoor neighborhood app for more tips on how to use it to connect with constituents.
Build public trust
According to a survey conducted by Open the Government, more than half of voters want to see more authenticity and transparency in their government.
And why wouldn't they? Just like a business, the ability to remain authentic and honest with your audience is crucial to building a good relationship with them. Social media provides a perfect avenue to remain transparent and clear with your constituents as possible.
One great example of this is Alexandria Ocasio-Cortez who leverages Instagram to give her followers a behind-the-curtain look at how Congress operates.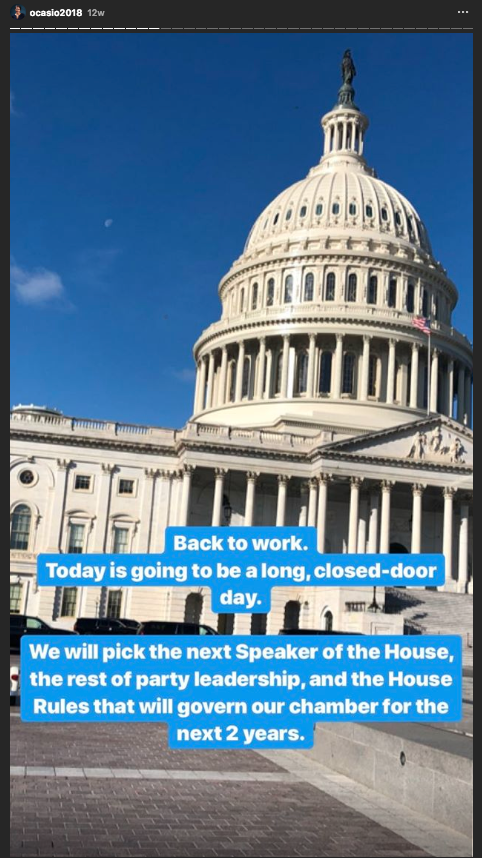 And the results are incredible. Not only does her social media engagement soar with each post, but it's making her appear more authentic to people across the world.
Call me a loser if you must — and LET'S TAKE POLITICS OUT OF THIS FOR A SECOND — but Ocasio-Cortez's Instagram is endearing and refreshingly earnest during new-member orientation week. (Seems she discovered the tunnels under Congress today?) pic.twitter.com/UgaCAMKS6d

— Dan Zak (@MrDanZak) November 14, 2018
Test messaging
Social media is a fantastic way to test your message with the public.
It doesn't matter if you're a candidate looking for a great slogan or a government agency looking for a way to connect with your audience. Using social media is great because it's:
Low stakes
A great way to give you instant feedback
Not only can you test messaging, but you can also leverage social media to craft effective messages as well.
You'll be able to see what's trending with your audience and what captivates them. You can then use this information to connect directly with them.
Let's take a look at a simple example: Campaign slogans.
You start by asking yourself a few simple questions like, "What do my constituents care about? How will my campaign help solve their problems?" And then you distill the answers down into a few slogans.
Once you have a few phrases you think are strong, you can make social media posts containing each of the slogans as a phrase or hashtag. Do this for one to three months. At the end, see which slogan garnered the most engagement and boom, you have a strong campaign slogan that resonates with people.
That's a simple example — but the truth is there: With social media, you can test different types of messaging to see what resonates the most with your constituents.
For more, be sure to read our article on A/B testing on social media.
Now that you know the benefits of combining social media and government, let's take a look at some of the best ways you can use it to your advantage.
PS: Want to learn more about how government agencies are using social in new and innovative ways? Watch our Unlocking the Value of Social in Government webinar.
5 social media tips for government agencies
There are two types of social media accounts out there: Soapboxes and dinner parties.
A soap box social media account focuses on themselves. They use social to broadcast their messages and issues without engaging their audience.
A dinner party, on the other hand, invites audiences in and creates a dialogue with them. They encourage discussion and engagement between the host (you) and the guests (your audience).
At the end of the day, you want to be a dinner party. Here are five tips on how you can do exactly that.
1. Listen for relevant conversations
The first thing you should focus on as a social media manager is listening to your audience.
Why? Simple: Your audience will tell you what they want to hear.
Before you even write up that tweet or Facebook post, you need to know your audience and constituents better than they know themselves.
A lot of social media marketers—private or public—make the mistake of making posts before they even know what their audience wants to see from them. This results in low engagement and a very ineffective social media account.
That's why you need to dive deep into your audience. Find out what they want. Dig into their pain points. Help solve their problems.
Also, social media can be a great opportunity for government agencies to answer any questions the public might have.
The Chicago Transit Authority does a fantastic job of this. If there are delays, construction, or route changes to the subway or bus lines, you can rest assured that the CTA's social media accounts will be ready to talk and answer questions about it.
Not only that, but they also have a team of people who read each tweet they get and listen and address their audience's pain points.
They know exactly what their audience wants from them: No nonsense information about transit delays and disruptions. They're then able to deliver on that and see massive engagement. So spend some time immersing yourself in your constituents' mindset. What do they want? What are they struggling with? And how is your social media account going to engage with them?
To help, check out our guide to conducting audience research.
2. Educate your audience with valuable content
One edge government social media accounts have on private ones is the fact that you have access to a massive amount of information such as environmental, scientific, and civic data. As such, people instantly recognize your account as credible and trustworthy.
That means they're going to be much more willing to come to you as a source of knowledge and education.
For example, take NASA's social media accounts. Each is filled with educational posts about space exploration and physics.
Bonus: Download Hootsuite's annual report on government social media trends. Find out how leading government agencies are using social media, our top five recommended areas of opportunity, and more.
Get the free report now!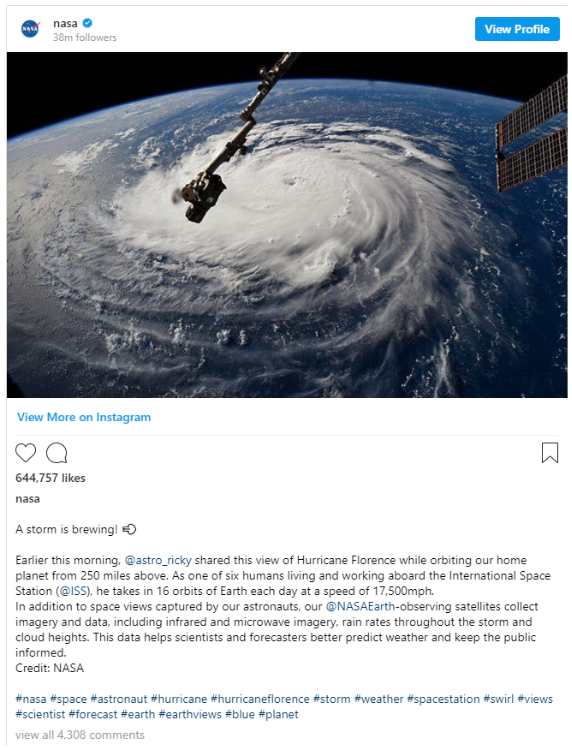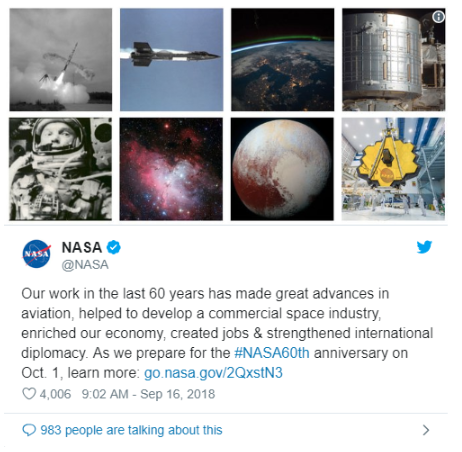 They also have one of the most popular social media presence of any government agency because they a) know their audience and, b) can provide credible, educational posts that interest that audience.
Or take FEMA's social media account. They provide a consistent feed of helpful posts about weather emergencies and even posts on what to do when you encounter an emergency.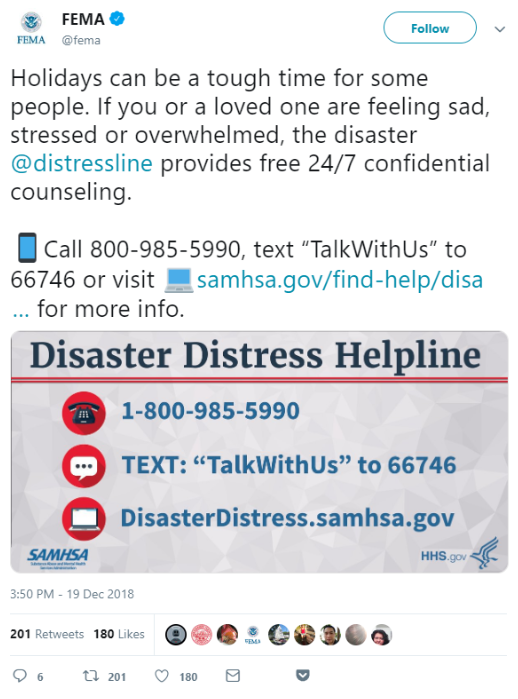 Bottom line: You can leverage your credibility as a government agency by educating your audience.
3. Engage
Former Newark, NJ mayor (and current New Jersey Senator) Cory Booker saw the unique opportunity provided by social media and used it to directly engage the citizens of Newark.
During his time as mayor, he was legendary for his usage of social media.
From filling potholes:

To fighting crime (seriously):

To even helping people across the ocean (kind of):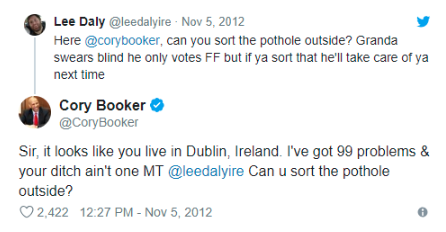 In doing so, he brought the citizens closer to their government.
"When we embraced social media, we took more control of the Newark narrative," Booker said. "We increased responsiveness toward residents. We drew more of our constituents in to participate in government."
Do you see what happened? By engaging with his constituents via social media, he was able to improve service delivery and citizen satisfaction. Social media gives you the same opportunity.
You can even do something as simple as what NYC Transit President Andy Byford did in 2018 when he conducted an informal Q&A on Twitter.
Live now! NYC Transit President Andy Byford is answering your questions on #FastForwardNYC. Join in and let us know what you think: https://t.co/hxXLVBUoJH

— MTA (@MTA) June 8, 2018
4. Stay secure
Simple measures can successfully safeguard government organizations against security breaches. The use of social media management platforms, for example, are a great way to manage a social strategy across multiple internal teams without the risk associated with disorganized efforts.
Because remember: Nothing can damage a brand (or government entity) more than a negative social post that turns viral.
Like this one from (ironically) the Department of Education: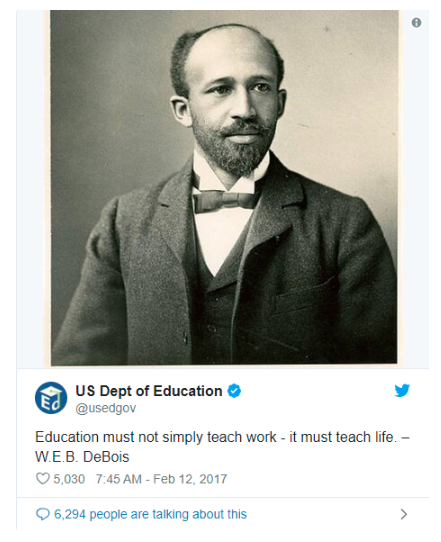 Users were quick to point out that W.E.B. DuBois's name is misspelled.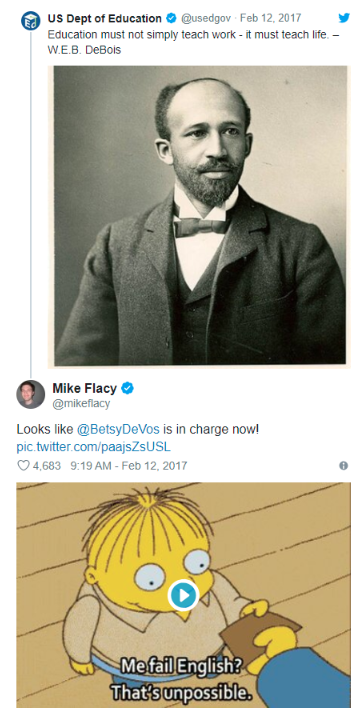 Don't be like the Department of Education. If they were using a social media management platform (like Hootsuite, even) they could have set up an approval process that would ensure tweets could not be published without being reviewed first.
Instead, they floundered a bit and ended up falling on their face even more.
A single management platform can also prevent the release of sensitive or classified materials to the general public. Access to the social accounts can also be managed across departments and teams with secure logins, approval processes, and variable permission levels.
Read more about social media security.
5. Remain compliant
Remaining compliant with privacy requirements is critical for any government body. For large organizations with multiple social media practitioners, establishing best practices for social media use can help ensure the collective compliance of all users.
Guidelines towards acceptable and forbidden content, data handling, citizen engagement, and even tone are a few best practice examples organizations can implement to keep their team compliant.
If you manage social for a government or agency using Hootsuite, our partners' social media archiving integrations make it easy to stay compliant with Freedom of Information Act (FOIA), General Data Protection Regulation (GDPR), and other public records laws.
In recent years, government bodies and their employees have had to respond to dramatic shifts in public expectations to political and government discourse.
Innovative policy makers and their staff are quickly adapting by creating highly engaging social content to rally follower support—while also remaining fully compliant and secure. For any government body wanting to capture and maintain public sentiment and engagement, embracing the new era of social media discourse is critical.
Better inform and engage with citizens on social media using Hootsuite. From one dashboard, you can schedule and publish to all major social networks, plus measure public sentiment around programs and policies with real-time social media listening and analytics. Try it free today.