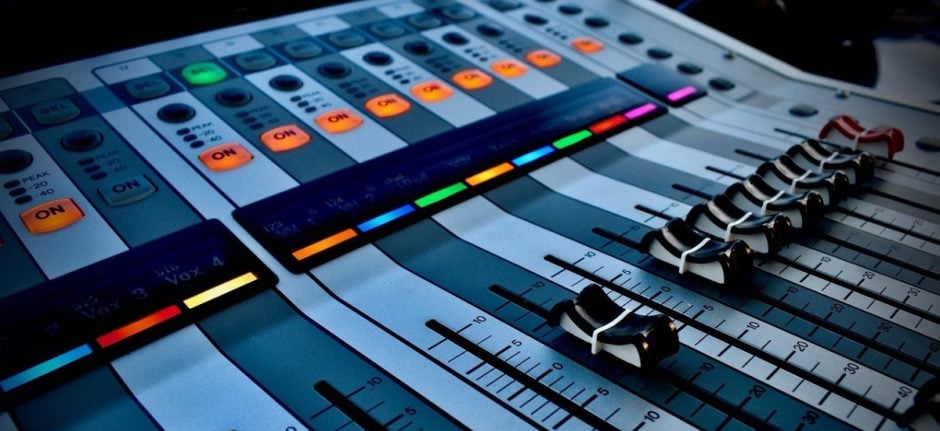 8 Free Resources to Soundtrack Your Social Video Without Getting Sued
If you're posting social videos to YouTube, you should know that the site takes audio copyright very seriously. If you include music that doesn't belong to you, your video will likely be taken down from the site, and after three "copyright strikes," your account will be terminated—and you'll be barred from creating a new account.
Other social networks also protect copyright and will take down videos that use other people's work without permission. Like YouTube, Facebook will terminate your account for repeated copyright violations.
In this post, we'll look at how to create fun videos with great Creative Commons music and other royalty free music and sound effects without taking the chance that your videos will be removed or your account killed.

Bonus: Download a free guide to learn how to use social media monitoring to boost sales and conversions today. No tricks or boring tips—just simple, easy-to-follow instructions that really work.
What is audio copyright?
We've talked about copyright on this blog before as it relates to images. Since the same basic concepts apply to audio copyright, let's review: copyright protects creative work, establishing who owns the work and how it can be used.
It may be a bit of an annoyance when you're looking for great royalty free music or sound effects to accompany your video, but the same laws that stop you from using the latest top 40 hits as background to your videos also protect the work you create yourself. You may not be Beyoncé, but you have the same degree of ownership over the work you create, and the laws that protect Queen Bey protect you and your business, too.
Like images, audio tracks are covered by section 106 of the Copyright Law in the United States, which specifies that only the copyright holder can:
reproduce the copyrighted work
make derivative works based on the copyrighted work
distribute the work to the public
perform the work publicly
transmit the work digitally
So, if you've created an original audio track, you own it. If someone else created an audio track, they own it, and you can't use it without permission.
When can you use someone else's music or audio?
Basically, you can only use someone else's music or other audio if you have written permission from the copyright holder—otherwise known as a license.
Since the process of approaching a copyright holder to secure a license involves far more work, cost, and specialized skills than are reasonable for most social media videos, your best bet is to stick to using audio tracks that are already licensed for your particular type of use.
If you're creating videos for your business, you need audio that is cleared for commercial use in derivative works (since using a song in a video is considered derivative under Creative Commons music licensing). Creative Commons is a great place to start your search.
8 Creative Commons music resources for your social media video
Creative Commons is a system that allows people who develop creative works to make them available to the public for free, so that other people can in turn use them to make their own creative works.
https://player.vimeo.com/video/129804764
Remember, you're looking for audio tracks that have been cleared for commercial use in derivative works. Your best bet is to choose music and audio with either an attribution-only or a Creative Commons Zero (CC0) License.
Unless the audio is licensed as CC0, you need to provide attribution. That means you need a credits section in your video, or you need to include credit information in the text that accompanies your video on the video-sharing network (like YouTube) or social network (for example, in the text of your Facebook post). If you don't want to provide credit, stick to CC0-licensed tracks.
Bonus: Download a free guide to learn how to use social media monitoring to boost sales and conversions today. No tricks or boring tips—just simple, easy-to-follow instructions that really work.
Get the free guide right now!
Here are some sites where you can start your search for CC-licensed free music for videos. Each site contains a mixture of licenses, so check each track before using it in your video.
This site features original samples and a capella vocal tracks from musicians around the world, with a good sampling of free tracks for commercial use.
A royalty free music collection curated by the radio station WFMU, the Free Music Archive allows you to search by genre or by charts reflecting the site's most popular music for the last week, month, or all time.
Incompetech offers thousands of musical sound effects and longer pieces of music by composer Kevin MacLeod, searchable by genre, feel, tempo, or length, or browsable in collections based on genre and mood.
Free Sound includes a large collection of sound effects, including some licensed under CC0.
What about the public domain?
While Creative Commons gives you the broadest base of resources to search, it is not the only answer when looking for royalty free music and audio tracks for your social media video.
Another option is the public domain. In most cases, audio work moves into the public domain a certain number of years after the copyright holder dies. Once the work moves into the public domain, it is essentially public property and you can use it without attribution in your videos. Artists can also donate their work to the public domain.
The rules relating to public domain vary by country, so make sure you understand the laws that apply to you and your business before you decide to use public domain music. When you're ready, try searching these sites to see if you can find what you're looking for. Keep in mind that these sites are not as regulated as the Creative Commons, so you'll be taking them at their word that the music they provide is truly in the public domain. Performing your own due diligence is a wise idea when using these sites.
This collection includes collected public domain music as well as more music and sounds from Kevin MacLeod, the composer behind Incompetech. The difference in MacLeod's work here is that he has donated his work on this site to the public domain, so you don't have to credit him in your video.
Musopen is a collection of public domain music you can search by composer, performer, instrument, style, or century.
Other sources of royalty free music and sound effects for your social video
Still need more free music and sound effects? Here you go.
The YouTube Audio Library provides free music for videos you create. Some of the music is licensed under Creative Commons and requires attribution, but much of it does not. Click on the particular audio track you're interested in to get the full details.
The YouTube Audio Library also provides a huge database of free sound effects to use in your videos, from typing sounds to growling monsters.
Partners in Rhyme offers a wide collection of royalty free music and sound effects available for commercial use, including a printable license.
Questions to ask yourself when choosing audio for your videos
Now that you have plenty of resources to help you find music and sound effects for your video, it's important to step back and think about exactly why you want to add audio to your video in the first place. Here are some key questions to ask yourself.
What do you want the audio to do?
Music and sound effects can be used to stir emotion and create excitement, while sound effects can act almost like unspoken dialogue in terms of telling the audio component of your video's story.
That said, you don't want to rely too heavily on your video's audio track, since many people will watch your video without the sound turned on at all.
Those who do hear your audio track may well be put off if it is packed full of too many sound effects. Each sound or piece of music should have a purpose, rather than simply being added to fill a void.
Where do music and sound effects fit into the video?
Remember that music can be more than just background noise. If it isn't suitable for the duration of your video—perhaps because your video contains dialogue or important ambient sounds—think about using music to help set the tone at the beginning of your video or emphasize the call to action at the end.
Or, maybe music isn't a fit but sound effects could be incorporated to emphasize certain points or create a particular mood.
Who is your audience?
This is an important one when choosing music for your video, as you'll want to choose something very different for an audience of teenagers than an audience of retirees. As in all social marketing efforts, it's important to know your audience demographics and make your creative choices based on what your research tells you they will find most appealing.
Don't have your own research on this yet? Start by making some common-sense assumptions (no acid rock for videos aimed at grandmothers, say), then refine your choices based on testing.
Ready to put your video marketing plan into action? With Hootsuite you can upload, schedule, publish, promote, and monitor your social videos from one platform.