What is dead may never die, and Game of Thrones is far from dead. The medieval-esque fantasy epic only seems to grow more omnipresent from season to season, and with that unending popularity comes a veritable Dothraki horde's worth of Game of Thrones references, jokes, puns, and memes on social media.
It's no secret that everyone loves Game of Thrones. It's HBO's most popular show of all time—surpassing even the Sopranos—and it's the most pirated show on TV, with downloads double that of its nearest competitor (The Walking Dead, in case you're wondering).
For 10 (short) weeks every year, people are enthralled by Westeros' brutal fight for the Iron Throne and brands are taking advantage of the ridiculously high level of interest with Game of Thrones-themed campaigns and social media posts.
References to the Stark house words, Jon Snow's lack of knowledge (and his ambiguous mortality post-season 5), and opening credits parodies (including our own take on the iconic opener) abound!
We've rounded up a few of our favorites, from individual Tweets to shareable social videos and full-blown campaigns. But beware—the night is dark and full of spoilers (this post contains a few mild spoilers for those not up-to-date on the show).
On April 21, 2016—mere days before the show's season 6 premiere—Red Bull shared a Game of Thrones parody video.
You may recall that Game of Thrones season 5 ended with the traumatic image of Jon Snow bleeding out into, well, the snow. Prior to the start of season 6, the internet was ablaze with theories and debates regarding Snow's longevity.
Jon Snowboard lives to shred. @GameOfThrones @lordsnow #GameofThroneshttps://t.co/SXuf65Ulhk

— Red Bull (@redbull) April 21, 2016
Red Bull's video opens with an image eerily similar to where we left Snow at the end of season 5. Fittingly titled "Jon Snowboard lives to shred," the parody then sees Snow sit up, chug a Red Bull, and return to snowboarding.
It received 5.1 million views, 81,000 likes, and nearly 30,000 shares on Facebook. On Twitter, it garnered 534 Retweets and 713 likes.
The parody was a fun, playful way for Red Bull to get in on the conversation and relate it back to their brand.
For the launch of season 6 of Game of Thrones, Spotify teamed up with the show's music supervisor, Evyen J. Klean, to create music profiles for 31 of the most well-known characters from the show.
For the campaign, Spotify offered users the chance to see which character's profile best matches their own musical tastes.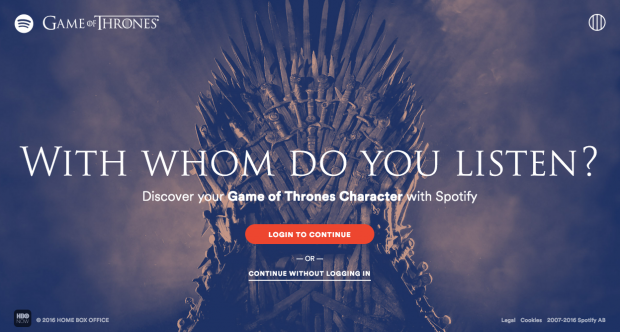 The music streaming service explained in their announcement: "Are you more Daenerys Targaryen or Arya Stark? Would Jon Snow or Cersei Lannister be more likely to listen to your playlist as they fight for the Iron Throne? Spotify has the answer."
If you turn up to EDM, you might be Hodor. #GoT https://t.co/KGnEYNdGOB

— Spotify (@Spotify) April 24, 2016
The joint promotion was shared by both Spotify and Game of Thrones' social channels.
#NowPlaying: Tyrion's playlist on @Spotify: https://t.co/5EIBZdoXdA
Discover your character https://t.co/NBZYoF4mnb pic.twitter.com/1BT5uia5y0

— Game of Thrones (@GameOfThrones) April 22, 2016
When listeners tried out the microsite, they were able to to share their character match on Facebook and Twitter using the hashtag #SpotifyGameofThrones. The campaign hashtag received 14,800 mentions.
Haha, I'll definitely take that. My Game of Thrones match is Tormund Giantsbane. Who's Yours? https://t.co/gAzPRRA2Ln #SpotifyGameOfThrones

— Michael Zylka (@kodathedirewolf) June 2, 2016
This is my single greatest accomplishment. I can seriously just quit everything now. #SpotifyGameOfThrones pic.twitter.com/RqWZTZ7HqO

— nimisha bhat (@mishiebhat) May 12, 2016
https://twitter.com/myrocketshoes/status/732314466327646210
A browse through some of the Thrones character's playlists reveals fun details: Daenerys Targaryen's playlist features a song called "Dragon Queen" by Yeah Yeah Yeahs along with a couple of songs by Imagine Dragons; Tormund Giantsbane's playlist is full of metal; Littlefinger's all about the Rat Pack crooners.
In case you're wondering, I matched with none other than Robert Baratheon.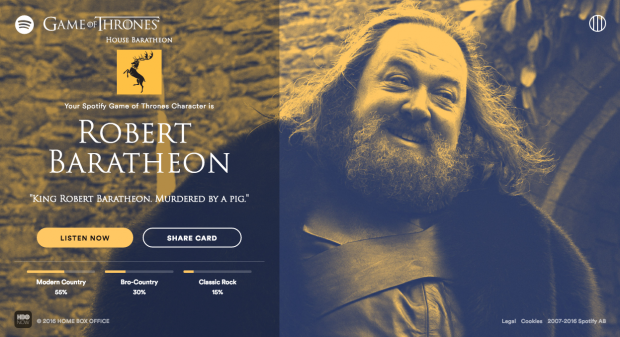 The service ran a similar campaign for the release of Star Wars: The Force Awakens back in December 2015.
Not one to miss a trend, Game of Thrones got in on the craze surrounding its iconic opening credits by releasing the most impressive credits-themed social video yet.
The 360-degree video allows fans to immerse themselves in the opening credits sequence and tilt their device (or click and drag on desktop) to explore the map of Westeros and Essos from any angle they choose.
Posted on April 13, shortly before the start of season 6, the video was the most watched 360 video on Facebook in a 24 hour period, according to a Facebook post by Mark Zuckerberg himself. During that first day, it received 5.3 million views. That number has since climbed to 13 million.
The video was a collaboration between HBO and Elastic, which designed the show's opening sequence.
We're big fans of Game of Thrones here at Hootsuite, so we couldn't resist doing our own take on the show's iconic opening credits.
We took the memorable concept of the credits' whirring gears and cogs and replaced the great houses of Westeros with social media platforms.
Midway through season 6, Twitter created a fascinating microsite that displays data based on how its users are tweeting about Game of Thrones.
Look at how Twitter reacted to S6E4, when [????spoiler alert????] Tormund saw Brienne: ????????. Tweet us w/ your discoveries! pic.twitter.com/KnhTysvoTR

— Twitter Data (@TwitterData) June 1, 2016
The microsite is a beautiful visualization gives visitors the opportunity to sort the data by episode (choosing any installment since the beginning of the show). The site also displays the episode's most mentioned characters, characters most mentioned together, and emojis used most often in combination with a character.
Each circle represents a character from the show; the size of the circles are proportionate to how many times that character was mentioned on Twitter in relation to the chosen episode. Lines linking characters indicate how often the pair was mentioned together. Characters are grouped by plot point, such as "King's Landing" or "Night's Watch." Emojis most used to describe a particular character are displayed next to their circle.
Moleskine, maker of notebooks and stationery products, created a paper version of Game of Thrones' opening credits sequence to promote their new line of GoT notebooks.
The House #Moleskine is welcoming the return of Game of Thrones with a new collection. https://t.co/YGbH5VsV6F pic.twitter.com/V5mfFaXKi3

— Moleskine (@moleskine) April 21, 2016
The company also released a making of video that detailed what went into their social video: 750 photos, 7,600 paper cut-outs, and 576,000 seconds.
Moleskine's initial Tweet received 254 Retweets and 528 Likes. The Facebook post of the video received 14,000 views, 174 Likes and 149 shares.
Even everyone's favorite children's show got in on the action with a parody set in the (less violent) mythical land of Jesteros.
The Game of Chairs determines who will be king or queen of Jesteros. Who will take the crown? http://t.co/vgrsz1gUxs

— Sesame Street (@sesamestreet) April 6, 2015
While this segment may have originally aired on TV, it's impossible to deny that it was made for the internet.
Rally the @SesameStreet realm.
Watch Game of Chairs on @SesameStreet Season 45 on @HBONOW: https://t.co/IHpu1XOVxb pic.twitter.com/Y7UJWeC3ff

— HBO (@HBO) June 23, 2016
"Bring a sweater, I think winter is coming."
Watch "Game of Chairs" on @SesameStreet Season 45 on @HBONOW. pic.twitter.com/XcFNIhKFuK

— HBO (@HBO) June 23, 2016
Watch the spoof in its entirety:
Travel publication Condé Nast ensured that their spin on Game of Thrones fit well with their brand.
If you're going to Westeros for the weekend, this is what you pack: https://t.co/3bdLd5zB1K #GameofThrones https://t.co/BteKjvsqpa

— Condé Nast Traveler (@CNTraveler) April 25, 2016
Their stop-motion packing video was a fun way to incorporate a Game of Thrones reference into their usual brand content.
Farrow & Ball, which manufactures and retails paint and wallpaper, also kept their Game of Thrones references on-brand.
Colour consultancies now available in our King's Landing showroom ???? ????❄️???????? #GameofThrones #got #GoTAtlantic pic.twitter.com/vyRtdnUjk0

— Farrow & Ball (@FarrowandBall) April 25, 2016
The company's Tweet—a simple photo of paint swatches—wasn't flashy, but it was clever, with tones like "Lannister Gold" and "Moon Door Blue."
Another simple snapshot, Samsung Mobile India's Tweet banked on the suspense of Jon Snow's stabbing and apparent death at the end of season 5.
Will he or won't he? #GameofThrones RT if you agree. pic.twitter.com/xWgblNP6pp

— Samsung India (@SamsungIndia) April 26, 2016
The Tweet—which likened Snow to a low cell phone battery—was not only a relevant reference, but also one that piggy-backed on the rampant speculation already happening on that topic.
Dominos also went for the "Is Jon Snow alive or dead?" controversy with a pizza-themed Tweet.
Not on our watch #JonSnow… PIZZA IS COMING. #GoT #GREATNESS ????????????https://t.co/BgyqpvZiBW

— Domino's Pizza UK (@Dominos_UK) April 22, 2016
The short social video was fun and shareable, evidenced by its 1,151 Retweets and 1,826 likes.
Tim Hortons' Game of Thrones-themed photo was a perfect fit for their brand.
Mother of Donuts. #GoT pic.twitter.com/YpjTX5wLC9

— Tim Hortons (@TimHortons) April 7, 2014
It was a minimalist contribution—three donuts, decorated to look like dragon eggs, and nestled in crate alongside the caption "Mother of Donuts"—and that's arguably what made it work so well.
Thrones fans likely know by now that some of the show's most memorable locations are shot in Northern Ireland, including Winterfell, Riverrun, and the Kingsroad.
With this post, Tourism Ireland played off of a memorable moment from the show which aired during the previous season.
The north of Ireland remembers #redwedding #GameOfThrones http://t.co/JenvKdtHck pic.twitter.com/IYLRbM4kfH

— Tourism Ireland (@GoToIrelandCA) April 7, 2014
The image in the Tweet used the Game of Thrones font and featured the tagline "Jump into Northern Ireland, Game of Thrones Territory."
HTC jumped aboard the trend with their own take on the map of Westeros.
All hail the mother of Snapdragons. All hail the One. #GameofPhones #GoT pic.twitter.com/ipuAqFNEdK

— HTC USA (@HTCUSA) April 6, 2014
The map they tweeted featured locations such as "The Front-Facing Forest" and "The Sea of Selfies," for a relevant take on the show.
Everyone's favorite cookie brand went old-school for their brand reference, with a fun social video call back to season 1, episode 1.
The man who pours the milk should dunk the cookie. https://t.co/Ctr4wn9a5I #TakeTheThrone #GameofThronesSeason4

— OREO Cookie (@Oreo) April 7, 2014
Referencing Ned Stark's quote from the series' very first episode—"The man who passes the sentence should swing the sword"—Oreo cleverly wielded a cocktail sword to split a cookie in half, complete with their own take on Eddard's advice.
For their part, brewer Carlsberg adapted their signature catchphrase, "Probably the best beer in the world," to make a Game of Thrones reference.
#ProbablyTheBest ice-cold beer north of the wall! #GameOfThrones Season 6. pic.twitter.com/nEkVu7SbDc

— Carlsberg UK (@CarlsbergUK) April 25, 2016
Paired with an ice zombie hand, the Tweet hits just the right note between relevant to the brand and connection to the show.
While many brands have gone for the Stark or even Targaryen references, Clorox breaks the mold with its Lannister-themed Tweet.
We know how to play the game #GoT #Season4 pic.twitter.com/gUNDK9mAF3

— Clorox (@Clorox) April 6, 2014
It's a great play off of a well-known quote from the show and a clever way to plug one of their products.
The Iron Throne itself has been the subject of many social posts (and a lot of parodies).
Welcome back, @GameofThrones. May the best House win. #FU pic.twitter.com/khW0Hg3MXK

— House of Cards (@HouseofCards) April 7, 2014
From one popular TV show to another, House of Cards' Tweet feels like an insider nod.
Spinning off of the map of Westeros featured in Game of Thrones' opening sequence, Burger King created their own map.
Which kingdom shall rule them all? #TakeTheThrone #WatchLikeaKing pic.twitter.com/9aDO06Mgia

— Burger King (@BurgerKing) April 7, 2014
With locations such as the "Forrest of  Whopporder" and the "Satisfrislands," it's a fun take on the show.
One of the few that chose to reference the show without some sort of rich media (whether an image or a social video), Sonic's Tweets stand out because they're sassy and clever.
BRB, we're headed to @WhiteCastle-y Rock.

— Sonic Drive-In (@sonicdrivein) April 7, 2014
Mentioning competitors whose names are easier to make Game of Thrones-themed puns out of was a clever way to get themselves in on the conversation.
With two more seasons of Game of Thrones planned, one thing is for sure: (more) Game of Thrones-themed brand Tweets are coming. Keep up with them and schedule your own using Hootsuite. Try it free today.