5 Brands Doing Cool Things on Social and What You Can Learn From Them
Splash.
That's the sound of the brands that push the envelope when it comes to social media marketing. While great campaigns deserve recognition, they likewise teach us a little bit more about innovation and creativity in the digital world.

Bonus: Download a free guide to discover how to get more sales and conversions with social media monitoring on Hootsuite—no tricks or boring tips.
1. Spotify uses location data to create hyper relevant ads
Social media analytics tools can offer great audience insights—telling you what your followers are interested in and what they're looking for—making it easier for you to curate and tailor content to their liking.
Spotify took this concept to the next level in their "Thanks 2016, it's been weird," social media campaign. The streaming service examined search data for specific locations, and used those insights to create hyper-relevant and localized ads.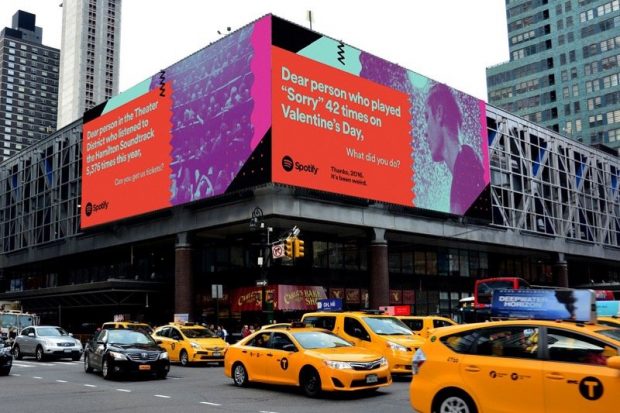 The witty campaign put specific members of Spotify's audience into the spotlight.
What you can learn: Using data in creative ways. While data is incredibly useful for building a sound social media strategy—it can also be used to channel the interests and quirks of your followers. Catering to your audience is one thing, but finding a playful way to engage them is even better.
2. Dove lives up to its commitment and gives back to the community
Dove is a soap and personal care brand that's been churning out remarkable social media content for quite some time. Their campaigns promote body positivity, building self-esteem, and embracing "real beauty." Dove has been praised for its groundbreaking messaging by the New York Times and others.
The Dove Real Beauty campaign is now over a decade old, so how does the brand stay relevant on social? With sticking to its commitment.
.@ShondaRhimes and @RebeccaSugar are working with the @Dove Self-Esteem Project to build a confident new generation of creative young women. #HourWithHer https://t.co/XrYE2uaB4W

— Dove (@Dove) July 19, 2018
The #NoLikesNeeded campaign is part of The Dove Self-Esteem Project that helps fund self-esteem building workshops and leadership development activities for young women. The campaign also provides research and articles for teachers, parents, and youth leaders to help those affected by body issues around the world.
What you can learn: If you talk the talk, do the walk. Inspire your audience and show that you really care by giving back in a way that matters to them.
3. Harry's challenges masculinity through content marketing
Harry's is a men's shaving and grooming brand that sells online and in select retailers. The brand takes a unique approach to the personal grooming industry and has amped up its content marketing to match that approach.
The personal care brand aims to make shaving a more relatable experience for everyone, and at redefining masculinity. Harry's describes traditional understandings of masculinity as being physically strong, unemotional, and unable to ask for help.
Harry's' articles are educational in nature, like detailed advice on lathering your face before a shave or using a post-shave mist. However, unless you're looking up YouTube tutorials or reading a lifestyle blog, articles like Respect the Technique: Pre-Shaving and How To Talk To Your Barber make Harry's content feel more intimate—like an older relative sharing personal grooming tips.
And instead of positioning shaving as a male experience, Harry's interviews all kinds of people who are using its products—people like Angelica Ross, a trans person and activist in the LGBQT+ community.
What you can learn: Tell your brand story with thoughtful and compelling content. In a study by Demand Metric, it shows that 70 percent of consumers feel closer to a company as a result of compelling content. We've seen success with this in Wealthsimple's #InvestingForHumans campaign.
4. Barbie appeals to millennials by becoming a "real life" influencer on Instagram
The world's most famous doll is on social media just like the rest of us.
Instead of marketing to its typical fanbase of parents, children, and collectors through commercials and magazines, Barbie uses Instagram to cater specifically to the millennial parent. Mattel, the makers of Barbie, have been upfront with their new marketing strategy of targeting millennials.
Mattel researchers have discovered that millennials want to give their children toys that have purpose and meaning—and that's reflected in Barbie's social media presence. Through carefully crafted posts, Barbie discusses body positivity, marriage equality, female empowerment, and other topics millennials are engaged with. Barbie's feed even features doll versions of popular social influencers.
All images on Instagram are shot to scale to position Barbie in the real-world. With this setup, Barbie becomes a true Instagram influencer that enjoys arts and culture, is up-to-date in real world events, even rubbing elbows with VIPs.
Bonus: Download a free guide to discover how to get more sales and conversions with social media monitoring on Hootsuite—no tricks or boring tips.
Get the free guide right now!
What you can learn: Arts, culture, and socially-conscious content appeals to millennials in a big way. This is just one of the steps the Barbie brand has taken to evolve over the years. By tailoring content to the millennial consumer, Barbie opens itself up to a new target audience that makes up 76.6 millions users on social media.
5. Shiseido shares extremely short, mesmerizing videos on Instagram
Shiseido is a Japanese cosmetic company that sells high-quality skincare and makeup. The beauty brand describes itself as "driving innovation while respecting Japanese beauty principles of the past."
Shiseido lives up to this description. The makeup brand features stunning high-quality photos of its products in its Instagram feed. For example, pots of eyeshadow next to hand-drawn illustrations—giving its feed a distinctly cool look.
Shiseido stands out from the crowd by mixing both static images and very short videos on its feed—we're talking five seconds max. These short videos show a small movement, like a finger dipping into a pot of face cream. Or a simple visual effect, like multiple shades of lipstick glistening.
They're short but satisfying.
What you can learn: Try short videos with simple visual effects to keep things interesting. Just because you have 60 seconds, doesn't mean you have to make a 60-second long video. Like Shiseido, you can do a curious closeup or a 5-second scintillating visual effect that makes a product pop. Short videos add variety, but still stand out in a feed of static images.
Whatever you're posting on social media, Hootsuite makes it even easier. Schedule posts, engage with followers, and measure the success of your efforts. Try it free today.