It's difficult enough to keep up with the Kardashians these days, let alone the cool things brands are doing on social media.
But it's important to stay on top of things. These days, simply having an overactive, wisecracking Twitter account isn't enough to stand out. And frankly, it's become kind of annoying.
Whatever Twitter's intentions were, this is what it has become pic.twitter.com/P06aEc694u

— Adam Graham (@grahamorama) May 20, 2019
To stay relevant on social media in 2019 and beyond, brands need to be as purposeful as they are adaptable. You can be the first of your competitors on Tik Tok, but if you presence isn't backed by a strategy, simply being there isn't enough.
From spicy chicken nugget breakouts to no-frills brand identities, we've found some of the best examples of brands doing unique things on social.
Netflix produces binge-worthy Instagram Stories with stickers
Netflix's social presence first made a splash on Twitter thanks to its strong (if odd) brand voice. But it's over on Instagram where the streaming service fully takes advantage of its library of star-studded video content.
To the 53 people who've watched A Christmas Prince every day for the past 18 days: Who hurt you?

— Netflix US (@netflix) December 11, 2017
What's noteworthy about Netflix's Instagram strategy is how its content is tailored to the platform. Nowhere is this more evident than its Instagram Stories.
For World Pride this year, Netflix tapped the cast of Queer Eye for takeover stories, kicking things off with a question sticker that asked: "What does PRIDE mean to you?"
The following stories featured responses along with scenes from the parade and the Fab Five's escapades.
For the reboot of Sabrina the Teenage Witch, Netflix brought in the cast for a true or false game using Instagram poll stickers. Love a good smooch scene? Netflix even asked users to rate their favourite kisses with a love-o-meter emoji slider sticker.
Takeaway: There's a lot of gold to mine in Netflix's Instagram Stories. But, one of the key takeaways is to frame each post with concepts and stickers to up your engagement ante. Treat every series of Instagram Stories as if it's a mini interactive blog post.
Netflix also introduced an option for users of its own app to share directly to Instagram Stories. Now people can Netflix-and-fill their feeds with their fav TV shows and movies and add their own stickers—making brilliant use of second-screen social.
Reformation uses UGC to sell clothes
Turning customers to loyal brand ambassadors is no easy feat—but that's what California-based retailer Reformation has done on Pinterest and Instagram with its "You guys in Ref" series.
How it works is simple. Post a picture of yourself in Reformation for a chance to be featured on the account's Instagram Stories or Pinterest board. By featuring Ref-clad fans on social, Reformation is able to show appreciation to its customers while also showing them off.
By sharing the love, Reformation motivates its shoppers to post their Reformation-clad photos—earning the label more exposure. But the series also helps with sales. As the Wall Street Journal reported way back in 2013, seeing real people in clothes is a big tipping point for online shoppers.
And that's where Instagram's product tags and Pinterest's shoppable pins com in. When an on-the-fence customer sees something they like on someone, the tags and pins help Reformation close the deal in a pinch.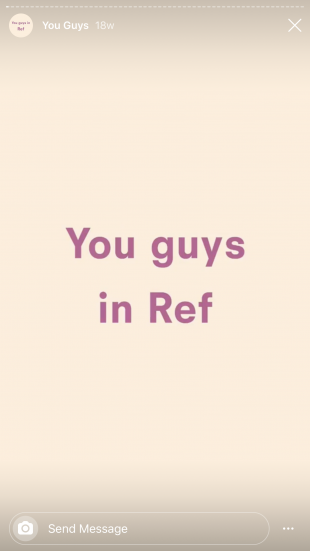 Takeaway: combine user-generated content with product tags to make more sales.
Disney launches Disney+ with a little help from its friends
To promote the release of Disney+ and its new social media accounts, Disney rallied the troops in a pretty theatrical way.
To first announce the launch, @Disney's primary Twitter account sent a Tweet asking if everyone was ready to go to @DisneyPlus.
It's moving day! Is everyone packed and ready to go to @DisneyPlus? pic.twitter.com/bAFxRjT5aY

— Disney (@Disney) August 19, 2019
What happened next is where it gets interesting. All of Disney+s properties jumped in with a response and an on-brand GIF.
Almost! But in a shocking turn of events, we can't find Dory. pic.twitter.com/k7EI8kTPnc

— Pixar (@Pixar) August 19, 2019
Talk about the ultimate lineup ???? pic.twitter.com/9ExBzoAnMK

— ESPN (@espn) August 19, 2019
Not only did this huge coordination effort showcases the breadth of Disney+'s offering, it also promoted the service to pretty on-target audiences and gained followers along the way.
Takeaway: Sure, most brands don't have the network and resources that Disney does. But a similar coordination effort could work just as well with partners or influencers.
Not everyone loves this kind of stunt, as the comments on this Tweet reveal. But if you can take the heat, it does get people talking.
And if you're angling for exposure and new followers, that's not a bad thing. Disney+'s Twitter account has already amassed more than half a million followers.
No Frills states the obvious on Twitter
No Frills' frill-less social antics have earned the food label a place on Hootsuite's fridge.
https://www.instagram.com/p/B3sAHSBBZrM/
When the plain-packaged company took to Twitter this year, it translated its minimalist branding to a plain-talking brand voice. Just look at its Twitter bio: "i am a brand. follow me".
Deadpan tweets, like an image of pure white vinegar with the caption "actually transparent," have made the niche brand go viral. By thoroughly embracing its bland brand identity, the once niche company has developed something of a cult following.
actually transparent pic.twitter.com/kbF7386cOx

— no name (@NoNameBrands) August 1, 2019
Takeaway: Create a unique, bold brand voice by imagining what kind of person or character your product would be if they were actually a person or character. Then, Tweet exclusively in that voice.
WaPo is more than a newspaper on TikTok
What's black and white and all over Tik Tok? The Washington Post, a.k.a WaPo.
Since joining Tik Tok in May, the media outlet has earned more than 183.3K fans on the platform.
Tik Tok is known for having a predominantly teenaged user base. Maybe that's why WaPo's account description plainly indicates: "We are a newspaper."
At first glance, the account's videos provide a goofy and lighthearted contrast to the hard-hitting reporting the outlet is known for, but there is a larger strategy at play.
According to Dave Jorgensen, who runs The Post's Tik Tok account, the plan is to first build an audience by demonstrating that WaPo understands the app. Then it will start gradually sprinkling in more newsy topics.
So, what's WaPo getting right about Tik Tok?
It's funny. More importantly, the humour is meant to resonate with a young, dialled-in audience—even if it does come off a little "dad joke" funny sometimes. For example, to share The Post's new gaming room, Jorgensen mimicked Kylie Jenner's YouTube office tour, lip syncing to her now infamous "rise and shine" baby wake-up call that broke the Internet.
Another thing to take note of is how active the account is in the comment section. Its responses to comments maintains the same daffy tone as its videos while rewarding and encouraging engagement from fans.
Takeaway: Try a new platform, but make sure you understand it first.
IKEA attracts web visitors to its share-worthy TV living rooms
Question: What do Friends, Stranger Things, and The Simpsons have in common?
Answer: They all have famous living rooms.
So when IKEA and ad agency Publicis Spain recreated each room with its furniture, it quickly became one of the Swedish home retailer's most shared campaigns in its history.
What made the "IKEA Real Life Series" so shareable is that it tapped instantly recognizable and well-loved pop culture classics. Though initially launched as a print and poster campaign for its United Arab Emirates market, the concept was strong enough to drive a 50% increase in web traffic in its first week.
Once online, easy-to-find social icons and share-worthy images helped the campaign spread worldwide. And because Friends, Stranger Things, and The Simpsons memes are easy to come by, IKEA was able to curry more favour with fans by responding with funny GIFS.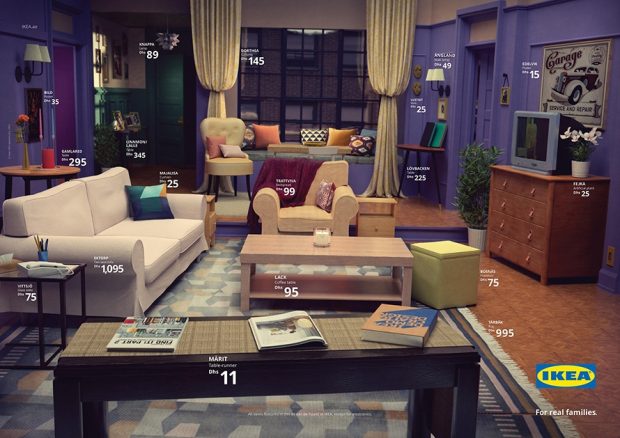 Takeaway: Find a way for your product or service to interact with popular culture—then use GIFs to communicate with your followers.
New York Public Library turns classic works into Insta novels
When "build it and they will come" no longer works you have to go to where your audience is, and these days that's on social media. This is the thinking behind the New York Public Library's Insta Novel series.
To "hack Instagram Stories in the name of classic literature," the library adapted public domain works for the social medium. The Instagram stories featured readable backgrounds, custom soundtracks, vibrant illustrations, and dynamic animations that bring the classic stories to life.
The campaign received a ton of press exposure and positive comments from fans.
"You can read a story on the train!" says one follower.
"This made my commute a lot quicker," says another.
Others applaud the library for adapting to digital age.
Takeaway: Know your audience, and go to them—don't make them come to you.
Crooked Media live chats the Dem debate
This progressive media company founded by former Obama staffers is known for the political punditry found on its podcasts, especially its flagship show Pod Save America.
And with presidential scandals unfolding at a breakneck pace, the company has found creative ways to offer its fans live commentary.
For the fourth Democratic Debate this October, Crooked Media launched "Live Group Thread" on YouTube. The thread featured the podcast hosts and Crooked employees commenting on the debate in real time. Viewers could also participate in live chat as they watched.
More than 100K people tuned in the the thread—making it the second or third screen of their choice for the debate.
With the presidential race just heating up, social initiatives like these bring Crooked Media closer to its fans and shore up its position in the crowded political media arena.
Takeaway: Sometimes all you need is to create a place for your followers to interact with each other. It doesn't always have to be you vs. them.
Wendy's ventures into gaming with Giphy Arcade
In case you missed it, fast food chains have been waging a social war to attract gamers.
Arby's began dropping video game references in its social posts back in 2016. This September, Kentucky Fried Chicken released "I Love You, Colonel Sanders!" dating sim game supported by its multiple KFC Gaming social accounts.
Now, Wendy's is the exclusive launch partner of Giphy Arcade games.
The idea behind Giphy Arcade, created by the company known for its GIF database, is to let people create, play, and share bite-sized games on social.
????tweets: good
????nuggets: better
????games: best
play @Wendys brand new game on #GIPHYArcade ⬇️ #ad

— GIPHY (@GIPHY) October 16, 2019
Calling all gamers! Help Queen Wendy find the perfect dipping sauce and fight against the evil frozen beef in the latest Giphy Arcade games.

— Wendy's (@Wendys) October 16, 2019
The Wendy's games support two company initiatives: Its fight against frozen beef and the return of Spicy Nuggets to its menu.
The "Don't Drop It" game riffs on the classic arcade game Breakout by challenging players to keep a spicy chicken nugget from dropping. In another game, players have to shoot down frozen patties with fresh Wendy's burgers.
Games using Wendy's-branded elements are also super easy to make and share on social media. And the caption potential here (e.g., five-second rule, playing with food) is strong.
More seriously, Wendy's game assets provide fans with the tools to engage with its brand, while also allowing the company to control its image.
It's too early to know whether or not this initiative will be a social hit, but Wendy's will at least earn kudos from some fans for getting creative.
Takeaway: Games are a powerful way to get people to interact with your brand. The better the game, the longer they'll spend with you.
Nothing ventured, nothing gained, they say. And in the novelty-hungry social realm, a little creativity can go a long way.
Schedule posts to all your social media channels using Hootsuite. From a single dashboard you can create and share content, engage the audience, monitor relevant conversations and competitors, measure results, and more. Try it free today!