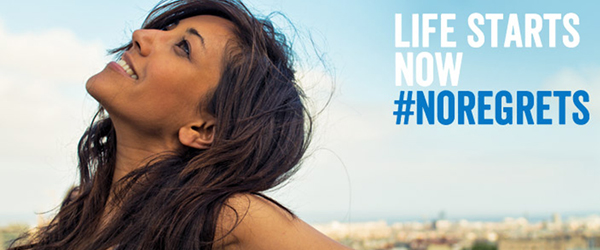 How a Travel Company Drove 2K+ Contest Entries from YouTube on a Small Budget
YouTube offers incredible opportunities to connect directly with your audience, especially when used for social media contests. In this blog post, you'll learn how Contiki travel company created a successful campaign on YouTube—as well as discover the exact steps you can take to create your own.
Contiki is the worldwide leader in tours for 18-35 year olds. Their demographic of young travellers aren't always interested in hearing from traditional corporate sources such as known travel industry experts, but from peers who share their personal experiences and stories.
The good news for companies on a limited advertising budget like Contiki is that YouTube attracts a massive audience who don't expect high production marketing videos. A great way that they identified authentic experiences to share was by launching a YouTube contest.
"As a company focused on the youth demographic, we realize our consumers are living, working, interacting, and researching online," said Lauren Howard, the National Marketing Manager at Contiki Canada. "We recognize the value of not only being in the digital space, but of ensuring immediate, constant communications—it is fundamental to our business."
The YouTube Contest
This innovative campaign marked the first time that a company in the travel space reached out to the YouTube community to help tell the story of a company. Rather than hire a group of young spokespeople, Contiki gave notable video stars the means to travel and share authentic content to their own loyal YouTube followers. This content was then repurposed across Contiki's own YouTube channel and shared across social.
"Youth can relate to these young content creators and get a feel for what Contiki is really all about, because their experiences are authentic and reactions genuine," said Lauren.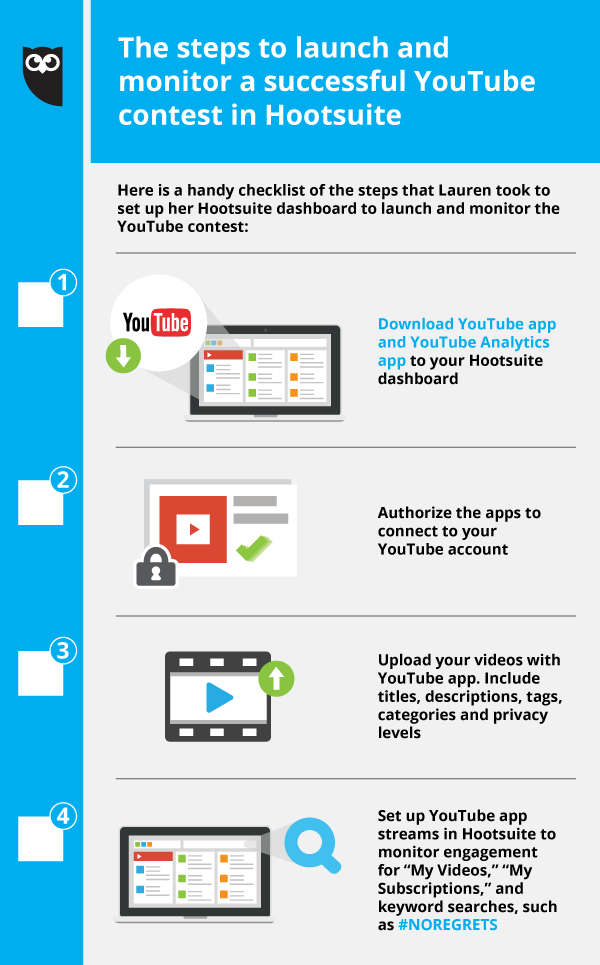 Additional Best Practices
Uploading videos
Using Hootsuite, Contiki could upload videos directly to their YouTube account. Within the app they also added titles, descriptions, tags, categories, and set privacy levels. This was essential during the video campaign because of the sheer volume of videos, social messaging directed to them, and engagement.
Monitoring for contest engagement
To monitor for video engagement, they set up streams to monitor "My Videos," "My Subscriptions," and keyword searches such as #NOREGRETS. This allowed them to monitor number of views, comments, likes, dislikes, and favorites of the videos at any given time.
"It is a useful tool for getting a high-level overview of interaction and engagement, without having to conduct in-depth analysis," said Lauren.
Contiki had a dashboard stream that monitored all YouTube channels that they were subscribed to. They could then check in regularly to see what their travelling ambassadors were posting and share the best content on their own channels. They also used video search in Hootsuite to find videos by keyword, user, location, and category to see who was saying what about Contiki on YouTube. This gave them a chance to connect with a larger audience.
Analyzing video performance
Using the YouTube Analytics app in Hootsuite, Lauren can gain deeper insights beyond engagement. They could track subscriptions, number of channel views, and total upload views.
Through analytics, Contiki could fully visualize the success of the #NOREGRETS video
Contiki decided that in order to connect with their young demographic, they would share inspirational videos made by youth—and the #NOREGRETS Adventure Challenge YouTube contest was born.
In the first few weeks of the campaign, they had received thousands of entries to the contest. This is in part thanks to the over 11,000 clicks they drove from Facebook and Twitter messages.
The YouTube campaign had the popular YouTube star, Tim Deegan, take young Canadians on a journey around the world through weekly video challenges. Each week featured a video from a different destination, with chances to win prizes and discounts for trips to that week's location.
What was originally launched as an eight week online campaign is now part of Contiki's regular content strategy and helps inform other contests—over two years later.
"Two years ago, Contiki Canada produced an online campaign called The #NOREGRETS Adventure Challenge, which featured impactful Canadian content creators experiencing the Contiki brand around the world and encouraging participants to follow suit. The first year of the campaign was extremely successful in the Canadian market and led to a second installment the following year, which was expanded to become a global Contiki campaign across all of our major markets. The second year was also a success, building on the same premise of highlighting Contiki's global partners to create compelling content that highlighted the Contiki product.
Both years running, we were able to execute successful campaigns on a nimble budget by capitalizing on the platforms our millennial demographic utilizes most. It was really important for us to host this campaign entirely online – it's the medium that our demographic is most comfortable with, engaging through Contiki.com, YouTube, Instagram, Facebook and Twitter. The majority of our media spend was focused on promoting this authentic content and reconfirming what our passengers were already telling us: young travellers want to be inspired by like-minded storytellers providing genuine and organic content who echo Contiki's core values." – Lauren Howard, Contiki's National Brand & Marketing Manager
Bonus! Measure even more
With the YouTube Analytics Paid app, you can gain even deeper insights by measuring greater engagement levels, trending content, and playbacks, as well as all of the insights captured by the free version of the app.
Launch your own YouTube contest using Hootsuite Pro and the YouTube app integration