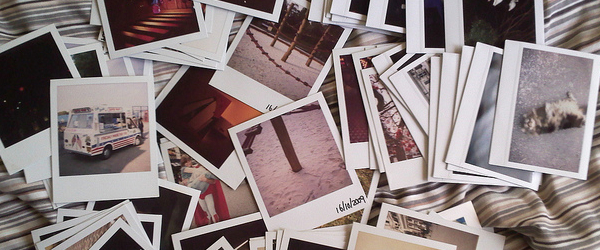 DOs and DON'Ts of Social Media Pictures
A picture's worth a thousand likes. Or at least more likes than a post without one. Numerous studies have shown that including a profile picture is essential to garnering more page visits, and picture posts are more visible on social media. There's an active online discussion around the perfect avatar or cover photo, but there is no comprehensive guide to visual engagement for your brand's entire social media profile.
You can put a lot of effort into your brand's visual presence—finding the perfect header, choosing an impeccable profile photo—and still fall flat. To reach the full visual engagement potential of your social media pictures, here are DOs and DON'T for your page's essential visual elements: profile photos, cover images, and picture posts.

Bonus: Get the always-up-to-date social media image size cheat sheet. The free resource includes recommended photo dimensions for every type of image on every major network.
Profile photos
Profile pictures for brands? "Easy," you say, "just put the logo in its place," right? Not quite. While the most common practice is to place the logo in the "power spot" (the upper left corner of the page on most social networks), it's still no excuse to get complacent with the most important element of your social media profile.
DO match your brand's picture to ongoing campaigns
Is your brand currently sponsoring a major event? Do you have a promotion campaign that you'd like to share with your audience? Make it a part of your profile picture: it can be included alongside the logo, layered in the background, or temporarily replace the logo. If you choose to go with the latter strategy, make sure to stay on brand with a colour scheme or a recognizable visual element to remind the customer about the owner of the message.
Budweiser adds the text advertising their newest initiative to the familiar logo.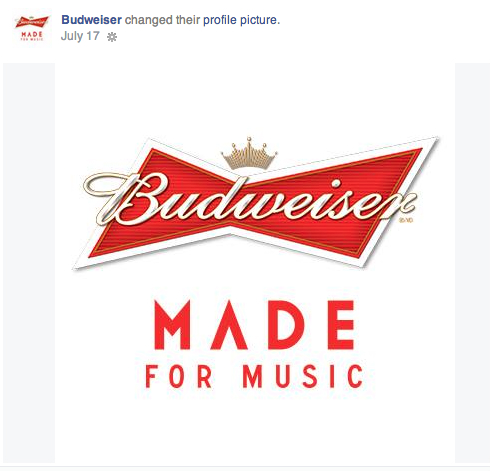 DON'T let your profile pic go stale
Is your brand known for more than one face or product? Introduce variety to your brand's presence on social media by using these pictures as profile images interchangeably. Set a consistent time period for one picture to last in the spotlight, and once the expiry date comes, replace it with the next. This keeps things interesting without confusing your fans.
Take a page out of Harry Potter's Facebook strategy,  which has consistently kept it in the Top 20 Facebook Fan Pages list.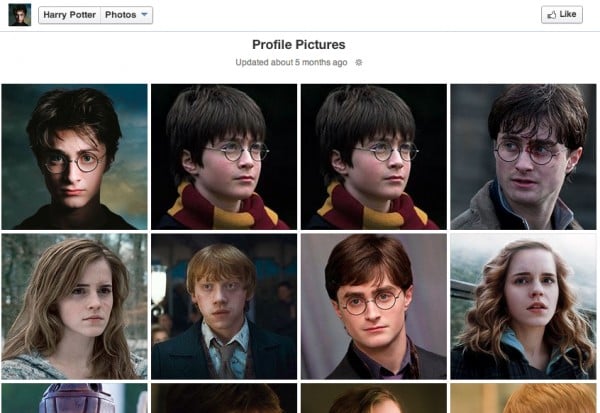 DO surprise your followers
Social media users love being entertained, and what better way to make customers remember your brand than by making them laugh? Many brands have successfully replaced their signature image with something completely unrelated at first glance, much to their fans' delight. Obviously, this has to be done with certain degree of caution, and is better paired with the earlier tip regarding the ongoing campaigns.
Kraft Dinner keeps their profile page as unique as can be with a picture of a unicorn, with a cleverly placed KD logo in the corner.
Update: it's not a unicorn, thanks @DanaJRomero! Just a very majestic horse.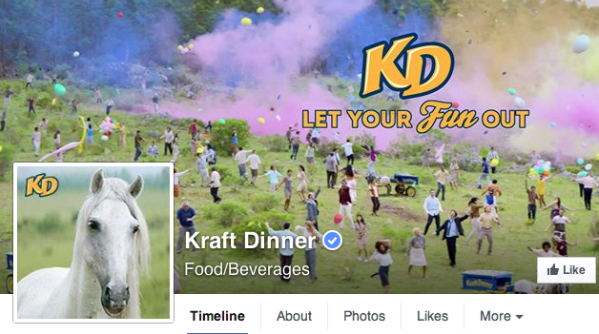 Cover images
With more social networks following Facebook's example to complement the profile picture with a cover photo, it's important not to miss this chance to visually engage your audience. The best examples of cover images use this space for a call-to-action, an extra excuse to show off their product, or to illustrate the brand's creative process.
DO find out the right cover photo dimensions
Whether it's an image for Facebook, Twitter, Google+, or the updated LinkedIn Premium profile, the best-looking picture will have the dimensions of a narrow rectangle (the height about a third of the width). If you're thinking of using a custom design, craft the image to the exact dimensions determined by each social network. If you want to use a photo (repurpose one from your brand's Instagram account, for example), make sure not to commit any design errors: poor cropping, bad photo cloning, or using a low-resolution version.
Cartoon Network takes advantage of Twitter header dimensions—and their most recognizable characters, Finn and Jake of Adventure Time—to create a vibrant cover image.

Bonus: Get the always-up-to-date social media image size cheat sheet. The free resource includes recommended photo dimensions for every type of image on every major network.
DON'T overwhelm your cover photo with text
If you want to use your cover image to aid in content marketing from the get-go, do so by embedding links, advertising ongoing campaigns, or encourage users to click the Like/Follow buttons by drawing arrows to the appropriate buttons. Don't use the cover image as extra space for text descriptions—it's not a coincidence that Facebook's 20% text rule used to apply to cover photos as well—or you risk scaring your audience away before they even get to the bulk of your content.
Sharpie updates their cover photo every week to highlight the examples of work their customers have created using a Sharpie product.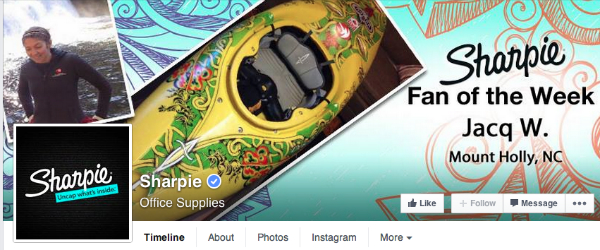 DO design your cover photo to match the rest of your page
You've probably seen individual Facebook or Twitter users get their 15 seconds of Internet fame by designing clever combinations of the cover and profile photos. Why not do the same for your brand? Funny or unusual cover images stand out, and stick in people's memory, so it's the best way to naturally advertise your brand. While you compose the image, be careful not to cover any essential parts of the cover image with the profile image, and align the image elements in accordance with the way it's displayed on a page: for example, Facebook and Twitter cover images should be center- or right-aligned, while LinkedIn images should have balanced elements throughout.
Serengetee opts for a simple, center-aligned display of their recognizable pocket tees.

Picture posts and ads
Okay, so now that you've captured your audience's attention with your profile and cover pictures, it's time to deliver the high-quality, visually engaging content they expect from your brand. The best way to do this is to stay consistent with the picture content and advertisements you post on the social network.
DO choose a colour scheme and stick with it
If your brand is involved in a lot of online promotion and advertising campaigns, attractive visual elements are essential to involve your audience. By selecting a colour palette to match your logo, you're killing two birds with one stone: your profile looks more put-together if your posts match the cover and profile image; you can also take advantage of an already recognizable feature of your brand to further your reach. Plus, your design team will love you.
Shades of blue and yellow seen on the famous mac'n'cheese box also dominate Kraft Dinner's Facebook page.

DON'T overdo it
Now that you've been told numerous times to use pictures to engage your audience, you risk falling back on ad content to fill your picture content quota. Ads are professionally designed, tend to be visually engaging, and carry the exact message you want to broadcast to your audience. A good way to achieve balanced exposure to ad content is to sequence your ads, and swap some ad content for promotion campaigns. Storytelling ads help your social media audience learn about the brand; promotion campaigns let your audience engage with the brand and share their experiences in exchange for great deals. Everybody wins!
Herschel Supply Co. invites fans of their Facebook page to read the story behind their newest partnership while showing off a new product.
DO use animated GIFs sparingly
We recently talked about how a good use of GIFs can be an enormous advantage to your brand's social media presence. With Twitter's recent decision to support GIF images, there hasn't been a better time to incorporate the animated content into your page. Watch out for the frequency of your GIF-posting; take a moment to view your brand's page and see how busy the page looks. Too many animated pictures put your profile in danger of looking like a Geocities site, which can be very distracting, to say the least.
Vogue India teases an upcoming photo feature by sharing a GIF with their Twitter followers.
#gifsontwitter are now legit! Here's our first from July's #streetstyle shoot celebrating 100k followers. Whooosh! http://t.co/YWr0uXa4Qk

— Vogue India (@VogueIndia) July 2, 2014
Want more help managing your social media posts? Sign up for a 30-day trial of Hootsuite Pro!