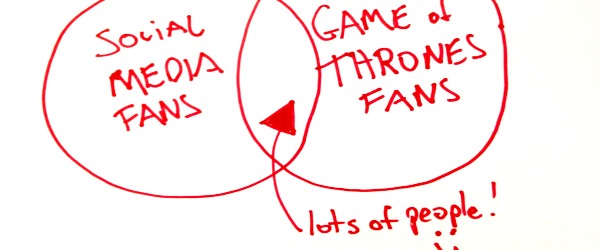 Game of Social Thrones: A Case Study in Responsive Marketing
Here at Hootsuite, we're Big Game of Thrones fans. How big? If the level of costume commitment at last year's company-wide Westeros-themed party is any indication, massive.
An important part of our content marketing strategy is authenticity. That word gets tossed around a lot, but to me it means connecting with your audience as you would your friend, stripping away the business speak and relating to each other around shared interests. This requires you to know your audience, and because we're always actively engaging with our customers, advocates, and influencers on social media, we've known since the first season that we're among many thousands of GoT fans. By recognizing that we have an audience full of fellow fans, we were able to identify an opportunity.
A principle we follow is "be the conversation; don't interrupt the conversation" and we knew on April 4th the social web was going to be talking about Game of Thrones. Aligned with the kickoff of the show's fourth season, we released our Game of Social Thrones video. Since then, it has been viewed more than 850,000 times and become the most successful single piece of brand content we have ever produced. On the weekend it was released we were covered in Time, AdAge, Fast Company and Mashable. It wasn't created by an agency and we did not promote it via traditional channels. Our own internal team made it happen and (thanks to responsive marketing) our community, by sharing it more than 60,000 times, made it a hit. Here's how we did it:
People
The most important factor in creating shareable content is your team. We're fortunate at Hootsuite to have assembled a talented group of designers, artists, journalists, video producers and musicians—all great storytellers. Our core creative team works on the whole spectrum of content we produce, from white papers to a poem about social media written in the voice of Dr. Seuss.
I have found that the best ideas come from those on the front lines of social because they're most in touch with our audience and the zeitgeist. But great ideas can come from anywhere, so it's important that you have a culture that encourages everyone to speak up, regardless of seniority or position. The people I work with know that if they share an idea, even if it's not a fully-formed concept or it seems crazy, they'll be supported, and it might become a hit. Of course, they're not all hits. And it's just as important that the team be encouraged to take risks without being embarrassed or disappointed if it doesn't work out.
Process
Last year, when our blog specialist, Evan Lepage, first mentioned his idea to reimagine the Game of Thrones title sequence with social networks as the houses, he was half joking. We recognized at the time that, to be successful, it would have to be well executed, and we didn't have the time to pull that off. So we got our creative team together to brainstorm what might be possible with the resources available to us. We came up with an infographic based on the original idea. It was a high-quality piece of content, but less expensive (and risky) than the video we really wanted to make. When our audience responded with over 25,000 shares, we knew we were on to something.
We could have just left it at that: a good idea, but we were not equipped to execute on it. Instead, we focused our creative efforts on figuring out what we could do, tried something less risky, and listened to our audience. The great response to the infographic gave us evidence that informed the bigger risk we took on the next project. With that data, we were prepared to create a high-quality 90-second original animated video for the next season's premier. Having learned from this process, we've now set aside budget dedicated to 'innovation' projects. We don't know where our next idea will come from or what it will look like, but we want to be ready to execute it.
With the green light, next came a conversation with our lead video producer, Evan Aagaard. He developed a plan to achieve the production values necessary to make the project a hit by doing as much as possible in-house and hiring a freelancer to do the animation. The creative, down to the 'easter egg' details like the Vine crawling up the Twitter tower, was the product of brainstorming sessions between our in-house writers, designers, and producers. With three months until the deadline, Evan was still scouring Vimeo in search of the right person when he came across Paris-based animator Clément Morin. It was clear from the first cut we saw, that he had made the right choice.
With risky projects there can be a temptation to over-manage. Don't. Creative people never do their best work when you're looking over their shoulders. By over-burdening your team with approvals and process obligations, you invite art by committee. About a dozen people contributed ideas to the project, and our collaborative and agile environment was crucial to its success, but it was just as important to empower Evan to follow-through on his vision.
Promotion
Once the video was done, it was a matter of promotion. You can create great content, but if you just post it to your blog and send out a few Tweets, nothing will happen. You need a coordinated paid-earned-owned media plan to achieve reach. We scheduled messages in advance, targeting Game of Thrones fans with big followings, as well as journalists and marketing influencers. This is another area where our trial balloon infographic served us well: we kept track of everyone who helped us promote it and made sure they received personalized messages when the video was released. After the launch, we used our analytics tools to listen for any positive mentions, with our social team on-call to reply or retweet.
While we relied heavily on our owned channels to promote Game of Social Thrones, we also understand that, if you really want to extend your reach, it's wise to seek a little help from your media friends. The week before we launched, our PR team used clips from the video to reach out to the writers and editors with whom they've established relationships over the years. If you create high-quality content that's relevant to the cultural moment, earned media can be your most valuable promotional propellant. The key is to make sure your PR team is equipped with everything they need to know to pitch it before it drops.
Promotion via owned and earned media didn't cost us a dime, but we weren't averse to spending money if it meant making sure our video went viral. We started with a base budget for paid social big enough to spread across multiple channels and test efficiency. Our paid social lead, Andy Au, then shifted our budget on the fly, moving the spend toward the channels that were working. On Saturday, for instance, he increased our YouTube budget in response to the strong performance of the initial spend.
Lessons
When we decided to make the Game of Social Thrones video, we had a story we wanted to tell about our brand and our product. It's the same story we tell in lots of different ways, across lots of different channels: social media can be a complex world for businesses to navigate, with each network appearing to function as its own sovereign territory, but Hootsuite can unite these lands in one place. When we're thinking about creative ways to tell our story, we try to find opportunities to be part of an existing conversation, rather than interrupting it. Breaking into a story people are interested in with your own story about yourself makes people want to ignore you (or worse). If you want your audience's attention, you have to be able to add something interesting to the conversation.
We learned a few important lessons from this project. First, it's crucial to listen to the people on your team who are listening to your audience. If you foster a culture in which everyone feels encouraged to contribute ideas, you'll find that some of the best ones come from the people who are closely engaged with your community on social media. Once we had what we thought could be a great idea, we found a way to test it and see what our audience thought. With insights gained from the test project, I gave our creative team freedom and support to create something great. The last lesson, emphatically reinforced by our experience on this project, is the importance agile, responsive marketing. The whole team, from social to PR, has to be well coordinated and ready to do their part to make sure your audience sees and shares your content.