Behind the Scenes: HootSuite's Video Studio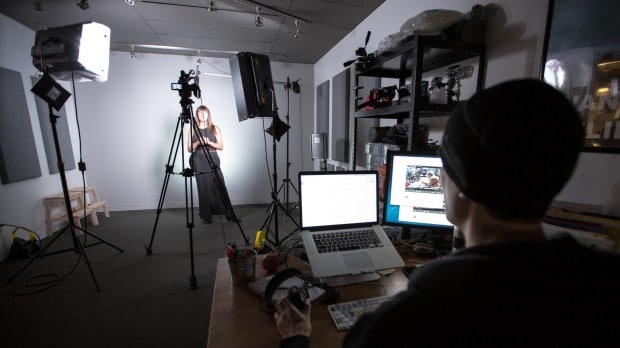 Welcome to HootSuite Studios. I'm your host Evan Aagaard, HootSuite's video producer, and keeper of our YouTube channel and today I'd like to take you on a behind the scenes tour of our little motion picture workshop.
The first question you may be wondering is, why does HootSuite have it's own video studio? Aren't we a social media company? Sure, but we're also a content production company, and an education company.
 We're constantly telling stories, stories about our technology, about our customers about the world of social media and the social web, and we're also constantly educating. We're in an industry of rapid change and growth and we need to help our customers better navigate and understand it.
The inspiration for our own video team was simple, we wanted to tell our own stories whenever and however we liked. When you stop and think about it, it's really not that radical of an idea. Video is a powerful medium and an undisputed heavyweight of the content ring. Online audiences have an unquenchable thirst for it, and the ubiquity and sophistication of services like YouTube have made, fast, reliable HD video a staple of our online diet.
Since building our studio at the beginning of the year we've brought almost all of our video production in-house. This includes everything from our Social Success stories- short documentaries about how our clients use HootSuite-  to our product release videos and educational HootSuite University content.
We also produce an ongoing series of office culture pieces and even the odd satire (Presenting HootFoil!).
The ING Story
New Hootlet
HootFoil
We've made videos to help foster stronger client relationships and videos to compete in contests (The Zombie HootTip).
Zombie HootTip:
We've produced live YouTube broadcasts for special events and guest speakers and we've even filmed ourselves dancing on tables like a bunch of wild idiots (we can never resist a good meme).
Harlem Shake
As an in-house team we're always ready to capture things at the spur of the moment but we're also planning ahead, looking at ways we can progress the HootSuite brand and our vision of the social web through compelling video narratives.
In Part 2 I'll profile our crack team of video ninjas and take an inventory of what's in our production tool shed.