Nextdoor App: A Guide to Using the Neighborhood Social Network
With the Nextdoor app, users can connect with their neighbors and engage their local community.
Likewise, business owners and organizations can target their local neighborhoods and offer services catered to them. By leveraging the power of word-of-mouth, Nextdoor can become an avenue to increased sales and profit.
Let's take a look at what the Nextdoor neighborhood app does, how you can use it, and the best tips for you to optimize your presence on the social network.
Table of Contents
Bonus: Get the step-by-step social media strategy guide with pro tips on how to grow your social media presence.
What is Nextdoor?
The Nextdoor app is a social networking platform for local communities and neighborhoods. Instead of connecting you to any user across the world, Nextdoor narrows your network to those in your surrounding area.
Its network is made up of more than 180,000 neighborhoods across the globe. According to their website, their mission is to "provide a trusted platform where neighbors work together to build stronger, safer, happier communities, all over the world."

With the Nextdoor app, users can interact with their neighbors, discuss community news, and recommend local services and businesses that they like. But that's not all the app can do…
What the neighborhood app is used for
While users can do everything on the app from gossiping about neighbors to commenting on the local wildlife…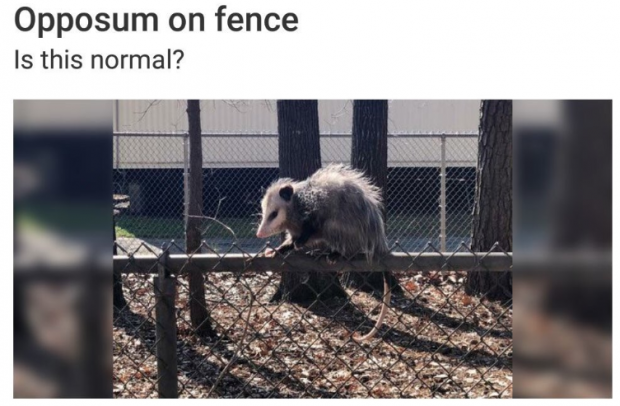 …the Nextdoor app is primarily used for three things:
Selling and buying. Users can use Nextdoor in order to sell or purchase items in the "For Sale or Free" page of the app. Listings will also appear on the neighborhood feed so users can see new items as they appear. The app also has a feature that users can use to look at real estate listings as well.
Organizing events. Do you think your neighborhood could do with a good ol' fashioned block party? Maybe you want to get a book club going? True to the spirit of the app, users can use Nextdoor to host and organize parties and events.
Get recommendations. With the app, users can look up reviews of local businesses like restaurants to see if they're worth patronizing. It's this exact feature that makes it such a boon for entrepreneurs.
At its heart, though, the Nextdoor network is a way for neighbors to engage each other and build a sense of community.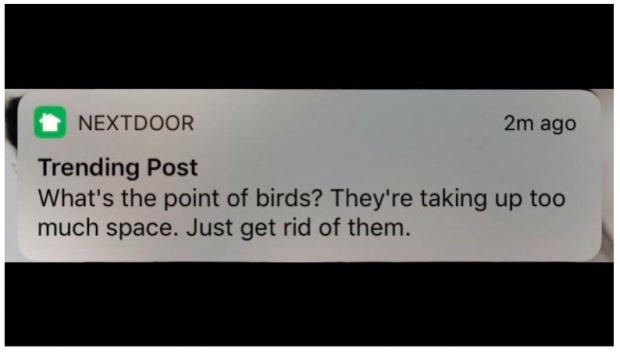 How to use Nextdoor in 4 steps
Now that we know what exactly the app is used for, let's learn how to use your Nextdoor network for your business or organization. Luckily, it's a pretty intuitive process and takes only four steps.
Step 1: Download the app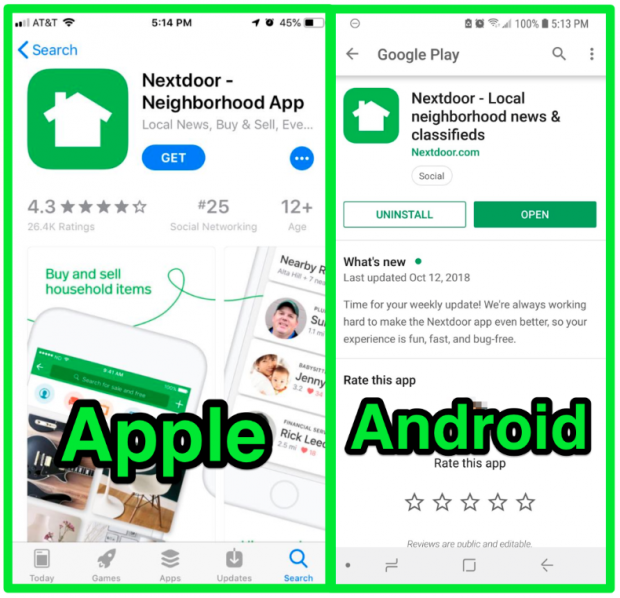 The first step is simple: Head to Apple App Store or Google Play Store and download the latest version of Nextdoor.
It'll take just a few seconds to download and once it's done you can move onto…
Step 2: Create a user profile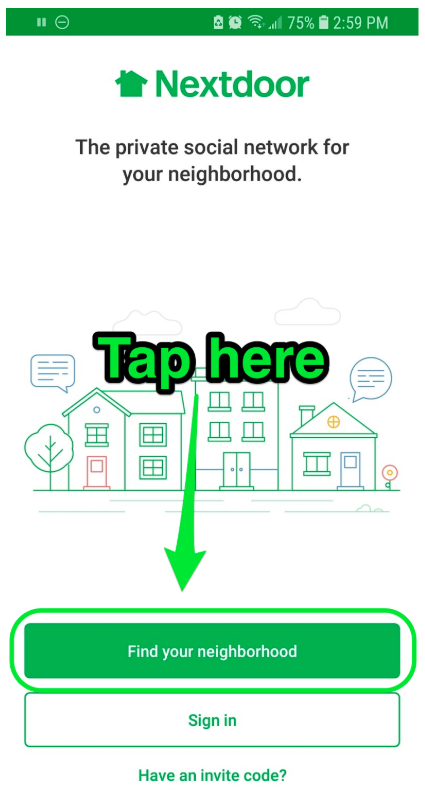 Now it's time to create your user profile. This will allow you to interact with other members of the community and take part in the various features of the Nextdoor app. Also, having a user profile will streamline the process once it's time for you to put your business onto the app.
To do this, you're going to want to click on "Find your neighborhood" when you open up Nextdoor for the first time. You'll be taken to the next page: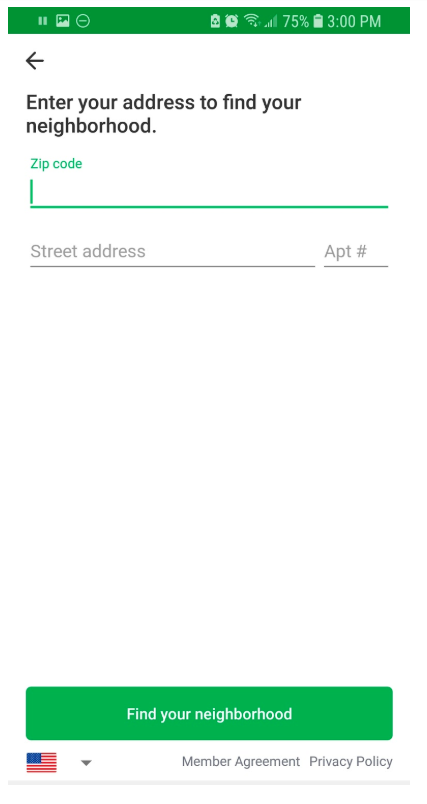 Here you'll enter your address so Nextdoor can connect you with your local community. This might seem odd. After all, what social network requires you to provide your address? The app recognizes that this level of transparency is uncommon on their website, however, and claim that it's to accomplish two things:
Create more than just an online community. According to their website, Nextdoor wants to encourage real-life community building by encouraging face to face conversations and meet ups. Rest assured, your information isn't public and is only visible to the people within your community.
Accountability. If you wouldn't say something to someone's face in real life, you shouldn't say it online either—or at least that's one reason Nextdoor uses to share your information with the community. "We've found that when members keep in mind they're talking with their real life neighbors," the site says, "they're more likely to treat each other with respect."
Once you've entered your address you'll have to register your email address and a password.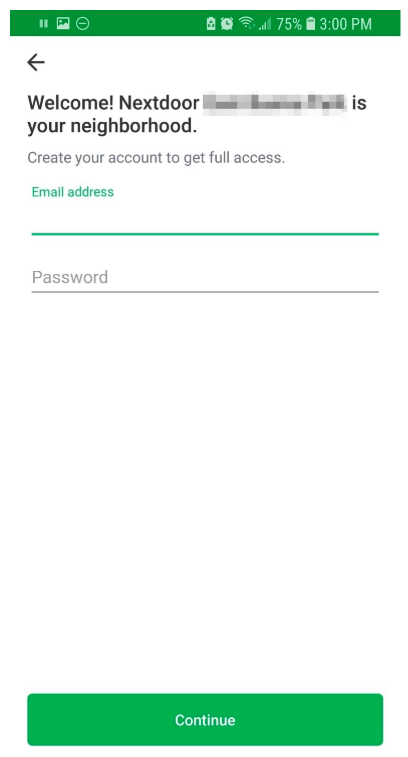 When you've registered your user profile and verified your information, congrats! You're now a user on the Nextdoor app. It will now take you straight to your neighborhood feed where you can view the latest updates, events, and listings from your community.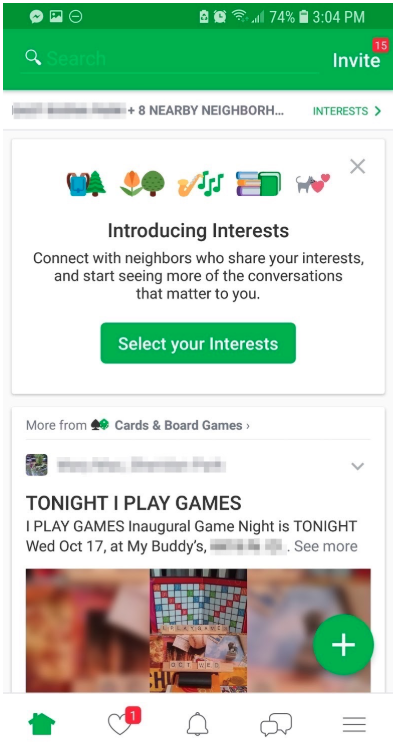 That's just the first step for using Nextdoor. We still need to register our business or organization—if you have one.
Step 3: Add your business to Nextdoor
Head to Nextdoor's "Create a Business" page on their website by following the link here.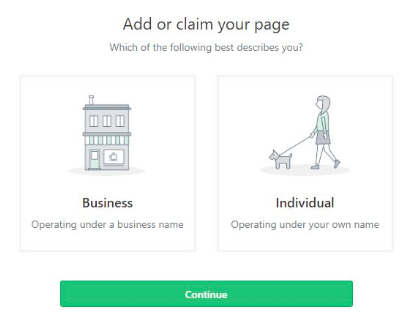 You'll have two options for your business or organization:
Business. Choose this option if your business has a name (e.g. franchised restaurants, LLCs with multiple employees).
Individual. Choose this option if you're working under your own name (e.g. entrepreneurs, small business owners).
Pick the option that makes the most sense for your business or organization. Once you do, Nextdoor is going to ask you to enter some very basic information about the page you're registering (e.g. what kind of business it is, your business address).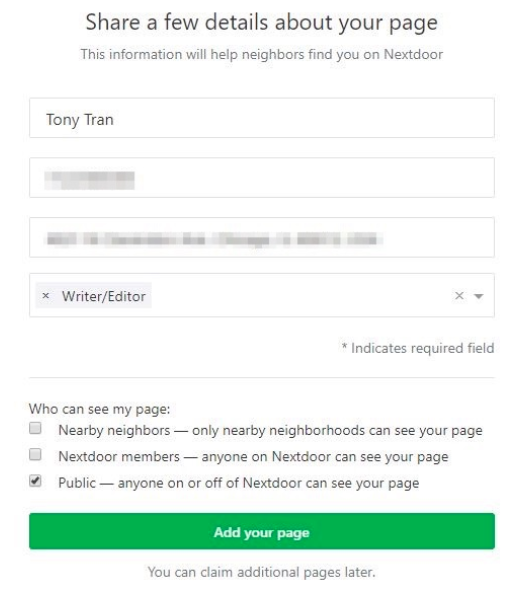 Click on Add your page and your business profile will be registered with Nextdoor! You'll now be able to view your business's page, view your metrics (more on that later), and engage with your audience.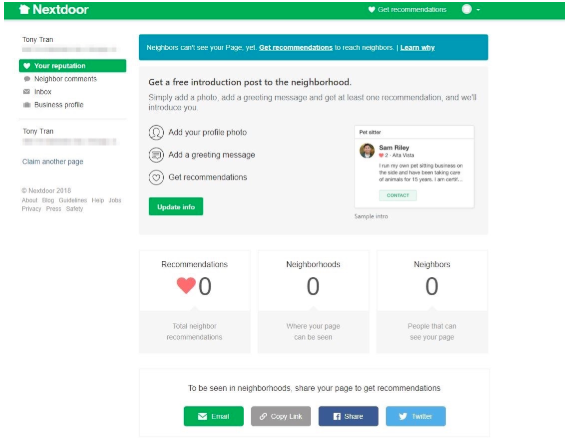 However, there is one thing you'll have to do first to get the ball rolling. What do you notice about the page above?
You need to reach out to neighbors first. In fact, if you don't take the first step in sharing your Nextdoor business page, your organization won't even show up in your community feed.
Luckily, it's simple to do so.
Step 4: Share your profile
To share your profile, scroll to the middle of your business profile where you'll find options on how to share your page to get recommendations.

Recommendations are essentially reviews left from members of a Nextdoor community recommending a product or service. If you want your business to perform well on the app, then recommendations are how you're going to get there.
My suggestion: Ask a customer to leave a review after you've left them happy.
Are you a tailor who just fixed a tear in a customer's favorite coat? Ask them for a recommendation!
Did you just tutor someone's child to earn straight As in school? Send them the recommendation link for Nextdoor.
Here's a great script you can use when emailing them to get a recommendation too:
"[CUSTOMER NAME],
I'm glad to hear you're happy with [XYZ service]!
Also, I'd appreciate it if you left a recommendation for me on Nextdoor. Just follow the link below and leave a review. It should take no more than two minutes.
[NEXTDOOR LINK]
Feel free to reach out if you need [XYZ service] again. It was a pleasure working with you.
Best,
[YOUR NAME]"
I used that exact same script for my business and was able to increase my audience from zero neighbors to more than 5,000.



And just like that, I was visible on the Nextdoor app and had the social proof of a member of the community.
Key metrics to track
Like any other social platform, you need to know your key performance indicators (KPIs). For Nextdoor, your KPIs can be broken up into four areas:
Recommendations. These are the number of positive reviews your neighbors have given you. The higher the number of recommendations, the more social proof you'll have in your community.
Neighborhoods. This is your reach in terms of communities and neighborhoods. The higher this number is, the greater the amount of networks your business can tap into.
Neighbors. These are Nextdoor users who can see your page. The higher this number is, the more Nextdoor users you can connect with.
Comments. These are people actively engaging with your community by leaving comments on your page. These are crucial in providing feedback, addressing concerns, and engaging back with your community.

With those four metrics, you'll be able to get started tracking and optimizing your presence on the Nextdoor app.
Nail the Nextdoor basics
Now that you're on Nextdoor, there are a ton of different ways you can engage with your communities from creating and hosting events to selling your items via listings.
Below are some fast tips on how to accomplish the most common Nextdoor goals:
How to post
Posting allows you to solicit advice and recommendations from your neighbors. It functions the same as your Facebook status updates. To make a post simply:
Go to your Newsfeed.
Click on Post a message, event, poll, or urgent alert to neighbors at the top of your feed.
Choose which type of post you're making.
Craft your post.
Tap Post to post your message.
Your post will now appear on your community feed.
How to create an event
Create an event to gather your neighbors for a birthday party or perhaps a community meeting. To do so, just follow these steps:
Go to your Newsfeed.
Click on Events on the left side.
Click on Add event on the top right corner of the "Events" page.
Fill out your event information and click Next.
Choose a date and time for your event, as well as your event's privacy, before clicking Next.
Choose a photo for your event.
Post your event.
Your event will appear on the newsfeed for your selected audience.
How to create a group
Groups will allow you to communicate and meet up with like minded neighbors. Start that bookclub you've always wanted to do. Maybe find running buddies who will help you train for half-marathon. To create a group, follow these steps:
Go to your Newsfeed.
Click on Browse all groups on the bottom left hand corner.
Click on Create group on the top right hand corner.
Fill out the group information and choose the privacy settings.
Click on Create group.
Your group will now be available for your neighbors to join.
How to sell an item
Declutter your home and make some cash along the way by selling your items on Nextdoor! To do so, follow these steps:
Go to your Newsfeed.
Click on For Sale and Free on the left hand side.
Click on Post an Item on the top right hand corner.
Fill out your listing and add a photo.
Click Post.

Your item will now be listed on your community feed.
4 Nextdoor tips for businesses and organizations
Nextdoor can be a great social network for everyone from users to businesses to organizations. Even local governments can use the app in order to connect with their community. In fact, governments can engage with their citizens and learn about the key issues that impact their community in real time.
Here are a few tips for businesses and governments to leverage Nextdoor for their neighborhoods.
1. Talk to your neighbors
Nextdoor allows organizations the unique opportunity to directly engage their community.
If you're a local government, this might mean speaking with community leaders, individual citizens, and neighborhood groups. This allows you to listen to them and address their concerns—all the while encouraging civic involvement.
For businesses, this gives you an awesome opportunity to really listen to your clientele. Doing so allows you listen to their struggles and pain points, and craft attractive messaging around those issues.
2. Announce major changes
You'll now be able to announce major changes that directly impact the community around you.
For example, if a street in your neighborhood is due to be street cleaned, you can now tell your neighbors to move their cars to facilitate that.
If you're a business, you'll be able to announce if your location is under construction or if there's a major change in the hours you're open.
3. Fight (and prevent) crime
Nextdoor also allows neighbors to help keep their communities safe by way of a digital neighborhood watch. Users can report suspicious activities and be aware of the potential dangers of their neighborhoods.
If you're a local government, you can use Nextdoor to announce urgent crime notices or give practical advice to help keep your citizens safe. You can also keep an eye on the crime reports to help further prevent crime.
4. Engage your community
With events and groups, local governments and businesses can create a community within your community.
For example, local governments can create volunteer voter drive initiatives or organize town halls to address issues pertinent to your citizens.
If you're a business, you can gather prospective customers for things like live workshops and meetups.
The Nextdoor app allows you to connect and engage with your community—all the while providing valuable metrics to help your business or organization.
And now we want to turn it over to you: Have you used the Nextdoor app? What has your experience been with using it for your business or organization?
Leave a comment below. I can't wait to read your responses.
Save time and manage your social media presence with Hootsuite. Schedule and publish posts, engage your audience, and track performance all from the same dashboard. Try it free today.