The Nextdoor app is a social media platform for neighborhoods. The idea behind the app is to help neighbors communicate with each other, organize local events and share information about what's happening in their community.
Nextdoor also has a business page that lets you promote your company locally by interacting with members of your neighborhood and surrounding areas.
In this article, we'll cover how to set up a Nextdoor business page and some metrics you should track as well as some benefits of using the app for marketing
Bonus: Read the step-by-step social media strategy guide with pro tips on how to grow your social media presence.
What is Nextdoor?
Nextdoor is a social networking app for neighborhoods. The company provides a private online network to keep residents informed of the latest in their neighborhood and help build stronger communities around the world. The Nextdoor app is now used in more than 260,000 neighborhoods worldwide, including in the United States, the United Kingdom, Netherlands, Germany, France and Australia.
Thousands of public agency departments use the app. And businesses have earned upward of 40 million recommendations on Nextdoor.
Nextdoor describes itself as "The neighborhood hub for trusted connections and the exchange of helpful information, goods, and services." Nextdoor requires new users to prove where they live before signing up. This can be done by phone or postcard.
The strength of the Nextdoor social network relies on how close neighbors are to each other. Nextdoor starts with the local community, stays true to what a neighborhood really means, and offers targeting tools so that brands can find their audience right down to the postal code.
What is Nextdoor used for?
Nextdoor is an app that people and businesses use for a variety of reasons. Here are a few of the most common uses:
Meeting neighbors
Asking questions or posting a poll
Selling stuff
Buying stuff or soliciting services
Organizing events
Getting recommendations
Posting alerts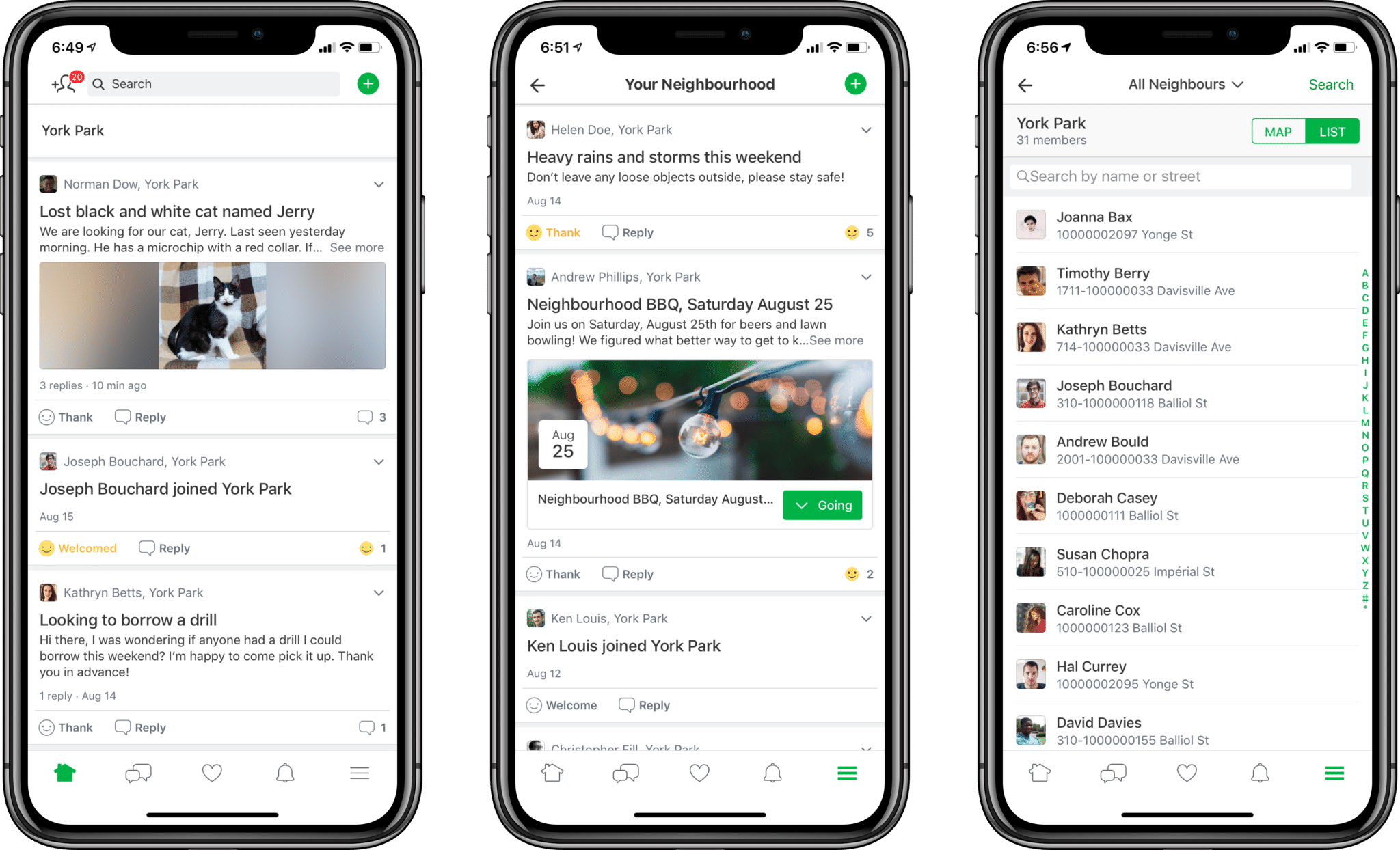 You can find and share crime updates in your neighborhood, report graffiti or streetlight outages, or help other users connect with reliable babysitters. Nextdoor is also a great place for sharing alerts about upcoming sales from local shops.
Businesses use Nextdoor to:
Run Local Deal ads
Engage with the community
Share special offers
Gauge their local reputation
How to create a business page on Nextdoor
Want to create a business profile on Nextdoor? This is a step-by-step guide.
How to create a Nextdoor account
Get the app from the App Store or Google Play, or visit www.nextdoor.com and select Sign up.

Add your postal code, address, and email.

Add your name, password, and gender preferences.

Type in your phone number. Or choose another method to verify your account.

Let Nextdoor know how you would like your address to be shown.

Set up your profile.
How to join Nextdoor as a business
Sign in to your account.
Choose whether you will use your personal email or a business email.
Search for your business
Nextdoor will provide a list of businesses, and if you don't recognize one, you can create a new business page.
Fill in your address and click Continue.
Set up an email account neighbors can contact you with, as well as a phone number and website.
Begin creating a new page by selecting the appropriate business category.

How to set up your Nextdoor business profile
Now that you've created your Nextdoor business account, here's how to set up your profile so people can find you easily.
From the business profile dashboard, click Upload a logo image. This will bring you to a Basic Information form.
Upload a cover image. Nextdoor recommends 1156 x 650 pixels.
Add a logo image. Size should be 500 x 500 pixels.
Share your story. Think spot is similar to the bio or about me section on other social networks. There's a generous word count, so tell the story of how or why you got started. But make sure to start with a clear description of your business, products, or services at the top.
Update your contact information. Add your phone number, website, email, and operating hours.
Add more categories to describe your business. This will make it easier for others to find you. For example, if you run a restaurant, you may add: Restaurant, Chinese Restaurant, and Restaurant Delivery.
Fill your photo gallery. Choose photos that represent the products and services your business offers. Images of menus or pricing information can be added here too. Once uploaded, images can be reordered with drag and drop.
How to promote your business on Nextdoor
It is easy to promote your business on Nextdoor in several ways. Get recommendations from local users first. Then, engage your users by responding to their questions and comments. You can also run Local Deals ads on Nextdoor.
How to get Nextdoor recommendations
Your business will not appear in Nextdoor searches until it has three recommendations from neighbors. Nextdoor suggests that you share your business on other networks to help grow your profile.
How to reply to Neighbours on Nextdoor as a business
Nextdoor members can write posts, tag businesses, mention them in posts or send private messages to business pages.
To respond to comments:
Click Neighbour comments in the left menu.
Choose a comment and select Write a reply. Add your message.
Click Reply to send.
To respond to private messages:
Go to the Inbox in the left-hand sidebar.
Choose a message and click Write your reply to respond.
Click Reply to send.
How to create Local Deals ads on Nextdoor
Local Deals are the primary paid product on the Nextdoor platform. Here's how to create them.
From your business account, click Create a Local Deal from the left-hand menu.
Add a title. Nextdoor suggests a short description of your deal. 120 characters max.
Fill in details. Here's where you can describe deal in more detail. Mention how members should redeem the deal, and if you like, provide some background on your business.
Set the duration of your Local Deal. Campaigns run for a minimum of 7 days and a maximum of 30 days.
Add a link to your website.
If applicable, add terms and conditions. You can also add a unique redemption code.
Add a photo. Nextdoor recommends choosing one without text. Aim for 1156 x 600 pixels.
Preview your local deal.
Select your audience. Use the toggle to adjust according to neighbourhood or price. You can also search audiences within a 10 mile radius by postal code. The price you see is a one-time flat rate. The average Local Deal costs about $75. Hit Next.
Review your order. If you're a first-time customer, you'll also need to add payment details.
Click Submit order.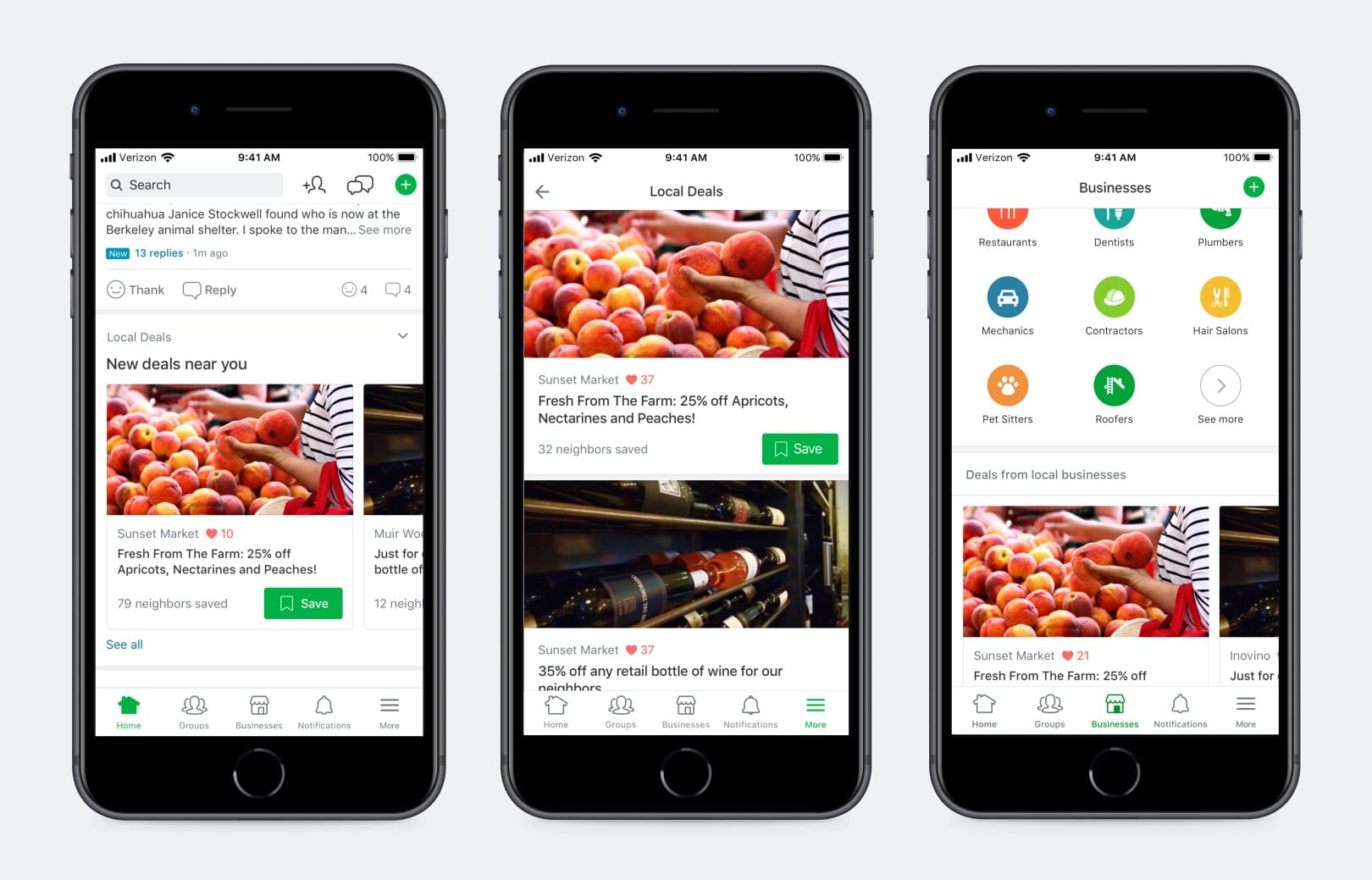 Key metrics to track on Nextdoor
Nextdoor Recommendations are one of the most important metrics on the platform. The number of recommendations you receive, and the quality of those recommendations is key in driving organic growth.

 

Nextdoor Neighborhoods is a metric that tells you how many neighborhoods can see your business profile. To show up in more neighborhoods, earn recommendations from them. Only neighborhoods within a 50-mile radius are eligible.
Nextdoor Neighbors tells you how many people can see your business on the platform.
Organic Neighborhood Reach is the number of neighborhoods you can be seen in on Nextdoor without a promotion.
Local Deals Views tells you how many times your Local Deal was viewed across the Nextdoor app.
Local Deal Clicks tells you how many times your Local Deal was clicked on the Nextdoor app.
Local Deal Saves measures the number of times a Local Deal was saved.
Nextdoor for businesses and organizations: tips and best practices
Here's how to use Nextdoor to build a strong presence on the platform for your business or organization.
Encourage recommendations
If you don't ask for recommendations, willing customers may not know to provide them. If you do, they can improve your search ranking, reach, and standing in your local community.
Post a sign in your storefront, send an email, or write A blog post, or share that you're on Nextdoor on social media. Remember that only your local neighbors and nearby neighbors can make the best recommendations.
Create Local Deal ads
The first paid product to show up on Nextdoor is Local Deals. These ads show in the Businesses section of your business page, on the Daily Digest newsletter, and in relevant searches.
To create one, you must offer a local deal. What could that be? Anything. It all depends on what your goals are and how much money you want to spend on the campaign.
For example, La Fiorentina, an Italian restaurant in Florida, used Local Deals to stay busy during their down season.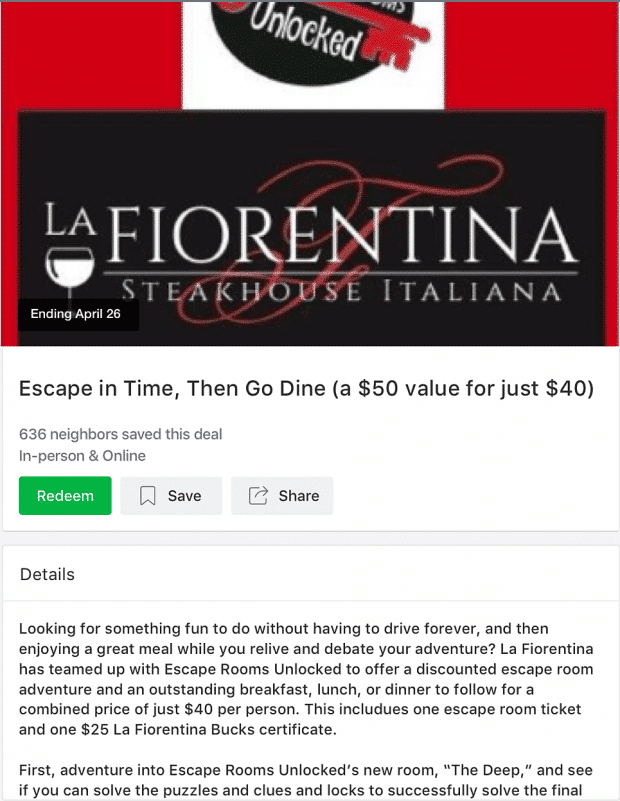 Respond to customers promptly
On social media, customers expect businesses to respond to their questions quickly. On Nextdoor, the difference between a good and bad response rate can make all the difference in whether or not someone gives your business a second chance.
If you find yourself getting asked the same questions often, create a bank of FAQ responses. Consider updating your profile with answers to common questions as well.
Say thanks to your recommendations, too. Take advantage of Nextdoor's react buttons!

Save time and manage your social media presence with Hootsuite. Schedule and publish posts, engage your audience, and track performance all from the same dashboard. Try it free today.
Do it better with Hootsuite, the all-in-one social media tool. Stay on top of things, grow, and beat the competition.
Free 30-Day Trial