Are you currently just using Pinterest to plan your dream vacation or find delicious-looking baked goods to try — or are you using Pinterest for business? If you aren't doing the latter yet, it might be time to consider getting your brand on this visual platform.
Pinterest offers businesses of all sizes a unique way to market themselves — as a visual search engine, Pinterest is great for exposing new potential customers to your brand.
That's because Pinners come to the platform for inspiration. They want to try new things, discover new ideas, find great recipes, and often, get inspired to make their next purchase.
This article will cover all the Pinterest marketing basics to get you started including:
What is Pinterest marketing?
How to use Pinterest for business
How to set up a Pinterest business account
Important lingo you should know that will help your Pinterest marketing strategy
How to use Pinterest with Hootsuite
Let's get started.
Bonus: Download your free pack of 5 customizable Pinterest templates now. Save time and easily promote your brand with professional designs.
What is Pinterest marketing?
Pinterest marketing is a set of tactics that incorporate Pinterest into your business's bigger social media marketing strategy to reach new audiences and grow awareness for your brands and products.
According to Pinterest Business, social media marketers turn to the platform to:
Reach a new audience and grow an online presence.
Drive more traffic to the business's website or online store.
Encourage conversions like newsletter sign-ups, ticket sales or purchases.
In other words, using Pinterest for business can help your brand reach a lot of people and make money.
As of 2021, Pinterest is the 14th largest social network in the world with 459 million active users each month.
Source: The Global State of Digital 2021
And its advertising reach is impressive:
Source: The Global State of Digital 2021
In fact, 80% of weekly Pinners have discovered a new brand or product on Pinterest. And Pinterest statistics show that both the number of Pinners and boards created, is increasing year over year.
This platform can be particularly beneficial if your business targets the same demographic that loves and uses Pinterest. The platform has historically attracted women and people who want to shop or start a new project. As of 2021, it's becoming increasingly more popular with men and Gen Z-ers.
Source: Pinterest Business
Pinterest is also popular among people looking for positive inspiration — it's not the platform for FOMO or controversial back-and-forths.
Now that you know what Pinterest marketing is, time to move on to how you can market your business on Pinterest. Keep reading for 8 actionable tips.
How to use Pinterest for business: 8 tips and tricks
1. Create a Pinterest marketing strategy
Just as you would with any other social media channel, start by drawing out a social media strategy for Pinterest — don't just jump right in.
Creating a Pinterest marketing strategy means:
Setting SMART goals (Specific, Measurable, Attainable, Relevant and Time-bound). On top of gaining a following on Pinterest, do you hope the platform will drive traffic to your website, increase sales for a specific product or drive sign-ups for an event?
Learning about the general Pinterest audience and the demographic that is most likely to use this channel.
Learning about your brand's specific Pinterest target audience.
Considering what your competitors are doing on this social media platform.
Planning and incorporating on-brand content for Pinterest into your social media content calendar.
Once you've set a clear strategy, you can begin working toward your goals.
2. Pin engaging, captivating content
Pinterest is a visual platform, so effectively using it for business means producing high-quality, engaging visual content to share.
So, what makes a captivating Pin?
Vertical imagery. Data shows 82% of users browse Pinterest on mobile. Shoot for a 2:3 aspect ratio to avoid ending up with awkwardly cropped images.
Consider your image and video quality. You want to avoid pixelation, so aim for the highest quality image and video that Pinterest recommends.
Descriptive copy. Good descriptions can help you improve SEO, add context to your images, and encourage users to click on links.
Text overlay. Consider including a headline that reinforces your visual message.
Tasteful branding. If it makes sense for your brand and corresponds to your Pinterest marketing strategy, incorporate your logo in your Pins so your brand doesn't get lost in the Repin shuffle.
Make sure your links work. Broken links won't help your brand! Make sure the link with your Pin won't go to a 404 and that it loads quickly to give Pinners the best user experience.
Finally, be consistent! Consistent, daily Pinning is more effective than creating a board and filling it up at once. And Pinning regularly ensures your content will reach a wider audience.
Using Hootsuite to schedule Pins will help your brand stay on top of your content calendar. (Learn more about how to use Pinterest with Hootsuite below.)
3. Try different Pin formats
Pinterest is an image-sharing platform, but it's not just about photos.
Mix it up! Pin a video encouraging Pinners to shop at your e-commerce store or try adding multiple photos to a Pin to create a carousel.
For example, Nike uses video to promote its products:
And carousels to show a variety of products in one Pin:
But even though 80% of Pinners discover a new brand or product on Pinterest, think beyond shopping and explicitly promoting your brand.
Pinners also come to the platform for inspiration, with 85% of Pinners saying they come to Pinterest to start a new project. Consider also posting how-to Pins or inspiration boards to provide your audience with fun and valuable content.
For example, Nespresso pins step-by-step content to engage Pinners with its brand:
4. Carefully plan your boards
As 97% of Pinterest searches are unbranded, your brand's boards can help reach new Pinners interested in specific topics or learning specific things.
For example, Oreo's boards include Pins with inspiration for upcoming seasonal holidays — like its Spooky Sweet Halloween board and Holidays with Oreo board — as well as recipe ideas, like its Oreo Cupcakes and Oreo Cookie Balls board.
In other words, the brand skillfully mixes useful, engaging and inspiring content boards with boards that are more promotional: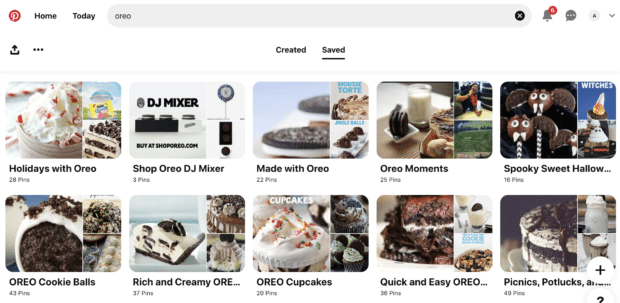 PS: Looking to create content for your own Halloween board? Browse our collection of real Halloween social media post examples.
And Aveeno has boards for their own products, like Aveeno Body and Sun Care boards: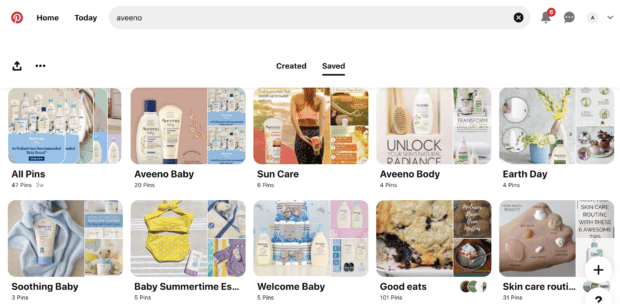 But the brand also has other boards, like the Earth Day board that includes Pins indirectly showcasing the brand while showing an understanding of what their audience values and supports.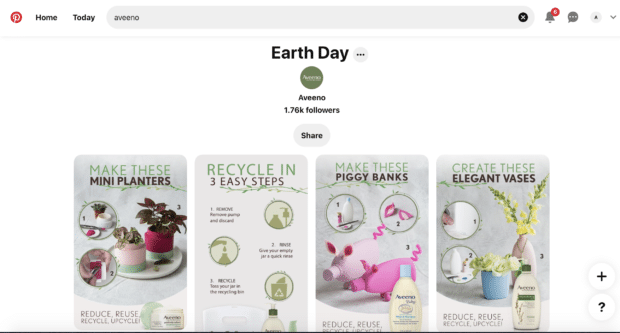 5. Optimize your Pins for SEO
Pinterest is a search engine, so make sure your business's Pins are easy to find in a search! Include keywords in your Pins' descriptions, on boards and in hashtags.
Rich Pins, designed to pin new content from your business's website while avoiding duplicate content will also boost your brand's Pinterest SEO.
Find more SEO tips — and the top 100 Pinterest keywords— in this article.
6. Try out different Pinterest ads
Another effective way to market your business on Pinterest is with ads. Pinterest allows advertisers to target ads around keywords, interests, location, age and other metrics and categories.
And detailed audience targeting lets advertisers reach specific groups of Pinterest users, including:
People who have visited your website.
People who have engaged with your Pins.
People who have engaged with similar content on the platform.
A custom list, such as your newsletter subscribers.
From video ads to collections to promoted Pins, there is a range of ad types available on Pinterest. Learn everything you need to know about Pinterest advertising here.
7. Track the metrics
A successful Pinterest marketing strategy is data-driven. In other words, tracking, measuring and analyzing key Pinterest metrics and audience behavior helps social media managers see what content performs best and what content is a little less engaging.
We let you know which metrics you should be tracking and which tools you can use to monitor them here.
8. Promote your Pinterest profile
Finally, make sure your loyal followers from other platforms know you're also active on Pinterest. Promote your Pinterest profile:
By linking to your Pinterest profile on your company website.
Including the link in your email signature.
Cross-promoting your Pinterest business account on your business's other social channels.
Sharing the news of the Pinterest profile in a company newsletter.
How to set up a Pinterest business account
When using Pinterest for business, you want to make sure you've created a Pinterest business account and aren't just using a personal account. That's because a business account allows your brand to:
Access analytics to monitor and measure your Pinterest marketing strategy.
Run a wide variety of Pinterest ads.
Set up a Shop tab.
Here, we walk you through the steps to setting up your brand's Pinterest business account.
How to set up an account if you've never used Pinterest before
Step 1: Start by creating a new account
Go to pinterest.com and click Sign up.
Step 2: Navigate to the bottom of the pop-up
And click Get started here!
Step 3: Fill in your details
Add your professional email and your age, and create a secure password. Make sure the email you're adding isn't connected to any other Pinterest account. Then, click Create account.
Step 4: Fill out the fields to build your business profile
You'll be asked to add your business's name, language and location. Then, click Next.
Step 5: Describe your business
Choose the description that best fits what your business does and add a link to your website.
Now you're ready to start Pinning and running ads!
How to set up an account if you have a private Pinterest profile
Step 1: Log into your personal Pinterest account and navigate to Settings
Get here by clicking on the last button (a simple arrow icon) in the top right hand menu. This opens a drop-down menu. Then, click Settings.
Step 2: Select Account Settings in the left hand menu
Step 3: Scroll down to Account Changes
And click Convert account under the Convert to a business account section.
Step 4: Fill out your business information
You'll be asked to add your business's name, language and location. You'll also choose the description that best fits what your business does and add a link to your website.
Another option is to link a Pinterest business account to your already-existing personal account. To do that, simply click Add an account after navigating to settings while logged into your personal account:
Click Create under Create a free business account:
After creating a linked Pinterest business account, follow the same steps as above: add your business's name, language, location, business description and a link to your website.
Whichever method is right for your brand, once you're set up with a Pinterest business account, you're ready to start marketing on Pinterest!
Important Pinterest for business terms you should know
Like every social media site, Pinterest has its own lingo you should familiarize yourself with to set yourself up for success. To help you out, here's a glossary.
Pins and Pin formats
Pinner
LinkedIn has members. Snapchat users are Snapchatters. And Pinterest has Pinners. In other words, a Pinner is the branded term for a person who uses Pinterest.
Pins
A Pin is a primary post published on Pinterest. Pins include images or videos and can link back to an original source, much like a website bookmark.
Promoted Pins
Promoted Pins are a kind of Pinterest ad. They are Pins that companies have paid to promote so that more Pinners are likely to see them. These Pins appear in the home feed, category feed and search results, and include a "Promoted" label.
Promoted video Pins, carousels, and app Pins are also available. Learn more about Pinterest ad options here.
Repins
Think of a Repin as a share on Facebook or a Retweet on Twitter. A Repin is when someone Pins a post they like (but that they didn't create) to one of their boards.
Rich Pins
Rich Pins automatically pull more information from your website to the Pin. The point is to provide more information, such as product availability and up-to-date pricing. Rich Pins are available in three formats: Product Rich Pins, Recipe Rich Pins and Article Rich Pins.
Video Pins
These are much like regular Pins, but instead of a static photo, they feature a video that loops.
Carousel Pins
Instead of just one image, carousel Pins feature multiple images. Up to five images can be added to a carousel Pin.
Collections Pins
This Pin format makes it easier for Pinners to shop for similar products. When a Pinner clicks on the magnifying glass in the bottom right corner of a Collections Pin, white dots will appear.
Idea Pins
This is a new Pin format that isn't widely available yet. Idea Pins can be used to promote your brand in a new way, by customizing the colors and fonts in your Pin, creating step-by-step guides or curating collections.
Try on product Pins
This is another new Pin format that isn't widely available yet. Try on Pins use augmented reality (AR filters), allowing Pinners to virtually "try on" products they see on Pinterest using the Pinterest Lens.
Boards and Board types
Boards
Think of Pinterest boards as digital mood boards. Use boards to save, collect and organize your Pins. Many use boards to group Pins according to a certain theme or topic. For example, you might create a board around the planning of a product launch event, for seasonal content, or for wedding inspiration.
Group boards
Group boards are the same as regular boards, except more than one person can add content. This format is ideal for marketers looking to share ideas or plans with their team, as anyone can contribute.
Secret boards
A secret board can only be seen by its creator and invited collaborators. When you create one, you'll see a lock symbol beside the board name. These are useful for planning you don't want to be public — secret boards won't appear in the home feed, in search, or anywhere publicly on Pinterest.
Protected boards
Similar to secret boards, protected boards live at the bottom of your Pinterest profile and only you can see them. However, the Pins on these protected boards can be seen across Pinterest if a Pinner has a direct link.
General Pinterest terms
Audience Insights
Pinterest business accounts have access to important metrics and analytics via Audience Insights. Learn more about how to use Pinterest analytics and what platform-specific metrics you should be tracking.
Pinterest Lens
This augmented reality tool is available on mobile devices only. Pinterest Lens is a camera tool that lets users take a picture of something — like a product or a Pincode — and then they can find related content on Pinterest.
Pincodes
Pincodes are essentially QR codes. These codes can be placed on hard copies of marketing material (like a business card or a press release) and scanned using Pinterest Lens — the codes then link back to a Pinterest board or profile.
How to use Pinterest with Hootsuite
Hootsuite allows you to streamline your Pinterest marketing efforts, work on social media marketing as a team and handle all of your social accounts (across platforms) from one dashboard.
Here's how Hootsuite's integration with Pinterest can help you save time and effortlessly add Pinterest to your social media strategy.
How Hootsuite can help your Pinterest marketing strategy
Using Pinterest will help you and your business by:
Saving time. Hootsuite allows you to create and schedule Pins. You can also post the content to multiple accounts at the same time.
Improving teamwork. With Hootsuite, you can make sure that content is created consistently, regardless of which team member is doing the work. Do this by setting up an approval workflow in Hootsuite and using the dashboard's collaboration tools.
Making it easier to manage multiple channels. The scheduling feature ensures your Pinterest marketing strategy aligns seamlessly with all of the other social platforms your brand is using including Facebook, Instagram, LinkedIn, YouTube, and Twitter.
How to start using Pinterest with Hootsuite
Step 1: Connect your Pinterest business account to Hootsuite
Make sure you're logged into your Pinterest business account. Then, click Add social network:
Select Pinterest as the network you want to add to Hootsuite:
And authorize it by clicking Give access.
Step 2: Create your first post
Hover over the Composer icon and select Pin.
Step 3: Select a board for your Pin
You don't have to pick just one — you publish the Pin to multiple boards.
Step 4: Upload your media files
Upload your image (and edit it, if you'd like), add a link to the website and type any text for additional context about your Pin.
Step 5: Pick a time for the Pin to be published
Click Post now to publish the Pin immediately. Or, click on the arrow for more publishing options:
Step 6: When scheduling for later, select your publishing day and time
Then, click Done.
For more information on how to publish posts to Pinterest using Hootsuite, check out this video:
Save time managing your Pinterest presence using Hootsuite. From a single dashboard, you can compose, schedule and publish Pins, create new boards, Pin to multiple boards at once, and run all your other social media profiles. Try it free today.
Schedule Pins and track their performance alongside your other social networks—all in the same easy-to-use dashboard.
Free 30-Day Trial