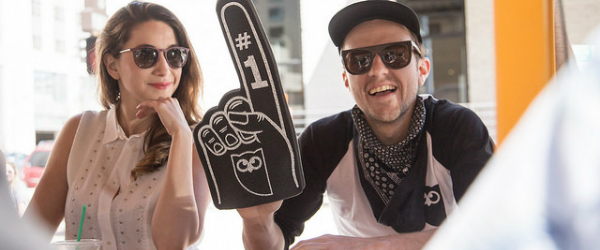 How to Unleash The Potential of Social Marketing Campaigns
It's a fact that social media marketing campaigns are 60% more effective than traditional advertising. That's why organizations that want to make the most of what social has to offer are launching them in droves. But when should you launch your first campaign? What kind of campaign should it be? And what will its results mean for your business?
We have answers to those questions and want to share them with you. In our upcoming webinar, How We Do It: Insider Tips for Running Great Social Contests, we'll walk you through the campaign planning process and share behind-the-scenes insights learned from two of our best-performing lead generation and user-generated content campaigns.
Date: Tuesday, June 2, 2015
Time: 8 am PT / 11 am ET / 4 pm BST
This webinar provides insider tips from the Hootsuite Campaigns team, including:
The secrets to the success of our "Win Hootsuite Pro for Life" sweepstakes—which generated 1000s of qualified leads
Behind the scenes of the "Hootsuite in Austin" campaign—our hugely popular Social Gallery of user-generated content hub created at South by Southwest
How you can use Hootsuite Campaigns to run your own campaigns—to engage your community, build your brand, or generate leads
Our webinar speakers
Richard Hungerford
Director of Hootsuite Campaigns
@rickyhungy
Richard is responsible for leading the marketing, sales and product team of Hootsuite Campaigns. Prior to joining Hootsuite, Richard was CEO of Brightkit, a social marketing platform acquired by Hootsuite in July, 2014. He's helped leading brands and agencies such as NBC, the NHL, Universal Music Group and 3M launch social media campaigns.
Candice Charleton
Manager, Community North America
@candiceinvan
Candice works with Hootsuite's world class team of NA Community Managers who engage with online and offline with audiences in Canada and United States. She brings both agency and in-house experience in community building and social media strategy to her role, knowing that growing #BrandLove takes a dedicated balance of listening, planning and authentic engagement.
Evan LePage
Blog Specialist, Hootsuite
@evanlepage
Evan is a blog specialist on the Hootsuite marketing team, and has been at the company for almost 3 years. In addition to writing and editing for the blog, he helps with the ideation, execution and management of major content marketing campaigns, like Hootsuite's Social Media Game of Thrones video, Dr. Seuss Guide to Twitter and #SocialNotScary Halloween project. Outside of work, Evan is a huge Montreal Canadiens fan and spends most of his nights playing or watching hockey.