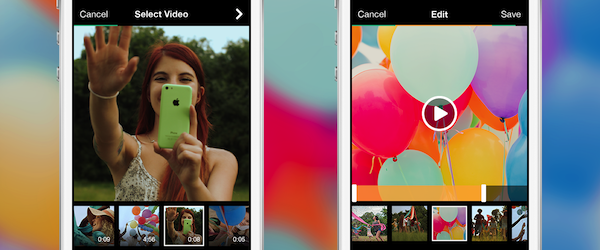 With its Latest Update, Vine Comes of Age (While Users Still Haven't)
I was recently on a family vacation, and my younger siblings and cousins were crowded around a small screen, giggling every 6 seconds like clockwork. They were on Vine, watching video after video by other teenagers just like them, and I didn't understand what was so hilarious. Turns out that I, like many other marketers, just didn't understand Vine.
The latest update introduces a big change that may open Vine's doors to marketers: instead of users being forced to capture video from their smartphones within the app in real-time, you can now upload, edit, and publish Vines from existing videos. While the real-time format allowed for creativity to blossom on the network, it was difficult for marketers to leverage the platform and post the high-quality video content they were accustomed to creating.
The new features are meant for amateur and professional Viners alike, offering sophisticated recording options and editing tools that make it easy for anyone to create a looping video. Vine's latest update paves the way for brands to join the social network: but should you?
The next YouTube?
For many users, Vine is a lot like YouTube. They consume a lot more content than they post, similar to how many YouTube videos you watch compared to how many you actually upload. It's less of a "follow your friends" social platform and more of a "follow celebrities" entertainment platform, except on Vine the celebrities are often comedians and teenagers that have risen to fame because of, well, Vine. And like YouTube videos, Vines don't just stay in the app: they're embedded across the web on sites like Facebook, Twitter, and Tumblr and appear on media and news publications from Buzzfeed to CNN to Sportsnet. Vine also has it's own search engine at Vine.co, where you can search vines just like you would on YouTube
The audience
Vine holds a key demographic that many brands are eager to reach: teens. Twitter hasn't released user demographics for Vine, but one scroll through the network and it's clear that teens run the show. In order to be successful on Vine, you'll need to create vines that teens want to watch and re-vine (which makes it go viral, like a retweet). But why are teens are so obsessed with vine? "It's funny." That was the same response I received each time I asked my teenage family members why, exactly, they liked Vine (as if was the most obvious thing). Vine is centered around users competing to be as funny as possible in only 6 seconds, and
While Generation X's older siblings grew up with bandwidth limitations and data caps, teens now are growing up in a world with accessible 4G internet speeds that make uploading and consuming video on-the-go only natural (unlike their older siblings). Similar to what made Snapchat popular, Vine gives teens a raw, unfiltered place to post content that doesn't really need to have purpose. But unlike Snapchat, vines automatically loop and encourage viewers to watch them again and again, providing punch line after punch line.
The opportunity for brands
Vine is all about "capturing moments," but with so many other social networks vying for your attention, which one do you choose?  Now when you go to capture a moment, both users and marketers have to think about what medium is best: a photo to edit for Instagram, a video to rewatch on YouTube, a Snapchat to send to everyone, etc. There's only so many cameras (and staff) present at one time, and a major challenge for brands with Vine was that you had to shoot "live" in their app and you had little flexibility to edit.
Enter Vine's latest update, which allows you to import existing videos and offers a suite of editing tools to make creating and posting great Vines easier for both brands and users. Marketing teams can now create videos without having to be a stop-motion whiz, and you can capture video in real-time and worry about posting it later. Vines have the potential to act as a mini-commercial, and now brands will be able to repurpose and leverage existing video content to be shared with a whole new, younger audience.
Each month there are more than 100 million people watching Vines online, with more than 1 billion "loops" a day. Pair that with it's strong teen base, and Vine is in a position to become the go-to network for quick laughs, music, news, and just about everything else you can fit into 6 seconds.