I know they are out there.
I know that hiding right in front of my fingers are shortcuts and secret keys you can press.
I've searched. I've asked. I've read.
From skipping the boring parts of YouTube videos to razor-sharp searches in Twitter, these are the best social media Mac keyboard shortcuts I could find.
Just print out the keyboard and keep by your desk. Not a Mac user? You can find our graphic of all the PC keyboard shortcuts for social media pros here.
Download Your Social Media Keyboard
BEFORE: Your recognizably average keyboard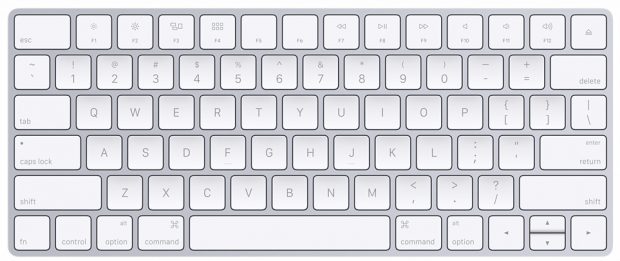 AFTER: Your helpful—and beautiful—social media keyboard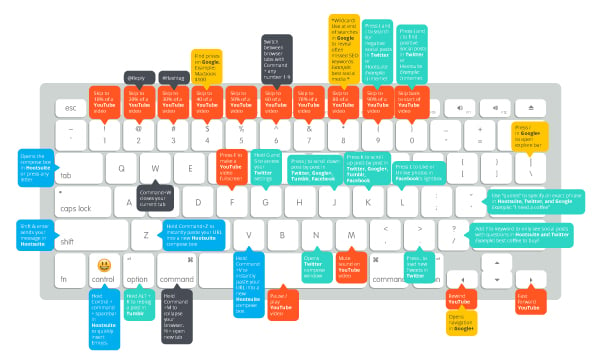 Download and Print Your Free Social Media Keyboard
Other helpful shortcuts and filters
I've included a few other shortcuts that will help you find cleaner data, uncover new blog post ideas, and become better at social media listening.
Is a shortcut not working? The most common mistake is to put a space between the : (so to:Pepsi is correct NOT to: Pepsi).
Shortcuts for Hootsuite
Go to Hootsuite.com. Click "Add Stream." Click "Search." Enter these filters in the search bar with the keyword you want to track.
Find real humans, not spam and sales messages
To filter out posts with links (as they are often promotional), use:
-filter:links
Example:
coffee -filter:links
Find social posts with links—filtering out chatter
To find posts with links, use the following filter after a keyword:
filter:links
Find customers near you
Add
near:Liverpool to find posts near you
Search social posts by language
Use 'lang:es' for results in Spanish
Hint: it works for others too (en, zh-cn ect)
Shortcuts for Google
Find related sites for content partnerships and link building
Add
related:
in Google to find similar sites which helps locate niche influencers
example: related:cnn.com
Find less competitive SEO keywords
Find other sites targeting your SEO term in Google with
intitle: "search term"
Want to contribute a guest post?
Find opportunities in Google by searching:
social media + "become a contributor"
Shortcuts for DuckDuckGo
Use !YouTube + Keyword in DuckDuckGo to search results.
Also works with eBay and Amazon.
Here are a few examples of the benefits of using these shortcuts:
D (DuckDuckGo)
!YouTube + Keyword (Example: !YouTube Cat Social Media Guru)
One of the best ways to get inside the minds of customers is to read product reviews. By using !YouTube  Keyword in DuckDuckGo you can instantly pull results from YouTube. Or eBay and Amazon—for example: !Amazon Surfboards. Now, you can quickly read reviews and swipe real customer language to use in Tweets, emails, landing pages, and blog posts.
-filter:links in Hootsuite
Social media is filled with spam and vendors selling products, making it hard to see actual customer conversations. Use this filter (-filter:links) in Hootsuite to remove all posts with links. This reveals actual human conversations—such as people talking about what fashion products they like, car enthusiasts sharing what accessories they'd buy, and other little communities.
Use -filter:links to filter out posts with links as they are often promotional
Example:
coffee -filter:links
? in Hootsuite
In Hootsuite, add a ? to your keyword (example: real-estate?) and you'll only see posts with questions. Whether you need a quick idea for a blog post (such as the best small cities to buy real-estate in?) or are looking to understand your customers better, this filter reveals gold.
More Hootsuite templates to save you time 
If you liked my social media keyboard, the templates below will also help you get more done on social media.
Hootsuite is the perfect platform to use all of your newly learned mac keyboard shortcuts. Try it free today.