If your social media manager glass is half empty, Instagram trends are annoying: they're hard to keep up with because they're constantly changing, and the pressure to "hop on" trends can be overwhelming.
But if that Insta-glass is half full, trends rock: they're a source of infinite ideas, they create connections across the social media platform's 2 billion monthly active users and they're an opportunity to put your brand's unique twist on a cultural phenomenon.
At Hootsuite, we're team trend — and we're also here to give you all the tools you need to nail what's hot, now. So instead of covering specific trends that might be out of date by the time we finish typing this sentence, we're going to cover broader trends and cite some current examples.
Get our 2024 Social Trends report, and dig into the juicy data that'll help you reach your goals in 2024—which is shaping up to be social's best year yet.
11 most important 2023 Instagram trends
1. Challenges continue to rule on Reels
Trending challenges embrace a lighter side of social media, and foster a sense of community among Instagram users. Dance challenges, exercise challenges, riddles and other popular tests of strength or smarts are virtually always circulating on the platform: take a scroll through your Reels and you're sure to come across them.
For example, right now there's a challenge going around where folks ask their friends, family or coworkers to try and jump without bending their knees.
Challenges can also be posed from the poster to the audience—for instance, in "guess who's singing" challenges, users can reply in the comments with their guesses.
The "Roman empire" trend could also be considered a challenge, where users ask men in their lives how often they think about the Roman empire…
… with varying results.
2. Replying with Reels creates conversations
Instagram took a note from TikTok and introduced "reply Reels" to give creators and brands more opportunities to meaningfully engage with their audiences. When a user leaves a comment on a public Reel, the poster of the Reel can reply to it with another video, creating a dialogue with the commenter.
Sometimes, reply Reels answer questions or draw attention to positive feedback—the video above is answering a question, and is meant for educational purposes. But it's also common for users to use Reel replies to respond to negative comments… to clap back, if you will.
3. AI generates new opportunities
Eek, robots are taking over the world — Instagram included. Many IG users are using AI to generate content ideas, write captions and even edit photos and videos.
And that's fair game! AI can help you painlessly fill up your content calendar. Just remember: you're still the brains of the operation. Don't take AI-generated posts and ideas at face value. Make edits when necessary to make sure that everything that goes live is aligned with your goals and brand guidelines.
Hootsuite, for example, has Owlywriter AI for instant captions, repurposing past content and coming up with fresh campaigns. Sign up for a free 30-day trial to check it out!
4. Photo dumps keep it real
An Instagram photo dump is a collection of images posted in a carousel (sidenote: Instagram carousel posts, on average, get three times as much engagement as a single feed photo post does). Photo dumps generally include a variety of different kinds of images and also a variety of image qualities.
Photo dumps are evidence of a movement away from the polished, edited, filtered content that Instagram has become known for. Photo dumps are a more casual and honest representation of the way we actually live: blurry photos, messy spaces and screenshots of memes are the usual suspects in a standard dump.
For excellent examples of photo dumps, look no further than Gen Z celebrities: they've created an art form.
5. Text posts thrive on the 'gram
Instagram is, first and foremost, a photo- and video-sharing app… right? That may be true, but the definition of a photo or video continues to be blurred by social media. Think about collections of memes, or screenshots of Tweets (which are now just called posts, we guess, since Twitter rebranded as X).
Gorgeous, high-resolution photos will always be winners on Instagram, but text posts are trending, too. A simple note or relatable screengrab is super sharable, and continues to be a low-maintenance minefield of content.
Pro tip: if you're posting text-based images on Instagram, make sure you're making them accessible. Not everyone is able to use vision to take in information, and you want your content to reach as many people as possible. Use the alt text field to type out the words in your post so that everyone can read them.
6. The future of Threads is uncertain
This is in contrast to the point above: while text does well on Instagram, IG's text-based offshoot isn't exactly thriving.
Meta introduced Threads, a text-based "update" app, in summer 2023. Threads uses the same login info as Instagram, meaning that if you already have an IG account, you've got a Threads account, too — it's just waiting for you to sign in.
When it comes down to it, the best way to describe Threads is "like Twitter" or "like X, the app formerly known as Twitter." It's certainly intended as a direct competitor. At first, it seemed like threads might actually be the new tweets, but as news outlets report that Threads daily active user numbers are falling, the future isn't clear.
The takeaway? Using Threads is an excellent way to enhance your social presence, but now's probably not the time to invest all of your resources into that one platform.
7. Working together with Instagram collab posts
Not only are Instagram collab posts used as engagement announcements by every annoying person you went to high school with — they're also super helpful for business partnerships. Instagram collab posts allow for two or more accounts to post the same content and share the likes, comments and other engagement-boosting analytics.
For example, take this collab post with Lululemon, Peloton and several influential fitness creators: it has 36 thousand likes and over 800 comments.
Posting in collaboration with another user automatically expands your reach. It gives you the opportunity to be seen by not only your followers, but by your collaborator's followers as well.
Collab posts are great for relationship-building (in marketing and in life) and often produce win-win results for both parties.
8. Driving traffic with a link in bio
There's lots of ways to make money on Instagram, but most of them involve making money indirectly. In other words, Instagram isn't paying you, it's just a tool you use to guide consumers towards your business. To actually convert your IG audience into paying customers, you'll need to use your link in bio.
Take this post from Bon Appetit, for example. Instead of posting the recipe, the Instagram post is used to direct audiences to the company's website (which, in turn, directs them to signing up for a paid subscription).
Creators use their link in bio to direct followers to their online store or Youtube page, retailers use it to direct people to their ecommerce platform, actors use it to link to upcoming projects. It's a super-diverse, super-useful part of Instagram, and if you're not using it, this is your sign.
9. Music, music everywhere
You can't hear a photo, right? Wrong — at least, that's not the case on Instagram anymore. Now, you can add audio to your still photos and carousels, which helps to boost how engaging your content is.
That means you can now add music to your Reels, Instagram stories and your posts: you can't stop the beat. As videos become more and more prominent on the platform, creators are looking for ways to make their photos more captivating, and adding music is a free and easy way to boost a still image's wow-factor.
(Unfortunately, music isn't actually everywhere—still photos posted with audio can only be heard using Instagram's mobile app, so if you're reading this on a computer, the embedded post above won't look like it has audio. You'll have to open it on the app to prove it. Alternatively, you can hum a tune yourself.)
10. Eating around the world
According to Meta's 2023 Instagram trends report, 68% of Gen Z social media users "will either continue or would like to try food from another culture after discovering it online."
Food has always had a huge presence on IG, but modern, younger foodies are more curious and open to trying new foods from other parts of the world.
Maangchi's Korean cooking videos are popular worldwide, and her comments are flooded with folks who are grateful for her lessons on authentic Korean techniques.
11. Soft launches aren't just for relationships
On Instagram, you may know a "soft launch" as a way for people to hint at a new relationship in their life—rather than showing full commitment by posting a full-face photo of a new partner on their grid, folks are teasing the concept of a new boo by posting blurry or partially hidden pics on their story.
And brands are doing it, too: teasing new products, concepts or services through soft launches on the 'gram. It's a way to hype up the news and create some buzz around the brand (similar to how a soft launch of your new boyfriend hopefully will instigate some gossip).
Here's an example from jewelry brand Mejuri. The business posted several videos leading up to a sale, and encouraged followers to sign up for a membership to get early access to the deals. Instead of giving away all of the information at once, they're creating an exclusive opportunity and a bit of mystery.
TLDR: Instagram doesn't publish a list of trending hashtags. So, we had to do some digging.
The best Instagram hashtags for you will depend on your specific niche, and there's no one-size-fits-all solution for hashtagging on Instagram.
Plus, using the most popular hashtags doesn't necessarily mean your post will be successful: #love has been used more than two billion times, meaning that finding a specific post by searching that tag would be basically impossible.
So, let's use an example: say I'm a baker from Vancouver posting some vegan chocolate chip cookies.
Hootsuite has a free hashtag generator to help you come up with ideas—once I type in a description and some keywords…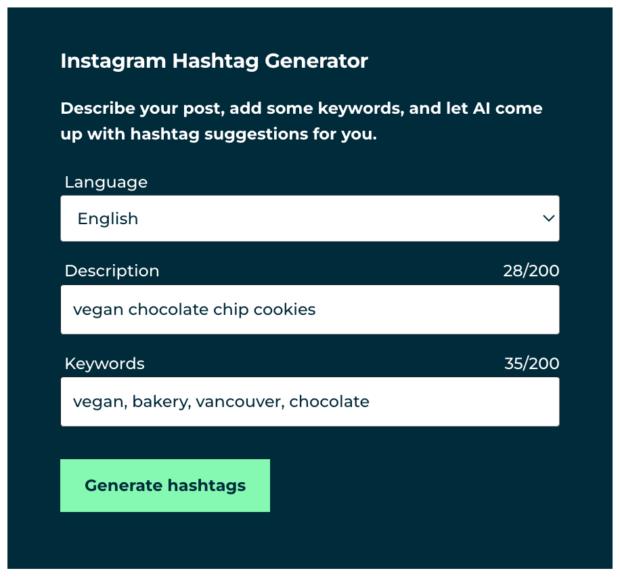 … some great hashtags are generated for me.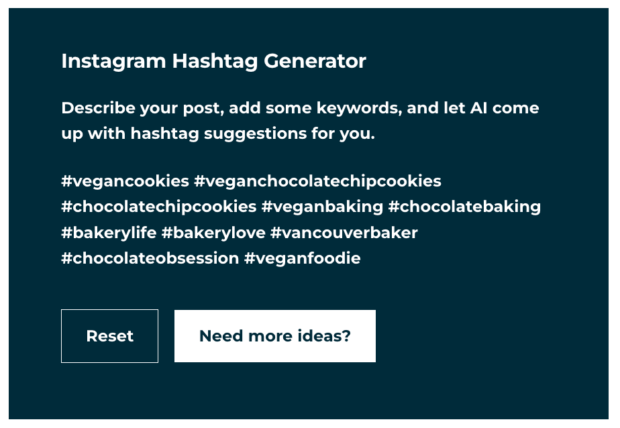 You can also use the autocomplete on the explore page to come up with ideas–for example, this is what comes up when I start typing "vegan."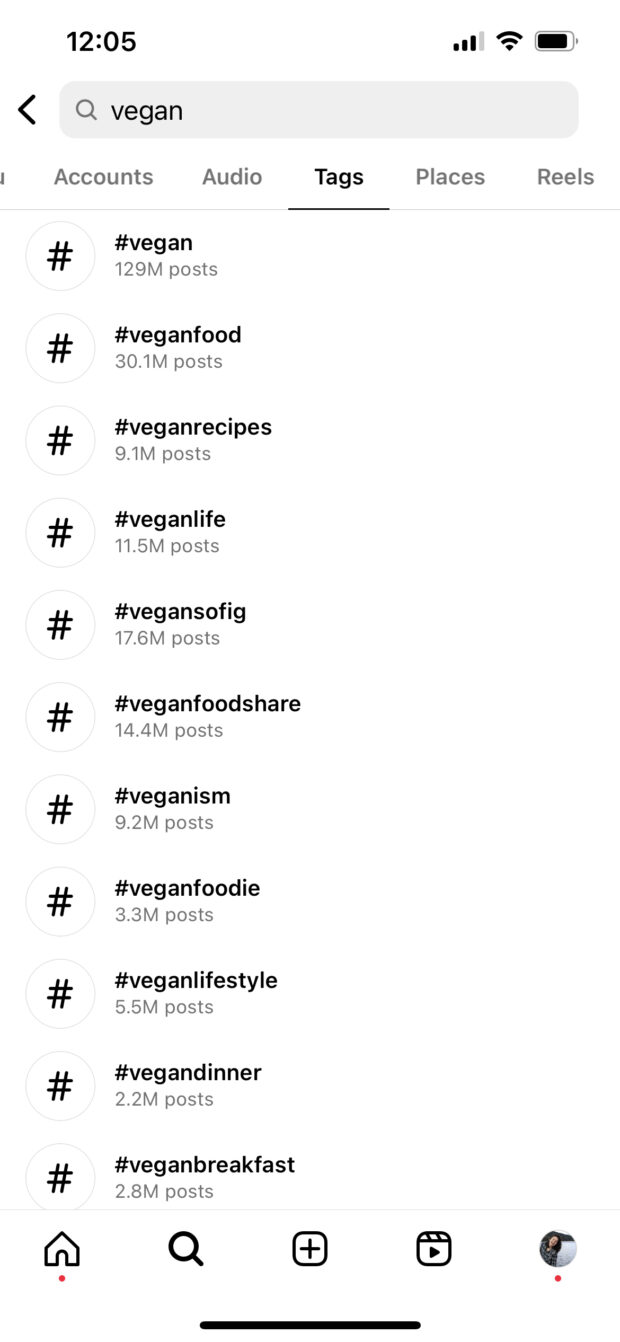 Using Hootsuite's social listening technology can also help to identify trending hashtags in your industry (start listening here).
Trending audio on Instagram
Trending audio is a little easier to find than trending hashtags, because audio is less niche-specific… but, audio trends change daily. What's trending on Instagram at the time this post is written might not be trending at the time you're reading it. So, instead of letting you know what's' trending as of the date this blog post is published (it's "Stick Season"), here are some ways to find what audio is trending, well, now.
To find trending audio for an Instagram Reel, open the Instagram Reel editor and tap the music icon. From there, Instagram will show you music it thinks you'll like. Any song with the "up" arrow next to it is trending upward.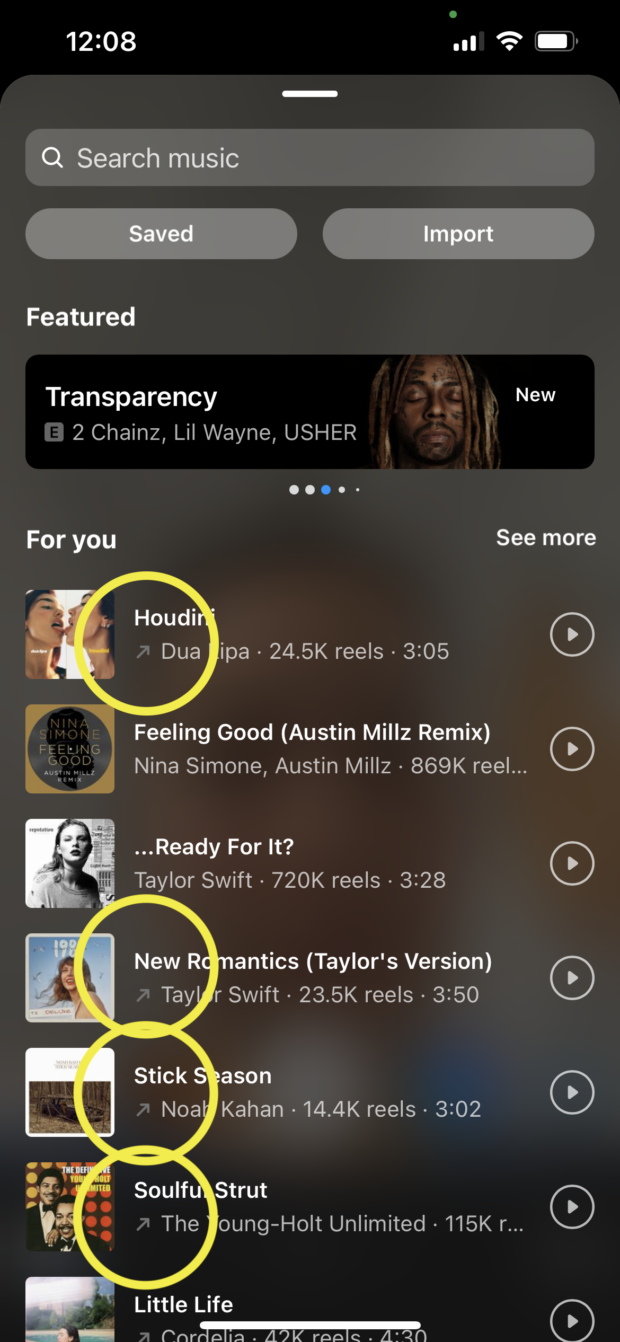 Source: Instagram
When you're watching Reels, you can also identify if the audio is trending by that arrow—it's located in the bottom left of the screen.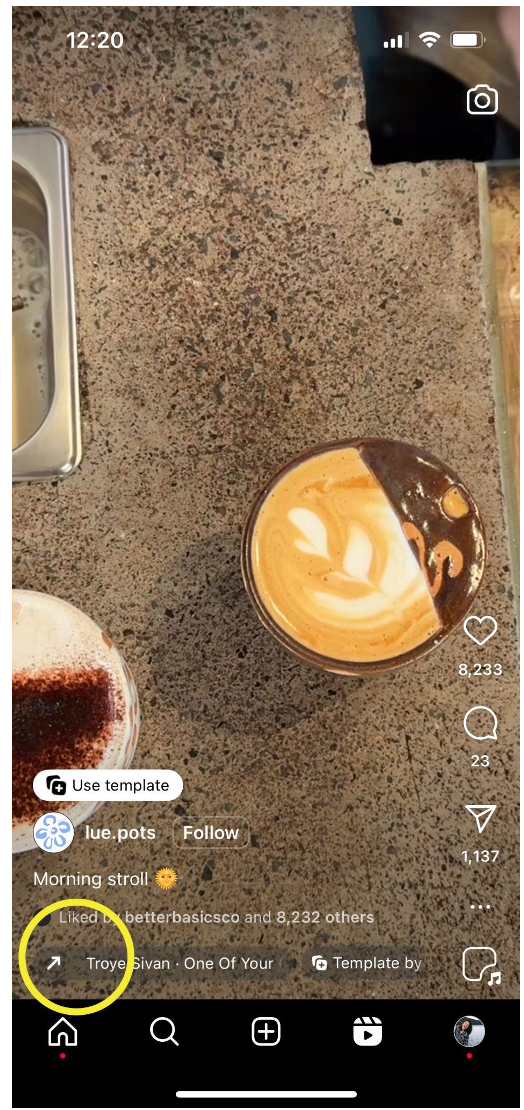 Source: Instagram
If you have more questions about Instagram audio, chances are we've answered them here.
How to identify and keep up with the latest Instagram trends
Because Instagram marketing trends are (literally) always changing and evolving, it's important to develop strategies to keep up. Here are some hacks for staying in the game.
Read a social media blog (like Hootsuite)
Wow, genius! You're already doing it. Hootsuite — and other blogs like it, but come on, we're the best — keeps up with social trends, conducts social media experiments and gathers useful information all in one spot. Follow social marketing platforms, subscribe to newsletters and check in often.
Follow Instagram… on Instagram
Another no-brainer. Follow Instagram, Meta, and Adam Mosseri on IG, Linkedin, Threads and the platform formerly known as Twitter to stay up to date with new features—new technology often leads to new trends.
Use the Explore page
Instagram's Explore page shows posts that the platform thinks you'll like, but it's also a great place to see what topics are on the rise. Just hit the "Search" field and the app will show you a bunch of subjects that are trending. Scroll to the left for more.
For example, at the moment this blog post is being written, topics like "pause challenge," "christmas tree decoration," "kitchen interior," "motivational quotes," "david beckham," "short hair" and "pedro pascal" are trending.


Source: Instagram


Source: Instagram


Source: Instagram
Manage your Instagram presence alongside your other social channels and save time using Hootsuite. From a single dashboard you can schedule and publish posts, engage the audience, and measure performance. Try it free today.
Grow on Instagram
Easily create, analyze, and schedule Instagram posts, Stories, and Reels with Hootsuite. Save time and get results.
Free 30-Day Trial