With 200 million users, Pinterest is a smaller social network than giants like Facebook and Instagram. But it's uniquely important for marketers as a place users visit to gather information about potential purchases. In fact, Pinterest beats out Instagram as a primary social media platform influencing purchasing decisions for U.S. social media users.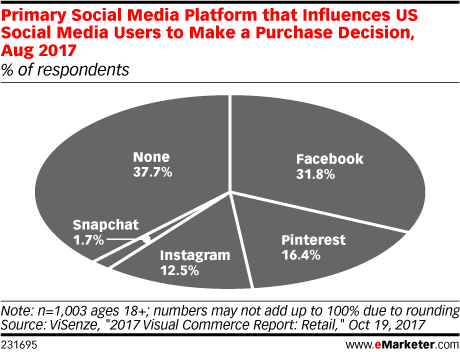 Sixty-one percent of Pinners have discovered new brands or products from Promoted Pins, and half of Pinners have already made a purchase after seeing a Promoted Pin.
Still not sure Pinterest ads offer value for your business? Consider this: 75 percent of saved Pins come from businesses. And Pinners can well afford the products brands are showcasing on the platform: 40 percent of them have household incomes of more than $100,000 per year.
Pinterest is also more popular than Instagram among U.S. Baby Boomers and moms, so Pinterest advertising is especially worth your attention if you're targeting either of those lucrative demographics.
There's just one catch: For now, Pinterest ads are only available to businesses in the United States, Canada, the United Kingdom, Ireland, Australia, and New Zealand, but more markets should be available soon.

Bonus: Download a free guide that teaches you how to make money on Pinterest in six easy steps using the tools you already have.
Types of Pinterest ads
Promoted Pins
The original Pinterest advertising format, a Promoted Pin is simply a Pin that you pay to promote so that more people will see it. Other than the paid-for expanded audience and the addition of the word "Promoted" at the bottom of the Pin, it's exactly the same as a regular Pin.
You'll notice that the Pinterest ad examples embedded in this post don't show the Promoted label. That actually highlights a great benefit of Promoted Pins: When someone saves your Pinterest ads to their own Pinterest board or embeds them on the Web, those repins are considered organic. The Promoted label is not included, and the extra traffic doesn't cost a dime.
For example, take a look at this Promoted Pin from Style Bistro: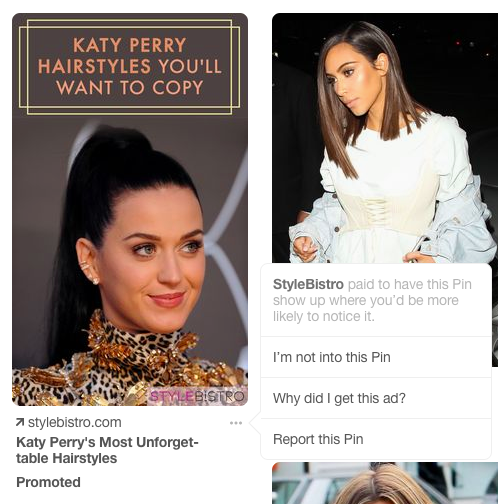 Here's what that same Pin looks like once saved to a Pinner's board or embedded on the Web:
Not sure what to promote in your Pinterest ads? Tesco Ireland identified popular content from other social channels and reworked it for Pinterest by focusing on the visuals.
Their Promoted Pin campaign matched other social platforms at a 36 percent lower cost per click.
Promoted Video Pins
This Pinterest advertising format is exactly what it sounds like—a Promoted Pin that contains a video. Promoted Video Pins appear in the news feed, search results, and the "More like this" section, and they are set to play automatically.
Cheetos used Pinterest videos to promote their cheesy snacks using unexpected keywords based on the unusual shapes people sometimes spot in their Cheetos bags. This "Italy or Boot" Promoted Video Pin targeted people searching for "knee high boots."
The campaign resulted in an 18 percent lift in brand favorability, with Pinners in the 18- to 44-year-old demographic saying they were 51 percent more likely to buy Cheetos after seeing the Promoted Video Pins.
One-tap Pins
This Pinterest advertising format takes Pinners straight to the source. Normally, when someone taps on a Pin, they're taken to a close-up with more details. But with One-tap Pinterest ads, one tap takes users straight to your website, where they can learn more or even purchase directly.
Shortly after launching One-tap Pins, Pinterest said in a blog post that "almost twice as many Pinners are finding items to buy through these new Pins."
But if you choose to incorporate One-tap Pins in your Pinterest advertising mix, keep a close eye on your cost per conversion. Since people may still expect to see a close-up of the Pin when they tap on it, they could be surprised when they're taken straight to your website. That means you may end up paying for click-throughs from people who didn't actually intend to visit your site (and who don't stick around very long).
Promoted App Pins
Promoted App Pins include an app icon and install button within the ad, so Pinners can install your app without ever leaving Pinterest, rather than being directed to an app store to download.
With their Promoted App Pins, the healthy living app 8fit saw five percent higher signup rates than on other platforms, with 60 to 90 percent lower CPM.
Cinematic Pins
Like Promoted Video Pins, Cinematic Pins involve motion. But unlike videos, Cinematic Pins move only when the user scrolls. When the user stops scrolling, the Pin stops moving.
Users can click to see the entire video.
How to advertise on Pinterest
Now that you know what kinds of Pinterest advertising formats are available, let's look at how to go about setting your business up to use Pinterest ads.
Step 1. Get a business account
You can convert an existing Pinterest account to a business account, or create a new account to use for your business. If you haven't already set up your business account and confirmed your website with Pinterest, check out our guide to using Pinterest for business to get everything in order before you start paying to place your Pinterest ads.
Step 2. Choose your goal
To create a campaign, click on the + button from your profile and select Create ad, or go straight to ads.pinterest.com. This is where you select what type of campaign you want to create based on your business goals.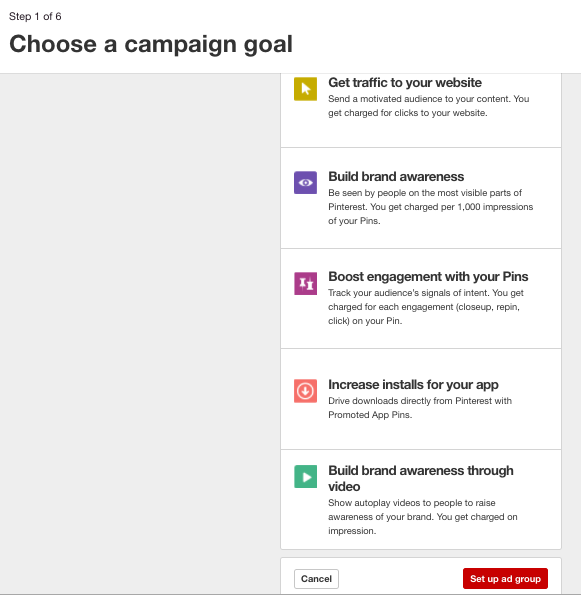 There are five different campaign types.
1. Traffic campaign: Traffic campaigns send people from your Pinterest ads directly to your website, and you pay per click.
2. Awareness campaign: Awareness campaigns aim to get your business in front of new eyeballs—people who have not heard of your business before, do not really know what you do, or are not already interested in your brand. You pay per 1,000 impressions.
3. Engagement campaign: Engagement campaigns are designed to encourage Pinners to interact with your content within the Pinterest platform by saving or clicking your Promoted Pins. You pay per engagement action: a closeup, save, or click.
4. App install campaign: Run this type of campaign to get more installs for your app. You can choose to pay by install or by click. When you pay for installs, the Pinterest algorithm adjusts your bid daily using your target cost and the predicted likelihood of install. When you pay for clicks, the ad is optimized for click traffic, like a normal CPC campaign.
5. Video awareness campaign: Like a regular awareness campaign, but using Promoted Video Pins. You pay per 1,000 impressions.
Step 3. Choose your campaign budget and ad placements
Once you've chosen your goal, choose a name for your campaign. Then, you can set select optional daily and campaign budgets, and choose your ad placement.
You'll get into more specific ad pricing later, so the budgets you set here are simply the maximum amount you're willing to spend over the entire campaign, or in a given day. These are caps to make sure you don't go over your spending limit.
Pinterest automatically sets your ad to appear in all placements (browse and search), but you can click Edit to customize where your Pinterest ads will appear. If you select Browse, your ads will show in the home feed and related Pins. If you select Search, your ads will also appear in search results.
Choose carefully, because you can't modify your choice once the campaign is underway.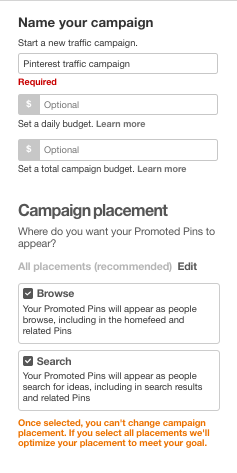 If you're creating an app installs campaign, this is also where you'll choose whether to pay by click or by download.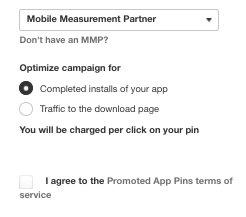 Step 4. Create an ad group
Now you'll set up an ad group—a group of Promoted Pins under your campaign. Name your group, then choose whether to run your ad continuously starting right away, or set specific start and (optional) end dates.
You'll also choose a budget here for this ad group, which is different from the budget you set for your campaign on the previous screen (since a campaign can include more than one ad group).
If you choose to run your ad continuously, set a daily budget that will apply each day until you end your campaign. If you choose specific dates (including an end date), you can choose a daily budget or a lifetime budget for the entire campaign.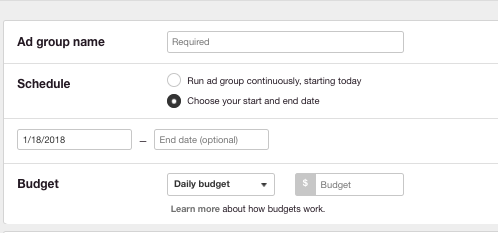 Step 5. Choose your target audience
You can target your Pinterest ads by interests, location, language, device, gender, keywords, or even pre-built audiences based on your own business data.
Interests targets people based on what they've previously saved or engaged with on Pinterest. Interests include options like architecture, beauty, and weddings.
Location by default targets your business country, but you can edit this to include any countries where Pinterest ads are available, and by more specific geographic areas like metro or TV regions for some countries.
Language is by default set to all languages, but you can choose to target individual language options.
Device is also set by default to include all options, but you can specify web, mobile web, iPhone, iPad, Android mobile, and/or Android tablet.
Gender, again, defaults to include all options, but you choose to target females, males, and/or those with an unspecified gender.
Keywords let you target Pinterest ads to people searching for broad or specifically matched keywords and key phrases.
Pre-built audiences target groups of Pinners based on visitors to your website, a list of customers you upload, an engagement audience that has engaged with Pins from your domain, or an actalike audience that behaves similarly to one of your existing audiences.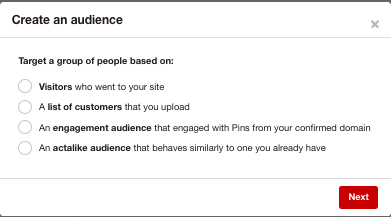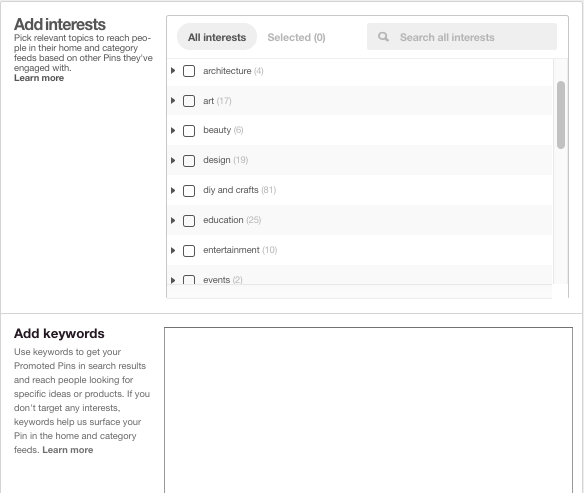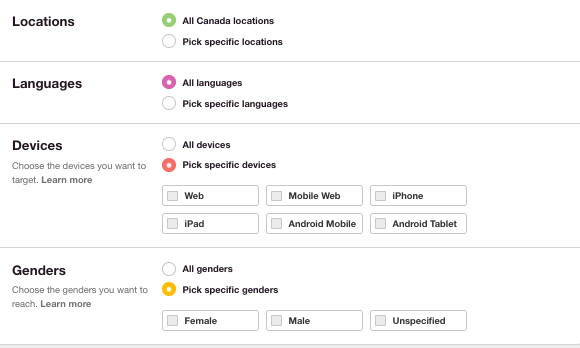 Step 6. Set your bid
Before you leave the "Ad group details screen," you'll need to enter your maximum bid. This is the maximum amount you are willing to pay for each desired action (click, engagement, or impression) on Pinterest.
Pinterest uses a "second-price auction model" for ad bids. While that sounds complicated, it just means that you only pay the amount needed to top the next-highest bidder, so you won't be charged your full maximum bid unless it's required.

The minimum USD bid per click or engagement is $0.10, and the minimum CPM for awareness campaigns is $2 for regular Pins or $6 for video.
Step 7. Pick your Promoted Pin
You can only promote Pins you've already added to a public board, so now's the time to start Pinning if you haven't done so already.
If you're not sure exactly which Pin to promote, try using the filters on the "Pick a Pin" screen to see your most clicked and most saved Pins from the last 30 days. This can give you a sense of what content is already working for your business on Pinterest.
Step 8. Decide where to link your Pin
On the next screen, "Add Pin details," you can give your Pin an optional name. But the more important thing you'll do here is determine where on your website you'll send Pinners who click on your Promoted Pin.
Think carefully here about how best to maximize the traffic you generate. Link to a page specifically targeted to Pinterest visitors, preferably one that directly corresponds to the Pin they've just clicked. And be sure to use UTM tracking parameters to collect tracking information.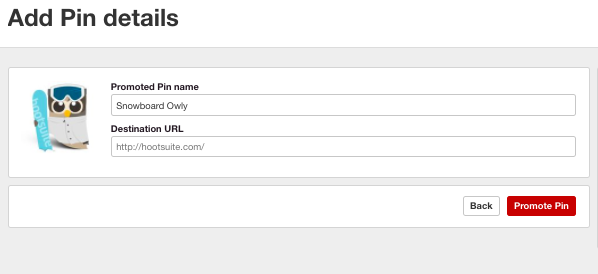 Review all the information on the right side of your screen to make sure it's correct and click Promote Pin to send your Promoted Pin for review.
You'll have to wait up to 24 hours for Pinterest to review your Promoted Pin for compliance with its advertising standards. In the meantime, you will need to set up your billing details so that there's a payment method available to cover your daily budget once your Promoted Pin is approved.
Step 9. Track your campaign
Pinterest's conversion tracking allows you to track page visits, sign-ups, purchases, and custom conversions like saves and closeups. To set it up, click on Conversion tracking under the Ads menu on your profile, then select the types of conversion you want to track.
Pinterest then creates a snippet of code that you can add to your website, just before the closingtag on the page you want to track.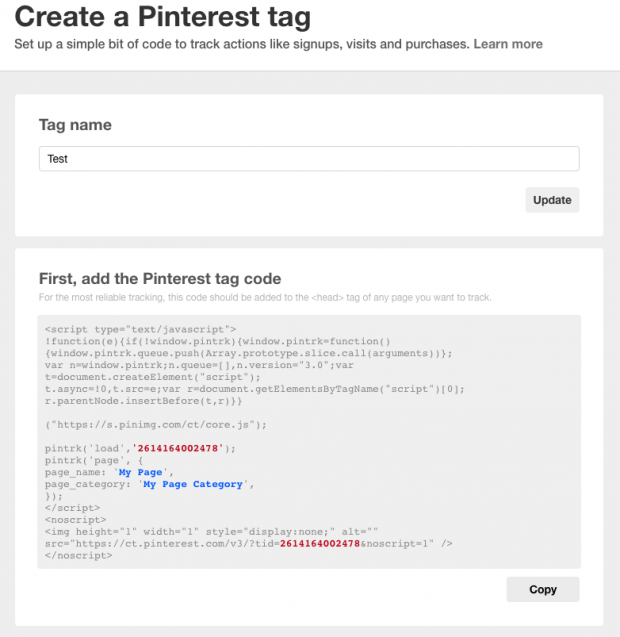 8 Pinterest ad tips (and examples)
When you're paying for Pinterest ads, you want to make sure they highlight your brand's best content. Pinterest, too, has a vested interest in making sure that Promoted Pins are effective and that they don't disrupt the user experience. After all, Pinners who are annoyed with Pinterest ads won't engage with them, which would reduce ad revenue for Pinterest and results for advertisers.
With that in mind, it's a good idea to read through Pinterest's advertising standards to make sure you're following the rules and maximizing your ads' chances of success.
Bonus: Download a free guide that teaches you how to make money on Pinterest in six easy steps using the tools you already have.
Get the free guide right now!
Here are some key Pinterest ads tips and strategies that all Pinterest advertisers can apply.
1. Be authentic
Your Pinterest ads should reflect your true brand promise. Pinterest specifically prohibits misleading or exaggerated claims and requires advertisers to be honest and straightforward about what they're advertising and what Pinners can expect from your business both on and off of Pinterest. But you didn't need Pinterest to tell you that's how you should do business, right?
It might seem tough for a bank to be authentic and engaging on a highly visual platform like Pinterest, but Bank of America has made great use of Pinterest by focusing on millennials and providing strategic budgeting and financial advice in a Pin-friendly format.
The bank is using Pinterest as "a visual search engine to reach consumers with the right message at the right time and tailoring our content to what consumers are searching for most often," according to BOA enterprise social media executive Christopher Smith.
2. Use simple text overlays
Adding a few words of text to your image makes it clear what viewers are looking at, and why they should click to learn more. But don't go overboard—you want the text to enhance the image, not compete with it, as in this Promoted Pin from Booking Buddy.
3. Make the most of your description
Sure, Pinterest is a visual medium, but words count, too. Pinterest encourages advertisers to keep Promoted Pins "beautiful, actionable, and interesting." Use your description to highlight what's most important about your Pin (that takes care of the "interesting" factor), and provide a clear way for viewers to learn more (the "actionable" component).
This Promoted Pin from ScoutMob describes the product shown and uses a personal and humorous tone to create a sense of why you might want to have one for your home.
The ScoutMob team told Pinterest that the platform is their most productive marketing channel, with twice the returns they see on other social networks.
4. Use vertical images
Vertical Pins (that is, Pins that are portrait-oriented rather than landscape-oriented) take up a lot more screen real estate in the Pinterest results and are therefore more likely to draw Pinners' attention. This vertical image from Rosewe is quite dramatic and shows off the advertised outfit much better than would be possible with a square or horizontal shot.
For mobile views in particular, vertical images appear much larger than horizontal images, which can be cut off or appear too small for users to fully appreciate. Use a minimum width of 600 pixels.
5. Try multiple images
Pinterest research shows that pins showing multiple products can outperform a single product shot. This won't be true for all products and all audiences, but it's something you should test to see if it works for your business. RoseWholesale used this idea to highlight multiple dresses in one ad, but notice that they are all tied together by a similar style.
6. Include your brand
Add a small logo or other branding to your Promoted Pins to ensure your brand is recognized when other Pinners save your content. Remember, Repins increase the reach of your Promoted Pins without costing you a penny, and Pinterest's own stats show that advertisers get an average of 20 percent more organic (free) clicks in the month they launch a Promoted Pins campaign.
Wayfair made sure that anyone who sees this Pin will know at a glance they can get the product from Wayfair.com, no matter who Repins their ad.
7. Use targeting effectively
As shown above, Pinterest offers plenty of targeting options, so be sure to use them effectively. Stick to keywords that are truly relevant to your offering, and align your interest targeting with your audience personas. You might even want to target different groups of potential customers with different ad creative.
And make sure to use your own data to make the most of the audience targeting options, as retargeting has been shown to increase click-through rates by three times, and lookalike targeting has increased reach by up to 30 times.
ThirdLove uses a combination of interest targeting, keyword targeting, and actalike audiences to target their Promoted Pins to the best potential customers. They also use retargeting to reach people who have already visited their website with One-tap Pins to make shopping easier. According to ThirdLove, their One-tap campaign "exceeded our expectations, meeting our CPA goals while surpassing our traffic expectations."
8. Always be testing
You can never assume you know what's going to work best for any campaign. Keep a close eye on your Pinterest ads manager and Pinterest analytics to understand what's working and what's not. Make sure you're clear about the metrics that really create value for your business.
As you start to gain some insight into how different types of Promoted Pins perform for your business, you can start A/B testing to further refine your efforts and make the most of your advertising spend.
BuzzFeed's social posts often go viral, but even they can learn from testing and tracking. For instance, they found that their most saved Pins are not the ones that drive the most click-throughs. If they were only monitoring saves, they would have missed this key insight.
Buzzfeed has also learned how to make the most of Pinterest by experimenting with different types of posts. They've found that humor resonates particularly well with their audience, with 30 percent of the traffic to their top 100 Pinterest posts going to funny Pins.
Whether your Pinterest strategy includes ad budget or not, the platform is a great way to connect with your audience and grow your brand.
Save time managing your Pinterest presence using Hootsuite. From a single dashboard you can compose, schedule, and publish Pins, create new boards, Pin to multiple boards at once, and run all your other social media profiles. Try it free today.