Did you know Pinterest users spend twice as much shopping every month compared to non-Pinners? Ka-ching!
Pinterest is unique among social platforms because its users are — largely — going there to discover new products, and they respond well to ads. Pinterest offers a mix of free and paid advertising tools, and combining both can earn you 3x more conversions and twice the ROI on your ad spend, versus paid ads alone.
Plus, Pinterest has one of the lowest CPCs in social media advertising.
Sounds amazing, right? Buckle up as we dive into everything you need to know about Pinterest ads, from ad formats and specs to creative ad examples to inspire you.
Bonus: Download a free guide that teaches you how to make money on Pinterest in six easy steps using the tools you already have.
What are the benefits of Pinterest advertising?
Discovery is at the heart of Pinterest. Users go there to find new ideas and inspiration, as opposed to other social platforms like Facebook, where you go to stalk your ex, um, see what's new with your friends.
Pinterest users want to discover new products, brands and projects. And Pinterest ads naturally work into that because they don't interrupt. They add to the sense of discovery.
Because Pinners are looking to shop, they're more likely to appreciate ads than on any other platform. On average, Pinterest ads earn a 2x higher return on ad spend with a 2.3x cheaper cost per conversion, compared to other social media platforms. That's huge!
But, who are these Pinterest users, anyway?
Pinterest continues to grow year over year. There are now 444 million active monthly users, up from approximately 250 million in 2019. That's more than the population of the United States. And, while there are many male and non-binary Pinners out there, over 44% of Pinterest's advertising audience are women between 25-44 — an important demographic for many industries.
But, Facebook currently has over 2.8 billion monthly active users, so why would you want to advertise on Pinterest vs. Facebook?
Consider that:
Advertising on Pinterest is like running ads on a bus that only goes to the mall. Everyone on board is ready to shop. You just need to get your brand in front of them.
Pinterest has several ad formats and campaign types to help you do that, so let's dive into them.
Pinterest ad types
New for 2022: Idea Pins
Idea Pins (sometimes nicknamed story pins) are short video segments, or a series of up to 20 graphics, designed to draw Pinners in with immersive educational content. They're typically used for short how-to videos or demonstrations.
Source: Pinterest
Format-wise, they're similar to Instagram Stories. They give you more ways to convert versus standard video or graphic Pins, such as:
User tagging
Interactive stickers and topic hashtags
Text and graphic overlays
Optional voiceovers
Option to add detail pages, such as a list of steps or materials needed
A "TikTok-ey" creation process right from your phone
This engaging new format receives 9 times more comments than regular Pins. Since Pinners are already wanting to learn new skills and discover brands on Pinterest, Idea Pins perfectly tie into that as a creative way to communicate step-by-step DIYs or tell a brand story.
Right now, this is an organic-only format but Pinterest is currently testing sponsored Idea Pins in the United States and planning to rollout Idea Pin ads to everyone in late 2022 — so start getting ready for it now!
New for 2022: Try on product Pins
Try on product Pins combine your content with augmented reality to create a virtual "fitting room" experience on Pinterest. Whoa.
Especially powerful for beauty and accessories brands, it allows users to see how a product will look on them by using their phone's camera.
Source: Pinterest
Try on Pins aren't available in all countries yet, and you'll need a Pinterest Business account and an uploaded product catalog. Additionally, creating a Try on Pin is currently only possible by working with a Pinterest account manager.
But if you run an e-commerce business, you should start thinking about these. Hopefully, we'll see this format become more publicly available for brands to use as ads in late 2022 as well. Right now, they're available by application only.
Pinterest collection ads
Collection ads display to mobile users only, which is 82% of all users.
A collection ad consists of one large, featured video or image and 3 supporting images. If a user taps your ad, you can then show up to 24 supporting images on the ad detail page.
Source: Pinterest
These types of ads are perfectly suited for e-commerce brands, especially in fashion, home decor and beauty segments. However, anyone can benefit with the right creative strategy.
It's especially powerful to combine video and product or lifestyle images. For example, use an editorial, lifestyle video for the featured asset and support that with product and detail shots for the secondary assets.
Another nice thing about Collection ads? Pinterest can automatically create them for you, including choosing related products from your product catalog. Nice.
Pinterest carousel ads
Carousel ads look exactly like organic Pins but contain a group of images users can swipe through on mobile or desktop. You can tell it's a carousel by the small dots underneath the image.
Importantly, when a user saves it, the entire carousel saves to their board. You can have 2-5 images per carousel ad.
Pinterest carousel ads are great for showing different angles of the same item, or for showing related accessories or items, or lifestyle shots of the product in use.
Promoted Pins
These are the simplest type of ads to run on Pinterest because you're essentially "boosting" an existing Pin. Promoted Pins are a single image or video that appears in the home feed. The only thing differentiating them from organic Pins is a small "Promoted by" label.
When a user clicks an organic Pin, they see the Pin detail page. With Promoted Pins, they're taken directly to the URL you specify.
Promoted Pins may be simple but they're also very effective, especially when combined with automatic bidding (covered later in this article!).
Shopping ads
Shopping ads are similar to collection Pins as they're pulled from your product catalog. Many platforms, like Shopify, offer a direct connection with Pinterest for this.
Unlike Collection ads, these feature only one image or video.
The great thing about these ads is how easy they are. Anyone can set them up in minutes. Pinterest uses the data in your product information, as well as your industry, to automatically target Shopping ads to the most interested audience.
You can also set up your own targeting and advanced audience retargeting options, but this is one of the most "set it and forget it"-friendly ad types out there.
And the most effective. Fashion label Scotch & Soda tried Pinterest Shopping ads for the first time and brought in over 800,000 new users and a 7 times higher return on ad spend than previous campaigns elsewhere.
While Shopping ads are perfect for e-commerce, they can also work well for brick and mortar businesses, too. Flooring retailer Floor & Decor doesn't sell online, but they earned a 300% sales boost with their auto-uploaded Pinterest Shopping ad campaign.
Sometimes the most effective ads are the simplest in appearance, but the best targeted, and that's where Shopping ads really shine.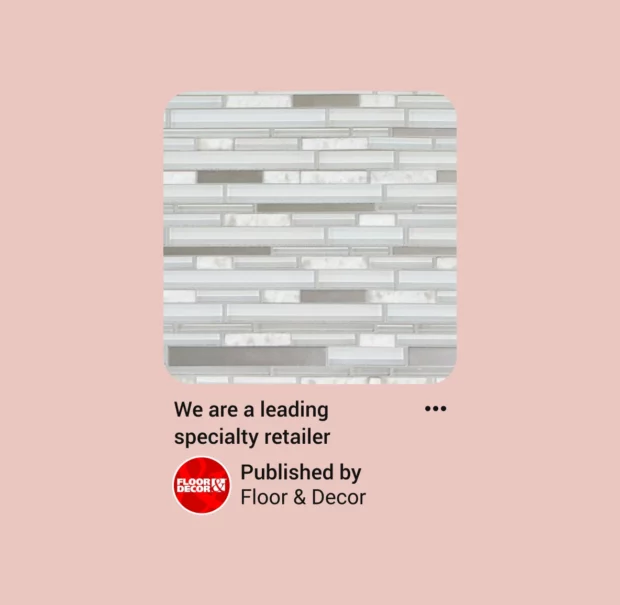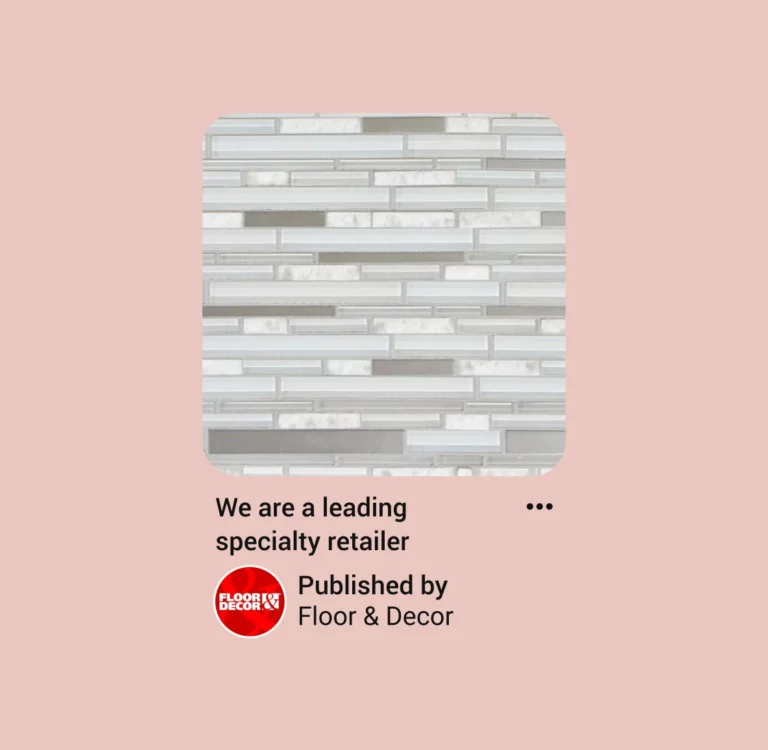 Source: Pinterest
Bonus (not-really-advertising) format: Product Rich Pins
Rich Pins allow you to include much more detailed information than standard Pins. Anyone can use Rich Pins, but you'll need to add some code to your website first.
There are three types: Product, Recipe and Article, but I'm going to focus on Product Rich Pins.
Here's what a Product Rich Pin looks like. It shows price and stock availability as well as the title and description from your website. And, it even updates that information — including price — if your website content changes.
Source: Pinterest
Okay, cool, but that's not the best part. Product Rich Pins show up in a special section in Pinterest search results: the Shop tab.
Source: Pinterest
Wondering about the Promoted Pins in the example above? You can't pay to promote a Product Rich Pin, but your Shopping ads will show up here, too.
All it takes is adding a bit of code to your site to get your products listed here — for free, with auto-updating information. Just do it.
Want to save even more time? Once you have Rich Pins set up on your website, you can schedule all your Pins, including Product ones for the Shop tab, easily with Hootsuite:
Pinterest ad objectives
Pinterest's Ads Manager has five ad objectives to choose from:
Brand awareness
This is for getting your name out there, either for your company or a specific product launch. This is the loose craft glitter of advertising goals: get discovered everywhere by everyone in every nook and cranny (of the internet) for weeks and months to come.
Recommended Pinterest ad types: Promoted Pins, Shopping ads
Video views
A straightforward goal for getting the most eyeballs possible on your content. This works for any type of video Pin, including for specific product promotions or general videos about your brand story.
Recommended Pinterest ad types: Video Pins
Consideration
This goal is all about getting clicks on your Pin. In other words, web traffic. This goal is for people who are already aware of you and you want to move them deeper into your funnel.
Recommended Pinterest ad types: Collection ads, Carousel ads
Conversions
Get that money, honey. Conversion campaigns focus on obtaining a specific result, whether that's a sale, event sign-up or other opt-in type activity. These use a tracking code on your website to auto-adjust the campaign based on past performance.
Pinterest recommends giving your campaign a good 3-5 days before making any adjustments, so that it can use your tracking code to automatically adjust the campaign targeting and goals once it gathers sufficient data.
Recommended Pinterest ad types: Shopping ads, Collection ads, Idea Pins
Catalog sales
Specific to e-commerce, these ads are all about earning a specific type of conversion: a product sale. Either single Shopping ads or Collection ads can achieve this goal.
Recommended Pinterest ad types: Shopping Pins, Collection ads (or even Product Rich Pins for free!)
Pinterest ad sizes
Idea Pins ad specs:
Aspect ratio: 9:16 (minimum size 1080×1920)
Format: Video (H.264 or H.265, .MP4, .MOV or .M4V) or image (.BMP, .JPG, .PNG, .TIFF, .WEBP). Maximum 20MB per image or 100MB per video.
Length: 3-60 seconds per video clip, max 20 clips per Idea Pin
Copy: Maximum 100 characters for the title and 250 characters per slide in a text box.
Safe zone: To ensure text and other elements are viewable across all devices, keep important content this far away from the borders of your 1080×1920 image or video:

Top: 270 px
Left: 65 px
Right: 195 px
Bottom: 440 px
Collection ad specs:
Option 1: Hero/featured image: .JPG or .PNG, 10mb or less with an aspect ratio of either 1:1 or 2:3
Option 2: Hero/featured video: .MP4, .M4V or .MOV H.264 or H.265 format. 2GB maximum. At least 4 seconds long, 15 minutes maximum. Recommended aspect ratios: 1:1 or 2:3.
Secondary image assets: .JPG or .PNG, 10mb or less. Minimum of 3 images and maximum of 24. Recommended aspect ratio of 1:1, although can use 2:3 but they will show as 1:1.
Copy length: Up to 100 characters for title and up to 500 for description. Description only shows in organic collection Pins, not ads.
Carousel ad specs:
Aspect ratio: 1:1 or 2:3
Format: .JPG or .PNG, max size 32MB per image
Quantity: 2-5 images per carousel ad
Copy: Up to 100 characters for title and up to 500 for description.
Promoted Pin ad specs:
Aspect ratio: 2:3 recommended, 1000 x 1500 pixels
Format: 1 image (.PNG or .JPG)
Copy: Up to 100 characters for title and up to 500 for description.
Additional requirements: Must be uploaded to a public board you own, not contain third party material, have a URL specified, and not contain a shortened URL in the description field.
Video pin ad specs:
Standard video ads:
Aspect ratio: Either 1:1, 2:3 or 9:16 recommended.
Format: .MP4, .MOV or .M4V, H.264 or H.265 encoding, maximum 2GB
Length: Minimum 4 seconds, maximum 15 minutes.
Copy: Up to 100 characters for title and 500 for description.
Max-width video ads (mobile only):
Same as above, except aspect ratio must be either 1:1 or 16:9.
Shown to mobile users only.
How much do Pinterest ads cost?
While every campaign and ad format varies, the average cost of Pinterest ads in 2021 was $1.50 per click.
Source: Statista
Not only are Pinterest ads much less expensive than Instagram and YouTube, they're also exceptionally effective.
IT Cosmetics capitalized on unbranded search terms with Shopping ads that brought in a 5x higher return on their ad spend, and was 89% more cost effective than other platforms they used.
You can set a maximum daily budget for your Pinterest ad campaigns. There are also two options for ad group bidding:
1. Custom bids
You set the maximum amount to pay for each action in each campaign. There are minimum bids, which vary by ad format and competition, but you're in control of the maximum bid.
For example, if a minimum bid for a click is $0.25, you can set your maximum to $2.00. But, if the current rate at the time a user clicked your ad was $0.75, you will only spend $0.75.
2. Automatic bidding
Launched in 2020, automatic bids lower your ad spend and increase results. Pinterest automatically adjusts your bids throughout the day, every single day, to get the most bang for your buck. It's like having your own personal ads manager.
Automatic bidding helped furniture retailer MADE.COM lower their CPC by 80% while increasing clicks by 400%.
Source: Pinterest
Plus, you don't need to be glued to your computer 24/7 to manually adjust your bids. So, yeah, automatic ads bidding is one area we're all fine with robots taking over, right?
4 Pinterest ad campaign examples to inspire you
In addition to the examples throughout this article, here are more effective Pinterest ads to learn from:
Video ads that feel like augmented reality
Craft brand Michaels created Pins that look like a 360-degree room tour, adding a unique twist on typical video ads. Their immersive Pinterest campaign resulted in an 8% bump to in-store traffic during the holiday season.
Source: Pinterest
Eye-catching video ads on a small budget
Like the Michaels example above, this simple but effective video ad from Wallsauce catches Pinners' attention by swapping out wallpaper. Video ads don't always mean filming an actual video and the costs associated with that. Get creative!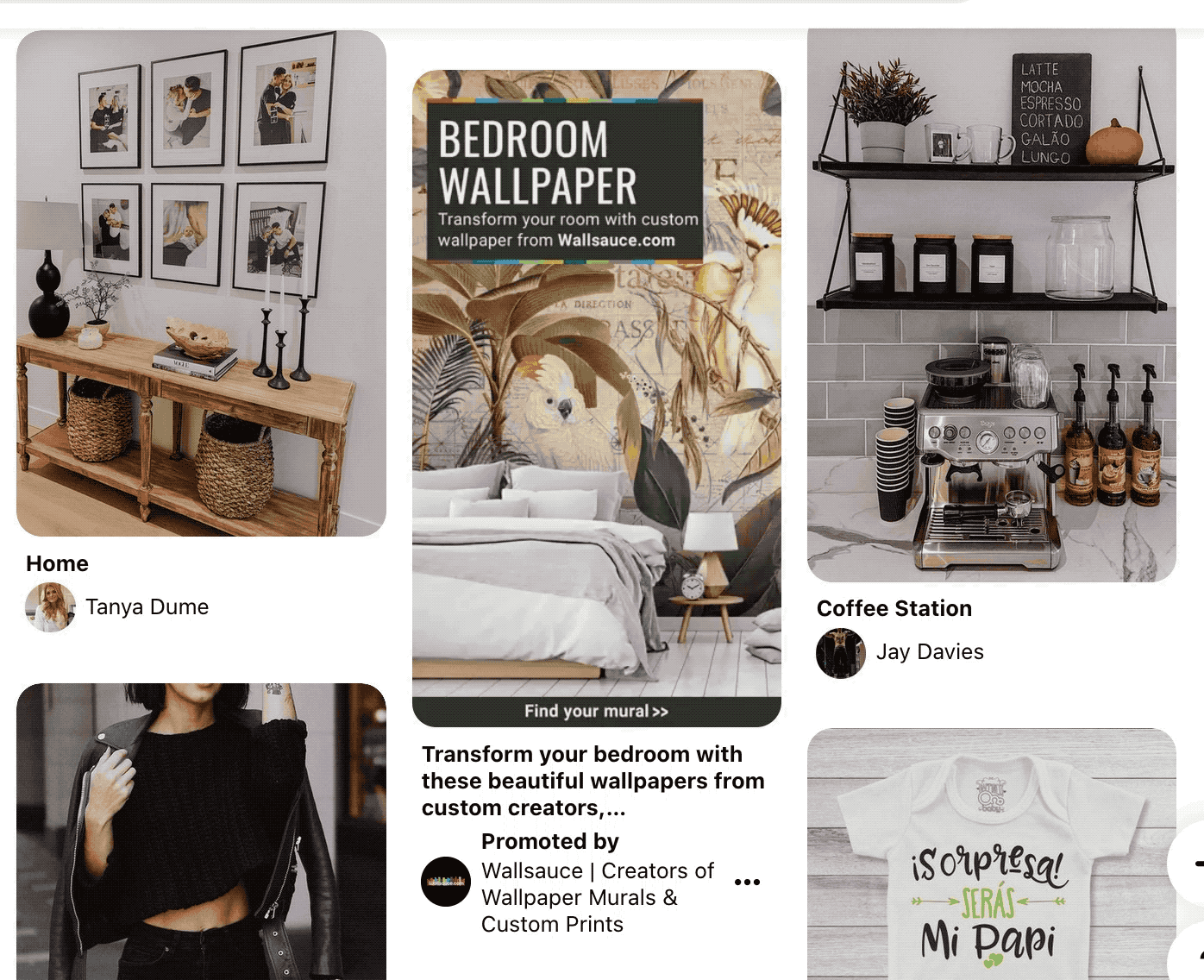 Adding interactive flavor to Idea Pin ads
Netflix adds an element of interactivity to this Idea Pin ad featuring five frames to tap through. While all Idea Pins work this way, the ad gives the illusion of control by asking the viewer to tap a certain number of times to get to the type of show they're interested in. Quick, clever and stands out.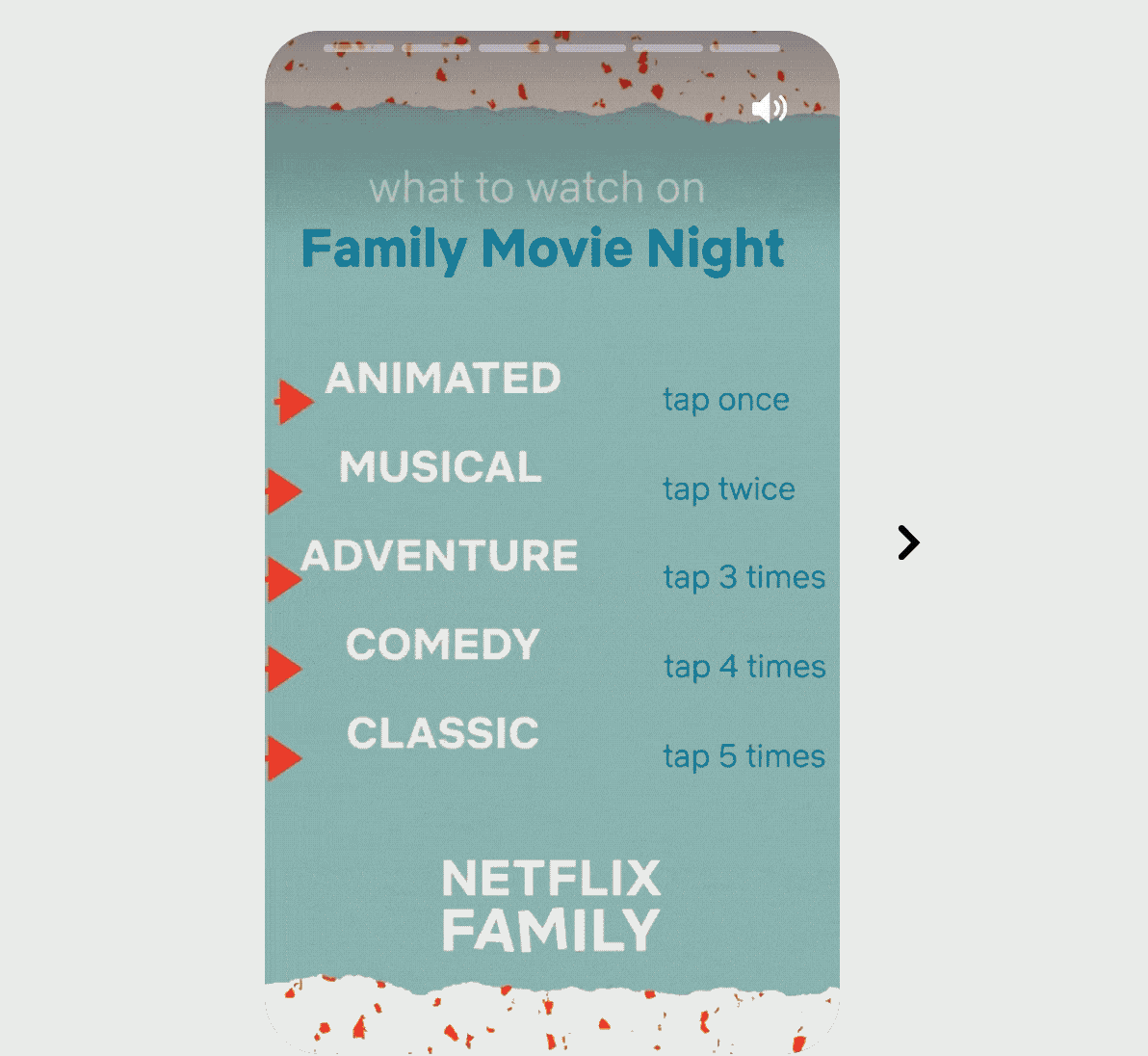 Source: Pinterest
Simple and lifestyle focused static Promoted Pins
Video and Idea Pins are great, but simple one-image Promoted Pins are still super effective. Volvo does a nice job here of working in lifestyle content and keeping their copy minimal so the goal of the Pin stays clear (taking the quiz).
Source: Pinterest
Manage all your social media — including Pinterest — easily with Hootsuite's automatic scheduling tools and detailed, cohesive analytics. Spend less time posting and more time discovering what your audience wants. Try Hootsuite today.
Do it better with Hootsuite, the all-in-one social media tool. Stay on top of things, grow, and beat the competition.
Free 30-Day Trial