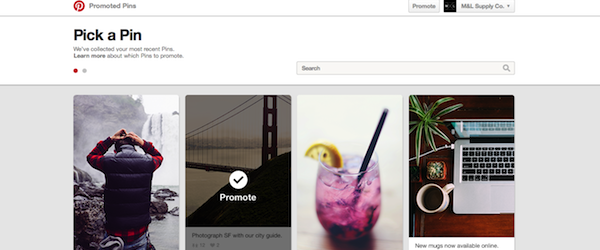 Pinterest for Business Ramps Up With Do-It-Yourself Promoted Pins
Pinterest has added a brand new advertising tool for its business users, a feature they're dubbing do-it-yourself Promoted Pins.
Users with a business account will be able to pick their best performing pins, choose a target audience and then promote them themselves as means of driving increased traffic to web pages. Unlike Promoted Tweets which charge for several types of engagements, these Promoted Pins will apparently function only on a cost-per-click basis.
This new feature is currently in the testing phase, but Pinterest is encouraging small businesses within the U.S. to sign up to their Promoted Pins waiting list.
It was last fall that Pinterest first revealed they were testing out advertising options. Then in May of this year they announced that they were testing the product with major brands, including lululemon athletica, GAP, Walt Disney and Kraft.
But this new Promoted Pins announcement is clearly targeted towards small and medium sized businesses. "We've added a do-it-yourself Promoted Pins tool so businesses of any size can promote their Pins to reach more people and get visits back to their website," their announcement reads.
Improved Pinterest Analytics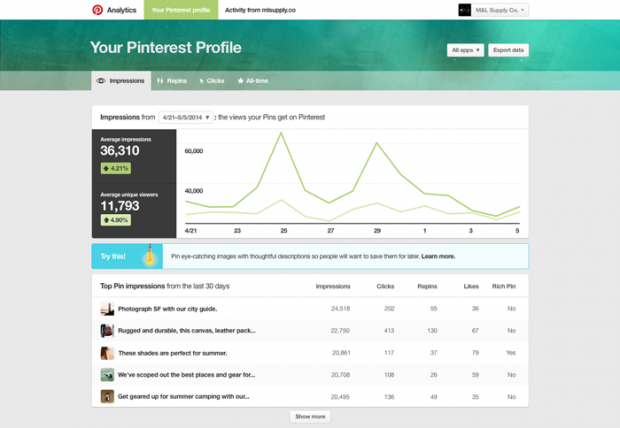 Since Pinterest is encouraging people to promote their best-performing pins, they've also improved their analytics to make it easier to determine which ones these are.
You can now see how pins from your Pinterest profile are performing and which ones are garnering the most engagement— driving impressions, clicks and repins.
Like the Promoted Pins feature, these analytics tools are only available to Pinterest users with a business account.
Hootsuite Enterprise recently announced Insights For Pinterest Marketers (BETA). Find out more.