9 Popular Messaging Apps for Marketers to Know
Want to slide into your customer's DMs? There's an app for that.
Social messaging apps are now essential communication tools. And not just for individual social media users — for brands, too.
Social media is a great way to get your message out onto the sweet, sweet worldwide web, but if you're looking for a more intimate connection with your fans and followers — and a way to offer best-in-class social media customer service — it's time to get acquainted with the most popular messaging apps.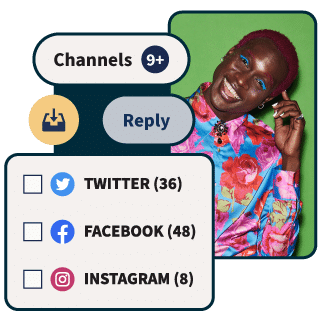 Reduce response time (and your workload)
Manage all your messages stress-free with easy routing, saved replies, and friendly chatbots. Try Hootsuite's Inbox today.
Book a Demo
What are social messaging apps?
Social messaging apps are programs on your phone or computer that allow you to chat privately with one or many other users. Many include video chat.
Unlike SMS and text messages, you are connected via the internet, not through phone reception. As long as you've got delicious WiFi or 3G access on tap, you can message to your heart's desire.
Social messaging platforms give users a chance to create public-facing profiles, images, and statuses with others in their network. Direct messages (DMs) to one another, however, are not publicly visible. You can exchange words, photo or video messages, and share links — just like you would in a text message. (Huge news for all you emoji-heads out there.)
Social messaging apps are often connected to social media platforms so that you can send messages to other social media users. For instance, Messenger is a social messaging app that is tied to Facebook — if someone is asking for customer service help on a Facebook post on your Business Page, you can take the conversation out of the public eye and into a private conversation on Messenger to resolve.
So discrete! So sophisticated! Miss Manners would be delighted.
Bonus: Get a free, easy-to-use Customer Service Report Template that helps you track and calculate your monthly customer service efforts all in one place.
9 most popular messaging apps in 2023
In 2023, there are almost too many ways to get in touch with someone. (Thank goodness it's no longer possible to Poke someone on Facebook or we'd be downright overwhelmed.)
The good news is it's not necessary to be on every social messaging app. Instead, think about what your specific target market uses most and focus your attention there. But it's good practice for social media marketers to understand the full landscape of options, so here's a breakdown of the nine most popular social messaging apps for 2023.
WhatsApp
WhatsApp is the most-used social messaging app in the world, with more than 2 billion global users. It's a great way to reach a huge swath of people and use conversation to deliver personal experiences—hopefully speeding up the buyer journey along the way.
With WhatsApp, you can use chatbots to answer customer FAQs, set up automated push notifications, or respond personally to questions to create an intimate shopping experience.
The downside to WhatsApp is that WhatsApp Business isn't available globally (for instance, you won't find it in Canada), so not all of the platform's business, targeting, and advertising features will be available to everyone.
WhatsApp may be the most popular app in the world, but it does have a smaller reach in certain regions. Before you go all-in on a WhatsApp experience, make sure it's a good fit for your own customer base. Check out some fascinating stats about WhatsApp here.
Messenger
Messenger has a huge reach in the U.S. and Canada, so if the North American market is important to your business, Messenger may be the best social messaging app for you. (Though that's not to say global brands can't benefit: over 1.3 billion users around use Messenger to stay connected with friends and family — and businesses.)
Messenger can be set up with conversational chatbots. Facebook's Shopping feature can be integrated into Messenger too, allowing users to complete a purchase directly in the chat.
Facebook also sells Messenger ads and sponsored messages if you're interested in paid placement with this tool.
Another cool feature of Messenger is that your response time is showcased right on your Facebook Business page, so consumers know exactly what level of customer service to expect. Explore Facebook Messenger stats here.
WeChat
WeChat is the super-star of China's app world. It has more than one billion users and is used by 78% of 16 to 64-year-olds in the country. It features thousands and thousands of add-on programs and features within it. The company has tried to launch the platform outside of China but hasn't got much traction.
If China is a big part of your target market, WeChat is a must for your business.
WeChat is also used as a payment tool, making it a natural fit for conversational commerce. Businesses can market on WeChat either by requesting an Official Account or partnering with third parties.
If you have an Official Account, you can create content on WeChat and directly interact with and sell to your followers and customers.
Over 100 countries (including Canada) can now apply for an Official Account, even if they don't hold a Chinese Business License.
Learn more about using WeChat for business here.
QQ
QQ is another messaging app primarily used in China, though it almost seems tiny compared to WeChat, with a mere 574 million users. (The two are owned by the same parent company, Tencent.)
It's more popular with a younger demographic, so if Gen Z is of interest to your brand, this may be a social messaging tool to explore. QQ also features games and blog services.
Snapchat
As of 2022, Snapchat is still one of the top 15 most-used social media platforms in the world. Though most famous for its disappearing videos and photos, U.S. businesses can use Snap as a text-based chat tool as well… and one that will connect you directly to a prime audience of Gen Z shoppers.
Snapchatters can swipe up on a story to visit a business's website or download an app, or they can also swipe up to call or text the business from their mobile device.
Users are 60% more likely to make an impulse purchase on this platform, so this seems like a pretty great spot to have a conversation. Snap's new desktop feature makes it possible to manage your chats from your computer, not just your phone.
New to Snapchat? Dive into our Snapchat beginners' guide here.
Google Business Messaging
Google My Business Messaging is a free messenger tool that helps customers get in touch with you in real-time, straight from your Google Business Profile listing.
This means that customers can reach out to your business directly from search results without having to go through the trouble of clicking through to your website and looking for an email address or phone number.
The pro? Potential customers can chat with you right from your Google Maps or Google Search listing. The cons? This isn't a tool they're necessarily using to contact their family and friends, so the usage isn't exactly as familiar and comfortable as using a more common app.
Still, it probably can't hurt to set up Google My Business Messaging. Messages can come right to your phone or desktop so you can easily respond to queries wherever you are.
More on setting up your Google Business Profile here.
Instagram DMs
Instagram is a photo- and video-sharing app on the surface, but it's also emerged as an extremely popular chat tool, too. Businesses that have a presence on this app — which, by the way, boasts 1.22 billion global users — are likely going to have more than a few followers sliding into their DMs. So you may as well prepare a customer service strategy for dealing with them.
Forty-four percent of Instagram users shop on the app weekly, so that's a great reason to want to make yourself available for chit-chat. Instagram also has helpful quick-reply tools that make it simple to address frequently asked questions.
Messages on Instagram can be text-based or photos and videos (which can include effects and captions).
For brands and creators, sending direct messages can be a good way to build personal relationships with followers, reach out to potential partners, or provide support to customers with questions or feedback.
Line
Line is a popular social messaging app in Japan (92 million users live there, out of a total of 178 million worldwide), that also offers far more than just a chat function. With the app, you can send money to friends, shop online, stream music, or order a taxi — a super-app, much like China's WeChat.
Line features a timeline and homepage, similar to Facebook or Instagram, allowing users to follow the posts of their friends and brands. "Official Channels" are where companies can share updates with followers.
Line users can create group chats with up to 500 people and also create bulletin boards for discussion, making it a great app for brands to connect with relevant communities and fandoms.
One of Line's most unique features is the popularity of stickers. Digital illustrations are often sent back and forth via chat and happen to be a huge revenue stream for Line. Brands interested in being on Line might want to consider releasing their own sticker pack, or at least learning how users frequently put gifs stickers to use.
Viber
There are 70 million interactions on Viber every hour and users in 190-plus countries. So if you haven't heard of Viber yet, it might be time to listen up.
The app brands itself as a "consumer-first platform" with tools that make it easy for brands to attract and engage with audiences. Use ads, custom stickers, targeted messages, and offers to reach Viber users, and offer 24-7 support with chatbot integration.
Viber also allows businesses to segment existing and prospective customers to be more specific with messaging. Purchases can be made directly on Viber as well.
Why use social messaging apps for your business?
Okay, you know what a social messaging app is. You know which social messaging apps are pop-u-lar. But if you're going to commit to using social messaging apps for your business, you probably want to know the why.
We gotchu: here are the reasons your brand may want to embrace social messaging.
Customers are already on these social messaging apps
If you want to have a conversation with someone, you need to be where they are. You can't chat up that cutie at the cocktail party if she's hanging in the kitchen and you've gotten yourself trapped in the ensuite (again), right?
A predicted 3.51 billion people worldwide will be using messaging apps in 2025 — WhatsApp alone already has more than two billion of those active users.
Social messaging apps are what everyday people are using to message their friends and families. Why not make their lives a little easier and be available there, too?
It's a speedy way to offer service
There's a reason it's called "instant messaging." Social media messaging can be a super-fast way to respond to requests, comments, and concerns, compared to email or leaving someone lingering in hold-music purgatory on your helpline.
Ninety percent of consumers say that speedy resolution is the most important thing in a positive customer service experience. But if you're understaffed or overwhelmed by messages, it may actually be a struggle to keep up with the speed social media users expect from chat apps — because those messages are coming in fast and furious. For instance, on Facebook Messenger, 20 billion messages are exchanged between customers and businesses every single month.
Tech like conversational chatbots can step in to fill that gap and field common questions, so you can save the (hu)man power for tackling more intricate customer service issues. More about the benefits of chatbots here.
Tap into the power of conversational commerce
Having an actual conversation with someone is a classic IRL sales tool — 'conversational commerce' is the digital equivalent.
Conversational commerce refers to the sweet spot between shopping and messaging apps. Consumers can use social messaging tools to get recommendations, ask questions, get support, and chat with company reps.
They might be messaging with a real human being or a conversational AI chatbot, but either way, it's a new way of shopping that's extremely lucrative for businesses. Global spending via conversational commerce channels is predicted to reach $290 billion in the next two years.
If your brand wants a piece of that pie, it's time to enter the chat.
Connect with customers — and critics — one on one
Running a business with an online presence means that you have a potentially global reach… which also can make it tricky to have a personal conversation in the same way you could in a brick-and-mortar shop or even over the phone.
The rise of social messaging apps has given brands a direct line to every single far-flung follower.
This offers an amazing opportunity to build intimacy and loyalty with special customers, brand ambassadors, or potential partners… and a chance to connect directly with your critics to diffuse tense situations outside of the public eye.
If you're facing a social media crisis or have an upset customer blasting all your posts, social messaging tools can help you reach out directly in hopes of turning a tantrum into a conversation.
An app for all your social media messages in one place
Okay, you've digested all this delicious information, and you're ready to dive into using social messaging apps for your brand.
Pro tip: Juggling multiple conversations across multiple platforms managed by multiple people and teams is hard. You're going to want a unified social inbox to keep everything neat, tidy, and easy.
And, if we may be so bold, we know that Hootsuite Inbox is just the tool for the job.
With Hootsuite Inbox, you can bridge the gap between social media engagement and customer service — and manage all of your social media messages in one place. This includes:
Private messages and DMs

Public messages and posts on your profiles

Dark and organic comments

Mentions

Emoji reactions
… and more.
The all-in-one agent workspace makes it easy to 
Track the history of any individual's interactions with your brand on social media (across your accounts and platforms), giving your team the context needed to personalize replies

Add notes to customers' profiles (Inbox integrates with Salesforce and Microsoft Dynamics)

Handle messages as a team, with intuitive message queues, task assignments, statuses, and filters

Track response times and CSAT metrics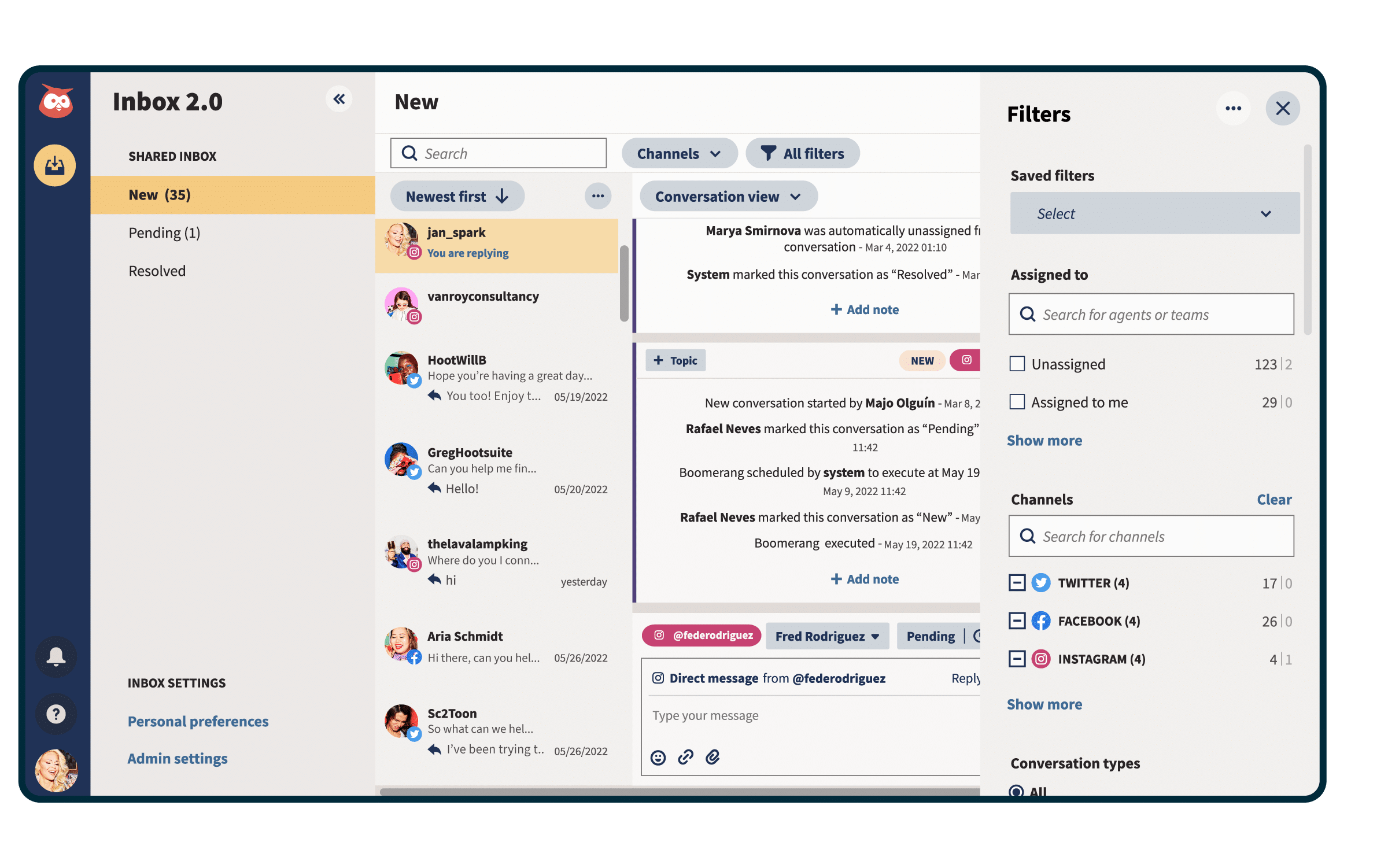 Plus, Inbox comes with handy automations:
Automated message routing

Auto-responses and saved replies

Automatically triggered customer satisfaction surveys

AI-powered chatbot features
In other words: it's a universal inbox that compiles all your public and private messages to make sure you never miss a thing. Try out a free 30-day trial here and see for yourself, or learn more about Hootsuite Inbox here.
FAQs about popular messaging apps
What is the most widely used messaging app?
WhatsApp is the most popular global messenger app. In January 2022, WhatsApp had 2 billion monthly active users. WeChat is in distant second place, with just 1.2 billion monthly active users; Facebook Messenger rolls in to snag third place with 988 million.
Which is the No. 1 chatting app?
WhatsApp is the number one most popular chatting app in the world, according to Statista research. With 2 billion monthly active users, it's the most-used social messaging app across the globe.
That being said, different regions of the world tend to prefer different apps. For instance, in China, WeChat dominates the market, while the social messaging tool LINE is popular in countries like Japan and Taiwan.
What do Americans use instead of WhatsApp?
Facebook Messenger is the most-used social messaging app in the U.S., with 52% of the messaging app market share. WhatsApp is the second-most popular social messaging app in the country, used by 26% of American chatters.
Social messaging app 05.png
Source: Statista
Which messaging app is used in Canada?
The most popular messaging app in Canada is Facebook Messenger. Seven out of 10 Canadians use Facebook itself, and 62% of those users are also on the Messenger app.
Find more global statistics about Facebook Messenger here.
Manage all your messages stress-free with easy routing, saved replies, and friendly chatbots. Try Hootsuite's Inbox today.
Save time on social messaging with automated responses, smarter workflows, and friendly chatbots — all in the Hootsuite Inbox.
Free Demo