When it comes to social media, thinking globally means thinking beyond the English language.
The usual suspects—Facebook, Instagram, Snapchat, or Twitter—may not be relevant to the people you're trying to reach around the world.
Finding your target market is important to creating a solid social media strategy. If some or all of your target market speaks a language other than English or resides in a non-English majority speaking country, they might be active on a non-English social network.
In that spirit, here are some of the most popular social channels for non-English speakers.
They're pushing social networking forward in new directions with innovations like in-app payment services, multilingual chatting, and cryptocurrency initiatives.
North American brands looking to expand their reach should sit up and take note.
Bonus: Get a free social media strategy template to quickly and easily plan your own strategy. Also use it to track results and present the plan to your boss, teammates, and clients.
13 major social networks in non-English speaking regions
1. WeChat
China's most popular messaging app, WeChat (known in China as Weixin), has evolved way beyond simple social networking.
Its over 1.1 billion users can use the app for instant messaging, voice and video calling, or making purchases with WeChat Pay. WeChat and the Chinese government are also rolling out a feature to use the app as an electronic ID to access government services.
WeChat offers in-app advertising for brands, similar to Facebook's in-feed and banner ads. Businesses also partner with influencers (what WeChat calls Key Opinion Leaders) and sell their products through the WeChat Store.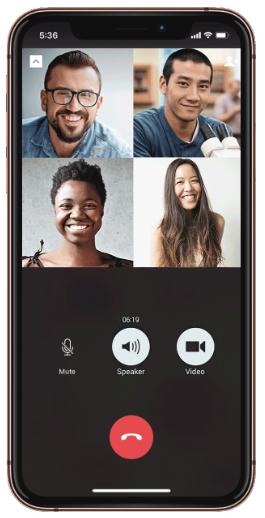 Marketers can send or schedule messages in WeChat with the WeChat App for Hootsuite.
2. Sina Weibo
Sina Weibo is an app for personal microblogging. Popular in China, the platform is also referred to as just "Weibo," which translates to "micro-blog."
In the same vein as Twitter, users can like, share, and comment on short pieces of content.
The app even beat Twitter to the punch in raising their 140-character limit. Weibo gives users 2,000 characters to express themselves through text, photos, videos, and GIFs.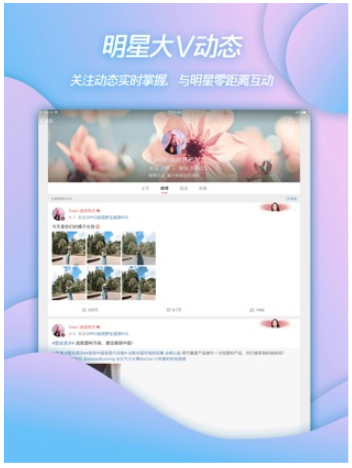 You can search, share, repost, and schedule content, and monitor your feeds with the Sina Weibo App for Hootsuite.
3. Line
Line is a messaging app commonly used in Thailand, Indonesia, Taiwan, and even more so in Japan.
It allows you to send texts and voice notes. You can also make video and voice calls to anywhere in the world for free.
The makers of Line offer a collection of associated gaming apps, as well as an online avatar community called Line Play.
Line is known for its large collection of stickers and emoticons in the Line Store. You can also create branded stickers in the Line Creators Studio to add to the collection.
Line users can follow their favorite brands for deals and promotions, and even make payments with Line Pay.
4. KakaoTalk
KakaoTalk is a Korean chat app that is so popular, it's making South Korean telecom companies nervous for the future of text messaging.
The platform allows users to send text, voice, and video messages for free. It also has a library of themes, emoticons, stickers, and alert sounds to choose from.
Kakao lets people create calendar events and bulletin boards for announcements. Businesses are allowed to make branded channels, too.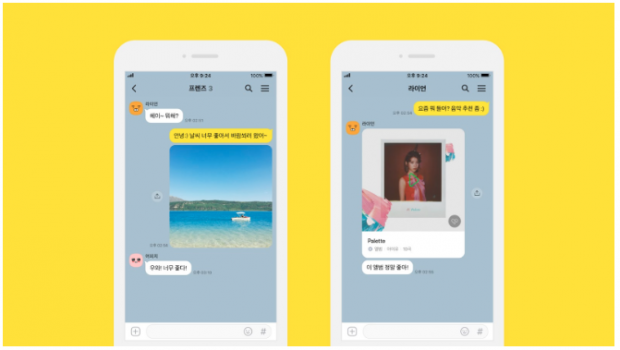 Users can also play games, shop, and make purchases with the electronic wallet feature, KakaoPay.
5. VKontakte (VK)
VKontakte (VK) is one of Russia's most active social networking platforms, with upwards of 100 million users. Known as the Facebook of Russia, VK even has a familiar-looking blue and white user interface.
Its audience tends to skew younger, with 77.5% of users below the age of 34.
On VK, users can share their own content, join groups, and message their friends. They can also pay a monthly fee to subscribe to VK's music streaming and downloading services.
Similar to Facebook, brands can create VK pages to interact with their customers. VK Business also lets brands advertise on the platform and sell items in the VK Store.
Встречайте обновлённый раздел закладок! Сохраняйте любопытные материалы и моментально находите среди них нужные — с помощью собственных меток Вы легко отсортируете закладки так, как удобно именно Вам.

Подробности в блоге: https://t.co/HrpEqvqgBV pic.twitter.com/w26eeCItZ0

— VK (@vkontakte) October 16, 2018
6. QZone
QZone is a social platform that has come to the forefront in China since it was developed in 2005 by Tencent (the creator of WeChat).
The site has just over half a billion monthly users.
It provides a space for writing blogs, keeping a personal journal, and sharing photos. It's also used for finding music and videos.
Other offerings include customizing your zone with different themes and background music. You can even opt for paid accessories and upgrades to your profile.
Brands can create accounts and run ad campaigns on QZone and Tencent's other apps through Tencent Ad Solutions.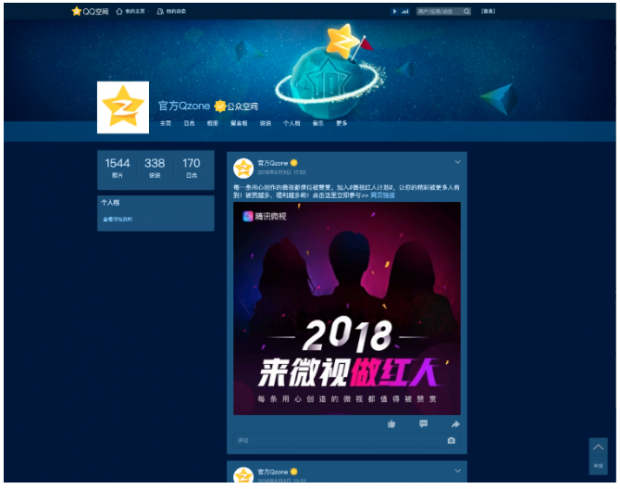 7. QQ
QQ is a messaging app by Tencent that has gained popularity inside and outside of China.
QQ boasts 823 million monthly active users around the world.
The app lets users organize and group their contacts, to create groups for family, friends, or colleagues. It can be used for voice chats and video calls, as well as multilingual texting. A translation feature allows users to translate their messages into over 50 different languages.
The same as with QZone, marketers on QQ can access advertising services with Tencent Ad Solutions.
8. Viber
Viber is free voice and video calling platform that is popular in Eastern European countries, Myanmar, and the Philippines. The network has more than one billion registered users around the globe.
Over the years, Viber has increased its revenue through advertising, branded content like stickers, and charging brands for the use of chatbots.
Viber has introduced a new way to connect with large groups with Viber Communities. In a community, users can create and moderate a chat group with an unlimited amount of members.
https://www.facebook.com/viber/photos/a.159436647430515/1955905811116914/?type=3&theater
9. Taringa!
Taringa!'s online community is largely made up of Spanish speakers in Spain and Latin America. The platform is a Spanish alternative to Facebook, where users share news, DIY projects, and recipes.
The most popular content on Taringa! gets favored with a featured spot.
Brands can register for accounts and advertise on the platform, though both require getting in touch with Taringa!'s support team to go through a special process.
In September 2019, Taringa! was bought by IOVlabs, which is part of the Argentinian smart contract company, RSK.
Taringa! has already shown an interest in cryptocurrency. So, being purchased by a company in the Bitcoin and blockchain biz could mean more crypto incentives for users in the future.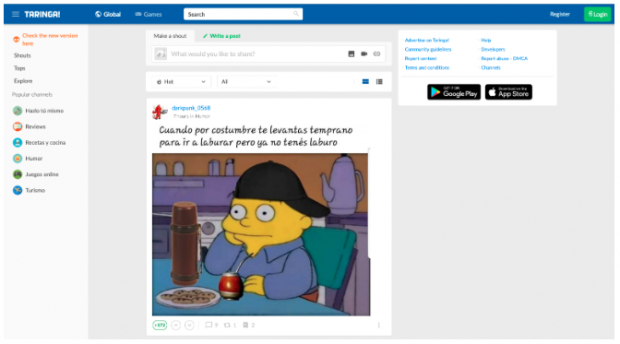 10. Badoo
Badoo is a location-based dating app that aims to make love matches through chatting and live video streaming instead of swiping. The network has nearly half a billion registered users who are looking to make a connection. It's free to sign up, but daters can shell out some cash for extra paid features.
The app is most popular in countries with romance languages, like those in Latin America, Spain, France, and Italy.
Since Badoo is focused on connecting new friends and potential love interests, it doesn't let brands create profiles. However, businesses can advertise on the site and app. Target your audience by interest with pop-up videos or ads in users' inboxes and dashboards.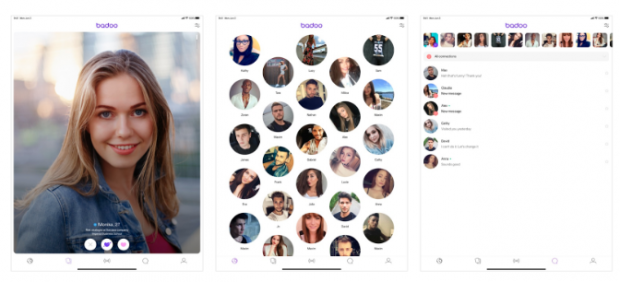 11. Skyrock
Skyrock is a popular network for French speakers.
Users can keep a personal blog, join local chat rooms, and read up on the latest in arts and culture news. With a focus on music, the app provides a space for artists to share their work and receive feedback from peers.
Marketers can advertise to Skyrock users, or publish content on their own official blogs.
Skyrock's social platform is also connected to a number of different listening platforms and radio shows at Skyrock Radio.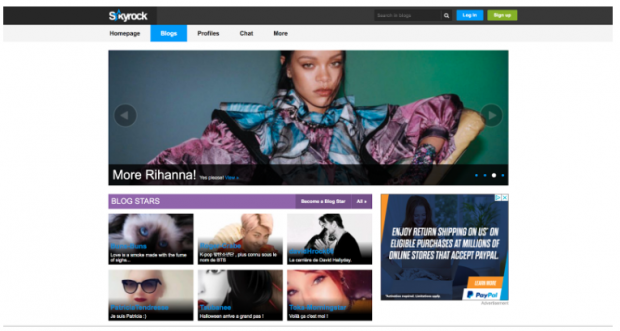 12. Xing
Xing is a Hamburg-based site used by professionals in Germany and Europe for networking and recruiting.
Users log on to make business connections and find specialized communities related to their field. They can also use the platform to search for job postings, industry news and events, and development opportunities.
Businesses with their own company profiles can advertise on the platform and publish sponsored content.
This German alternative to LinkedIn falls under the umbrella of the Xing company, rebranded in 2019 as New Work SE.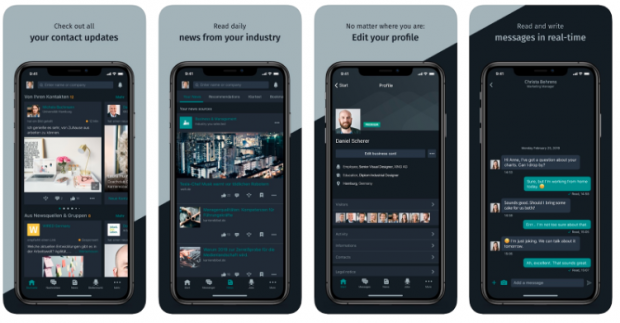 13. Baidu Tieba
Baidu is China's number one search engine. Building off its success, the company launched a spin-off social site, Baidu Tieba (which translates to "post bar").
Similar to Reddit, Baidu Tieba is a search-based network of forums. Searching keywords will lead you to open discussions, or "bars," all organized by topic.
Brands can advertise on the forum-based site, but are no longer able to moderate forums since Baidu Tieba dropped that from their business model in 2016.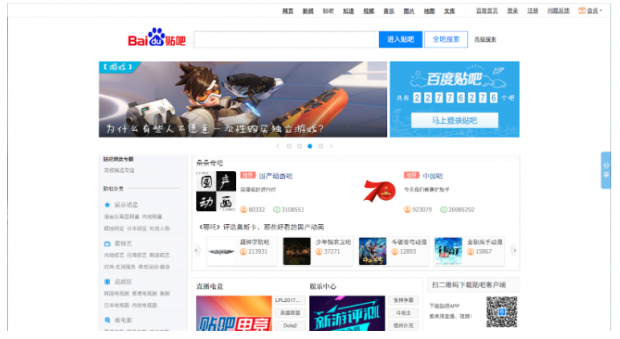 There is much to learn from the social networks that gain traction outside of the English-speaking bubble. As they break into new markets, brands can embrace multilingualism and find new ways of connecting using the technology at hand.
Manage your global social media strategy with Hootsuite. From a single dashboard you can create, share, and schedule content to all the major social networks, including WeChat and Sina Weibo. Try it free today!
Do it better with Hootsuite, the all-in-one social media tool. Stay on top of things, grow, and beat the competition.
Free 30-Day Trial