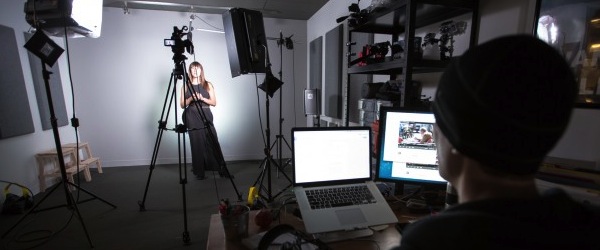 Which Social Video Platform Is Right For Your Business?
Social media video is one of the most powerful online tools for businesses, but it's often seen as a challenge especially among smaller companies. Video does requires more time and effort that other forms of content. That said, there are so many social video platforms now that any business can find a tool that is right for them and their audience.
We believe video will soon have a place in every social network. But to get you started, here's a brief breakdown of the main social video platforms.
Social Video Platforms
YouTube
YouTube is social video. As the world's largest video-sharing social network, over 6 billion hours of video are watched on YouTube each month. That's an enormous potential audience and one that can be reached by any business.
The audience:
While YouTube has users of every age bracket, it still leans young. According to Nielsen, YouTube reaches more US adults aged 18-34 than any cable network. This is helped by the fact that YouTube is free, and users can watch videos, like, comment, favourite and share them with their friends. Social video is an inherent part of the network, which makes it a very effective way for businesses, big and small, to connect with their audience.
Best practices:
Due to YouTube's massive scope, it's hard to say what works well on the social network. In general shorter videos work well, with top performing videos lasting just under 3 minutes on average.
YouTube visitors tend to expect some production value for brands, unlike other app-based platforms like Vine or Instagram where quality can vary. YouTube videos can be built for mass appeal or be very educational, teaching viewers about your products or services. It's really more about how your promote your video. Spread marketing videos far and wide across social media and encourage social sharing, while customer service clips might be better off embedded within blog posts or web pages.
Example:
When Roland, an instrument manufacturer, launched a new series of musical instruments, they launched an accompanying series of videos explaining and demonstrating each product. These videos were shared not only as promotional material, but served as valuable, educational content for their audience as well.
YouTube, in summary:
Great for businesses of all sizes, budgets
Put effort into production value
Keep videos short in general, around 3 minutes
Shareability largely affected by content, promotion
Instagram
Instagram is Facebook's mobile photo giant that has in the last few years dipped its toes into the social video world. Launched in June of 2013, Instagram videos emerged as a director competitor to Vine, and quickly took over the short video market. Instagram videos can be a maximum of 15 seconds, and can be edited from a series of uploaded videos. Apparently 15 second videos prompt the highest click-throughs in social video, putting Instagram high on the list for sharability.
The audience:
The app has 200 million monthly active users and is growing in popularity in all age groups. Still, Instagram is the go-to social network for teens. Approximately 30% of US teens say Instagram is the most important social network, period, beating out both Facebook and Twitter.
Best practices:
Instagram presents a lot of opportunity for small businesses, since the app in itself is about empowering regular people to make great photos and videos. Even regular cell phone video can be edited and filtered to create something beautiful, making it perfect for companies with low budgets and few resources. If you can invest even a small amount of budget into your Instagram videos, it could give you a huge leg up on regular users. That is likely the reason brand videos were at one time responsible for 40% of the top 1,000 performing Instagram videos.
One way to distinguish your videos is using Hyperlapse, Instagram's app that allows you to easily create timelapse videos. Hyperlapse generated 119k posts in its first week, and still offers unique creative opportunities.
Still, always keep in mind that Instagram is primarily a photo social network, with videos comprising only about 6% of total posts. Where Vine users use the app expecting video, Instagram users expect static images. So, videos should be used sporadically, in tandem with images.
Examples:
Videos by Lindy and Grundy and Bath and Body Works are great examples of creative Instagram videos that don't require a large budget or too many resources. Simple and effective.
Instagram video, in summary:
Instagram is the go-to app for teens
Editing tools make it a great option for businesses with low budget, resources
Only upload videos that work well on mobile
Check out eConsultancy's tips for succeeding at Instagram video
Vine
Vine is a Twitter-owned video app which allows users to film, edit and share 6-second, looping video clips.
The audience
Though it launched months before Instagram video, Vine is often looked at as the ugly younger brother of the two, always one step behind on features and usage. That said, Vine still has tens of millions of registered users (it was at least 40 million in August of 2013, and we haven't seen updated numbers since), 100 million people watch Vines every month and there are over 1 billion video loops occurring every day.  While Twitter hasn't released Vine demographics, it's widely accepted that Vine's user base is very young. If teenagers and millennials aren't your target audience you might want to skip the app altogether.
Best practices
Vine has proven that anybody can build a massive following if they're funny or clever enough. Vine superstars are regular people who have managed to earn a following making shareable videos using humor or enticing visuals. Your Vine videos will automatically loop, so you have to create something people won't mind watching again and again.
Since Vine does have superstars or celebrities with massive followings, many brands have opted to hire these individuals rather than make a go of it themselves. Using existing stars to promote your business is a great way to earn brand recognition and connect with this large, young audience. Just know that it comes with a price.
Where once Vine users were restricted to only using video they recorded within the app, the recently added functionality allowing you to upload external videos makes Vine a much more manageable tool for businesses. You can now post videos that are of a far greater quality and much more adjusted to your brand. Still, keeping your video quality raw and not too refined will make the clip more relatable to that young core audience while keeping your budget low.
Examples
Vine videos are very flexible when it comes to production value. You can create an effective, high-quality Vine like this one from Lego.
But a lower production effort, like this Q&A style video from the White House, can be equally effective.
Vine, in summary:
Great if you're marketing to millennials—young audience
Make use of looping functionality, since people will watch again and again
Humor is the key to Vine success
Requires very little budget + resources—just 6 seconds of raw video
Facebook Videos
Facebook isn't thought of as a video platform in the same way as YouTube or Vine, but over the last year it has grown into one of the most powerful channels for social video.
The audience
We all know Facebook as the biggest social network in the world. The network claims 1.35 billion monthly active users, including 1.12 billion mobile monthly active users, as of September 30, 2014. More importantly in this case, in September Facebook revealed that they were averaging 1 billion video views every day, with 50% growth in just three months last summer.
While ages 25 to 34 or the most common demographic among Facebook users, they only represent about 30 per cent of users. That leaves 70% of users in other age demographics, showing the true power of Facebook regardless of your target audience.
Best practices
Facebook is leading the way when it comes to mobile social networks. We see that in the over 1 billion monthly active mobile users, but it also mean huge audiences for mobile social video. More than 65% of video views on Facebook come from mobile. When over half your views will come from mobile, it's essential that you optimize your videos for mobile. That means they should be easily viewable on small screens (no one wants to squint).
It also means videos should be very short. The average length of videos uploaded to the social network is 44 seconds, and some research indicates that videos of 21 seconds perform are watched in full most frequently. Keep things simple.
This should be your goal for every platform, but with Facebook quality is absolutely fundamental. The more people watch your videos to completion (at least 95% of the way through), the more likely Facebook's algorithm is to promote your video content in people's newsfeeds in the future. In the words of Facebook itself, "videos that people choose to watch will reach a larger audience, while videos that people ignore will be shown to fewer people." So put in the work and share only your best videos on Facebook.
Finally, keep in mind that Facebook owns Instagram, so don't be afraid to share your Instagram videos on Facebook.
Examples
We saw the real power of Facebook video during the ALS Ice Bucket challenge. In three months, between June 1 and September 1, 2014, more than 17 million videos related to the ice bucket challenge were shared to Facebook. These videos received more than 10 billion views from more than 440 million people. Obviously this was a movement on a massive scale, but it illustrated the advantage Facebook had for social video: your most engaged network is often your Facebook network.
A business could take advantage of that same principle for their own social video campaigns. KLM Royal Dutch Airlines offers some inspiration. The airline posted the same video to YouTube and Facebook separately. While their YouTube video was engaged with 300,000 times, the same video on Facebook was engaged with 350,000 times, even with less overall views. If engagement is your primary metric, this makes a great case for using Facebook video.
Facebook, in summary:
Massive audience of all ages
Keep things short, and optimize for mobile
Only share the highest quality videos
Facebook's algorithm will promote your videos the more they are shared
Snapchat
Snapchat emerged in 2013 as a golden boy of teenage social networking but very few brands see value on the social network. In fact, only 1% of marketers have incorporated Snapchat into their strategies.
This might be due to the fact that Snapchat videos aren't truly social videos, in that you can't share them like you would a video on other platforms. But done right Snapchat can increase brand awareness, contribute to marketing campaigns and even cause purchasing. And the barrier to entry is very low. All you need is a phone and some moderate creativity.
Audience:
No surprises here. The Snapchat audience is very young. Seventy-one per cent of Snapchat users are under 25. A survey found 77 per cent of college students use Snapchat once a day.
This is an important market for many retailers, but if your target audience sways older, don't waste your time with Snapchat.
Best practices:
In 2013, Snapchat introduced "Snapchat Stories," which took it beyond a photo app into video and chat territory. Now, Stories is the most popular Snapchat feature, with over 1 billion stories viewed per day. Where brands once brushed off the value of quick messages that disappeared in a few seconds, Stories last for 24 hours—a reasonable amount of time for someone to see your brand video and then visit your store or attend your event.
And they would visit your store, if you provide them with an incentive. Approximately 67 per cent of college students would want to receive a coupon or discount from brands on Snapchat. Forty-five per cent would even open a snap from a brand they didn't know if it included some incentive (compared to 73% for brands they did know). Clearly there's a market for brands on Snapchat.
Due to Snapchat's young audience, a great way to make headway is to actually use existing Snapchat celebrities—individuals who have attracted an audience of thousands, even hundreds of thousands, to their personal accounts—to promote your business or product. This approach has been used by Taco Bell and Disney, among other brands.
If you can't afford to hire on of these Snapchat stars, learn form their techniques. The best Snapchat users don't just post random images, they tell stories over time. This keeps people interested, turning each snap into a piece of a puzzle instead of a hit-or-miss one-off. These celebrities also keep things light. Experiment. Have fun. There's no place for the overly serious or technical on Snapchat.
Examples
Grubhub is a food delivery service that has made use of Snapchat for multiple different campaigns. First, they used Snapchat stories for recruitment. Grubhub posted an image slideshow of sorts to Snapchat showing interested candidates how to apply for a summer internship. Applicants needed to respond with a snap of their best doodle, showing their "Snapchat Skillz."
Grubhub also used Snapchat to offer pizza discounts to followers. They shared a sequence of pizza drawings that lead to promo codes for for pizza delivery—an easy incentive that was perfect for their audience. They even connected with Snapchat pro Michael Platco to expand their reach.
Snapchat, in summary:
Only useful for targeting the under-25 audience
Provide followers with incentives to follow your brand
Connect with Snapchat celebrities to grow reach
Keep things light, and tell stories
Other options
Vimeo
Vimeo is often described as YouTube for filmmakers, a place where artistic videos thrive. This may be why you don't often see brands using Vimeo as a primary channel. That, and the success of this generic brand video.
That being said, Vimeo still had 135 million unique video viewers worldwide in 2013. If you can find a way to connect with that audience, it will be worth your effort.
Google Hangouts
Google has one really innovative video tool called Hangouts on Air which is unlike anything offered by any other network. Hangouts on Air essentially allows you to broadcast to live viewers, for free. Whether you want to host a weekly discussion that showcases your expertise or a share a more formal webinar with 5 other experts on a certain topic, Hangouts on Air is a great tool for the more professional elements of social video.
These Hangouts are more about the information and less about the quality or production, making them an appealing option for small businesses and those working in very technical industries. It's a great way to engage prospects or attract a new online audience with an engaging conversation. Plus, these videos can be saved to your YouTube profile for future use.
Hangouts on Air essentially make you the host of your own show, at no cost. How many businesses have dreamed of that opportunity?
Twitter
Twitter launched the ability to include videos in Twitter cards earlier this year as a powerful new way to engage users in promoted posts. With video Twitter cards, a business can upload a video into a Tweet that will appear within a user's stream and can be viewed in one click. According to Twitter, Tweets with native video generate better engagement and more video views.
Video embedding isn't available in regular messaging, only in paid ads, so cost is something you have to consider. At least for now. Earlier this month Twitter teased native video, coming at some point in 2015. For the time being, if you have no budget for promoted posts on Twitter, you can include Vine videos within Tweets and they will appear in-stream as well.
Tumblr
Tumblr isn't seen as a traditional video channel by most brands. But maybe that's because most brands don't know that Tumblr is responsible for referring more average video starts than YouTube, Twitter and Reddit. Plus, Tumblr is producing video view rates comparable to Facebook, with over 1/3rd of referred visits producing a video start.
The issue with Tumblr is that it's a very niche community. Tumblr is the home of countless memes and inside jokes. Succeeding on Tumblr will really depend on your efforts to learn about and understand this audience, and then share videos that fit the profile. Check out Reel SEO's tips for your Tumblr video marketing.
Ready to put your video to work on social? With Hootsuite you can upload, schedule, publish, promote, and monitor your social videos from one platform.