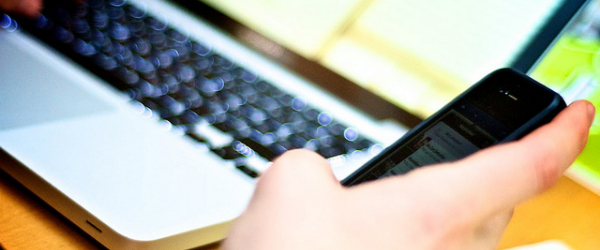 What Video Marketers Need to Know About Vine and the Rise of Omniscreening
Omniscreening. It may not be a familiar term to you, but likelihood is that you've done it before. You could be doing it right now, in fact.
Omniscreening is the activity of consuming content on several screens at once, whether that content be on your smartphone, tablet, laptop, PC or TV. So ingrained has this activity become in our day-to-day lives that we have become all but unconscious to it, constantly flitting between multiple devices as we sit in front of the television or PC monitor. To video marketers the phenomenon has thrown up as many problems as it has opportunities.
Displacement Behavior
Many see omniscreening as symptomatic of a more general decline in our collective attention spans, brought about by the explosive growth of the internet and mobile technology. You'd be forgiven for thinking this could spell bad news for video marketers, with more and more effort (and therefore money) being required to create bigger on-screen impacts to arrest and then hold our fleeting attention spans for any length of time. But do marketers really need that much time to get their message across these days?
Good things come in small packages, as the old idiom goes; and small, as it turns out, can be beautiful when it comes to video marketing in the new omniscreening environment.
Psychology lecturer at the University of East Anglia, Dr Simon Hampton, sees the rise of omniscreening and our tendency to 'flick' between screens as having distinct psychological roots. "People's inability to leave their phone alone is the newest addition to common displacement behaviours such as smoking, doodling, fiddling and picking."
His stats drive the message home further, "62% of 18 – 32 year olds prefer to check their smartphone if they have any 'downtime' rather than just sit and think and 37% say they check their smartphone if there's a lull in conversation with friends."
Call it addiction, reflex, or habit, this new form of displacement behavior has become part of our culture and as such savvy businesses and brands would be wise to utilise it.
Responding to Omniscreening

Our habitual need to check our mobile devices, however fleeting, has opened up a world of new opportunities for businesses to reach and interact with a wider audience anytime or anywhere.
Dr Hampton again: "Rather than do nothing we're compelled to turn to them for reassuring comfort. What's exciting for marketers is that, unlike most of the examples above, this mildly compulsive behaviour might be exploited to encourage purchasing, particularly as digital increasingly blurs the line between shopping and entertainment."
By providing engaging, responsive content that is consistent across all mobile devices, the omniscreening environment is ideal for fluid brand identity and online video marketing and campaigns, whilst delivering a seamless customer experience.
Minutes and Moments

Perhaps more than any other platform, Vine represents the biggest opportunity for marketers to capitalise on these 'downtime moments' when your audience is most likely to be checking their mobile devices. The real challenge is understanding exactly how to fill these fleeting snapshots of time with engaging content that won't only grab your target audience's attention but leave a lasting impression.
The opportunity for marketers is that we now have a choice between minutes and moments with our target audiences, which we didn't used to have. We have moments on the train or on the bus or when someone's just talking to friends and idly browsing content on their phone, to get our marketing messages across to them. But unlike the traditional minutes we have to play with on more traditional advertising platforms like YouTube or television, they're very short.
Platforms like Vine and Instagram Video are undoubtedly a product of our fleeting attention spans and insatiable desire for easily digestible information and entertainment, which in turn has been driven by the growth of smartphones and tablets. This whole trend has been instrumental in killing off traditional linear brand narratives within the content marketing industry.
Major Brands on Vine
So, what exactly can you cram into Vine's six seconds and 150 frames on a loop? Well quite a lot if you put your mind to it. By focusing on your brand or message's visual strengths, Vine's one click stop-frame animation can be used to create quirky and often hugely imaginative effects to convey engaging, relevant and timely content to your target audience.
One of the most powerful things about Vine is its social nature. Vine is owned by Twitter and as such can be shared on Twitter, allowing the opportunity for community engagement, something that has traditionally eluded the YouTube platform. Alternative travel company Airbnb decided to throw down the gauntlet to its fans on Twitter, by getting them to put together Vines which it then stitched together to create this beautiful and endearing video, subsequently hosted on YouTube. It's a perfect example of three different social media platforms coming together under one unified marketing campaign.
Airbnb, along with other big brands Oreo, Dunkin' Donuts, Samsung Mobile US, GE and Mashable, have been quick to use Vine to their advantage. According to the Shorty Awards website, 'Oreo was a first mover in leveraging Vine to create snack-sized video content for fans in social media, and quickly emerged as an innovator and leader on the platform by amplifying the fan experience across Facebook and Twitter.'
Other brands that have also maximized Vine for video marketing from the outset, include retailer ASOS. They invited customers to create Vines of themselves un-boxing their ASOS product and encouraged them to post the results on Vine with the hashtag #ASOSUnbox.
Conclusion
Whilst six seconds of video may hardly seem to qualify as creating any kind of a narrative at all, it's important to see Vine in the context of a cross-platform cross-format omniscreening environment. In this brave new world where moments often trump minutes, Vines can serve to compliment, reinforce and give meaning to other elements of your video marketing mix. The important thing is learning how and when to use it.
In a former life, Jon Mowat used to make documentaries for the BBC. Nowadays he is MD at Hurricane Media, a Bristol-based video production and marketing agency. In February 2014 he gave a speech on Vine and omniscreening at the SES Conference in London.