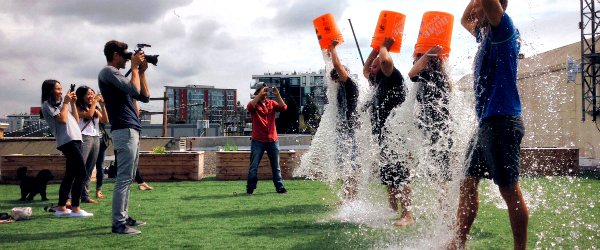 This Week in Social: The Ice Bucket Challenge and Facebook Messenger Migration
We're into the dog days of summer, and with our feeds overwhelmed by videos of tech's top executives dunking buckets of ice water on their heads, it's easy to divert your attention from the news. Once you've toweled off, whether from a day at the beach or from raising awareness about ALS, you'll need to get caught up. Here's the week's news from the social web:
Latest from the Big 4
Every week Facebook, Twitter, LinkedIn and Google+ announce policy changes, updates, design tweaks, new features and other changes that can affect how you use their tools. Here are this week's highlights:
Last week Facebook began splitting Messenger off from the main Facebook app, forcing users to download a new standalone app if they want to keep chatting with their friends. The move comes as part of a broader push from Facebook to reorganize its mobile offering. Among the world's billion Facebook users are many change-averse people who have grumbled about the new app, focusing particularly on control of notifications. For any users having trouble permanently disabling Messenger notifications, Mashable has a helpful how-to.
Business is competitive, right? So competitive business people need to know where they rank. LinkedIn has just announced a new feature for premium members revealing exactly that. Where the popular "How You Rank" feature had previously been limited to your connections and colleagues at your company, now you can see how you stack up against "Professionals Like You." Maybe it's just one more vanity metric to feed your neurosis (thanks, Klout!), but come on, who are you kidding? You're going to check it out.
Twitter's verified users—often celebrities, high-profile executives, or sports stars—aren't like the rest of us. The rarified verified have verified people problems, like trouble figuring out who all their new followers are. For instance, if @JustinBieber decides to join @Beyonce's 13.5 million followers, she might fail to notice and neglect the obligatory 'Thanks for the follow, Beibs!' DM. Until now. Twitter is addressing the needs of its most important users with new features, including mobile app alerts when another verified user follows them.
The Next Big Thing
The social web is a dynamic landscape, with new players constantly shaking things up. Whether it's a new class of Y Combinator startup stars announcing their big ideas, or a surprise venture capital investment in an app rumoured to be the next Snapchat, this industry moves fast. Here's the latest:
Yo's bold experiment in single-syllabic communication came to an end this week, with the announcement on August 12 that the app will be updated with "function" and "multiple uses." Writing in Gizmodo, Ashley Feinberg lamented the four-month-old app's decision to eschew the whimsical uselessness that earned the company that created it reportedly as much as $10 million in valuation. Those who will miss the simplicity of saying almost nothing and feel burdened by overwrought forms of communication like Emoji and Snapchat doodles, may turn to one of Yo's many clones.
By borrowing interaction design and functionality from Instagram and Tinder, Spring may have cracked the mobile shopping code. Users follow the brands they like and swipe, Tinder-style, to buy. With shipping and credit card info saved in the app, purchases are completed with a single interaction, but since a swipe is not a click, Amazon's infamous one-click payment patent isn't violated. In addition to making it a lot easier (and maybe more satisfying) to browse and buy fashion on mobile devices, the app may be on its way to creating the first universal shopping cart, long thought to be the e-commerce holy grail.
What Motivates Social Media PDAs? It's Exactly What You Think
Social networks know a lot about how we live our our lives. LinkedIn is now the world's largest database of the decisions we make in our professional lives, and has been increasingly using that information to build tools revealing insights derived from our experiences in aggregate. But what about our personal lives? For that, there's Facebook of course.
Writing in The Atlantic, Cari Romm points out that Facebook knows a lot about our love lives. It also knows a lot about how we communicate about our romantic relationships, and a recent study uses that information to draw conclusions about why we post what we post about love. What did they discover? People who publicly post affectionate messages and photos showing off a happy romance do it to boost their own self-esteem. Lead study author Gwendolyn Seidman told Romm that they found a "positive correlation between your self-esteem being contingent on relationships and it being contingent on other things external to you (e.g., others' approval)." One might have guessed.