Why Nostalgia Is An Effective Marketing Strategy, Explained By Science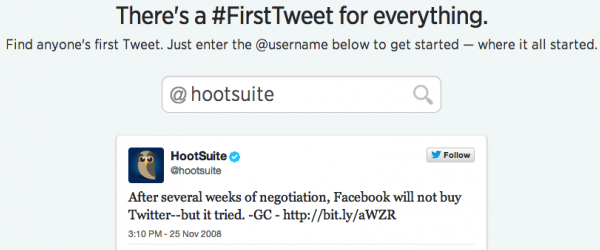 Earlier this month many of us took a look back at our very first Tweets, with the help of a new tool from Twitter. From silly comments showing our lack of understanding about the network to the more obvious "I just joined Twitter" messages, social media users delighted at sharing their first experience with tweeting.
The tool made many people, myself included, nostalgic about their start on Twitter, which seems ridiculous considering most of those first Tweets came only three or four years ago. But social media has shown a unique ability to speed up feelings of nostalgia.
Many social networks inherently play off of nostalgia by cataloging periods of our lives. Facebook records our moments by month and year, making it easy for us to look back through old conversations and photos. It has made it so simple and accessible for people to look back at content from two or three years ago and feel nostalgic. LinkedIn serves as a resume, yes, but also shows us where we started and how we've grown as professionals.
And while social media has sped up the process, nostalgia has been used as a powerful marketing tool for generations. Brands have used old television ads and old logos to help connect generations of fans and buyers.
So why is nostalgia so effective? While many people associate nostalgia with negative feelings (the notion being that you're sad that you're missing something from the past), science has shown that nostalgia actually has a very positive effect on us.
The Science of Nostalgia
Psychologists have done research proving that while it might be kicked off by feelings of sadness or loneliness, nostalgia—which most people experience at least once a week, and often three or four times—ultimately helps people feel much better. Nostalgia can "counteract loneliness, boredom and anxiety," as well as make us more tolerant and generous. In one study, playing hit songs from the past and giving people the lyrics actually made individuals feel "loved" and that "life is worth living."
Other research indicates that nostalgia is universal, experienced across all cultures, and actually increases self-esteem and 'social connectedness,' which relates to feelings of being loved and protected.
Considering many people already turn to social media for increased connectedness, to counteract boredom and to generally feel happier, why wouldn't marketers make an effort to channel nostalgia?
How Your Brand Can use Nostalgia on Social Media
Brands on social media have been channeling nostalgia in fantastic and effective ways. Some media properties like Buzzfeed have made a name for themselves with the help of nostalgia-inducing quizzes and listicles (See "The 50 Most 90s Things That Have Ever Happened"). But for brands that don't have that type of creative freedom, there are lots of examples of businesses using nostalgia for content marketing on social media in intelligent and impressive ways.
In advance of the release of the Playstation 4 console in 2013, Sony Playstation released a YouTube video called "4 The Players Since 1995."

The video shows the evolution of the gaming console through the evolution of one of its players, from young kid to teenager — the same evolution that most of its target audience went through. With 65,000 YouTube views, the clip clearly hit a chord with the players and loyal followers who have been with PlayStation since it launched in the mid 1990s.
Many companies use the opportunity of #ThrowbackThursday or #TBT, hashtags used on Twitter and Instagram to share old images and posts, in order to connect with their longtime customers. Car companies like BMW USA and Dodge share photos of classic cars on Twitter every Thursday.
#ThrowbackThursday: Seasons change. Great style never does. #BMWClassic pic.twitter.com/zVkk3JnfcQ

— BMW USA (@BMWUSA) March 20, 2014
For brands that don't have that kind of reach, or quite as much history, #tbt can be used to share photos of your first store, early employees and customers, or share how your product has evolved. Proof that you don't need a sexy brand to take part in Throwback Thursday? Even banks are getting in on the action. Even lesser-used networks present opportunities to connect with fans using nostalgia. The Los Angeles Times newspaper has created a Pinterest board called "Old Hollywood" which they use to regularly pin photos from their archives. This is a creative way for them to use existing assets in an effort to bring an older audience onto one of their newer channels. The Montreal Gazette does the same thing with archive photos using their @oldmontreal Instagram account, which has attracted thousands of followers so far.

Here at HootSuite, we used nostalgia when celebrating our fifth anniversary. We launched a #ThanksFor5 campaign that included interviews with our first 5 employees and culminated in an infographic showing the illustrated evolution of social media from 2008 to 2013. The content was a hit with our passionate social media followers, and earned us thousands of blog views, social media support and media pick up.
Social media has made nostalgia a simple marketing strategy that even young brands can use. Take advantage and you can build and keep loyal followers for life.
Did we miss any great examples of brands using nostalgia? Share them in the comments below.