YouTube may be more than 15 years old, but the platform has only gotten better, faster and stronger with the passage of time.
If you're considering diving into the world of video with the planet's most popular video-sharing social network, we've got all the hot numbers you need to inform your strategy right here.
Read on for the YouTube user, usage and business stats that you need to know to hit the ground running (and get that camera rolling).
Bonus: Download the free 30-day plan to grow your YouTube following fast, a daily workbook of challenges that will help you kickstart your Youtube channel growth and track your success. Get real results after one month.
YouTube user statistics
In total, the site gets 14.3 billion visits per month: that's more than Facebook, Wikipedia, Amazon and Instagram. Pop-u-lar!
Source: Hootsuite Global State of Digital 2022 report
For YouTube users over 18 years old, 46.1% identify as female and 53.9% identify as male.
This is a bit of a shift from just a couple of years ago (in 2020, 56% of YouTube users were male-identifying and 44% were female-identifying) so this could be a clue that we may be seeing more and more women are creating and consuming content on the platform in the years to come.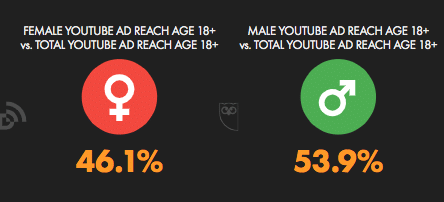 Source: Hootsuite Global State of Digital 2022 report
3. In the U.S., 62% of users access YouTube daily
Some even visit several times per day, according to Statista. Meanwhile, 92% of American users claimed to use the platform weekly and 98% say they access the site monthly.
4. Visitors spend an average of 19 minutes a day on YouTube
That's a pretty generous chunk of time to be hanging out on a platform. Wanna capture some of those minutes for your own content? Here's our guide to getting more views on YouTube, the ultimate breakdown of the current YouTube algorithm, and tips to help you improve your YouTube engagement rate.
Source: Alexa
5. 99% of YouTube users also are on other social media platforms
Less than 1% of YouTube users aged 16-64 are unique to the platform.
The bottom line? Assume that your fans are also following you on Facebook, Instagram or TikTok and make sure you're not repeating content or cross-posting: give 'em something fresh!
Dig into our complete guide to YouTube marketing to start building a truly unique strategy for the platform.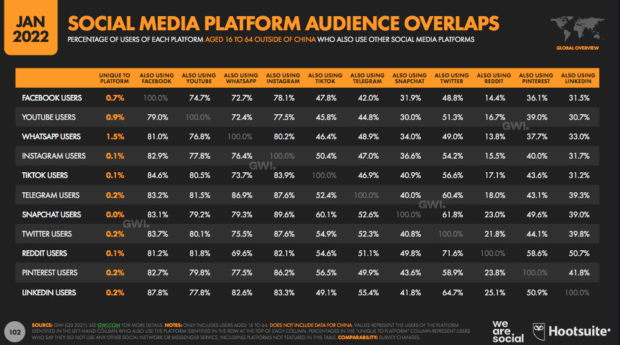 Source: Hootsuite Global State of Digital 2022 report
YouTube usage statistics
With over 14 billion monthly visits, YouTube clocks in as one of the internet's heaviest hitters, right after its parent company, Google. "YouTube" also happens to be the third most popular search term on Google.
Source: Hootsuite Global State of Digital 2022 report
That's even more than Netflix, where users stream just 452,000 hours of video.
Source: Statista
So… basically everyone. Even if you're not creating regular content on the site, it's worth having a presence here on one of the world's most popular digital hubs in some capacity.
Ready to build your brand on YouTube? Here's how to increase your YouTube subscribers and promote your YouTube channel.
Source: Statista
While the majority of YouTube's audience is watching videos via their computer, a big chunk of users are coming to the platform via their phones. Marketers would be wise to make sure content is optimized for a great viewing experience on even the tiniest of screens.
Source: Hootsuite Global State of Digital 2022 report
Score another one for the mobile crew. With an average of 4.63 pages visited via the YouTube app versus only 2.84 pages per visit on the desktop, mobile users clearly are lingerers who can't get enough of that 'Tube.
We've said it before and we'll say it again: Optimize! For! Mobile!
11. Users spend almost 24 hours each month on the YouTube mobile app
Android users across the globe spend on average 23.7 hours each month using the YouTube app on their phones. It's another great data point to inspire mobile optimization for your content.
Source: Hootsuite Global State of Digital 2022 report
The top query for YouTube searches in 2021? "Song." The second most popular search term? "Songs."
DJ, Dance, New Song, TikTok, and Karaoke also land in the top ten list of YouTube searches… so, needless to say, the top most-viewed videos on YouTube are music videos. (Congrats, "Baby Shark," you did it!)
If your brand has the opportunity to tap into this demand for music and dance, by all means: let the beat drop! (And if you can figure out a way to get BTS in your video? All the better.)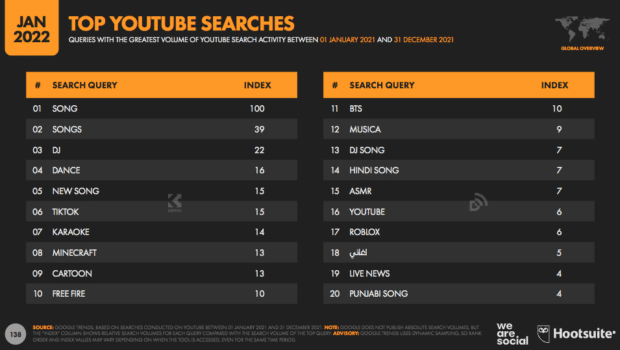 Source: Hootsuite Global State of Digital 2022 report
13. Gaming content thrives on YouTube
Okay, maybe this isn't a "stat" per se, but it's a fact you and your brand should be aware of. In 2021, many of the most popular videos featured gaming; as YouTube put it in their year-end trend report, "Gaming used to be a subculture, but with 2.9 billion people expected to play video games by the end of this year, today it's clearly pop culture."
Minecraft is still going strong, it turns out, and even Lil Nas X got in on the gaming trend, digitally performing in a Roblox video last year.
Source: Think With Google
14. Sports viewership on YouTube is expected to reach 90 million by 2025
While live events like the Superbowl still attract plenty of viewers, there's been a general shift in how sport content is consumed… and YouTube is at the forefront of that shift.
"This jump highlights how quickly content consumption is shifting to become more digital," Google reports.
And 53% of those parents say their child watches videos on YouTube at least once a day. This is also in stark contrast to the other social networks, most which require a minimum age of 13.
These last two YouTube user statistics combined show that YouTube has deep reach across every age category in the United States.
YouTube launched a new "Shorts" format to Indian audiences in 2020 — videos that max out at 60 seconds — and rolled out the feature to 100 countries worldwide by the following summer. (YouTube also rolled out a $100 million Shorts Fund to encourage Creators to try out making short-form content.)
Today, with more than 15 billion daily views, Shorts have proven to be a massive hit, demonstrating that viewers are craving short-and-sweet content, wherever they're consuming video. (Watch your back, TikTok!)
YouTube for business statistics
17. 92% of internet users watch some kind of video content online each week
Video is an incredibly popular tool for entertainment and education, and the people of the world wide web obviously can't get enough, with 91.9% of users aged 16 to 64 reporting that they watch some sort of video content every single week.
If your social media marketing plan doesn't involve video at this point… what are you waiting for? Check out our guide to social video strategy here.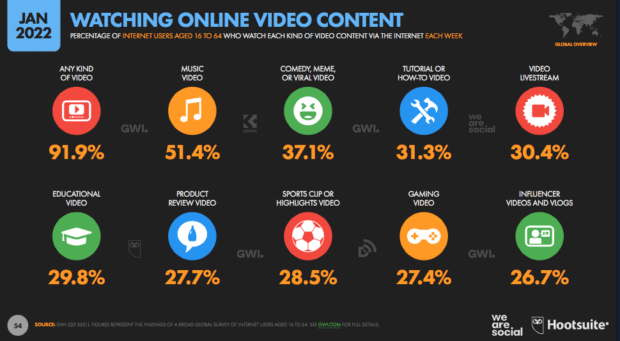 Source: Hootsuite Global State of Digital 2022 report
People seek out video as a teaching tool: take that as inspiration for your own content calendar and produce videos that walk viewers through how to use your product or service.
How-to videos, tutorial videos and educational videos are particularly popular with Gen Z; in fact, 53.5% of female Gen Z internet users and 52.2% of male Gen Z internet users have watched a video in this genre this week.
Other popular video content for internet users aged 16 to 64 includes product review videos, gaming, and comedy.
19. 30% of internet users report watching at least one video live stream weekly
Social media live streaming is dynamic, authentic and engaging, and internet audiences can't get enough of it.
Explore our guide to social media live streaming here and get ready to broadcast your own hot take to a world of viewers.
YouTube ad statistics
20. YouTube ads have the potential to reach 2.56 billion users
YouTube has an incredible potential reach of over 2 billion — that's 32% of the total population, and 51% of the total internet users out there. If you're interested in pursuing a paid marketing strategy, YouTube has access to an incredible amount of eyeballs.
Of course, if YouTube isn't where your specific audience is hanging out, this opportunity may not be relevant to you. Fill out our free template to find out just how to discover and target your social media audience.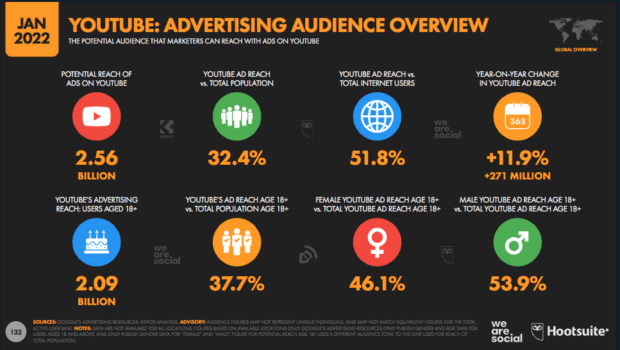 Source: Hootsuite Global State of Digital 2022 report
21. Males aged 25-34 are YouTube's biggest advertising audience
When sorting YouTube's advertising audience by age group and gender, males aged 25 to 34 — that Millennial sweet spot — are the platform's biggest demographic, at 11.6%.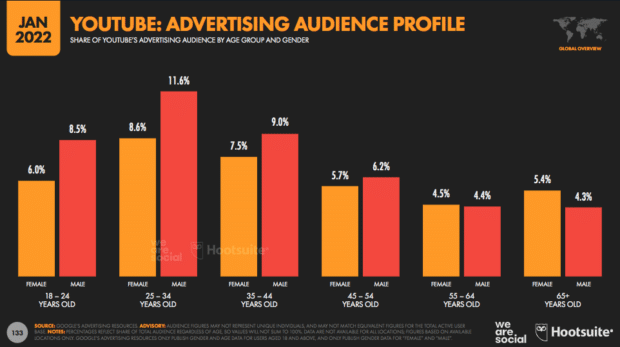 Source: Hootsuite Global State of Digital 2022 report
With a total reach of 467 million users, India is the country with the largest YouTube advertising audience by a mile. The U.S. is the second biggest audience, with a measly 247 million total reach.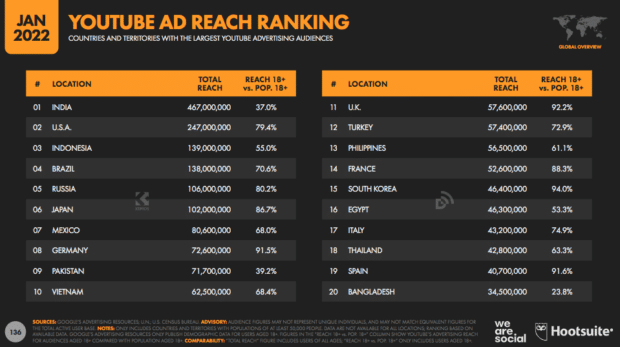 Source: Hootsuite Global State of Digital 2022 report
23. Youtube's global ad revenues were $28 billion USD in 2021
That's up 46% from the year before. This is likely where your competitors are investing their advertising dollars, so if you're looking for a presence in the same space, you might be wise to get in on that action, too.
Hungry for more numbers to inform your social strategy? Check out these other social media statistics for social media managers.
Let Hootsuite make growing your YouTube channel easier. Get scheduling, promotion and marketing tools all in one place for your entire team. Sign up free today.
Grow your YouTube channel faster with Hootsuite. Easily moderate comments, schedule video, and publish to Facebook, Instagram, and Twitter.
Free 30-Day Trial