Notes on EdgeRank
By increasing participation with your content, you'll also increase your EdgeRank, a weighting system which determines how prominently your updates will be displayed across News Feeds.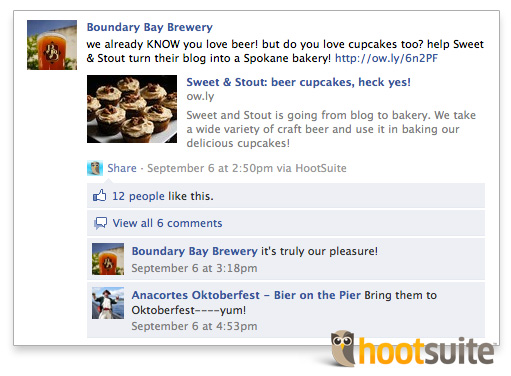 Socially Connected
HootSuite is a Facebook Preferred Developer Consultant, and has an in-depth understanding of this social network – including EdgeRank – and we've crafted the dashboard's Facebook functionality with these unique needs in mind since first adding Facebook integration on Nov. 24th 2009.
Jump into this handy Info Sheet to learn specific ways to use Facebook and HootSuite together to get your posts seen, spark conversations and finally, measure the results.
Download the Infosheet: Facebook Best Practices [PDF]
Puedes leer y descargar estas Buenas prácticas en Facebook [PDF] también en español