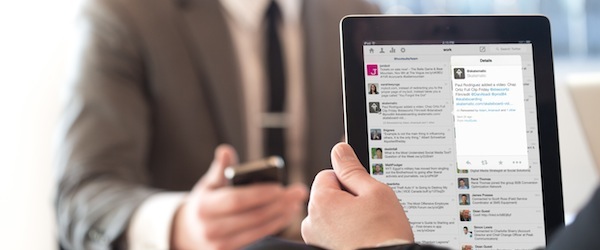 3 Ways to Use Social Media to 'Listen' to the Competition
Confession: I have a slightly unhealthy early morning ritual. For the last five years—since I launched Hootsuite—the very first thing I've done every day after I wake up is take a peek at what our competition is up to.
I use an app on my iPhone (you can probably guess which one) to see all of the social media mentions of my company and our competition on Twitter, Facebook and other networks. At a glance, I can see what's being said about all the competitors in my industry and any big news that may have happened overnight. I get the kind of intel that used to take days to gather in a matter of minutes.
Social listening—as this tactic is known—can be as simple as keeping watch on what other companies are posting on Twitter and Facebook. But it can also be a lot more rigorous. And for businesses that pursue social listening seriously, the benefits can be significant: real-time intelligence on competitors; instant feedback on how your own brand is being perceived; and actionable data for designing or tweaking marketing campaigns.
Here are a few nuts and bolts on getting started with social listening:
Create real-time 'news feeds' featuring your top competitors. Let's start with the basics. Something any business can (and should) be doing is paying attention to what competitors and their customers are saying on Twitter, Facebook, Google+ and other channels. Lots of social media tools (many of them free) make this quick and painless: Once you're set up with an account, type in a few handles and you've got a streaming, real-time digest of what your competition is working on and pushing out.
It's not a big leap from there to taking the pulse of the larger state of your industry. Different streams can be set up to track keywords critical to your field. Anytime someone mentions "social media management," for instance, on Twitter, it shows up on one of my streams. By digging a little deeper, I can root out the comments that actually matter. Influential leaders and decision-makers, for instance, are easily identified by a high Klout score, a handy index of social media sway.
Learn what people are saying about you and your product. Just as valuable from a competitive standpoint, of course, is knowing what's being said about you on social media—both by your rivals and prospective customers. To this end, setting up a stream to monitor references to your own company can be extraordinarily informative (and humbling). Early on in Hootsuite's evolution, for example, I noticed that our competitors consistently trash-talked the fact that we had millions of free users. A free tool, they argued, could never be robust enough to handle the needs of serious companies.
Keeping track of social media buzz helped us see real and perceived weaknesses like these and react before they snowballed. In fact, we made a strategic decision early on to continue supporting free users, who became a critical source of product feedback, kept us honest and innovative and provided a steady stream of corporate customers willing to pay for added features.
Scale your social media listening so your boss can see its value. But I know this "soft stuff" isn't for everyone. CEOs and C-level executives are conditioned to respond to data, not random mentions on social media. New analytics tools, however, are bringing exactly this kind of quantitative rigor and scalability to social media listening and competitive analysis.
I still check the social scuttlebutt every morning on my phone but for deeper insight I use a dedicated analytics tool. For instance, with an application called uberVU, I'm able to track the exact number of social media mentions of all of my competitors over time. A line graph shows the daily ebb and flow of interest on Twitter and Facebook, as new campaigns and products are launched with varying degrees of success. Each day (each hour, in fact), I get a clear, stats-based picture of how we're stacking up against rivals.
Other features sort through these hundreds (sometimes thousands) of daily mentions and automatically single out the ones coming from influential analysts and industry leaders. There's also a feature that can parse and compare the overall sentiment (positive, negative or neutral) of thousands of messages—enabling me to see how social media users "feel" about my product and its competitors at any given moment. This kind of real-time, quantified insight is one of the great competitive advantages of monitoring social media.
Knowledge is power, especially when it comes to staying ahead of the competition. And social media offers a rich, searchable pool of competitive intelligence for those who know how to tap into it. If you're curious to learn more about social listening, check out this detailed blog post or this short video series (Part 1 and Part 2).