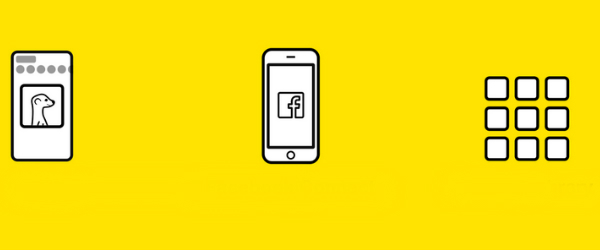 6 Reasons Your Brand Should (Still) Be On Meerkat
For a few weeks in March, Meerkat was everywhere: celebrities offered exclusive peeks at their daily activities, countless events were broadcast to a global audience, and insights were offered into random strangers' lives. Then, gradually, mrk.tv links started disappearing from Twitter feeds as Twitter cut off Meerkat's access to its social graph. The plot thickened once the microblogging network launched their own live streaming app Periscope to rival Meerkat's claim to live broadcasts. Techies around the world had a lot of work to do: test and suss out the main differences between Meerkat and Periscope, discuss the larger implications of the live streaming trend, and offer solutions to new challenges associated with this new type of media.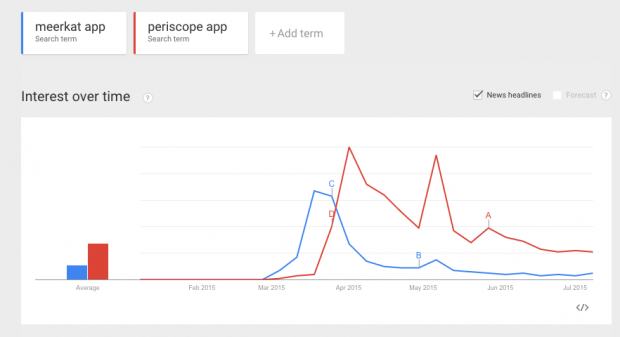 As spring turned into summer, the initial interest of Meerkat has cooled. To stay afloat, Meerkat developers had to define their niche beyond the general live streaming—which is precisely what they did in a series of new updates released just this past week. This is how Meerkat describes the changes on their Medium blog:
The true power of being able to use your phone for live video is creating "broadcast with" experiences. The power of participation is why we created Meerkat and why we are focused on pushing live video beyond "broadcast to".
If you want to learn how to "broadcast with" instead of "broadcast to," here are 6 reasons to convince you to keep broadcasting on Meerkat.
Reason #1: You can feature guests on your Meerkat streams
The most exciting update for brands and influencers is Meerkat's Cameo feature, which lets the host of the live stream feature other Meerkat users in their broadcast for up to 60 seconds. Users can choose to cameo one of their stream's current viewers, or arrange the appearance in advance. Once the cameo user joins the stream, their followers are also notified and invited to view the broadcast, which expands the audience of the original stream and gives the host an opportunity to gain more followers.
Meerkat's Cameo feature allows brands to up their engagement game on live streams. For example, if you're hosting a live Q&A session on Meerkat, you can invite users to ask their questions through a cameo appearance, instead of reading out questions from the @mention feed on the stream. The Cameo feature also opens up the channel for more user-generated content, and gives brands a chance to host contests or one-minute pitch sessions for potential employees.
If this seems like an unrealistic goal for a minute-long broadcast, consider how many creative applications exist for Snapchat—and the ephemeral video app only gives you a sixth of Meerkat's Cameo! If you're still at loss for ideas, wait and learn from other content creators: Adweek reports that big names such as TMZ, MasterCard, and YouTube star Michelle Phan have already started using Cameo in their Meerkat streams.
Reason #2: You can save Meerkat streams for later viewing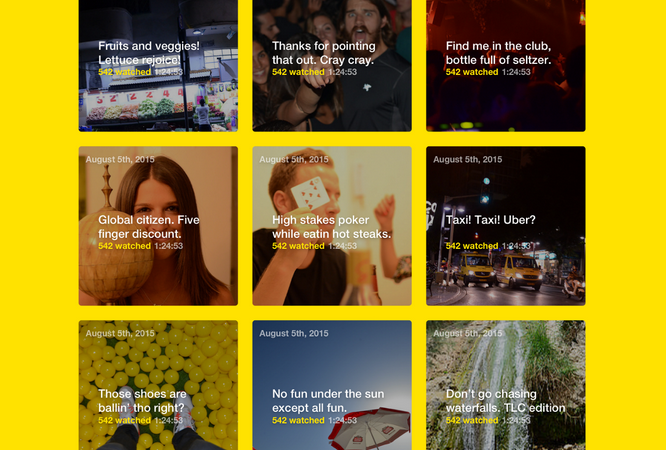 Live broadcasts helped provide users with glimpses of the action in real-time, whether it was an historic wrestling match or a civil rights protest. However, those who missed out on the initial stream were often out of luck—neither app offered a native option to save streams for later viewing. Periscope allows broadcasts to be viewed for up to 24 hours after the initial streaming time; we learned during our #FollowTheSun campaign where we realized that several streams of office tours have gone offline. So unless you rig up your own recording software, your streams may be lost forever.
To remedy this, Meerkat has just launched a beta version of the stream library that allows broadcasters to save streams for later viewing. You can decide whether the stream is public or private. Besides the obvious perk of saving streams, the library saves space by storing streams to the cloud instead of the user's smartphone. This feature allows you to relive your favorite streams, and repurpose older content to gain more followers—as a #ThrowbackThursday, for example.
Reason #3: You can engage with your Facebook audience on Meerkat
Meerkat's new Facebook integration allows you to bring more real-time interaction to your Facebook strategy. Not only do users have a new ability to log in to the app using their Facebook credentials, but they will also be notified when a friend or a Page they follow join and stream on Meerkat. This new partnership is another example of Facebook's recent effort to only show users the best content.
The live streaming app's integration with Facebook is a lot subtler than its previous Twitter partnership; no stream announcements or notifications will be posted to your News Feed automatically. However, you can still choose to promote your scheduled Meerkat stream and provide more detail, unrestrained by a 140-character limit. This plays into Meerkat's new "broadcast with" positioning: making friends with Facebook will, first and foremost, help Meerkat users expand their follower network to their existing friends. Once the new viewers are added, Meerkat takes over the real-time part by providing in-app notifications of upcoming streams.
Reason #4: You can generate buzz for Meerkat streams by scheduling them in advance
Like any other event, you can promote your live streams in advance by posting previews on your social media channels, blogs, or official website. With Meerkat's Upcoming Streams, you can cut out the middleman by teasing a scheduled stream directly in the app. The stream will appear on your channel and can accumulate subscribers prior to going live.

Meerkat recommends posting a preview at least six hours in advance, to allow your followers to subscribe to the stream, promote it to their networks, and get notified once you go live. To help your scheduled stream stand out, you can also upload a 640×360 photo to give people a better taste of what's to come.
Reason #5: You can customize your end-of-stream button's CTA
Meerkat allows broadcasters to change what their viewers see after the live stream is over, by customizing the language and destination URL of the button that appears on your end of broadcast screen. Enrich your viewers' experience with supplementary materials to accompany your live stream, such as blog posts, other users' videos, or a summary of the broadcast. You can direct your viewers to that content by including a call to action in your 'end of broadcast' screen. This is a great opportunity for businesses to boost sign-ups for a service or trials of a product after live streaming a product tutorial, for example.
Reason #6: You can encourage your website visitors to connect with you
Just as social media integration is important to connect your website visitors to your social channels, so is connecting those visitors to your live streams. Meerkat allows you to do this by introducing an embeddable Meerkat Follow button to feature on your blog or site.
Meerkat's new "broadcast with" principle allows you to open up a two-way conversation—and any opportunity that allows you to connect with your online audience in real-time is one you should take.
Follow Hootsuite on Meerkat!