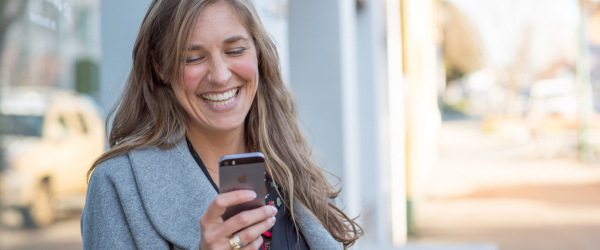 7 Hootsuite Features You Need To Know
Hootsuite is a robust tool for managing a number of social media channels. The dashboard is updated multiple times a week to provide the best functionality for listening and engaging on social media. With so many useful features to choose from, it's understandable that some get overlooked. We've compiled a list of great features that might not be on your radar and will help you get the most out of Hootsuite.
Geosearch
If you want to find out what people are saying about a topic in a certain area, grab the latitude and longitude marker of the location you have in mind, and enter a search query following this format: [geocode]:[latitude and longitude coordinates],[radius of search area].
For instance if I want to know what people are saying about the Opera House within 25 kilometres of Sydney, Australia, use this search term when setting up a stream in Hootsuite: opera house geocode:-33.85,151.21,25km.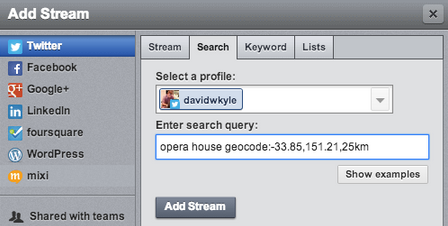 Filter by Klout
If you want to know what influencers are saying about something you're interested in, you can filter by Klout score from Hootsuite. This is handy when lots of people are talking about something but you want to hear from the most trusted advisors of that topic.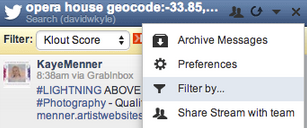 Lists
Twitter is a fantastic resource with a wealth of information on nearly every topic imaginable. Along with that information comes some noise. I follow over 1100 people and brands on Twitter, and miss a lot of updates simply due to the volume. Many people follow thousands more people than 1100, so imagine the noise level on their home feeds.
You can categorize who you follow by using the Hootsuite 'list' function. I recommend breaking your community into verticals. I'm really interested in sports, music and travel, so when I follow someone new that fits into one of those categories, I add them to my corresponding list.
Hootlet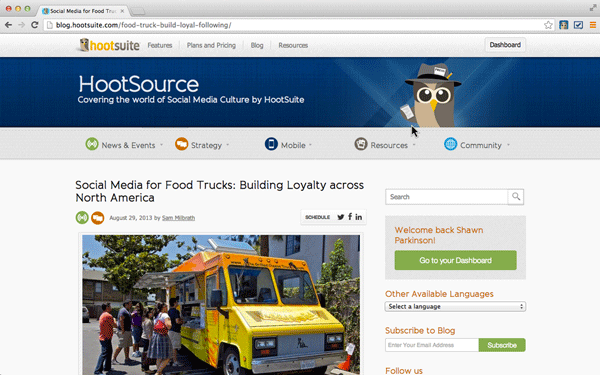 Sometimes when you're reading online and you discover something you want to to share with your followers, you  want to just keep reading without leaving the browser window you're in. Hootsuite has a fast and easy solution. With the Hootlet, you can click one Chrome extension and share to any social network connected to Hootsuite. It will also write a post that you can keep or edit to your liking before publishing.
Suggested Content
Keeping your followers engaged is one of the biggest challenges on social media. You need to post interesting content, regularly. Hootsuite recently released a Suggested Content (BETA) feature that curates content and posts it to your social networks. The groundbreaking part of this feature is its ability to remember what you've posted in the past and, using that history, suggest relevant content for you to post. Furthermore, the more you use Suggested Content, the more it learns about what content you like to share. Using Hootsuite's Suggested Content will make keeping your followers engaged easy.
Drag and drop
To make organizing lists easier, you can drag and drop profiles from one search stream into another in the Hootsuite dashboard. This is one of Hootsuite's best-kept secrets.
The App Directory
While not a standalone feature or specific to our Twitter integration, the App Directory houses all of Hootsuite's integrations. From social networks like Foursquare and Instagram to analytic apps like YouTube Analytics Free and uberVU, exploring the more than 100 applications in the App Directory will improve your use of Hootsuite.
If you have any questions about Hootsuite and its features, we're more than happy to help at @Hootsuite_Help. Our Community Department can give you more details as well if you tweet us at @HootClub.