Looking for inspiration for your Black Friday social media posts? As one of the biggest shopping days of the year, it's no surprise brands are pulling out all the stops to capture customer attention.
From creative graphics and catchy captions to engaging videos and influencer collaborations, use these ideas and examples to make your Black Friday social media posts stand out.
Bonus: Check out the weirdest holidays to celebrate on social media.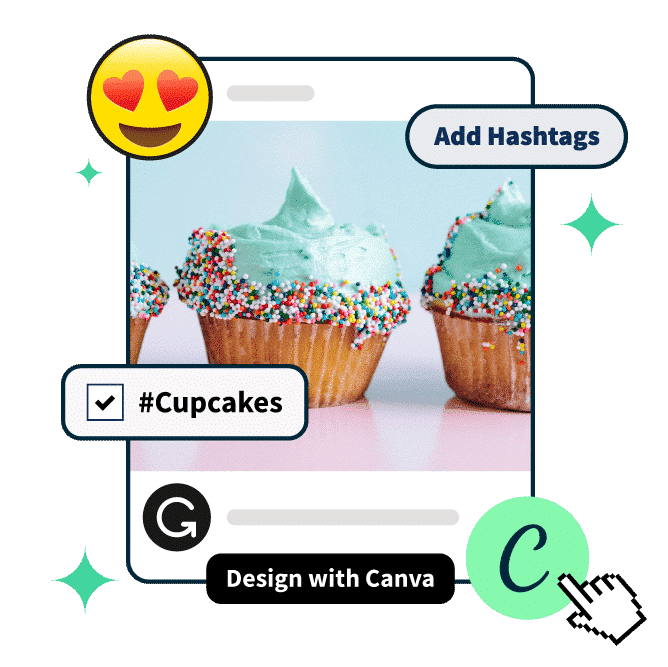 The formula for going viral
Everything you need to make engaging content. AI support for captions, an AI hashtag generator, and access to Canva and Grammarly Pro in Hootsuite.
Get 30 days for $0
50 Black Friday social media posts
Ready to kick off the holiday shopping season? These Black Friday social media post ideas will help you drive sales and create buzz around your brand.
10 Black Friday Instagram posts
Instagram is the go-to platform for visual content, making it perfect for sharing eye-catching Black Friday promotions. Here are some of our favorites.
1. Nicole Miller's holiday fashion shoot
Nicole Miller's Black Friday post showcased their dark and glittery winter offerings with behind-the-scenes footage from their holiday fashion shoot.
2. Swoveralls plays with time
Nothing grabs attention like a mind-bending trick. Swoveralls nailed it in their Black Friday post, using stop-motion to showcase their overalls seamlessly transitioning from couch to work in no time.
3. Larsson & Jennings keep it simple
Black Friday social media ideas don't have to be complicated. In this Instagram Reel, jewelry brand Larson & Jennings uses a simple text overlay and a quick video of a brand rep rejoicing at the news of the ongoing sale.
4. Walden Watches nails the static post
While video content is all the rage, don't underestimate the power of a well-designed static post. Walden Watches created a clean and aesthetically pleasing post that showcases their Black Friday watch sale.
5. Kulakinis taps into UGC
No budget for a Black Friday photoshoot? No worries. Your customers are likely already posting about your products on social media. Kulakinis used this user-generated content (UGC) in a carousel post.
6. We Are Knitters leverages shoppable posts
Make it easy for your customers to shop your Black Friday deals with shoppable posts. We Are Knitters includes a "Shop" tag on their Instagram post, allowing users to easily purchase its luxury yarn without leaving the app.
7. Natasha Denona gives an action shot
Makeup brand Natasha Denona shows users how to apply and blend its eyeshadows in this Instagram Reel. By showcasing the product in action, potential customers can see how the makeup looks and performs, making them more likely to make a purchase.
8. B&H Photo keeps us guessing
Use suspense to keep users engaged, like this B&H Photo Reel showing a customer fast-walking to its Black Friday sale.
9. Pro Direct Soccer gets transparent about pricing
Customers want to know they're getting a good deal on Black Friday. So, put your price front and center like this Pro Direct Soccer Reel.
10. When in doubt, demo it out
Erin Condren Design gives Black Friday shoppers a full walkthrough of the various customizations and designs available in her planners.
10 Black Friday Pinterest posts
Pinterest is a popular platform for shoppers to discover new products and plan their purchases. Use these Black Friday Pinterest post ideas to inspire your next campaign.
1. IKEA taps into brand humor
IKEA has great brand recognition. So, when it says it's "Lack" Friday, not Black Friday, users will get the joke.
2. Natalya Dudinska goes for graphic
Make your Black Friday social media posts stand out with bold, graphic design like this example from Natalya Dudinska.
3. Apple gives a subtle nudge
The Apple Watch is one of the brand's hottest products. In this Pinterest post, Apple gives a subtle reminder that its watch makes for the perfect holiday gift.
4. & Other Stories does black & white right
Sometimes simplicity is key, as demonstrated by this elegant black and white Pin from & Other Stories.
5. Frankies Bikinis uses simple animations
Keep it simple this holiday season with animated text overlay atop your best products
6. Google lets the products speak for themselves
When you're a big brand like Google, sometimes you don't need to say much. This Pin lets the product images do the talking.
7. Patagonia makes you think
Patagonia leans into shock value in this Black Friday social media post, with a headline that reads, "Don't Buy This Jacket."
8. Mason Garments builds hype
Don't want to show your hand just yet? Keep your Black Friday deals a mystery like Mason Garments did in this Pinterest Pin.
9. Erborian makes video look easy
You don't need a film crew to make a good short-form video. Erborian's Black Friday Pinterest post shows that even a quick clip of static images can be eye-catching and effective.
10. Ecolaf makes a statement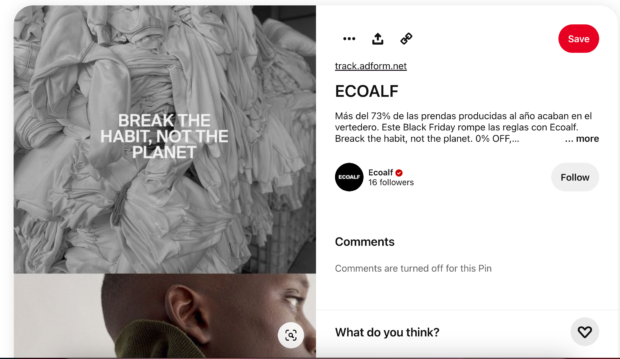 Black Friday is known for its negative environmental impact. Ecolaf uses this to its advantage in a bold and attention-grabbing Pinterest post.
10 Black Friday TikToks
TikTok has taken the social media world by storm, and it's a great platform for showcasing your Black Friday deals in a fun and creative way. Here are some ideas to get you started.
1. Best Buy makes the customer the star
Best Buy's quirky Black Friday TikTok features customer's faces when they find the perfect item. Can you see yourself in this store?
2. Glossier tells a customer story
Are you serious enough about your Glossier haul to make an Excel spreadsheet? This customer is.
3. VS Pink takes viewers on a POV shopping spree
This POV-style TikTok from Victoria's Secret Pink takes viewers Black Friday shopping in the store. It's an immersive experience that makes viewers feel like they're there in person.
4. Lululemon puts deals in the spotlight
Sometimes you just want to know what and how much. This Lululemon TikTok tells viewers exactly what they can save on.
5. Walmart focuses on deals, deals, deals
While TikTok is known for its human-led content, this video from Walmart is all about the deals. It's a quick and easy way to showcase their Black Friday offerings.
6. Amazon gets… weird?
@amazon

Whether you're shopping on Black Friday or Cyber Monday, the best deals are at Amazon.
It's not totally clear what's happening in this TikTok from Amazon, but the catchy tune and quirky visuals make it hard to look away.
7. More from Amazon, this time with a touch of influence
For this ad, Amazon partnered with TikTok sensation Chari D'amellio to showcase their Black Friday deals in a fun and relatable way. It's a great example of influencer marketing done right.
8. Booking.com gives an experience
Traveling isn't just about the destination, it's also about the journey. Booking.com uses this philosophy in their Black Friday TikTok, featuring a fun and quirky trip through different travel locations.
9. Fenty takes the shopping online
These days, sales don't end on Friday. Keep your e-commerce store going with Cyber Week deals, like Fenty Beauty did in this TikTok.
10. Vessi makes a statement
Vessi proves the strength of its waterproof shoes by covering them in muck! Proving once and for all that these shoes should be at the top of your Black Friday shopping list.
10 Black Friday Twitter posts (X posts)
Twitter (now known as X) is a great platform for short and snappy Black Friday promotions. Here are some unique ideas to make your tweets stand out above the rest.
1. Amazon runs the media circuit
Amazon October Prime Day 2023: Shop 75+ best deals before Black Friday https://t.co/Z7B4HjR3wc pic.twitter.com/LgmEHT4o2l

— New York Post (@nypost) October 10, 2023
Amazon teamed up with the New York Post to begin promoting its 2023 Black Friday deals early.
2. Telfar plays it cool
BLACK FRIDAY RESTOCK 🖤 12PM EST TODAY — BLACK UGG x TELFAR BAG in all 3 sizes https://t.co/EpbOnsgxIz pic.twitter.com/cwD2WaDvNk

— TELFAR (@TELFARGLOBAL) November 26, 2021
Simple, sleek, and to the point. Telfar doesn't beat around the bush when it comes to advertising its Black Friday deals.
3. Sculpted by Aimee says skin is in
Did someone say Glowing Skin? 🤩

Shop the Favourites with a massive 25% off until midnight Saturday 27th! 💖#sculptedbyaimee #blackfriday pic.twitter.com/85qMPQx3Cu

— Sculpted by Aimee (@sculptedbyaimee) November 25, 2021
Sculpted by Aimee puts its skin products on display with this Black Friday tweet. The stunning visuals and emphasis on discounts are sure to grab attention.
4. Rococo Chocolates makes us drool
We've decided to launch some of our #BlackFriday deals a little early to take some pressure off our teams and our delivery partners. https://t.co/NK8kQ1Nnme pic.twitter.com/1eiBoMiAvQ

— Rococo Chocolates (@rococochocs) November 17, 2021
Who can resist a good chocolate deal? Rococo chocolates takes advantage of that weakness with mouth-watering images and limited-time offers.
5. Mented Cosmetics reminds us to holiday gift shop
Need to find the perfect Secret Santa gift? We've got you covered with our Holiday Gift Guide 🎁.

Shop: https://t.co/Vl3yR5pkVD
____
Black Friday Sale🖤
30% OFF SITEWIDE
PLUS 3 FREE GIFTS when you spend $75+
Ends 11/28 at 11:59 PM ET.
____#mentedcosmetics pic.twitter.com/pFRDCwaxod

— Mented Cosmetics (@MentedCosmetics) November 27, 2021
A lot of people are looking for gifts during Black Friday, not just for themselves. Mented Cosmetics uses this tweet to remind followers that their products make great holiday presents.
6. Hyperice counts us down
IT'S ALMOST TIME ‼️

The Hyperice Black Friday sale starts November 19 globally with some of our BEST. DEALS. EVER.

The sale starts November 19 at 12:01 am EST and lives through November 29. pic.twitter.com/Cbxh38jXMT

— Hyperice (@Hyperice) November 18, 2021
Countdowns create a sense of urgency and FOMO (fear of missing out). Hyperice uses this tactic to promote their Black Friday deals, giving followers something to look forward to.
7. MAC hypnotizes with stunning visuals
M·A·C Black Friday-exclusive surprise 🖤! Score magical buys with 30% off sitewide and 40% off all face products and foundations*. *Offers valid to customers in the US and Canada for a limited time only. Exclusions apply. In-store and online. #BlackFridayhttps://t.co/lEjDbLyQgC pic.twitter.com/1XdcYKCoVB

— maccosmetics (@MACcosmetics) November 26, 2021
Who doesn't love being mesmerized? MAC uses stunning visuals and bold call-to-actions to draw attention to its Black Friday sale.
8. Glossier rarely does a sale
Our only sale of the year!! 25% off everything starts NOW 🏃 on https://t.co/lJPHYSrKkl through Monday ✨ Plus! Save up to 35% when you shop sets ✨https://t.co/P3d9Zx9XwM pic.twitter.com/tG7dN570HC

— Glossier (@glossier) November 27, 2020
Glossier creates a sense of urgency and exclusivity with this tweet, reminding followers that their Black Friday sale is a rare occasion.
9. Ice Watch uses simple video
❗️ BLACK FRIDAY ❗️ GET READY ❗️
From 26 to 29 November 2021 inclusive, enjoy discount on a wide selection of watches for this limited period.😁🔥#blackfriday #icewatch #changeyoucan pic.twitter.com/MNjwjqogFK

— Ice-Watch UK (@IceWatchUK) November 15, 2021
Videos work on Twitter, too! Just keep them simple and eye-catching like Ice Watch did in this Black Friday tweet.
10. McDonald's gets a laugh
Black Friday **** Need copy and link****

— McDonald's Corporation (@McDonaldsCorp) November 24, 2017
Mcdonald's keeps it light and playful Black Friday tweet, implying their social media manager wasn't quite up and at 'em this morning.
9 Black Friday Facebook posts
Need more Black Friday social media ideas? Here are a few creative Facebook posts that will excite your audience for the biggest shopping day of the year.
1. Dodge says miss the mall, hit the road
Dodge wants you to skip the crowded malls and instead, hit the road in one of their vehicles this Black Friday.
2. Thirty-One Gifts walks us through its best products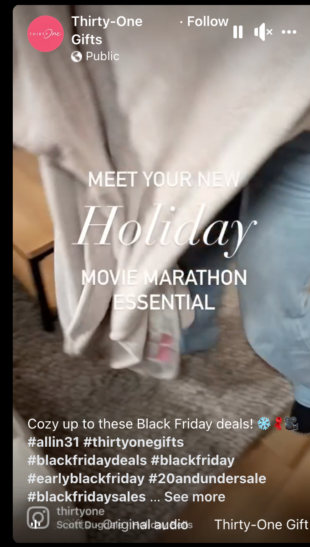 Thirty-One Gifts not only showcases their products in this reel, but also offers a sneak peek of their Black Friday deals.
3. Only Curls' customers show you how it's done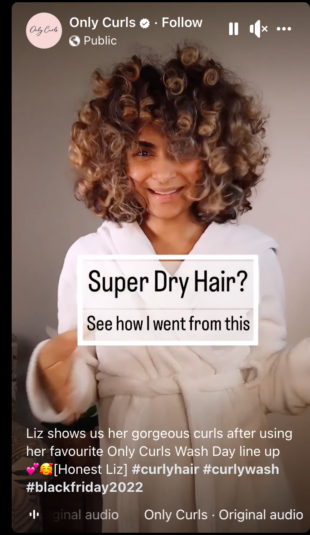 Styling curly hair can be a struggle, but Only Curls' customers show us their before and afters using the brand's products. Plus, it's a shameless Black Friday plug.
4. MeUndies six days of savings
MeUndies takes advantage of the week leading up to Black Friday by offering a different deal each day.
5. Dyson follows up
Dyson doesn't let customers forget about it after Black Friday ends. This post-sale video educates recent buyers on how to use its products the right way.
6. KFC does Black Friday too
Even fast food chains like KFC get in on the Black Friday fun with creative deals and promotions.
7. Paris Jewelers lets it shine
Paris Jewelers knows Black Friday is the perfect time to showcase their sparkling jewelry.
8. Samsung says start early
Samsung reminds customers to start shopping early to take advantage of their Black Friday deals.
9. Skims teases its Black Friday sale
Skims teases their Black Friday sale with a simple, eye-catching ad featuring their signature intimates.
Black Friday social media post FAQ
On Black Friday, you should post about your promotions and deals, as well as create a sense of urgency for customers to take advantage of them. You can also showcase your best products or sneak peeks at upcoming deals.
To promote a Black Friday sale on social media, you can use countdowns, stunning visuals, exclusive deals, simple videos, or humor to draw attention and create excitement. You can also use hashtags and collaborate with influencers to reach a larger audience.
It's important to regularly post about your sale and remind customers of the limited-time offer. Additionally, offering early access or sneak peeks can generate buzz and anticipation.
What do you say in a Black Friday post?
In a Black Friday post, you should mention your deals and promotions, create a sense of urgency by mentioning limited quantities or time frames, and use eye-catching visuals to draw attention.
You can also showcase your top products or collaborate with influencers for added credibility. It's important to keep the language concise and clear to avoid confusion about the sale details.
Save time managing your social media presence with Hootsuite. From a single dashboard you can publish and schedule posts, find relevant conversions, engage the audience, measure results, and more. Try it free today.