Digital Darwinism ~ Survival of the Fittest Businesses

This post is part of a special series of contributed posts by Joel Windels, Lead Community Manager at Brandwatch—one of the world's leading tools for monitoring and analysing social media.
Joel will be investigating and uncovering the various ways that social media meets business, and providing you with insight and advice on how to make social work for your industry.
The increasing sophistication and adoption of social media has caused businesses in a wide range of industries to change the way they operate, something Brian Solis has famously referred to as 'Digital Darwinism'.
His concept suggests that we are living in an era where consumer behaviour and technology are developing faster than our ability to adapt – and only those businesses who find a way to do so will survive.
No more immune than any other sector, social media has forced broadcasting companies to dramatically alter their traditional business models. The rise of handheld devices has meant that viewers now engage in dual screening, opening up a chance for audiences to voice opinions and interact with the programs as they are broadcast.
Among the many examples of broadcasters that have taken innovative steps to enhance the performance of their operations is Sky News Arabia, a 24-hour, Arabic-language rolling news channel broadcasting from Abu Dhabi. The channel was founded in 2012 and already has 50 million viewers spanning across the Middle East, North Africa and Arabic speaking viewers around the world. Sky News Arabia have used social media to benefit their channel in a number of effective ways, many of them extremely innovative: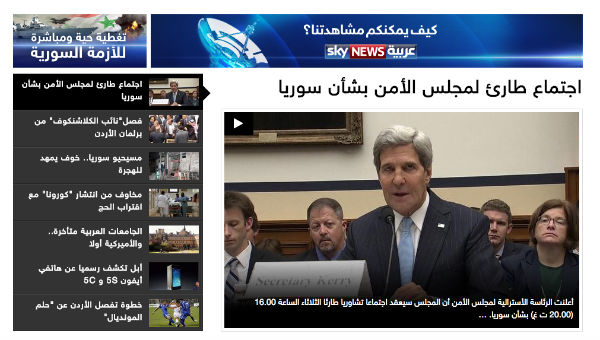 Keeping an analytical eye on competitors' social media performance
Broadcasting is an increasingly competitive industry. Sky News Arabia recognize this and use monitoring tools to track its key competition. This is achieved by utilizing keyword queries to measure not only their owned social media success and penetration, but also to track discussion outside of the major social networks and channels.
A key benefit of monitoring competitors is that it enables you to review your own performance in context and against a fair benchmark. It also reveals which changes are necessary to stay ahead of the game and compete in the future. It may also allow you to identify new audiences and markets that you are failing to reach – giving you the opportunity to create a plan to address this.
Investing in brand ambassadors to add value to the business
It is highly likely that a number of your employees are active on social media. Through monitoring their individual reporters' performance, the Sky News Arabia analytic team conduct quality assessments on the news reporting team. This enables them to gain an insight into what followers respond well to and give the appropriate training to their journalists on the best practices in reporting in a socially-savvy world.
Reporters working for Sky News Arabia have been trained about the impact of tweeting during live coverage of certain event types, keeping them up-to-date with the social media trends. The brand encourages its journalists to tweet about events whilst they are in the middle of the action, providing a frank and open dialogue with their followers. Ensuring that its employees understand the scope, benefits and threats of social media empowers them to utilize it – getting the news out first and increasing the value of their channel.
Listening to customers on social media channels
 Listening and taking on board what people have to say on social media is another way that Sky News Arabia is using social media to its advantage. Paying close attention to not only who's talking about the brand, but also where and when, allows managers to understand which tweets generate the highest buzz, which topics get re-tweeted most frequently, and who its greatest advocates and influencers are.
Using this information Sky News Arabia have adapted what and how they post through their social media profiles – tailoring the content to their followers' preferences. This is part of their "sense-and-respond" news model, a strategy that uses online interaction with the public to achieve fast coverage, credible journalism and accessible content.
Learn how to make the most of social media for your business with our White Paper, "Putting Social to Work".