The power of TikTok cannot be underestimated. Besides being the procrastination tool of choice for many a teen, the app has had a profound impact on sound and culture in the modern world — and savvy businesses everywhere are looking to get in on the action (and money, of course) through TikTok marketing.
A lot of the biggest brand moments on TikTok are accidental. In Fall 2020, Ocean Spray sales and Fleetwood Mac streams skyrocketed after Nathan Apodaca kickstarted the #DreamsChallenge on a longboard ride to work.
But don't worry. Even if you're not one of those lucky brands that accidentally stumbles into TikTok fame, you can still build a successful presence on the platform. Keep reading to learn how to set TikTok up for business, how to tackle TikTok influencer marketing and more.
More of a visual learner? Start with our short video introduction to TikTok marketing:
Bonus: Get a free TikTok Growth Checklist from famous TikTok creator Tiffy Chen that shows you how to gain 1.6 million followers with only 3 studio lights and iMovie.
What is TikTok marketing?
TikTok marketing is the practice of using TikTok to promote a brand, product or service. It can include different tactics, like influencer marketing, TikTok advertising and creating organic viral content.
TikTok marketing can help businesses:
Increase brand awareness
Build engaged communities
Sell products and services
Get feedback from customers and audiences
Provide customer service
Advertise products and services to target audiences
Here are the three major types of marketing brands use on TikTok.
TikTok influencer marketing
TikTok influencer marketing is a big part of the app's ecosystem. Mega-stars like Charli D'Amelio, Addison Rae, and Zach King can make a huge impact on the success of a business (tens of millions of users watch their content every day).
But you don't need a high-profile influencer for successful marketing—try to discover rising stars, or influencers in your niche. For example, a small cosmetics brand based in Vancouver might search up the hashtag #vancouvermakeup and find influencers like Sarah McNabb.
Creating your own TikToks
This option gives you the most freedom. Create a Business TikTok account for your brand (keep scrolling for detailed step-by-step instructions) and start making your own organic content.
The sky is truly the limit here—you can post everything from showing off your products to day-in-the-life videos to dance challenges. Spend some time scrolling through your For You page for inspiration.
TikTok advertising
If you're looking for a place to start and have some money to invest, this is it—TikTok's site is full of success stories from brands that started advertising on TikTok, including Aerie, Little Caesars and Maybelline. Similar to Facebook and Instagram, the cost of TikTok ads is based on a bidding model.
Check out our complete guide to advertising on TikTok for more info.
How to set up TikTok for Business
TikTok opened a TikTok for Business hub in summer 2020 and rolled out TikTok Pro a few months later.
Originally, there was a distinction between the two—one was for businesses, the other for growth-savvy creators—but since both hubs provided almost the same kind of insights, TikTok eventually combined them.
Now, TikTok for Business is the only way to go. With a business account, you can add more information to your profile and access real-time metrics and audience insights.
How to create a TikTok business account:
Go to your profile page.
Open the Settings and Privacy tab in the top right corner.
Tap Manage account.
Under Account control, choose Switch to Business Account.
Choose the category that best describes your account—Tiktok offers categories from Art & Crafts to Personal Blog to Fitness to Machinery & Equipment.
From there, you can add a business website and email to your profile, and you're ready to roll.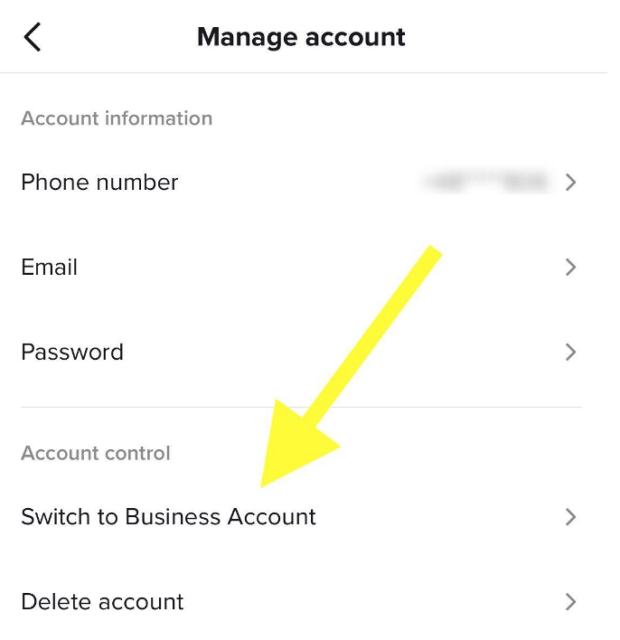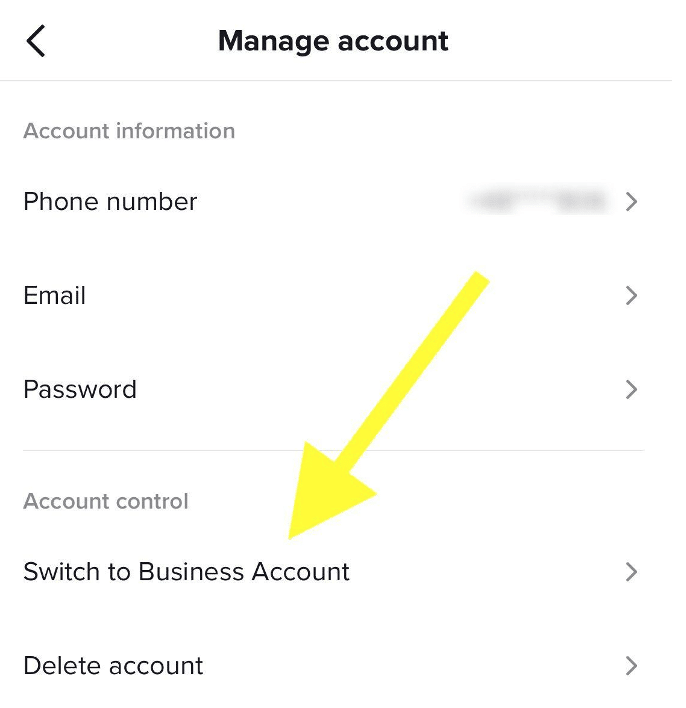 How to advertise on TikTok
Making an official ad on TikTok (in other words, paying TikTok directly for marketing) is a surefire way to get more eyes on your content. You're not taking the chance that an influencer partnership might flop.
Types of Ads available on TikTok
We've written about all the different types of TikTok ads before, but here's a quick and dirty 101.
In-feed ads are ads that you make yourself. Types of in-feed ads include image ads (which are like a billboard), video ads (like a TV commercial) and spark ads (boosting the content you already have, so it shows up on more people's feeds). There's also pangle ads and carousel ads, which are only available through TikTok's Audience Network and News Feed apps, respectively.
Ads for managed brands might look like in-feed ads, but there's additional formatting available to folks who work with a TikTok sales representative (you can contact them to see if you're a good fit).
The extra ad formats include Topview ads (they play when you first open the app and can't be skipped, like a Youtube ad), branded hashtag challenges (an actionable hashtag that's connected to your brand) and branded effects (like stickers and filters).
This is an example of a branded hashtag challenge sponsored by Microsoft. While some of the videos under the #StartUpShowUp hashtag were paid for by the brand, other users (like the one above) soon hopped on the trend, advertising Microsoft for free.
How to make a TikTok Ad Account
If you plan to run ads on TikTok, you'll need to create an ad account for TikTok Ads Manager.
To do that, visit ads.tiktok.com, click Create Now and complete your information. (It's just the basics: country, industry, business name and contact info.)
How to create a TikTok marketing strategy
TikTok trends can seem random — remember the Adult Swim trend that took over TikTok in summer 2021? And there's no such thing as a surefire marketing strategy. Still, there are legitimate steps you can take to help your business kill it on the app.
Here's how to develop a TikTok marketing strategy that's made to adapt along your TikTok journey.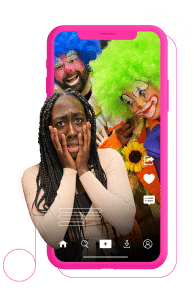 Get better at TikTok — with Hootsuite.
Access exclusive, weekly social media bootcamps hosted by TikTok experts as soon as you sign up, with insider tips on how to:
Grow your followers
Get more engagement
Get on the For You Page
And more!
Try it for free
Get familiar with TikTok
It would be wrong to approach TikTok marketing the same way you approach Instagram or Facebook marketing. TikTok is an entirely different social network with unique trends, features, and user behaviors.
Spend some time getting sucked in by TikTok videos (beginners, start here). Explore the different features available on the TikTok app, and note what filters, effects and songs are trending. Keep an eye out for Branded Hashtag Challenges, which basically involve a song, dance moves, or a task that members are challenged to recreate (basically, TikTok's spin on user generated content). Don't overlook TikTok's Duets feature either.
Read up on the TikTok algorithm, too. Understanding how TikTok ranks and displays videos in the For You tab can inform your content, hashtag, and engagement strategy.
Get the full lowdown on how the algorithm works here. You can also brush up on all things TikTok by taking courses in the TikTok Business Learning Center.
Define your target audience
Who do you hope to reach on TikTok? Before you start creating content, learn about the TikTok demographics, and identify those who might be interested in your brand.
TikTok is most popular with teens, but it would be a mistake to write TikTok off as a teen app. The 20-29-year-old cohort follows close behind teenagers in the U.S. In China, "glam-mas" are showing that fashion only gets better with age. Looking to expand your reach in India? You may want to reconsider. The video sharing app has been banned there since June 2020.

Find more statistics at Statista
Spend some time researching your audiences on other social media platforms and look for overlap on TikTok. But don't rule out new or unexpected audiences. Your current audience may not be on TikTok, but maybe there are subgroups with related or slightly different interests on the platform. For example, a children's books publisher's audience could consist of authors on LinkedIn, readers on Instagram, and illustrators on TikTok.
Once you've zeroed in on a potential audience, research what types of content they like and engage with. Then start to brainstorm content ideas for your brand.
Perform a competitive audit
Are your competitors on TikTok? If they are, you could be missing out on the action. If they aren't, TikTok may be a way to gain a competitive advantage.
Whether or not your competitors are on the platform, find at least three to five similar brands or organizations and see what they're up to on the app. Try to learn from what's worked and what hasn't worked for them. If it's helpful, use the S.W.O.T. framework to identify each competitor's strengths, weaknesses, opportunities, and threats.
Because TikTok is a creator-led platform, don't rule out including TikTok stars and influencers in this exercise. Find personalities that specialize in your area of expertise, from cosmetics to medicine or education and literature.
Learn more in our complete guide to running a competitive analysis on social media (free template included).
Set goals that align with your business objectives
You can create TikToks just for fun, but it's better to have goals in mind that can be tied to your overall business objectives.
Whether you plan to reach a new audience, improve brand image, promote awareness for a product, or develop stronger customer relationships through engagement, it's important to back your efforts with a rationale. Consider using the S.M.A.R.T. goal framework, or another template, to set goals that are: Specific, Measurable, Attainable, Relevant, and Timely.
Like most social platforms, TikTok provides analytics for Business accounts. To access your TikTok analytics:
Go to your profile page and tap the three horizontal lines in the upper right.
Tap Creator Tools, then Analytics.
Explore the dashboard and find the metrics you can use to measure your goals.
Read our complete guide to TikTok Analytics.
Post regularly
Making a content calendar—and sticking to it—is key to a successful social media strategy. Your TikTok content calendar will look similar to a real-life calendar, but instead of "Dinner with Dad" and "Dog's Half-Birthday" you'll plan things like "Go Live" or "New Video." There's plenty of tools out there to get you started (we've created a free social media calendar template).
Track your progress
Analytics aren't just the perfect starting point for marketing on TikTok: they're also an easy way to gauge whether or not your strategies are working. Check in at least once a month and see if you're reaching your goals.
If you aren't, consider testing different kinds of posts—maybe an obvious ad for the Arkells isn't quite as compelling as a video of a musician hitting a fellow member of the orchestra with his drumstick (those TikToks have less than 600 and more that 1.4 million views, respectively).
You can track your progress using a social media report.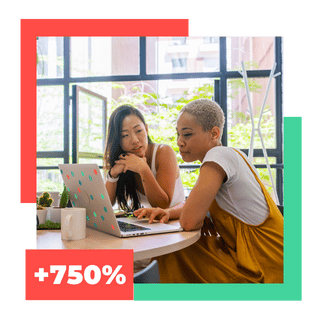 Free TikTok case study
See how a local candy company used Hootsuite to gain 16,000 TikTok followers and increase online sales by 750%.
Read now
Create space to experiment
There's no such thing as a formula for going viral on TikTok (but you can follow our tried tips to increase your odds).
Leave space in your TikTok marketing strategy to be creative, have fun, and go with the flow.
In this video, Wendy's jumped on a (rather shortlived, but hot while it lasted) 2021 trend of flaunting intricate pantry organization routines:
@wendys

Oddly satisfying. Oddly mouthwatering. Should that be our new tagline?
If something flops, learn from it and move on to the next experiment. If your brand ends up accidentally trending like Ocean Spray or Wendy's, make the most of it. Be in on the joke. Don't plan to be taken too seriously on TikTok.
How to easily manage your brand's TikTok presence
With Hootsuite, you can manage your TikTok presence alongside all your other social media profiles. (Hootsuite works with TikTok, Instagram, Facebook, Messenger, Twitter, LinkedIn, Pinterest and YouTube!)
From one intuitive dashboard, you can easily:
schedule TikToks
review and answer comments
measure your success on the platform
Our TikTok scheduler will even recommend the best times to post your content for maximum engagement (unique to your account!).
Learn more about how to manage your TikTok presence with Hootsuite:
Grow your TikTok presence alongside your other social channels using Hootsuite. From a single dashboard, you can schedule and publish posts for the best times, engage your audience, and measure performance. Try it free today.
Grow on TikTok faster with Hootsuite
Schedule posts, learn from analytics, and respond to comments all in one place.
Start your 30-day trial