The TikTok algorithm is the fuel that feeds the platform's highly addictive For You Page. Here's everything brands need to know about how the TikTok algorithm works, and how you can work with it in 2023.
Get our 2024 Social Trends report, and dig into the juicy data that'll help you reach your goals in 2024—which is shaping up to be social's best year yet.
What is the TikTok algorithm?
The TikTok algorithm is a recommendation system that determines which videos will appear on your (unique and highly personalized) For You page.
No two users will see the same videos on their For You page, and the videos you see might change over time based on your viewing preferences and even your current state of mind.
Here's how TikTok itself defines the TikTok For You page algorithm:
"A stream of videos curated to your interests, making it easy to find content and creators you love … powered by a recommendation system that delivers content to each user that is likely to be of interest to that particular user."
How does the TikTok algorithm work?
Social platforms originally kept their algorithms secret. This makes sense since the recommendation system is a proprietary technology that helps make each social network unique.
Algorithms are a key way social networks draw us in and keep us paying attention. TikTok doesn't want spammers and other shady characters to be able to game the algorithm to get more attention than they deserve.
However, as people have become more skeptical about the inner workings of social networks, most platforms have revealed the basic workings of their algorithms.
Fortunately, that means we now know some of the key ranking signals for the TikTok recommendation algorithm, straight from TikTok — we describe them in detail below.
TikTok algorithm ranking signals
User interactions, video information, and device and account settings are the main factors that influence the TikTok algorithm.
1. User interactions
Much like the Instagram algorithm, the TikTok algorithm bases recommendations on a user's interactions with content on the app. What kind of interactions? Anything that offers clues about the kind of content the user likes, or doesn't like.
The For You page recommends content based on several factors, including:
Which accounts you follow
Comments you've posted
Creators or sounds you've chosen to hide
Videos you've liked or shared on the app
Videos you've added to your favorites
Videos you've marked as "Not Interested"
Videos you've reported as inappropriate
Longer videos you watch all the way to the end (aka video completion rate)
Content you create on your own account
Interests you've expressed by interacting with organic content and ads
2. Video information
While user interaction signals are based on the way you interact with other users on the app, video information signals are based on the content you tend to seek out through Discover or Search.
This can include details like:
Captions
Sounds
Hashtags*
Effects
Trending topics
*if you want to understand more about how your TikTok hashtag strategy affects your reach via the algorithm, watch our video:
3. Device and account settings
These are settings TikTok uses to optimize performance. However, since they're based on one-time settings choices rather than active engagements, they do not have as much influence on what you see on the platform as user interaction and video information signals.
Some of the device and account settings included in the TikTok algorithm are:
Language preference
Country setting (you may be more likely to see content from people in your own country)
Type of mobile device
Categories of interest you selected as a new user
What's not included in the TikTok algorithm
The following types of content will NOT be recommended by the algorithm:
Duplicated content
Content you've already seen
Content the algorithm flags as spam (including videos "seeking to artificially increase traffic")
Potentially upsetting content (TikTok gives the examples of "graphic medical procedures" or "legal consumption of regulated goods")
And here's the good news for all new TikTok users, or those who haven't yet built up a large follower base. TikTok does NOT base recommendations on follower count or on a history of previous high-performing videos.
Sure, accounts with more followers will likely get more views because people are actively seeking that content. However, if you create great content that speaks directly to your target audience, you have as much chance to land on their For You page as an account that has had previous viral videos (this includes even the biggest TikTok stars).
Not convinced? Here's the scoop straight from TikTok:
"You may come across a video in your feed that doesn't appear to … have amassed a huge number of likes…. Bringing a diversity of videos into your For You feed gives you additional opportunities to stumble upon new content categories, discover new creators, and experience new perspectives."
Your goal is to be one of those new creators for your target audience. Here are 9 tips to help you do just that.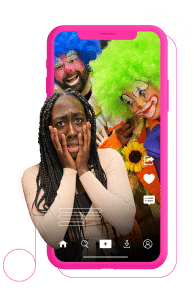 Get better at TikTok — with Hootsuite.
Access exclusive, weekly social media bootcamps hosted by TikTok experts as soon as you sign up, with insider tips on how to:
Grow your followers
Get more engagement
Get on the For You Page
And more!
Try it for free
9 tips for getting picked up by the TikTok algorithm
1. Find your subculture
It's important to find existing communities to engage with on all social platforms. But the nature of the TikTok recommendation algorithm makes this an even more important step on the app.
That's because unlike on other social networks, where people spend much of their time engaging with accounts they already follow, TikTokers spend most of their time on the For You page. And 70% of them say they feel like part of a community on the platform.
If you can tap into an existing community—or subculture—you're more likely to be amplified to the right audience. Fortunately, TikTok subcultures gather around hashtags (more on those later). Some of the top communities on TikTok in 2022 were:
"The biggest book club on the planet."
With 40.3 billion views, its safe to say this TikTok community is keen on cars.
A new generation of farmers and ranchers gives an inside look at farm life.
Crafters take their social media seriously, as evidenced by the 3.8 billion views of this yarny community.
Understanding your most valuable subculture can also help you create content that connects authentically with TikTokers, creating greater credibility, brand loyalty, and even more exposure. TikTok users want brands to take this approach: 76% say they like it when brands are a part of special interest groups on the platform.
TikTok's Audience Insights can help you find your subculture by identifying the interest categories and hashtags most relevant to your audience.
Source: TikTok
To access Audience Insights, open TikTok Ads Manager and hover over Reporting, then click Audience Insights. Note that you don't have to be a TikTok advertiser to use this tool.
2. Maximize the first moments
TikTok moves fast. This is not the platform to add an intro before you dive into the meat of your video. The hook for your video needs to inspire viewers to stop scrolling.
Grab attention and show the value of watching in the first seconds of your TikTok. Specifically, the first two seconds are critical for recall and brand awareness.
Crocs grabs your attention right off the bat with this… uh… Croc top? And things never slow down from there.
3. Optimize for search
TikTok SEO is the new buzzword, and the TL;DR is that you want to make content for keywords and hashtags that people are searching for. This allows you to get your content in front of people who are actively seeking specific content on the platform, rather than just scrolling through the FYP.
TikTok recently expanded the maximum length of captions to 2,200 characters. That extra real estate gives you plenty of room to work with keywords that will boost your TikTok SEO. Start looking for trending keywords by region and industry in the TikTok Creative Center.
Of course, your caption's not the only place to include keywords. TikTok can also pick them up from your voiceover or text overlay.
Want to learn more? We have a whole video on how to start up your TikTok SEO strategy:
4. Create high-quality videos specifically for TikTok
This should be an obvious one, right? Low-quality content is not going to find its way to the For You page.
You don't need any fancy equipment — in fact, your phone is the best tool for creating authentic video. What you do need is decent lighting, a good microphone if you're going to record audio, and some quick edits and transitions to keep the content moving.
TikTok videos can be 5 seconds to 10 minutes long, but TikTok says videos should always be longer than 10 seconds to make the best impression. That said, don't go unnecessarily long. Video completion rate is an important signal to the algorithm, so you don't want people to drop off from your video because it drags on and on.
For now, you need to shoot video vertically to succeed on TikTok. But the platform began testing a horizontal video option late last year, so stay tuned for potential developments on this front. Since it's unclear whether horizontal video will become a full feature, stick to 9:16 filming.
Design your videos to be played with the sound on. 93% of TikTokers use the platform with sound on, and 88% said sound is "essential" on the platform.
And be sure to use TikTok's built-in features like effects and text treatments. According to TikTok: "These native features help keep your content feeling native to the platform which can also help get it on more For You pages!"
The Washington Post might not seem like the most obvious brand to experiment with TikTok effects, but they're killing it by using green screen backgrounds and quick cuts to make complex news stories easily digestible.
@washingtonpost

Companies paying for data say these types of transactions — known in the industry as "zero-party data sharing" — benefit consumers who, until now, received nothing save targeted advertising in exchange for their data.
In particular, try experimenting with trending effects. TikTok identifies these within the effects menu.
5. Post at the right time for your audience
While this is important for all social media platforms, it's particularly so for TikTok. Active engagement with your content is a key signal to the algorithm.
There are a couple of ways to find out when your audience is most active on the app.
1. TikTok analytics:
From your profile page, tap the three dots icon at the top right of the screen.
Tap Creator tools, then Analytics.
Source: TikTok
For more details, we've got a whole post on how to get the maximum benefits from TikTok Analytics.
2. Hootsuite best time to post
If you have a TikTok Business account (rather than a Creator account), you can use Hootsuite's Best Time To Publish feature to get custom recommendations on the best time to post for your specific audience.
Check out our video on how to find the best time to post to TikTok for your account:
6. Engage with other TikTok users
21% of TikTokers said they feel more connected to brands that comment on other people's posts. Keeping on top of the comments on your own videos is also key: 76% of users say that brands that post or reply to comments feel like part of the TikTok community.
TikTok recommends a "react, respond, and remix strategy":
React to trending content
Respond to trending questions or prompts
Remix trending ideas with creators
Duets, Stitch, and video replies to comments are great ways to engage this strategy.
Stitch is a tool that allows you to clip and integrate moments from other TikTokers' content into your own.
Duets allow one user to record a "duet" with another user by commenting alongside the original creator's video in real time.
And video replies to comments let you create new video content based on comments or questions on your previous posts.
Fenty Beauty consistently uses video replies to create videos addressing fans' comments and requests, showing they're paying attention to their user base and making people's day in the process:
The default settings on TikTok allow others to create Duets and Stitch videos using your content. If you want to change this for any particular video, tap the three dots icon on the video to open Privacy Settings, then adjust as needed.
You can also turn off these features for your whole account, but that would limit the opportunities for other TikTok users to engage with your content, decreasing discovery potential.
7. Use the right hashtags
To find trending hashtags, head to the TikTok Creative Center. Click on the Analytics button next to any trending hashtag to see a full breakdown of its popularity, including audience demographic details and related interests.
Source: TikTok Creative Center
Be sure to keep an eye out for hashtags related to challenges. Hashtag challenges are a good way to come up with new ideas for content while sending the algorithm some good trend vibes.
And take note: 77% of TikTokers said they like when brands "leverage trends, showcase memes, or start participatory challenges on TikTok."
You can also focus on your specific audience and find the top 10 hashtags they interact with using the TikTok Audience Insights tool.
8. Use trending sounds and music
Two-thirds (67%) of TikTokers said they prefer brand videos featuring popular or trending songs. And, like we've already said, participating in any kind of trend is a good bet when aiming for the For You page.
So, how do you find out which songs and sounds are trending?
You can often get a sense of the latest trending sounds just by keeping an eye on your For You page.
But to get more specific, you can find trending songs by region in the TikTok Creative Center. Just like for trending hashtags, you can find analytics data like audience demographics and related interests. Note that this section of the Creative Center only includes songs, not user-generated original sounds.
9. Be real – and have fun
TikTok is not the place for buttoned-up, overly polished content.
TikTok users want to see brands experiment and have fun on the platform: 79% say brands should experiment with different topics to see what suits them best on TikTok.
Grow your TikTok presence alongside your other social channels using Hootsuite. Schedule and publish posts for the best times, engage your audience, and measure performance — all from one easy-to-use dashboard. Try it free today.
Grow on TikTok faster with Hootsuite
Schedule posts, learn from analytics, and respond to comments all in one place.
Start your 30-day trial