Video may be the first thing you focus on when creating content for TikTok, but even the best video isn't complete without a good caption. What can the best TikTok captions do?
Well, several things. A great caption can educate, entertain, inspire, or compel someone to do something (such as follow you, visit your link in bio, or decide to purchase something from you).
If you're publishing regularly, it can be hard to come up with new caption ideas for TikTok, so we've compiled 185 of the best captions for TikTok to help you get started. Stay until the end for 4 tips to help you choose which TikTok captions to use and when!
185 TikTok caption ideas
You don't have to say a lot to go viral or get engagement on TikTok. While it depends on your For You Page, I'd say most TikTok videos have short captions, usually less than a complete sentence. Here are some ideas.
1. Watch till the end!
2. This is not a drill
3. This cannot be real
4. I'm in shock
5. I'm shooketh
6. Not sure how I feel about this
7. Life hack
8. This is your sign
9. The moment you've been waiting for
10. When you can't decide between ____ and _____
11. We've been waiting all year for this
12. Look what just dropped
13. I love this trend so much
14. Typical
15. Spill the tea
16. SMH (shaking my head)
17. The assignment was fully understood (or ___ understood the assignment)
18. You need to try this
19. Your wish is our command
20. _______ school is in session
21. Just trying to help
22. Thanks but no thanks
23. Run don't walk to snatch this up
24. Choose your fighter, ______ edition
25. IYKYK (if you know you know)
26. You asked, we listened
27. We got you, besties
28. It's serving _________
29. It's a vibe
30. THIS IS NOT A DRILL
31. Take all my money
32. I see it, I like it, I want it, I got it
Ah, the age-old social media marketing trick: ask a question to encourage comments. It's a common tactic on TikTok within both in-video titles and captions.
33. Do you agree?
34. How do you think they did?
35. Who else does this?
36. Anyone else or just me?
37. Which one is your fave?
38. How do we feel about this?
39. What do you think?
40. But why?
41. 1, 2, or  3?
42. Which one would you choose?
43. A blessing or a curse?
"Funny" can mean many different things on TikTok. Sometimes creators pair videos with completely contrasting captions or use hyperbole and exaggeration. Sometimes a rhetorical question will do the trick. Whether your video content is humorous or you want your caption to be clever, these captions should help elicit a "lol."
44. We march at dawn
45. No apology necessary
46. [year] was absolutely wild
47. What just happened?
48. My whole life was a lie
49. Don't let corporate find out
50. Don't talk to me until I've had coffee
51. An Oscar-worthy performance
52. Well, what did you expect?
53. Oops 😬
54. I was today years old when I learned this
55. Really exposed me there
56. Happens to the best of us
57. My jaw is on the floor
58. Don't try this at home
59. Did I stutter?
60. I'm doing great thanks for asking
61. You're welcome
62. It's a lifestyle tbh
63. Idk what you're all so pressed?
64. They don't know what's about to hit them
65. I don't see a problem with this
66. No ______s were harmed in the making of this
67. Like comment and subscribe
68. Don't hate the player, hate the game
69. Name a better _____, we'll wait
70. So many regrets
71. Sharing is caring
72. *laughs in corporate*
73. No thank you
74. Just when you thought it couldn't get any better/worse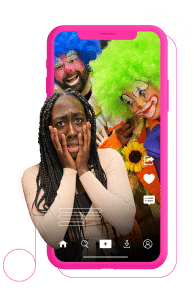 Get better at TikTok — with Hootsuite.
Access exclusive, weekly social media bootcamps hosted by TikTok experts as soon as you sign up, with insider tips on how to:
Grow your followers
Get more engagement
Get on the For You Page
And more!
Try it for free
If you're posting on behalf of a lifestyle brand, this list is for you. Pair these cool captions for TikTok with glamour shots of your products or service that embody your brand's aesthetic.
75. Manifesting this
76. Right on time
77. Everything counts
78. Never settle
79. Be fearless
80. Worry less
81. Less is more
82. Icing on the cake
83. Some days are better than others
84. This time, this place
85. At peace
86. Know your worth
87. Don't go back
88. Only looking forward
89. Escape the ordinary
90. Far off
91. Aim high
92. Stay hungry
93. Over it
94. What dreams are made of
95. It's the little things
96. Welcome to my life
Whether you're a travel brand, an aspiring influencer, or want to show off your latest trip, here's a list of good captions for TikTok to complement your wanderlust-worthy content.
97. My happy place
98. I manifested this
99. No Frank, just ocean
100. Would you go here?
101. Where should I go next?
102. Nothing but blue skies
103. Is [destination] on your bucket list?
104. [Destination] is what dreams are made of
105. Skies for days
106. On cloud 9
107. Days like these
108. Vitamin Sea
109. Vacation mode
110. Sun, sand, sea
111. [Destination] is a dream
112. Vacation is calling
113. Fit for a fairytale
114. Adding to the bucketlist
115. [Destination] is calling
116. A perfect getaway
117. [Destination] is magical
118. Catch flights not feelings
119. An absolute dream 😍
Here's a list of short and simple captions for those videos of yourself or your friends being cute. Many of them could also work for beauty or fashion brands.
120. Sweet like honey
121. Postin while ghostin
122. Better off without you
123. Confidence level: No filter
124. Living my best life
125. Messy hair don't care
126. Woke up like this
127. Ready for my closeup
128. City girl/boy
129. Take notes
130. I'll do me
131. Too busy to care
132. Tell her about me
133. Bow down to the queen
134. Obsessed with this look
135. It's not me it's you
136. That's so fetch
137. Guilty as charged
138. Why are you so obsessed with me
139. Vibing with this look/combo
Are you part of the seemingly endless stream of couple accounts on TikTok? I swear, more and more end up on my FYP every day. If that's the case, here's a list of TikTok caption ideas to save you from arguing with your partner.
140. Dream team
141. Cuddles, coffee, and you
142. Making plans for us
143. Couple goals
144. P.S. I love you
145. You're my lobster
146. Always on your team
147. Wearing that smile you gave me
148. My favorite place is beside you
149. Let's go somewhere only we know
150. Happiest when I'm with you
151. That's my best friend
152. It's [his/her] world and I'm just living in it
Whether you're getting married yourself or just in one of the (many!) associated industries, here are caption ideas for brides/grooms and the brands aspiring to reach them.
153. A real-life princess
154. Moments like this
155. Practice makes perfect
156. There's dust in my eye
157. Bride/Groom POV
158. Tag a bride/groom
159. How to drop a hint
160. Taking matters into our own hands
161. Cue the sparkle
162. In sickness and in health
163. Who's cutting onions?
164. Now that's true love
165. We're melting from the cuteness
166. Not a dry eye in sight
167. That ✨ married ✨ life
168. Proposal szn
169. I polish up real nice
170. I put a ring on it
Ah, the burden of filling a never-ending content calendar… luckily, with each month comes new seasonal pun opportunities. Don't be shy, we know you want to use them — except "hot girl summer," that one's done now.
171. Pumpkin spice season
172. Back to school szn
173. Falling for you
174. Leaf me be
175. Stay cosy
176. Sweater weather
177. Girls just wanna have sun
178. Sun's out, guns out
179. Just keep floating
180. Resting beach face
181. It's gonna be May
182. Let it snow
183. Winter is coming
184. Tis the season
185. Take that, seasonal depression
Now that you've got a long list of TikTok caption ideas, how do you know which ones to use and when?
That's where your TikTok marketing strategy comes in. Your strategy provides guidelines for your target audience, tone of voice, content themes, and writing style, making it easier to know what type of caption will resonate with your followers.
We'll dive further into 4 of these tips to help you write effective TikTok captions.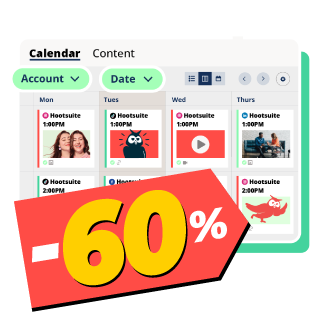 Our best deal EVER!
The deal won't get any sweeter. Get an annual Hootsuite plan 60% off and save up to $1,793 now.
Claim this deal
1. Know your audience
When crafting captions for TikTok, you should always start with your audience in mind.
First, you should know the basics about your target market: Where do they live? What languages do they speak? What is the gender balance? How old are they?
By looking at your TikTok analytics, you can learn specific demographic details about who engages with your content.
Creating an audience persona can help you step into your followers' shoes and understand questions like: What kinds of content do they enjoy? Which types of accounts do they follow? How do they speak? What humor resonates with them? Are we leaning into millennial cringe or Gen Z chaos?
Once you have a picture in mind of who you're talking to, use these questions to guide you in writing your TikTok captions:
Will my audience understand this reference?
Are emojis appropriate to use?
If the caption is part of a trend, does it need more context?
I think Lionsgate has an incredible grasp on their TikTok audience. They understand pop culture (the enduring popularity of Twilight, in this case) and use references that their audience will understand (as shown in the comments).
2. Develop a tone of voice
Defining your brand voice is a crucial step in building a TikTok strategy. A clear and consistent tone of voice can help your brand stand out and attract more engagement and followers on TikTok.
Here are some questions to help define your brand voice:
If my brand was a human, what would be its personality traits?
What are my brand's values?
What level of humor resonates with my target audience?
How do other brands in my niche speak? (consider both competitors and non-competitive peers)
TikTok is one platform where users generally expect more informal tones from all accounts, professional or not. Many videos skew toward being funny and entertaining, hence the prevalence of short and witty captions seen in the list above.
Nonetheless, you shouldn't rely on humor in every post (unless that's the essence of your brand voice). Aim to strike a balance between being relatable, participating in trends, and staying true to your tone of voice.
Candy Crush has embraced the irreverent, sassy, first-person TikTok voice made famous by other brands like Ryanair and Duolingo.
While I wouldn't recommend this for most brands, I think it's appropriate for Candy Crush's product (a fun mobile game) and audience (Gen Z/younger players).
3. Use hashtags wisely
TikTok hashtags are essential to use for a couple of reasons. One: they help your content get discovered by non-followers. Two: they signal your video's topic(s) to the TikTok algorithm and help it determine who to show it to (aka which For You Pages it ends up on).
Unlike on Instagram, there is no limit to how many hashtags you can add to your TikTok caption. However, we have a recommendation: aim for 3-5 hashtags max. Too many hashtags can make your description look crowded and make it harder to read the actual text of your caption. In terms of the algorithm, having more than 5 hashtags can confuse TikTok's AI and make it harder to determine the relevancy and targeting of your video.
Choose a mix of popular and smaller hashtags that relate to your niche. Common hashtags with millions of views, like #travel and #beach, will give you higher reach and exposure (as users are more likely to search and follow popular hashtags). Conversely, smaller hashtags like #budgettraveldestinations will have less reach and competition but more interested viewers who will likely follow accounts using that hashtag.
Here, Nyx uses a mix of big hashtags such as #fallmakeup, niche hashtags like #liphaul, and a branded hashtag.
4. Write with SEO in mind
Good news: TikTok recently increased the character limit for video descriptions from 300 to 2,200 characters. In the update announcement, TikTok specifically mentioned "generating more engagement while becoming more searchable and better recommended by TikTok to viewers" as a benefit, signaling a big opportunity to optimize your TikTok captions for SEO.
In a nutshell, TikTok SEO means optimizing your videos for searchability. You can do this through video titles, thumbnails, and, most powerfully, video captions and hashtags. Like standard website SEO, you should research keywords and insert relevant ones into your video caption.
Of course, optimizing for SEO doesn't mean you can't have fun/short/witty captions. With the increased character limit, you can start with a hook-worthy first line and expand more in the rest of the caption. Ideally, the first part of your caption will encourage people to tap "see more."
Writing longer TikTok captions with keywords can benefit many types of videos, such as:
Educational (ex: writing out step-by-step instructions)
Informative or list-based (ex: adding full recipes in the descriptions for cooking videos)
Humorous/entertaining (ex: even if you want to grab attention with a funny or trending video, you can add information about your products in the caption)
Watch this video for a full guide to nailing SEO on TikTok:
With these 4 tips in mind, we have one last piece of advice: TikTok is constantly changing, so you should monitor what works and what doesn't in your TikTok captions. The best way to do that is to regularly look at your TikTok analytics and learn from the posts that perform the best.
Keep an eye on trends, experiment with your captions and hashtags, and you'll be a TikTok expert in no time!
Grow your TikTok presence alongside your other social channels using Hootsuite. Schedule and publish posts for the best times, engage your audience, and measure performance — all from one easy-to-use dashboard. Try it free today.
Save time and grow faster with OwlyWriter AI, the tool that instantly generates social media captions and content ideas.
Free 30-Day Trial