'Disinhibition' or Why All Brands Need to Be Paying Attention Online
Did you know that medical patients will reveal more embarrassing symptoms and behaviours when they're entering the details of their condition into a computer, as opposed to talking to a real doctor? Surprising but not, right? Researchers have also found that people are more forthcoming with personal secrets when revealing them online, as opposed to when they're speaking face-to-face, and are more inclined to ask direct questions of the opposite sex when communicating in text form (one researcher has even suggested that people are forming more meaningful relationships online because of – not despite – the platform's limitations). People are more likely to be more forthcoming in their communications when they conduct them via the increased anonymity of an internet browser. This has been labelled the 'disinihibition effect', and it's something brands need to be taking into account as more of our interactions move online.
The Disinhibition Effect
The disinhibition effect was the subject of a Slate article that looked at how educators had found electronic learning aids were helping students develop better writing habits. As per the piece, it's even been suggested that 'robo-graders', which provide electronic assessments of student writing, might actually do a better job of educating than human teachers in this realm.
The logic behind this is that you're more likely to try things out, share your rough drafts and efforts, with a computer system that doesn't judge and won't make assessments of you based on those early efforts. This makes the process more welcoming, as you can refine and improve your writing without having to embarrass yourself or feel hesitant about making mistakes. The computer analyses your work, gives you immediate feedback, and you can improve, without anyone ever seeing those early mis-steps.
This is the disinhibition effect in action—people are far more hesitant to put forward their output when they feel anxious about possible human evaluation. With that judgement layer removed, people are more relaxed, which makes sense, and also reveals something very important for people working in online communications.
Emboldened by Distance
Sometimes you buy something and you get it home and then you realise that it's not quite right. There's something that's not 100%, it's slightly broken, it's not exactly what you need. Do you immediately take it back to the store? Sometimes you might not bother, right? Sometimes it's something that only cost a couple of bucks, no point going through all the trouble. But there really shouldn't be any trouble – retail laws in most regions stipulate that you can return something if it's not what you want, and you definitely can if there's something wrong with it. But the 'trouble' you envision is the actual process of doing it – going in, facing up, dealing with the physical exchange. Same goes for bad service – do you address bad service there and then, or do you just move on? No point making a scene, right? While you might be hesitant to confront someone there and then, you'll still talk about it, you'll mention it to your wife or your friends, you'll still discuss that bad experience. It's the distance that makes it easier, the space between you and the other party.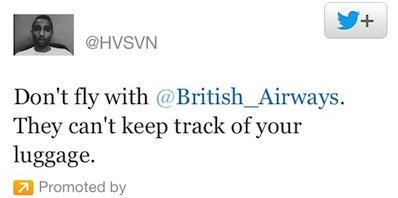 By nature, most people avoid confrontation – and it can be quite confronting to address an issue face to face. But just that bit of distance, just enough to avoid the face-to-face exchange, is generally enough for you to feel comfortable and safe to say what you really think. This is exactly what happens in social media – the things that people might not want to say about your brand to you or your staff directly, or even note in your customer feedback forms, they're likely still to say it some place. Once they have that distance, that space from the physical confrontation, it's increasingly likely that they'll voice their thoughts online, venting to friends and connections and whoever wants to hear. As more of our daily interactions shift to social networks, this is increasingly becoming the place where people go to share stories of discontent, particularly with businesses. If you want ti know what people really think of your brand, you need pay attention to social platforms. And really, you do want to know. You need to know.
Open Your Ears
This is one of the most compelling reasons for social media listening. Even if you don't think social media is a big deal for your brand (which is probably a mistake in and of itself), it's still worth establishing a social listening process to get some idea of what's being said online—about you and your competitors. You might think everything is fine, while a different reputation of your business is being formed via Tweets and posts.
If people have a bad experience, the chances of them raising it on social media increase every day. If you're not hearing them, you're missing out on valuable insights. Plus, most people now expect you to be listening. They might not want to raise their concerns face-to-face, they may not want to give you a call, but that doesn't mean they don't have concerns to raise.
Social listening is fast becoming a business imperative, something all brands need to be investing in. People's profiles are their soapbox, their place to present their views and opinions. And unaddressed, those views can have major ramifications for your business. People are much more forthright via keyboard, much more direct. Do you know what they're saying about you online?
For more information on social media listening, read our post "Social Media Monitoring: Your Biggest Social Media Opportunity?"
Get started on social media monitoring by signing up for a free trial of HootSuite Pro!