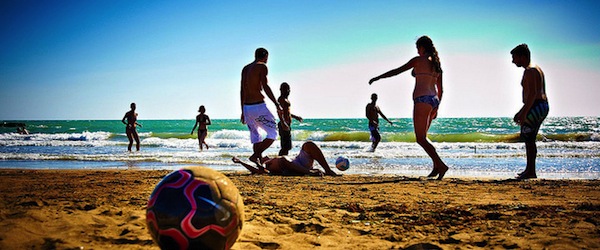 How Do Your Social Media Feeds Change During the Summer? Question of the Week
During the summer months, most of us would much rather be outside enjoying the sunshine with family or friends than constantly checking our social media accounts on our smartphones or computers. When we are on social media, many times we are posting photos of beaches, swimming pools, icy treats or patio dinners in the sunshine. Seeing friends and family on vacation and spending time outside can effect what we are doing with our own social media strategy during the summer.
Last week, we asked our followers How do your social media feeds change during the summer? We got a ton of feedback and some really great insight on how social media feeds change during the warm months. Let's take a look at the ways you think  your social media feeds change during the summer:
Of course there were the obvious answers:
@hootsuite more pictures of people on vacation.

— michael stover (@BigSto) July 13, 2014
@hootsuite I tweet far more often about being on patios!!!

— Eileen Lesko (@eileenlesko) July 13, 2014
Women wear less clothing. @hootsuite How do your social media feeds change during the summer?

— Gary Singalewitch (@GSingalewitch) July 12, 2014
But a few of our followers decided to dive deeper: 
@hootsuite The question is – should it change over the summer? I prefer consistency so believe it shouldn't change. — Stuart Beattie (@TweetingBeattie) July 12, 2014
Stuart, we were wondering that same thing. Should our feeds be changing over the summer, or should we have a consistent strategy? In some instances, straying too far from your original social media strategy may have an overall negative effect on your goals. However, at the same time, it may just be part of your strategy itself:
@hootsuite depends on the client, but we always make sure community content is seasonal and reflective of current events/seasonal promotions — Jonathan Berthold (@j_bertho) July 12, 2014
Others had a completely different strategy altogether: 
@hootsuite my tweets are more laid back and not as often! — Chris (@cgaertner_32) July 12, 2014
@hootsuite i stopped and actually hung out with my social group — Jamie McGinnis (@jamie_mcginnis) July 13, 2014
These answers were by and large my personal favorites. Instead of being hung up on what everyone else is doing, these followers are more focused on spending time with the people who are most important. One thing that is easy to forget while trying to keep up with the never-ending stream of photos and messages is that during the summer months, making memories with friends and family will always be win out over a highly engaging Tweet.
Want to be a part of this conversation? Let us know if your social media feeds change during the summer months in the comments below!