HootSuite Best Practices Optimize Facebook EdgeRank ~ Info Sheet
HootSuite released enhanced Facebook functionality to help businesses make the most of this popular social network to build community, increase activity and promote campaigns.
To help you make the most of your valuable resources, we've prepared a helpful Info Sheet about Facebook best practices to increase your audience participation as well as your EdgeRank – Facebook's way of gauging the importance and value of your posts.
Impress To Engage
You've got a Facebook page, you're building a community and getting new "Likes" everyday –  Now what? It's time to get friendly and engage with your audience in order to get the attention you seek. By reaching out to your fans with personal replies, encouraging conversations and posting interesting and timely content, you'll generate participation.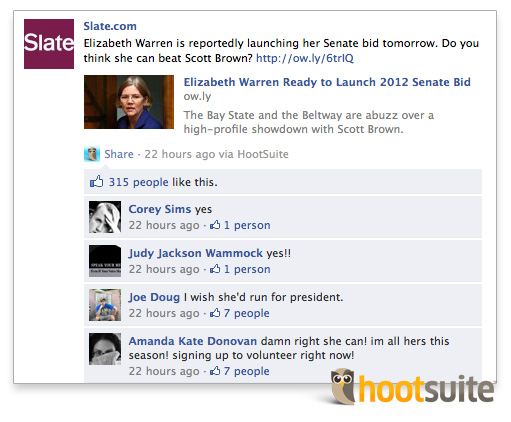 Notes on EdgeRank
By increasing participation with your content, you'll also increase your EdgeRank, a weighting system which determines how prominently your updates will be displayed across News Feeds.
Facebook.com describes their (secret) formula as:
"The News Feed algorithm bases this on a few factors: how many friends are commenting on a certain piece of content, who posted the content, and what type of content it is (e.g. photo, video, or status update)."
In other words, concentrate on posting interesting content, specifically designed for your audience and your Edgerank will follow.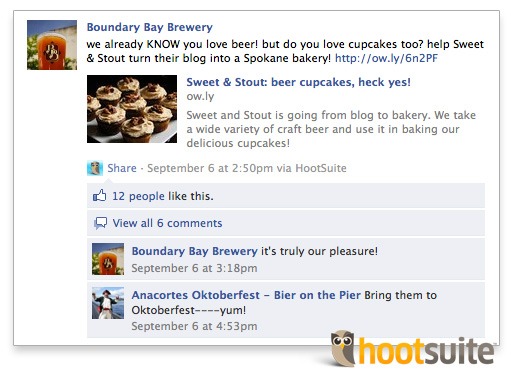 Socially Connected
HootSuite is a Facebook Preferred Developer Consultant, and has an in-depth understanding of this social network – including EdgeRank – and we've crafted the dashboard's Facebook functionality with these unique needs in mind since first adding Facebook integration on Nov. 24th 2009.
Jump into this handy Info Sheet to learn specific ways to use Facebook and HootSuite together to get your posts seen, spark conversations and finally, measure the results.
Download the Infosheet: Facebook Best Practices [PDF]
Puedes leer y descargar estas Buenas prácticas en Facebook [PDF] también en español