While dancing, lip-synching, mom-pranking, and trying to make "goblincore" a thing are among the more popular things to do on TikTok, for ambitious creators and social media managers, there's one activity that trumps them all: trying to game the TikTok algorithm.
At this point, TikTok has been downloaded more than 2 billion times, with over 689 million active users globally. It's the fastest-growing social media platform in the world, and making it onto the For You Page (or "FYP," as TikTok users far busier than me say) is an opportunity to get a taste of a massive, highly engaged new audience.
The For You Page is where likes, views, and new followers are found; where TikTok legends are born! No wonder so many people are obsessed with trying to crack the code (and why we've spent so much time experimenting with TikTok hacks ourselves!)
So when we heard about a new challenge that allegedly offered a shortcut to getting on the FYP, we jumped on it. Known as the Seven-Second Challenge, TikTok creators were reporting incredible engagement, simply by posting text-heavy, seven-second videos featuring trending audio clips.
Was it really that easy? Or just a coincidence? The Hootsuite social team warmed up their typing thumbs, cued up a hot new track, and bravely hit record to find out.
Bonus: Get a free TikTok Growth Checklist from famous TikTok creator Tiffy Chen that shows you how to gain 1.6 million followers with only 3 studio lights and iMovie.
Hypothesis: 7-second TikTok videos with lots of text get more reach
TikTok users are currently sharing an intriguing new theory: you get a ton of reach with videos that are a maximum of seven seconds long that feature lots of text and a trending sound.
It's a hack to beat the TikTok algorithm that seems almost too easy — suspicious, even! No wonder most of the videos tagged with the trending TikTok hashtag #sevensecondchallenge include text that comments on the whether or not the challenge itself actually works. Even the Red Sox (baseball, maybe you've heard of it?) are giving it a whirl.
Some #sevensecondchallenge videos have achieved millions of views; others had a far smaller reach. But to really judge if this hypothesis was true, the Hootsuite team would have to put its own account to the test.
Methodology
Three key ingredients are required for the seven-second TikTok challenge:
A seven-second video. According to the theory, the actual content of this video doesn't really matter. It could be a rainbow over a ball stadium, a mirror shot of your best athleisure outfit, or footage of you eating popcorn out of a tub. Follow your bliss!
A trending sound clip. TikTok already prioritizes videos with trending audio anyways on its FYP (at least with the latest TikTok algorithm), so this component is key! Don't try to be an original here: bow to the whims of the masses!
"Lots" of text. There doesn't seem to be a consistent recommendation for how long "lots" is, but most people trying this hack write about a paragraph — basically, something that might take seven seconds to read.
"Some people post videos of people literally doing nothing, other videos are informational," says Hootsuite social marketing coordinator Eileen Kwok. "People get creative with it, which is the fun part of TikTok."
With this in mind, Kwok and Hootsuite's social media team created three different videos to post and observe.
The first featured Owly, a ton of text, and a trending song.
Video two featured a Hootsuite team member tapping away on her computer, with text about a "productivity hack," and a trending song.
Video three showcased another Hootsuite team member working on a laptop poolside, with text explaining the seven-second trend. This time, however, the video used original audio of someone counting down to seven instead of a trending song.
Now, we turn to TikTok analytics — and our TikTok pro Kwok! — to see if this trio of videos were a #sevensecondsuccess.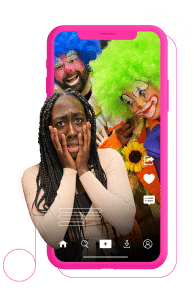 Get better at TikTok — with Hootsuite.
Access exclusive, weekly social media bootcamps hosted by TikTok experts as soon as you sign up, with insider tips on how to:
Grow your followers
Get more engagement
Get on the For You Page
And more!
Try it for free
Results
TL;DR: The seven-second challenge resulted in longer-than-average watch times and farther reach on the For You Page.
Compared to the average number of views a Hootsuite TikTok video gets, the first two videos, which used trending audio, performed well — the second in particular, with almost half a million views.
Also noteworthy: the watch time on these hot slices of content.
| VIDEO | VIEWS | LIKES | COMMENTS | SHARES | WATCH TIME |
| --- | --- | --- | --- | --- | --- |
| Owly | 5,190 | 714 | 31 | 2 | 8.8 seconds |
| Manager Tip | 497K | 8,204 | 54 | 99 | 8.2 seconds |
| Poolside | 1,080 | 75 | 4 | 2 | 6.3 seconds |
But what really stood out to Kwok about this experiment was how many of these views came from the For You Page.
"It's the holy grail of TikTok," says Kwok. "The higher the percentage of FYP views, the better it does."
Here's a closer look at the analytics for each video:
For the Owly video, 50% of the views came from the For You page: evidence that it got some serious reach.
Even more impressive was the FYP performance of the Manager Tip video, because 100% (!) of the views came from the For You Page. (In fact, the Manager Tip video is still performing well even weeks later, with likes and views increasing every day.)
In comparison, the Poolside video, which garnered the lowest stats of all three of these experimental masterpieces, only had 36% of views come from the For You Page.
There were a couple of factors distinguishing the Poolside video from the other two that could account for this dip in performance. Number one, it used original audio instead of trending audio, and number two, the text didn't really offer much of a takeaway.
In other words: it veered away from the recommended structure of the seven-second challenge, and may just be evidence that this hack, unlike so many other supposed TikTok quick fixes, does actually work.
What do the results mean?
From this little experiment, we've found decent evidence of some new TikTok practices to help amp up your engagement and reach.
Longer text = longer watch times
It's not surprising that a paragraph of text encourages viewers to stick with your video longer — they're likely to be tempted to read the whole thing. Pique that curiosity and reap the engagement benefits.
"The more text you have on the screen, the better. It increases watch time," says Kwok. (Looks like we're not just scientists over here on the Experiments Blog… we're math wizards, too!)
But… what the text says matters
Yes, longer text makes a difference. But it shouldn't just be gibberish. (Sorry to any Minions or Sims reading this.) "There needs to be some point to it, whether it's funny or cheeky or informative," says Kwok.
The first two videos offered some entertainment value, while the text of video number three was kind of like the copy from a chain email, which could possibly account for the lack of engagement here.
The Manager Tip video in particular garnered a startling number of shares, likely because it had a clear takeaway (even if it was probably-maybe-sort-of a joke). Videos with lots of shares get an algorithmic boost — TikTok wants everyone to get a taste of share-worthy content! — so consider this your incentive to use text that offers helpful hot tips.
Keep the video short
One of the reasons this challenge may be working is that it keeps things brief. On TikTok, brevity is king.
"I'm not saying it has to be seven seconds, but shorter is better," advises Kwok. "People have short attention spans, especially on TikTok." However long the video is in total, you're not delivering value in those first three seconds, you're probably too late.
… and keep them watching
The algorithm favors videos with high watch times, so if there's a way to hook the viewer and keep them watching, do it. The lots-of-text trick is one way to prevent them from skipping past your video, but generally speaking, creating engaging video content that's entertaining and informative is going to serve you well.
What TikTok users consider entertaining and informative, though, is maybe a matter for another experiment.
"There's no right answer," laughs Kwok. "I'll spend so long on a video I think is so funny and get nothing, and then a video I spend no time on does super well."
Luckily, it's a platform that's perfect for experimentation. Get creative, dig into the results, and find your own perfect blend of content. Is that as sexy as a #sevensecondchallege? Maybe not. But we're sure you can find a fun TikTok hashtag to throw on whatever you come up with anyways.
Grow your TikTok presence alongside your other social channels using Hootsuite. From a single dashboard, you can schedule and publish posts for the best times, engage your audience, and measure performance. Try it free today.
Grow on TikTok faster with Hootsuite
Schedule posts, learn from analytics, and respond to comments all in one place.
Start your 30-day trial