The Facebook algorithm is a hot topic — not just for social media marketers, but for journalists, the public, and even world leaders.
Whether you love it or hate it, the simple truth is you've got to work with it if you want your Facebook marketing efforts to succeed. Here, we explain everything you need to know about the algorithm Facebook uses to rank content and shape the feeds of its 2.93 billion users.
Bonus: Download a free social SEO checklist and follow pro tips for Facebook, Instagram, TikTok, YouTube, Twitter, and LinkedIn to get your posts seen by more people.
What is the Facebook algorithm?
The Facebook algorithm is a set of rules that rank content across the platform. It determines what people see every time they check Facebook, and in what order that content shows up. Facebook calls this "personalized ranking."
Essentially, the Facebook algorithm evaluates every post, ad, Story, and Reel. It scores content and then arranges it in descending, non-chronological order of interest for each individual user. This process happens every time a user refreshes their feed.
Facebook says the social network uses algorithms to "arrange all of the content you could see on [the feed, Search, Marketplace, Groups, and Watch] with the aim of showing you the things we think you may be most personally interested in at the top of each surface."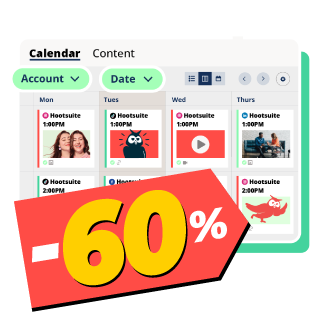 Our best deal EVER!
The deal won't get any sweeter. Get an annual Hootsuite plan 60% off and save up to $1,793 now.
Claim this deal
How does the Facebook algorithm work?
Meta has a whole team of people working on artificial intelligence and machine learning. Part of their work is to improve the algorithms that connect Facebook users with the most valuable content for them.
Over the years, algorithm ranking signals have been added, removed, and had their importance adjusted.
As of 2023, the Facebook algorithm determines which content is most relevant to a particular user based on three main ranking signals:
Who posted it: You're more likely to see content from sources you interact with, including friends and businesses.
Type of content: If you most often interact with video, you'll see more video. If you engage with photos, you'll see more photos. You get the idea.
Interactions with the post: The algorithm will prioritize posts with a lot of engagement, especially from people you interact with a lot.
Each post is ranked based on these main signals to determine where it appears in your feed.
Facebook also gives users options that help them train the algorithm and customize their feed:
Favorites: You can select up to 30 people and pages to add to Favorites. Posts from these accounts will appear higher in the feed. To access Favorites, click your profile picture, then click Settings & privacy, then Feed Preferences, then Favorites. You can use the other options in this section to snooze, unfollow, or reconnect with other Facebook users.You can also choose to view just content from your Favorites.
In-feed options: Click on any post and you'll see a set of options including hiding the post, snoozing the user, or adding or removing the user from favorites. All of this provides information to the algorithm about what kind of content you want to see more (or less) of.On ads, the equivalent option is Hide ad. Facebook will then give you a set of options to indicate why you want to hide the ad. This will help Facebook understand what kind of advertisers you want to hear from, and which you'd rather avoid.
Facebook will remove content that goes against its Community Standards. They also reduce the distribution of "content that people find objectionable," like "misinformation, a sensationalized health claim, or clickbait."
Finally, there are some specific words to avoid when working with the Facebook algorithms:
Threatening or violent language
Harassing language, especially those that are sexist, homophobic, racist, ableist, and so on
Words related to harmful stereotypes
Slurs
Any other language that violates the Community Standards
2023 Facebook feed algorithm
Facebook's news feed algorithm feed mainly (but not exclusively) features relevant content from people, brands, and Groups you're already connected to. Facebook explains that this algorithm uses four steps to determine the order of the content you see in your feed:
Inventory: All the content available from the people, pages, and groups you're connected with, plus relevant ads and recommended content based on your Facebook activity.
Signals: These are the ranking signals discussed above.
Predictions: The algorithm crunches the data from the ranking factors to make custom predictions about which content you'll value most.
Relevance: Each piece of content gets a relevance score, with the highest scoring posts closer to the top of your feed.
2023 Facebook Reels algorithm
Since Facebook Reels are a relatively new format compared to the feed, less information is available on the Facebook Reels algorithm. However, we do know some important best practices to help make your Reels more discoverable (a.k.a. ranked higher by the algorithm).
The overarching principle is to make high-quality content. What exactly does that mean? Here are the specific recommendations straight from the source:
Be entertaining and engaging
Start a trend
Use built-in tools like text, filters, or other effects
Stick to vertical video
Add music
Experiment with different approaches
Use good lighting and camerawork to create video that's visually pleasing
And here's what to avoid:
Blurry or low-resolution video
Videos with watermarks from other apps (i.e., TikTok)
Video with a border around it
Horizontal video
8 tips for working with the Facebook algorithm
1. Understand what your audience wants to see
Facebook indicates it prioritizes content that is "meaningful and informative." So what does that mean, exactly?
Meaningful: Stories the user will want to talk to friends and family about or spend time reading (based on past behavior), and videos they want to watch. Overall engagement also factors in here.
Informative: Content someone will find "new, interesting, and informative," which will vary by user.
Understanding what will be meaningful and informative to your specific audience means you need to understand their unique interests and behaviors. That means you need to do some audience research.
2. Create accurate and authentic content
Facebook says, "people on Facebook value accurate, authentic content." They also specify that the types of posts people "consider genuine" will rank higher in the algorithm. Meanwhile, they work to reduce the ranking for posts people find "misleading, sensational, and spammy."
A couple of tips for signaling the algorithm that your content is accurate and authentic:
Write clear headlines: Make sure your headline clearly describes what users will find in your post. You can certainly get creative, but don't use clickbait or misleading titles.
Be truthful: Put simply, tell the truth. Don't sensationalize, exaggerate, or outright lie.
On the flip side, here are some things to avoid:
Content that impedes community safety, like violence, self-harm, or use of regulated products.
Content with low-quality health or financial claims, like miracle cures or get-rich-quick schemes.
Unoriginal content or unattributed news content
False claims and misinformation
3. Don't try to manipulate the algorithm
But wait, isn't this post all about how to manipulate the algorithm? No, this post is about understanding how the algorithm works so you can learn what Facebook considers valuable for its users.
You have to do the work to figure out how those overall principles apply to your specific audience. Then create content that will resonate with them and in turn send positive ranking signals to the algorithm.
Trying to manipulate the algorithm to get more distribution than your content merits based on those ranking signals is a big no-no. This might include, for instance, paying for engagement or comments or engaging in other black-hat strategies (or "inauthentic sharing") to manipulate reach.
Facebook specifically works to limit the distribution of clickbait, engagement bait, and deceptive landing pages, so trying to manipulate the algorithm with these strategies will only work against you. Buying likes can also reduce your distribution.
The simple message here: Work with the algorithm, not against it.
4. Engage with your audience
The algorithm prioritizes posts from Pages that a user has had meaningful interactions with in the past. This means that bumping up your reply game is key.
If a person takes the time to comment on your post, don't waste the opportunity. Making them feel heard with a reply makes it more likely they will continue to comment on your posts in future. This, of course, sends more of those juicy engagement signals to the algorithm. Ignore them and they'll likely go silent in return.
Pro tip: Whether you're a solopreneur or you have a whole team of community managers in place, Hootsuite Inbox makes managing these conversations at scale a lot easier.
5. Get your audience to engage with each other
Remember how we said the algorithm values content that people want to share and discuss with their friends? Well, a pretty easy way to send that signal is to get people sharing your content and discussing it with their friends.
Facebook itself says that if a post triggers a lot of conversation among a user's friends, the algorithm applies "action-bumping logic" to show that post to the user again.
To get your audience sharing and discussing, check out our tips for boosting Facebook engagement.
6. Post at the right time
The algorithm helps people see your content even if they weren't online when it was first posted. But as we've emphasized throughout this post, engagement is a key signal that indicates a post's potential value. And you're most likely to get that engagement – especially critical early engagement – if you post when more of your audience is online.
Put simply, posting at the right time maximizes the chances that people will see your post, including people who are not online at the time you post!
This is such an important topic that we've got a whole post dedicated to understanding the best time to post on Facebook. There's also a tool built into Hootsuite Composer and Hootsuite Analytics that will show you recommended times to share your next post on Facebook to maximize engagement with your specific followers.
Try now. Start free 30-day trial.
7. Don't forget the basic status post
When you're trying to bump up your engagement numbers, it can be tempting to seek out complicated Facebook algorithm hacks. But don't forget the humble status post. (A post that has no photo, video or link.)
Hootsuite's latest research shows that status posts on average get among the highest engagement rates: 0.11%. Photo posts come in only marginally higher at 0.12%. Videos and link posts come in significantly lower at 0.08% and 0.04%, respectively.
Source: Hootsuite Global State of Digital October 2022 update
We're not saying you should create an entire Facebook Page of status posts, but they can be an effective way to communicate simple information and get top engagement scores.
8. Expand your reach via your best advocates
Your employees may have more credibility and authority with the Facebook algorithm than your brand page does. This is because they have more credibility and authority with their own followers and friends.
Your employees can exponentially expand your potential reach when they're empowered to share your brand's content to their own circles. Hootsuite Amplify can help make it easy for employees to share pre-approved content to their social channels.
Affiliates are another great group of advocates that can help expand your reach and build your brand's credibility. Give them resources and training to help them spread the word on Facebook and extend your targeted audience through their own algorithm signals.
Facebook algorithm FAQs
What is the Facebook algorithm?
The Facebook algorithm is a set of ranking signals powered by machine learning and artificial intelligence. It calculates which content is most likely to appeal to each user and then delivers them a personalized feed.
How do you beat the Facebook algorithm?
There is no way to "beat" the Facebook algorithm (and you will be penalized or even have your account disabled if you specifically try to trick the algorithm). However, there are plenty of strategies you can use to send powerful ranking signals to the algorithm.
The most important strategy is to create high-quality content that appeals to your specific audience, while staying engaged with followers and fans of your page.
How do I reset my Facebook algorithm?
You can't completely reset your Facebook algorithm, but there are a couple of steps you can take to make an immediate change to the content you see, followed by an ongoing maintenance strategy to better train the algorithm over time.
First up, the "reset."
Click your profile picture and select Settings and privacy > Feed.
Use the options here to make an immediate Facebook algorithm change.

To see more content from specific people and brands, add them to Favorites.
To take a temporary break, Snooze them.
Use the Unfollow option to stop seeing content from a person or brand in your feed but remain connected with them.
And scroll through the people and brands listed under Reconnect to see if there's anyone you've unfollowed that you would like to see more from again.

Go back to Settings and privacy, then click Settings, then click Ads in the left menu. Go to Ad Topics to review and change the topics you want to see more and less of in Facebook ads.
Next is maintenance. Use the in-feed options like Hide Post, Snooze, and Unfollow to tell the algorithm what you like and don't. And be selective with the posts and pages you like going forward, as these all send signals to the algorithm that you want more of that content.
Manage your Facebook presence alongside your other social media channels using Hootsuite. From a single dashboard, you can schedule posts, share video, engage your audience, and measure the impact of your efforts. Try it free today.
Grow your Facebook presence faster with Hootsuite. Schedule all your social posts and track their performance in one dashboard.
Free 30-Day Trial