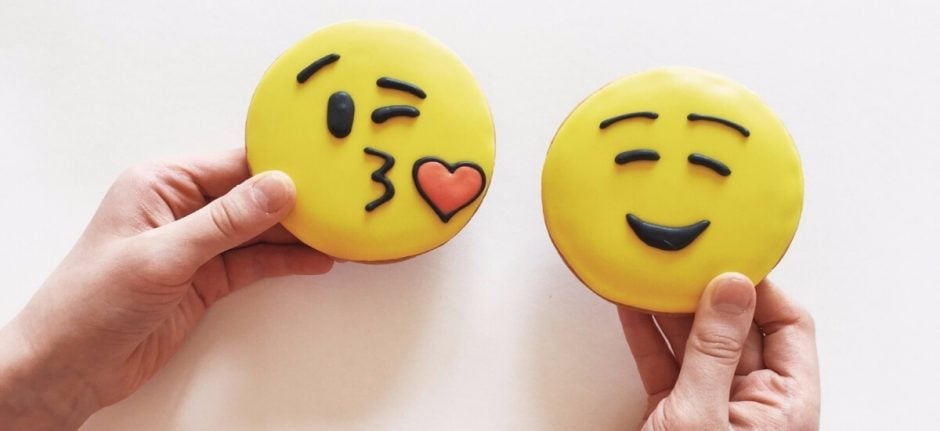 Facebook Reactions: What They Are and How They Impact the Feed
Facebook reactions were used over 300 billion times during their first year of existence. That's 800 million a day.
Yes, fellow Facebook citizens, it seems we have a lot of pent-up emotion to share.
Much more than cute icons, Reactions have given users the ability to express themselves on Facebook beyond a simple thumbs up. Life is, after all, a nuanced affair and not every moment is like-worthy.
In this post, we'll take a look at everything you need to know about Facebook Reactions—how they impact the feed, and how brands can use them to their advantage.

Bonus: Download a free guide that teaches you how to turn Facebook traffic into sales in four simple steps using Hootsuite.
What are Facebook reactions?
Reactions are Facebook's line-up of emoji that allow you to react to posts with six different animated emotions: Love, Haha, Wow, Sad, Angry, and, the classic Like.
When a Like simply won't do
After years of requests for a "dislike" option, Facebook started rolling out Reactions in late 2015 to give users a more nuanced way of expressing their sentiments to posts. Because let's face it, some life events aren't befitting of a Like (deaths, break-ups, disappointing election outcomes, etc.).
How do Reactions work?
Reactions work in the same way as the original Like button and appear on any post.
To choose the reaction you want, simply hold down the Like button (or hover with your mouse if viewing from a desktop) and a menu will appear showing the six reactions.
Once you add your reaction, it's lumped together with the Likes and other reactions under the post. You can only add one reaction per post (e.g. you can't Love and Haha a post at the same time).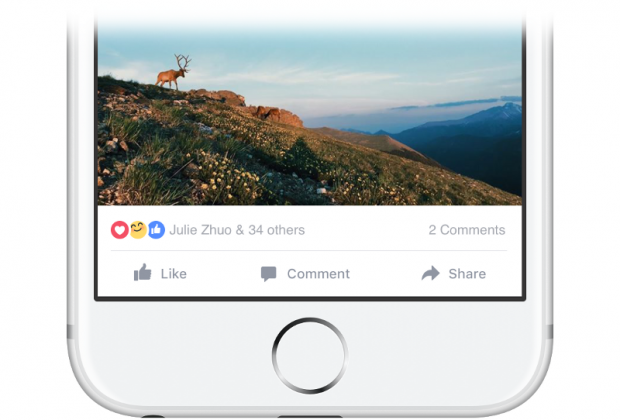 As of March 2017, Reactions are also available on Facebook Messenger. Just as you would a News Feed post, Reactions in Messenger are activated by tapping and holding down to select the appropriate emoji.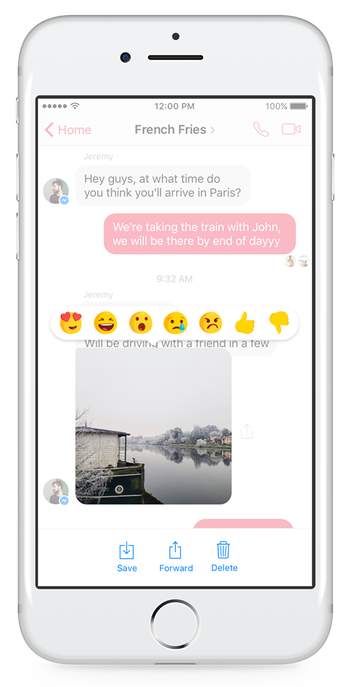 Facebook Reactions design
An enormous, but perhaps less obvious part of Reactions' success is owed to their design.
As Geoff Teehan, Facebook's product design director, noted, great design care was needed to make sure the addition felt like a natural evolution so as not to disrupt user activity.
According to Teehan, Facebook based Reaction's design on two key principles:
Reactions should be universally understood. So more people can connect and communicate together.
Reactions should be widely used and expressive. To allow people to express themselves in ways they would in real life.
Over a nearly year-long design process, the team investigated numerous iterations of what would become the new Reactions dock.
Once the final set was chosen, Teehan's team brought an animator on board to breathe life into the Reactions we're all so familiar with today.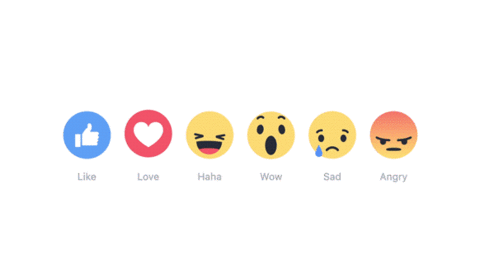 Special occasion reactions
But what fun is an emoji if it doesn't acknowledge the special occasions of its loyal users
Facebook stepped up their Reactions game in 2016 with the release of additions to the lineup for special occasions—such as a purple daisy added for Mother's Day—and specially redesigned emoji to mark events, including Halloween ones and icons to commemorate Star Trek's 50th anniversary.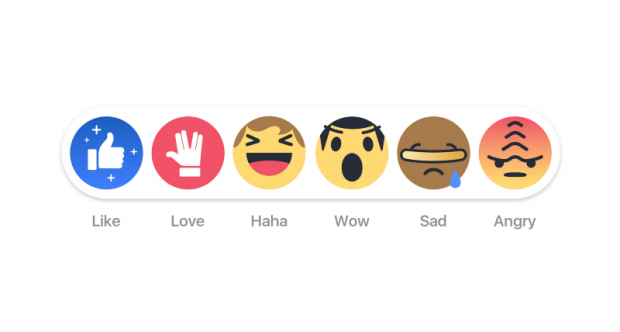 What about dislikes?
Wondering why Facebook didn't make life easier for themselves by just giving into the many requests for a simple thumbs-down button?
"Binary 'like' and 'dislike' doesn't properly reflect how we react to the vast array of things we encounter in our real lives," Teehan explained.
Yep, human beings are complex creatures, and so our emotions.
How do Facebook reactions impact the feed?
Facebook's algorithm is a complicated beast. And now it seems that Reactions are further muddying those waters.
After much user speculation, Facebook has at last confirmed that using Reactions influences the way a user's News Feed looks. It seems Facebook's algorithm puts more weight on Reactions—love, haha, wow, sad, and angry—over Likes to decide what content rises to the surface of a user's News Feed.
Facebook gave their rationale in a recent statement to Mashable:
"Over the past year we've found that if people leave a Reaction on a post, it is an even stronger signal that they'd want to see that type of post than if they left a Like on the post. So we are updating News Feed to weigh reactions a little more than Likes when taking into account how relevant the story is to each person."
While Facebook currently weights all Reactions the same, apparently one reaction trumped them all in 2016. Given the traumatic year that was 2016, you'd think the sad reaction would top them all.
Victoriously though, it was the Love button that (fittingly) got the most love—accounting for over half the Reactions used to date.
So, there you have it. As Geoff Teehan notes, Reactions has been a labor of love for the Facebook team—one that it seems we users are grateful for.
As the Facebook team continues to refine its Reactions algorithm, brands should assume that listening (and responding) to user reactions on posts will become increasingly important to social success.
To learn more about Facebook's evolving algorithm check out our post The Facebook Algorithm: What You Need to Know to Boost Organic Reach.
Now that you know how Reactions work, it's time to get more of them. Simplify the process by using Hootsuite to manage your Facebook presence. Easily schedule posts, share video, engage with followers, and measure the impact of your efforts. Try it free today.