Advertising on Snapchat is a costly venture, with price tags in the hundreds of thousands of dollars. Or at least it was—until now. On February 22, Snapchat debuted a brand new feature that will let businesses big and small create their own customer Geofilter that Snapchat users can add to their Snaps. 
The social messaging app's new On-Demand Geofilters are open to businesses (as well as individuals) and they start at a downright affordable $5.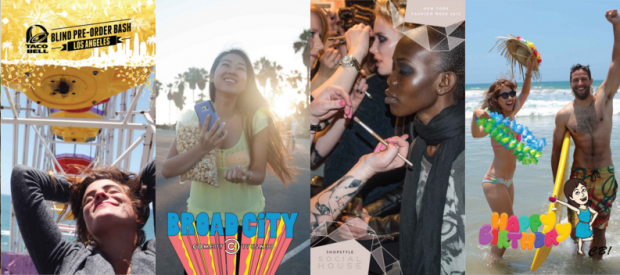 As Snapchat explained in their announcement blog post: "On-Demand Geofilters let you create and publish a Geofilter for your party, wedding, business, or any other place or event. It's a fun way to help your friends or customers decorate their Snaps, wherever they are!"
Pricing depends on several factors, including the size of your geofence (the area where your Geofilter will be active) and the time period you've chosen. On-Demand Geofilters can cover an area ranging from 20,000 square feet up to 5,000,000 square feet, according to submission guidelines. For those of you who aren't used to thinking of space in terms of square footage, that range works out to roughly part of a city block up to several city blocks. The filters can last for anywhere from one hour to an entire month (though the longer you set your filter for, the pricier it becomes).

Whether or not your company uses Snapchat as a channel, this is an exciting (and affordable) new way to try out Snapchat marketing in a highly engaging way. We went through the steps to create our very own Snapchat On-Demand Geofilter so we could show you how to do it. Read on to learn how, or download the free guide to share with your team.

Bonus: Download a free guide that reveals how to easily create and use a custom Snapchat geofilter to promote your business for as little as $5.
1. Create and upload a Geofilter image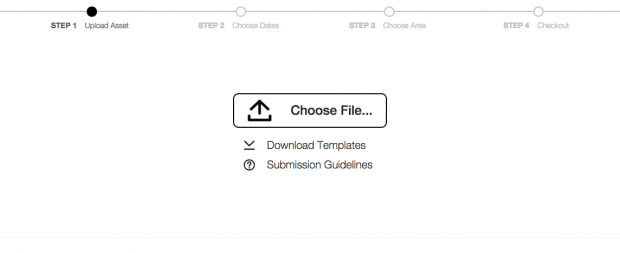 We decided to create a Geofilter for our Pink Shirt Day panel event Cyberbullying, how can we help stop it? Snapchat provides a few templates that you can use to create your design, but we opted to come up with our own. We wanted to keep our first Geofilter simple, so we used the specially designed Pink Shirt Day Owly that we already had for the panel along with the event hashtag #PinkShirtDay. (Kudos to our own Mark Stokoe for the fantastic design work.)
In order to create our design, we researched the requirements for Snapchat On-Demand Geofilters. They are as follows:
Files should be 1080 pixels wide by 1920 pixels high.

Files need to be under 300KB in size.

Files must be saved as .PNG with a transparent background (this is important, because otherwise users' Snaps won't show up underneath your filter).
You can use the purchase tool preview page to see how your filter will look on different devices—an important step in making sure your filter will be useable.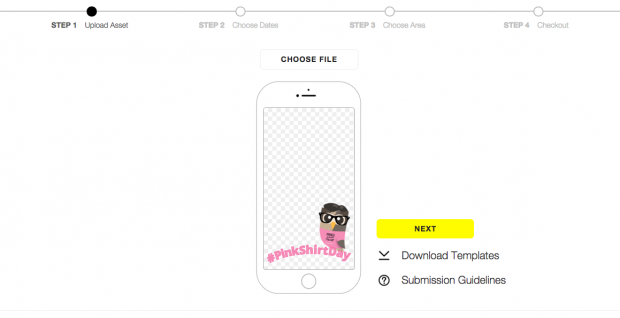 If you're a business, there are a few additional rules that apply to your Geofilter. Snapchat lists restrictions for business graphics on its submission guidelines:
Do not use logos or trademarks you don't own or have authorization to use.

No photographs of people.

No phone numbers, emails, URLs, Snapcodes, download instructions, social media usernames, or personal information.

No hashtags.
No lotteries.
No more than two lines of non-stylized text.

No drug-related content.

Be creative and make it visually compelling. Make something that Snapchat users will want to send to their friends.

Don't cover up too much of the screen.

Make sure it's relevant to the location.
For additional content restrictions and guidelines, check out Snapchat's advertising policies. Snapchat explains: "If your Geofilter is rejected by Snapchat we'll do our best to provide you a reason as to why it was rejected. You can make adjustments and resubmit your filter as a new order."
2. Set a time period for the Geofilter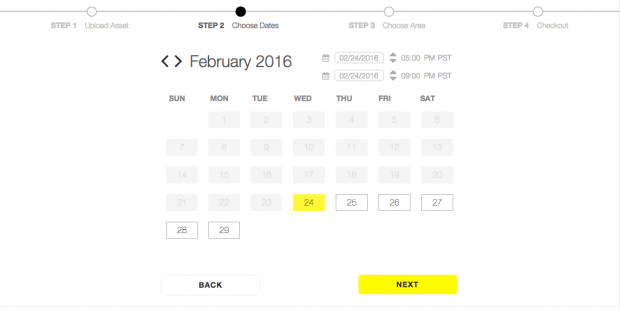 Next up, you have to decide when you want your filter to be active. Keep in mind that the longer of a time period selected, the more expensive the filter will become.
We wanted our Geofilter to be available for the entirety of our event, which runs from 5:45 p.m. to 8:30 p.m. Because Snapchat only allows you to select times on the hour, rather than on the half- or quarter-hour, we opted to run our filter from 5 p.m. to 9 p.m. in order to ensure it'd be available for the whole event. Part of the reasoning in this decision was the fact that it had next to no impact on the final price.
3. Select a geofence for the Geofilter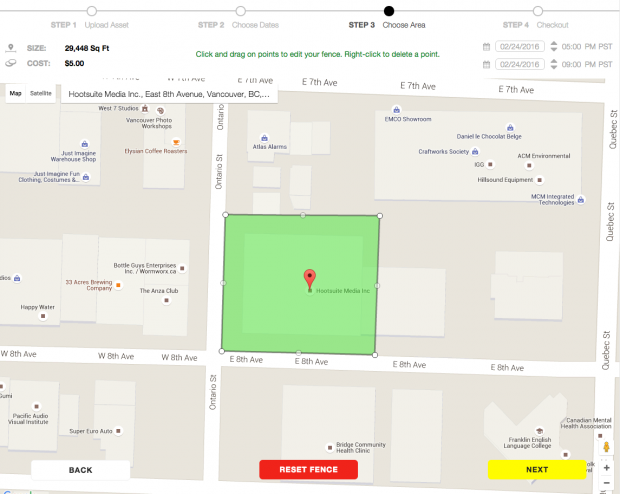 Once you've selected your dates and times, you move onto place. The geofence you select will limit where your Geofilter is available, so ensure that it covers the area you need it to. To start, simply click "Draw Fence" and click the Google Map to select points and draw a shape around your chosen area. In our case, we wanted the Geofilter to be accessible at our office where the panel event is being held.
Once you've drawn a geofence, you'll see details such as size (in square feet) and cost appear in the upper left-hand corner of the screen. If you'd like to adjust the area you've chosen, hit "Reset Fence" and cordon off a new area. As you do this, you'll notice that the price of your filter increases or decreases in accordance with the size of the area you've selected.
Once you're happy with the size of your Geofilter, click "Next" to move on to the checkout.
4. Pay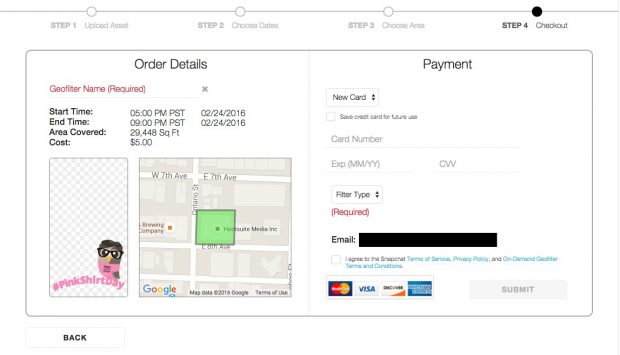 This step is pretty self-explanatory. Snapchat will ask for payment information in the form of a credit card. This will be displayed alongside your order details including dates, start and end times, area covered, map of the chosen area, and price of your Geofilter. Our four-hour, 29,448 square foot Geofilter came to $5—quite a bargain considering the cost of entry into Snapchat advertising was previously in the hundred-thousands!
At this stage, Snapchat will ask you to indicate whether you're submitting a Personal On-Demand Geofilter or a Business On-Demand Geofilter. Geofilters submitted in the personal category cannot include any branding, business marks, business names, or logos and they can't promote a business or brand. Our filter was, of course, a Business On-Demand Geofilter.
It's important to note that if you're submitting a Business Geofilter, Snapchat may display your business name—as entered by you during your order placement—to let Snapchat users know that your business provided the Geofilter. Snapchat explains: "The business name will appear briefly next to 'Sponsored' when a user is previewing your Geofilter over their Snap. Note, this is not displayed to the recipient."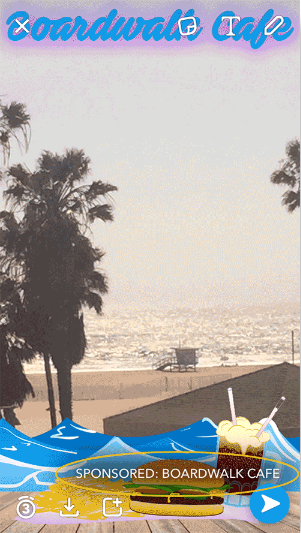 5. Enjoy your custom Snapchat filter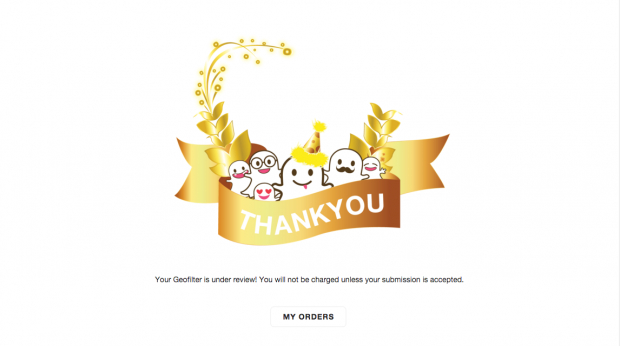 Snapchat's blog post says that their team will "quickly" review On-Demand Geofilter submissions and get them up and running. How long will that take? Snapchat says: "Our team will be in touch by the next business day."
Once you've submitted your Geofilter, it's a matter of (impatiently) waiting. We received a series of emails within the hour, letting us know that our Geofilter was under review, that we had been charged, and (finally) that it had been approved!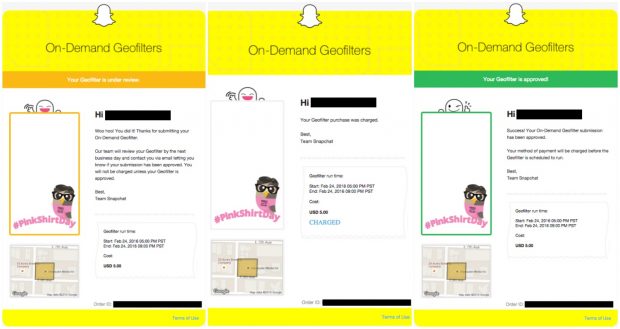 On the day of, Snapchat emailed at 5:05 p.m. to let us know that our Geofilter was live and again at 9 p.m. to let us know that it had completed its run.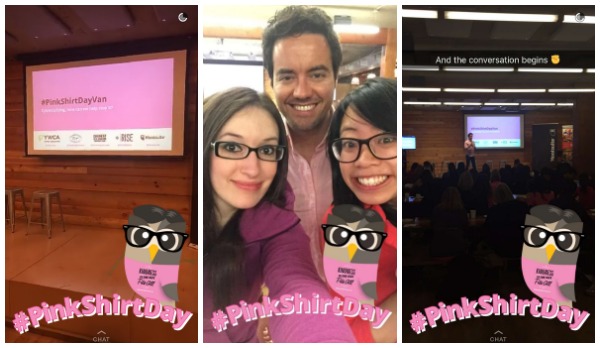 We tested out the filter at the event—from both personal accounts and Hootsuite's official Snapchat account—and were thrilled with the results! We even captured a bit of video with some custom Geofilter flair.
As an exciting bonus (particularly for businesses interested in this feature), you can get metrics on the performance of your Geofilter. Snapchat explains: "You can see how many people viewed or Snapped your Geofilter by logging in to: geofilters.snapchat.com, clicking your name in the upper right corner, and selecting 'Insights.'"
On-Demand Geofilters are currently available in the U.S., U.K., and Canada—though Snapchat adds that there are, "more locations coming soon!"
Want to follow us on Snapchat? Click this link on mobile to go directly to Hootsuite's profile or scan the Snapcode below to add Hootsuite as a Friend on Snapchat.