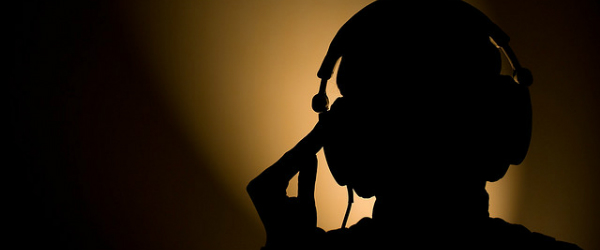 6 Ways to Use Social Media to Learn From Your Competitors
One the greatest advantages of social media is that it levels the playing field for businesses of all sizes. All companies have access to an effective channel for customer service and communication. And yet, no matter how hard you try, there may be other businesses who are finding far greater success on social media. It can be frustrating, but you have the power to find out why other brands have a leg up, thanks to a lesser known advantage of social media: competitive analysis.
Knowing how to properly monitor social channels for your competition's content can help you learn a lot about other brands in your field. Using social media, you can learn about your competitors' newest product releases, their customers' grievances, and see which parts of their content strategy work and which ones don't. If you're not familiar with using social media listening to gain competitive intelligence, here are some ways to start learning.
6 Ways to Use Social Media to Learn from Your Competitors
Private Twitter lists
One of the easiest ways to sort through your Twitter network directly through the web browser is by creating Twitter lists. Putting together a list will allow you to only see messages from users on that list. In the past, I've written about ways public Twitter lists can help you get the attention of influential social media users you would like to add to your professional network. In those cases, you deliberately want the user to get notified about their placement on your list.

It's a different story with private lists. These lists and their members can only be seen by you; users you've added to a private list aren't aware of their membership. For the purposes of competitive analysis, this option may be best, as you don't necessarily want your monitoring tactics to be public knowledge. To make a private list, go to the Lists page and choose 'Private' when you create a new list.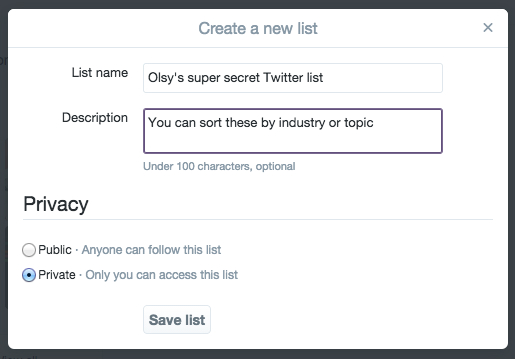 Setting up a Twitter list will help you keep an eye on the tone and content of the messaging your competitors are sending through their official owned social channel. This can help your business learn the general outline of your competitors' public-facing strategy, as well as take note of their current initiatives.
Listen for: Official accounts of competitor businesses, key people in other companies, and industry watchdogs. These may be people you're already following—putting them in a private list makes it easier to separate their messages from the rest of your network.
Keyword monitoring 
If your business engages in content marketing to increase brand awareness, it's likely that your copywriters and editors are concerned with ranking for relevant keywords in search queries. Higher pageranks in Google mean better online exposure at lower or no cost, which is good news for your budget.
However, your competitors are also likely to be vying for high rankings on the same keywords, so it's important to stay informed on your content's relative position in the ranks. Keyword monitoring tools such as SEMRush and BuzzSumo help you search for the best-performing content associated with a selected keyword, and monitor your brand's position in keyword ranks. For example, SEMRush allows you to see your content's position relative to past weeks, and compare it to your competitors' content.
BuzzSumo is particularly useful in letting the users see the number of social shares on a particular piece of content. The more frequently a piece of content is shared on social media, the higher it's ranked according to Google's search algorithm. This is something you should be vigilant about. If there's a keyword on which you'd like to continuously outrank your competitors, BuzzSumo has an option to set a Content Alert for articles that reach a certain number of content shares. By doing this, you can stay aware of competing content and adjust your own content marketing strategy accordingly.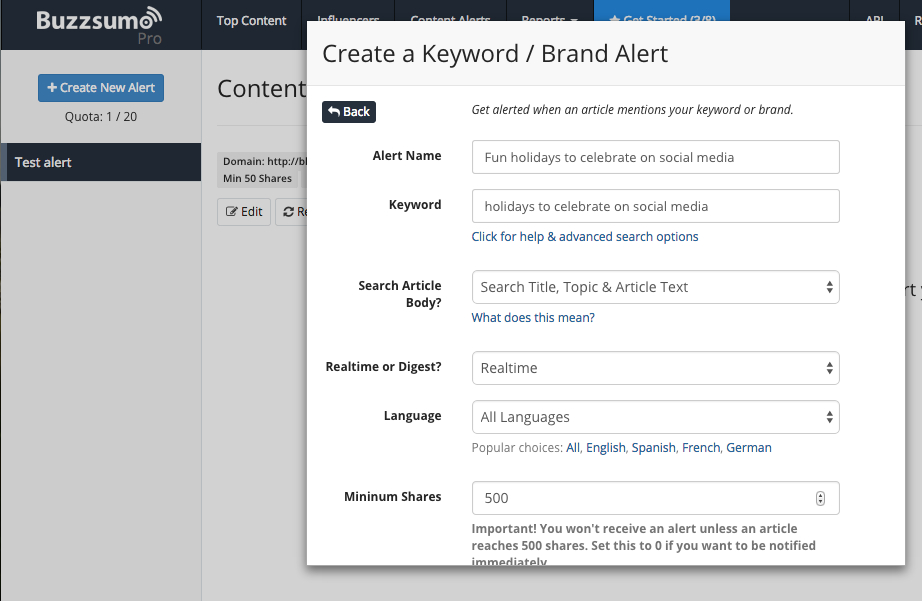 Listen for: Keywords that are relevant for your industry. Try not to be too ambitious with your choices—for example, few companies can compete for ranking in "social media," no matter how informative the article may be. Determine your unique value add to the industry, and select 3-5 competing brands who are likely to go after the same words. Watch the content these selected brands publish with particular attention.
Backlink monitoring
Another factor that affects you and your competitors' pageranks is the total number of backlinks, or links to your content from outside sources, that you receive. Similar to word-of-mouth, this is an important way of dispersing content that demonstrates informational value. The more authoritative the source of backlinks, the higher the chances of Google treating the shared piece of content as important.
Thus, it may be helpful to monitor sources of your competitors' backlinks in order to stay in the know about the appeal of their business versus yours. There are many online tools that allow you to do backlink monitoring, so you can choose one that suits your price range and demands. One recommended requirement for backlink monitoring software is the ability to compare your backlinks with your competition.
Listen for: Potential link-building opportunities. It may be the case that some of these domains link to the competitor's site out of partnership; but they may also just not be aware of the alternatives in the industry. Watch for backlink sources with high domain authority or social media influence, and see if they can be a valuable networking opportunity for your brand.
Alerts
If you're too strapped for time to browse through different tools to check the status of your competition, let Google do that for you. You can set up alerts for mentions of competing businesses in the media or industry blogs. This is another way of keeping tabs on the competition's public-facing strategy, since more often than not, these alerts won't uncover any big secrets. Still, it doesn't hurt to stay updated on any major acquisitions, partnerships, or other kinds of news that may affect the industry landscape. You can refine the notifications by source, region, language, and adjust the frequency to what's convenient for you and your inbox.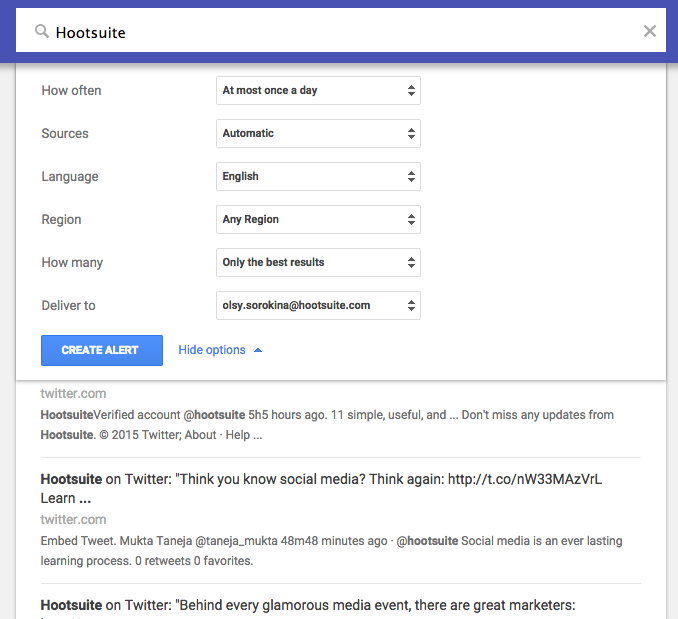 Listen for: News articles or think tank blog posts where your competitors are quoted as industry experts. You may also want to know about your competition's newest product releases and partnerships, in case you've missed them coming through the company's official social channels.
RSS feeds
In addition to monitoring your competition's content for backlinks and keywords, you may also want to know what they actually talk about. If other businesses in your field have content marketing platforms, you should make time to read what they have to say. The easiest way to get this content delivered to you on a regular basis is by setting up RSS feeds. There is a lot of free RSS reader software to help you stay on top of the updates. Hootsuite users can take advantage of the latest update of our updated in-dash RSS feed reader, Syndicator Pro, to monitor and compile all the posts worthy of your attention.
Listen for: Blog posts on any topics your content marketing team often writes about, so you can compare the level of expertise offered by your channels versus your competitors'. Any announcements or product releases you may have missed on social media, or skipped in your Alerts.
Search streams
While all 5 of listening techniques mentioned above are each effective in their own way, together they require quite a few resources and time that you may not have. If you're using a tool to manage your social networks in one place, there are ways to monitor your competition's social media activity on several channels at once without compiling lists. With Hootsuite, you can engage in social media listening by setting up search streams in your dashboard. You can set up a separate stream with the official social channels of competing brands, similar to a Twitter list, to check what kind of messaging these companies send out. Search streams also allow you to monitor @mentions of your competition to see what other users are saying about them.
Listen for: Other users interacting with the competitor brands. Their missed opportunity to address an issue or answer a question may be a chance for you to show off your products or services as a good alternative.
Social media listening is easy with Hootsuite. Sign up and set up your search streams today!