How to Write The Best Instagram Captions: Ideas, Tips, and Strategy
Compelling visuals may be what Instagram is all about, but an effective Instagram caption will push the engagement needle, getting you more Likes and comments. And engagement, dear readers, is key.
The Instagram algorithm displays posts in a user's feeds "based on the likelihood [that person] will be interested in the content." That means that a photo or video with lots of comments and Likes has a better chance of appearing at or near the top of your followers' home streams.
In this guide we'll show you what goes into a great caption and how to go about crafting your own. We'll also serve up a collection of Instagram caption ideas and examples from the brands that do them best so you can learn from the pros.
If you need help adding, editing, or deleting the caption of an existing post, check out Instagram's quick how-to guide.
Table of contents
Bonus: Download a free checklist that reveals the exact steps an adventure photographer used to grow from 0 to 110,000 followers on Instagram with no budget and no expensive gear.
What makes a good Instagram caption?
A great Instagram caption will add context, show off your brand's personality, entertain the audience, and prompt your followers to take action. Captions can be up to 2,200 characters in length, include emoji, and up to 30 hashtags.
Of course that doesn't mean your captions should be hashtag-ridden essays with lots of distracting emoji. As with any piece of good web copy, your Instagram caption should be attention-grabbing and easy to read. It should also speak to the content and your audience.
11 tips for crafting the perfect Instagram caption
1. Know your audience
Who of 700 million monthly active users are your customers and prospects? As explained in our post, The Top Instagram Demographics That Matter to Social Media Marketers, the platform is used by people in all income brackets and is slightly more popular among women than it is with men.
But those are the broad strokes. The better you know your audience, the easier it is to engage them with your Instagram marketing.
Because you can't possibly know every prospect, we recommend building audience personas. These archetypes outline basic details about your target customers, their goals, and their pain points.
Our guide to creating audience personas outlines the questions you need to ask yourself to determine who your customers are. How old are they? Where do they live? What sorts of jobs do they have? What do they do outside of work?
Once you know who you're speaking to, you can answer questions such as:
Will my audience understand this reference?
Are emojis and netspeak appropriate to use here? ¯\_(ツ)_/¯
Do I need to add more context to this photo?
Answer those, and you're well on your way to satisfying tip number two.
2. Identify your brand voice
If you haven't identified your brand voice as part of a broader social media marketing plan, ask yourself: what are the qualities and values I want my brand to embody? Make a list and use it to shape your voice. You might also try jotting down a few adjectives that describe your brand and use those to refine the voice.
You might also try jotting down a few adjectives that describe your business and use those to refine the voice. "Bold," "curious," and "authoritative" might make sense for a travel brand, for example.
In general, Instagram users don't expect a formal or serious tone. Of course it depends on the industry and audience, but you should strive to keep things light, use humor where appropriate, and show your personality.
The social media marketing team at Oreo do a great job of this, combining humor and whimsy to tell the brand's story.
3. Consider length
Remember that most people scroll through their Instagram feeds at a brisk pace. If there's any doubt as to how long your caption should be, keep it brief. Give context where you need to, but if the post speaks for itself, let it.
That said, if there's an interesting story to tell behind the photo, then share it. National Geographic's Instagram account is one of the best at the longer-form caption. As impressive as the magazine's visuals are, the accompanying text always adds value.
4. Place the most important words at the beginning of your caption
Captions are cut off in users' feeds after a few lines of text, so you need to convey your key point or call to action right away. Put any @mentions and hashtags (more on those later) at the end.
Also, leading with the most important words is simply good writing practice. Hook the reader in and give her a reason to tap more.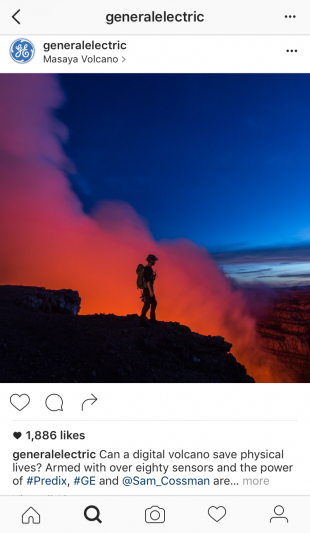 5. Edit and rewrite
Take your time and don't be afraid to go through several drafts, especially if your captions are more than a few lines long. Great copy—whether it be humorous or inspirational—always comes on the rewrite.
Make sure every word supports the content and message you're trying to convey. Cut out words that are clearly unnecessary to keep it as concise as possible.
You should also have someone else edit your work. A fresh pair of eyes will pick up mistakes you may have gone blind to after spending so much time staring at the text. With a social media management tool like Hootsuite, you can set up your teams and workflows for post review and approval before any content is published.
6. Use hashtags, but use them wisely
Use hashtag only when they are relevant to your post and target audience—but don't use so many that they crowd your copy and make it difficult to read.
Bonus: Download a free checklist that reveals the exact steps an adventure photographer used to grow from 0 to 110,000 followers on Instagram with no budget and no expensive gear.
Get the free checklist right now!
As we explain in The Complete Instagram Hashtag Guide for Business, if you don't want to clutter your captions, there are two ways to "hide" your hashtags:
Separate your hashtags from the rest of your caption by burying them beneath periods and line breaks. Once you've finished composing your caption, tap the 123 key. Select return and then enter a period, dash, or asterisk. Repeat those steps at least five times. Because Instagram caps off captions after three lines, the hashtags won't be viewable to users unless they tap the more option.
Don't put hashtags in your captions at all. Instead, include them in the comment section below your post. Once other people leave a few comments, the hashtags won't be viewable unless the option to See all is selected.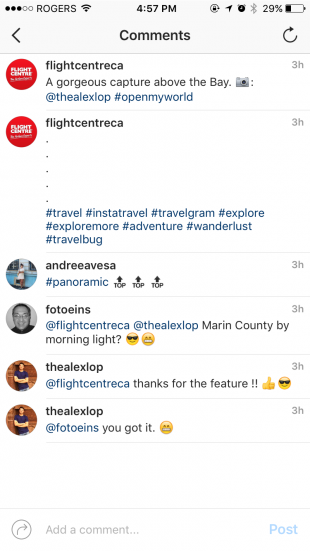 7. Pose a question
One of the easiest ways to get more comments on your photo is by using the caption to pose a question to your followers.
It could be a yes or no question, a skill-testing question, or an open-ended question.
You could also use the caption to solicit your audience for tips or recommendations.
8. Give a shout-out with an @mention
Does your post feature another Instagram user? Include their handle in the caption so your followers can check out their profile too. By mentioning another user in the caption, you'll likely compel that user—and possibly some of his followers—to also engage with your content.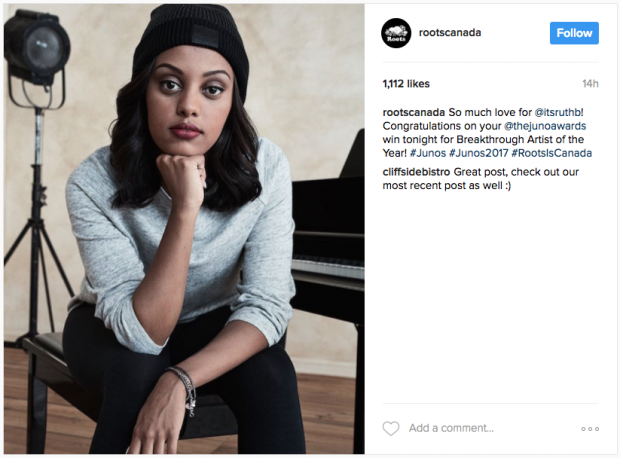 9. Encourage engagement with a call to action
Want to drive engagement? Ask for it by inviting people to leave a comment, tag their friends, or weigh in with an opinion.
Of course the content of the post will have to be compelling for them to want to do that—so be sure to put your best foot forward before you put your hand out. It will reflect poorly on your brand if you try to solicit engagement but receive only silence in return.
Alternatively you could make your call to action too good to refuse. Ask your followers to enter a contest to win a prize.
10. Don't be afraid to use emoji
Are emoji appropriate to use within an Instagram caption? ?
The animated icons can help draw the reader's eye in and are a great way to add a bit of personality to your caption.
Emoji can also stand in for entire words, keeping your copy short and fun.
11. Try using quotes
Not the clichéd inspirational variety, but ones that are specific to the post. Maybe it's a quote from the person who captured the photo, as GoPro often does with their user-generated content.
Or it could be a quote from the person featured in the post, as Nike has done with this Instagram video starring Paralympian Scout Bassett.

Instagram caption ideas from the brands that do them best
Now that you know how to write the perfect caption, let's look at some of the most effective caption types and how brands use them to engage their audiences.
The follow-the-link CTA caption
Airbnb uses Instagram to preview accommodations and encourages their fans to click the link in their Instagram bio (which is always changing) to be taken to the listing for more information.
For more tips on how to optimize your Instagram bio for engagement, check out our post Instagram Bio Ideas for Business.
The behind-the-scenes caption
Instagram is a great platform for giving your audience a behind-the-scenes look at your brand. Lush Cosmetics does a great job at this, using their captions to explain how their products are made.
The informative and educational caption
General Electric's Instagram captions are full of compelling facts about science, nature, and company initiatives.
The instructional caption
Tasty, BuzzFeed's food channel, pairs step-by-step cooking videos with the recipe itself. Simple + useful = a great caption.
The contest or giveaway caption
There are few things on Instagram more appealing than the promise of free stuff. If you're running an Instagram contest, promote it in the caption by explaining to the audience how to enter and what they can win.
The cross-platform promotion caption
If there's more to the story than what you're able to post on Instagram, encourage the audience to check out one of your other social profiles for a closer look. Mercedes Benz used this tactic to promote their behind-the-scenes Snapchat strategy.
The storyteller caption
As we noted in tip number three, if your post calls for context then by all means take advantage of Instagram's generous character count.
You'll be hard-pressed to find any brand or publisher on Instagram who consistently publishes more impactful captions than Humans of New York, which of course are always stories from the subjects of the images.
The minimalist caption
We've already stated it in this post, but it bears repeating: if your content is attention-grabbing and speaks for itself, a short—or even no caption—is best.

Instagram caption tools
A couple of apps to help improve your captions—from concept to copy.
A tool that generates ideas for Instagram captions. While you should always strive for originality, if you're really stuck with what to write you can use Captiona as a creative springboard.
The app is basically a search engine for social media captions. All you need to do is enter a keyword that relates to the content of your post, and the app will deliver a list of suggested captions.
Again, we suggest you use it to get your creative juices flowing. Riff off the suggestions, but don't copy them verbatim. Be original to standout from the crowd.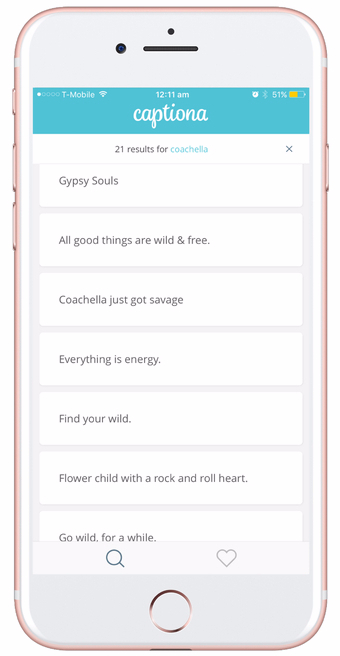 Named for Ernest Hemingway, the desktop tool promises to make your writing "bold and clear." It analyzes text and, with color-coded highlights, points out where your writing has become sloppy or indulgent. Easily cut down on run-on sentences and swap out needlessly difficult words for simpler ones.
Readability is key, especially on a medium like Instagram where users scroll through content quickly. The Hemingway app will help you craft clear, punchy copy that draws in a scanning set of eyes.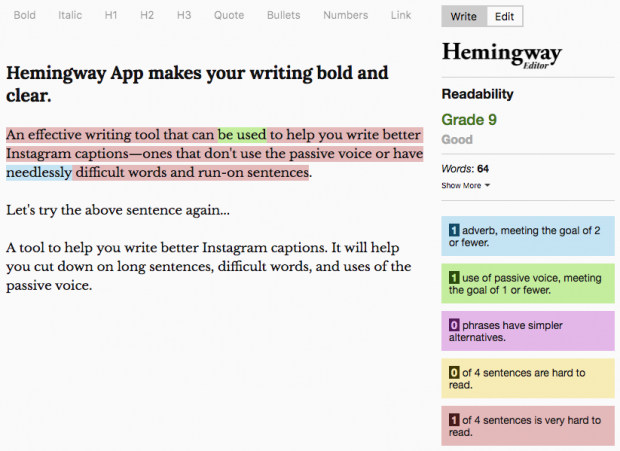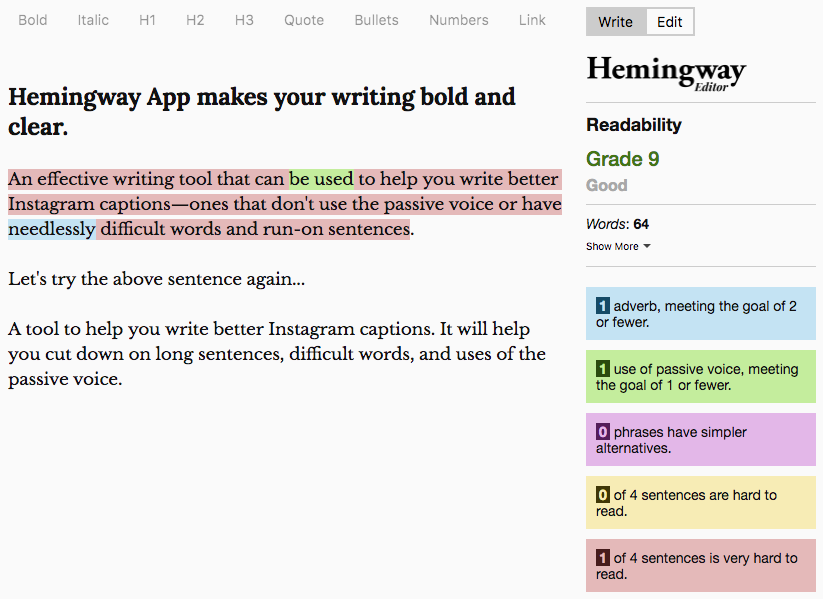 Grammarly will catch errors that most traditional spellcheck tools miss—everything from inconsistent use of tense to the misuse of a comma. The tool will even offer synonym suggestions to help add variety to your writing.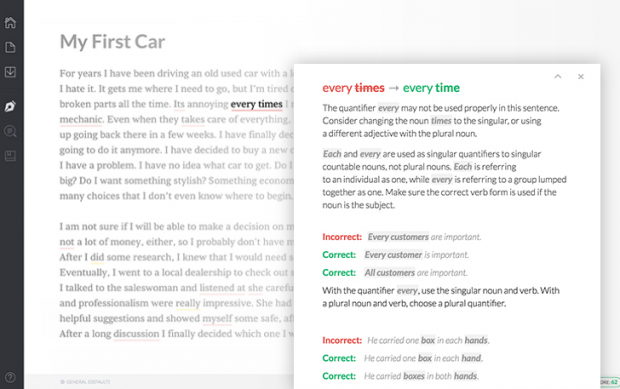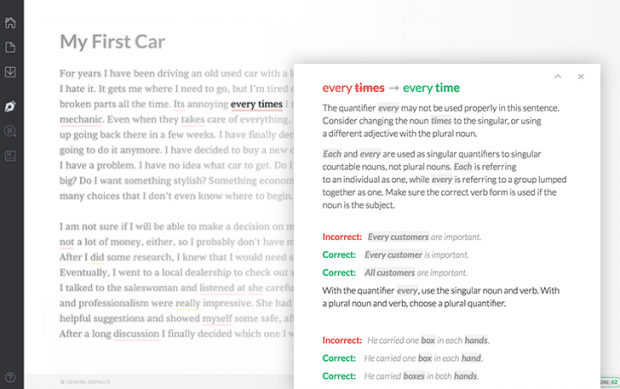 Now that you've mastered the caption, you're ready to start driving engagement on Instagram with Hootsuite. From within the dashboard you can easily upload a photo or video, add a caption, and schedule it for publishing later. Try it free today.