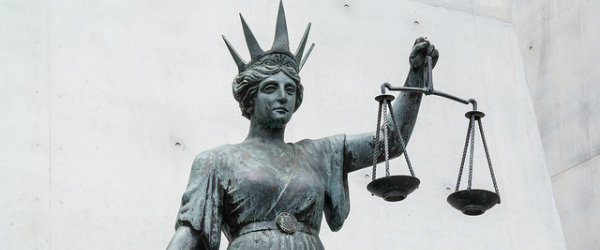 The 5 Ways Law Firms are Using Social Media Listening
A few years ago, McKinsey & Company conducted an insightful analysis of the potential unrealized value in social media for law firms and other professional service based businesses.
As McKinsey noted in their full report, law firms have a lot to gain from social media channels as businesses such as "professional services firms, more so than other businesses, are innately social organizations. They depend very heavily on social interactions – with clients and among professional colleagues — to carry out their work and develop new business."
After all, law firms rely on social interactions—with clients and among professional colleagues—to be successful at their work and develop new business. These long-term relationships, as McKinsey's research showed, are built on traits such as intellectual leadership, integrity, and confidentiality, traits that can easily be expressed via social media.
Nancy Myrland, the President of Myrland Marketing, a consultancy that specializes in helping law firms develop their social media strategies, made a similar point when we chatted about how law firms are seeing results from social media.
"Lawyers are trying to sell what is in their mind," Nancy told us via a Google Hangout conversation. "In that way, social media is a brilliant tool as they can write and talk about what they know about. This makes their service and value to clients more tangible, helping to turn contacts into connections."
The In-House Counsel New Media Engagement Survey by Greentarget, InsideCounsel and Zeughauser Group made a similar point with their research:
74% of in-house counsel say they use social media in listen-mode only
67% of GCs have used LinkedIn for professional reasons during the past day or week
53% of GCs say quality blogs influence hiring decisions
For most of you, this is familiar ground and likely what attracted you to social media in the first place. But in recent years, we've seen another interesting use of social media to begin to pick up speed.
The relationship building aspect of social media can take time to build. New business relationships won't appear at once and at first, your LinkedIn posts and thought leadership might take time to gain traction.
That's why, many firms are quite happy with the results they get from broad social media listening, using software to analyze millions of bits of data to find the conversations impacting their clients, cases, and firm's reputation.
Broad social media listening offers your firm immediate returns, even if these results fall outside of your typical marketing uses of social media.
The rise of the listening law firm
"Social media listening is really valuable and becoming very common for competitive intelligence and monitoring different topics and practice areas," says Nancy Myrland. "More attorneys are finding more comfort levels and including social media searches. It's definitely part of the research being done today."
At Hootsuite, we work with over 10 million customers and 744 of the Fortune 1000. In the legal services sector, we are trusted by 29 of the top 50 AmLaw firms for their social media initiatives. This gives us exposure to many different listening strategies from different law firms and similar businesses.
Here are the five most effective ways that we've seen law firms use social listening to gather evidence and stay informed about their client's businesses.
1. Benchmark your share of voice against other firms
"Law firms and their lawyers need to take full advantage of LinkedIn — clients are congregating there professionally more than on any other social platform," says the most recent survey on the In-House Counsel Use of Social Media Survey conducted by Inside Counsel, Greentarget and Zeughauser Group.
Unlike basic social media monitoring—which simply tracks how many followers your firm has or how many people saw your latest LinkedIn post—broad social media listening analyzes hundreds of millions of pieces of data, intelligently sorting and assembling the noise of social media conversations into meaningful patterns.
With broad social media listening, your firm can benchmark your share of voice against key competitors. For example, does a competing firm have a stronger digital presence on LinkedIn?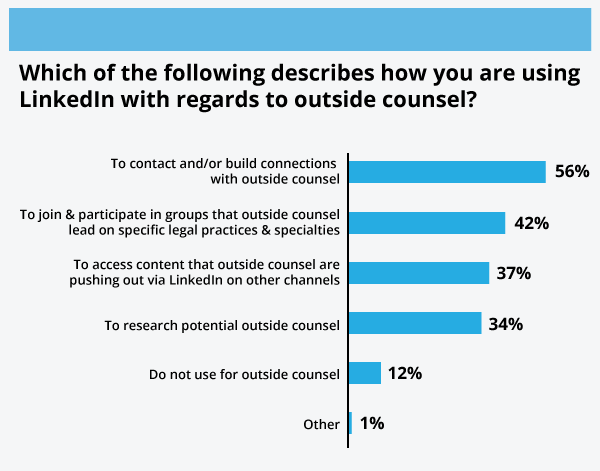 Beyond LinkedIn, you can also compare the entire digital voice of your firm versus competitors. For example, perhaps a competitor has a strong LinkedIn presence but your firm has a much larger overall digital presence as a result of press releases, conferences, and thought leadership.
With an eye on competitors, you'll be able to see which influencers they use to maximize coverage and study the tactics and topics resonating with potential clients.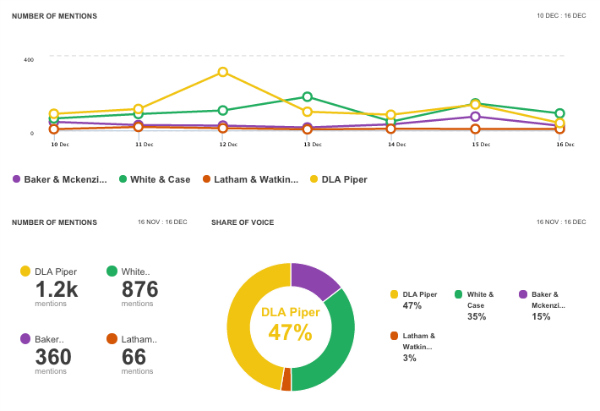 2. Look deeper than Google
Many firms will use Google Alerts and searches to monitor cases or stay informed about key issues facings their client's businesses. But ordinary search engines only scan the surface of web, ignoring vast amounts of information.
Broad social media listening gives you access to 100+ million sources—a much comprehensive scan of relevant information than can be contained in the first few pages of Google. If you only research with Google, your firm is missing out on vast amounts of readily available sources of intelligence.
Solutions such as uberVU via Hootsuite are web-based, so you don't need to hire an analyst or engineer. Just type in your question and begin to explore.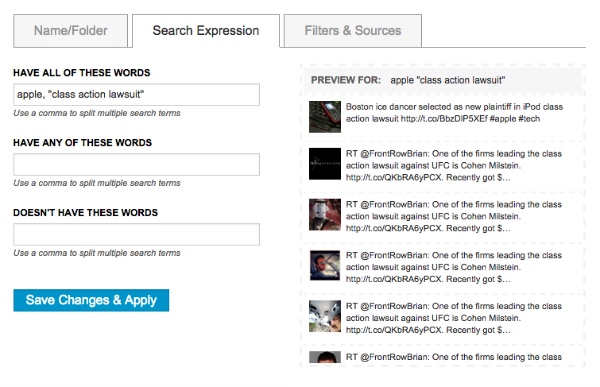 With these platforms, even non-technical users can have real-time access to:
Thousands of newspapers, magazines, and newswires, helping to quickly master a new topic
Global business and corporate data including business network sites
Individual's photographs and digital footprints including hidden commentary on social media sites that may not have been indexed by Google
Industry trends and discussions around cases or clients
These solutions will also continually add new sources and relevant mentions, so you don't have to spend time checking to see if new information or news articles are published on a topic.
3. Gather client intelligence
In-house counsel are frequently using LinkedIn and lawyer blogs to determine who they will hire—a trend that Inside Counsel, Greentarget, and Zeughauser Group have been tracking since 2010.
According to their most recent survey of in-house uses of social media, they found that in-house respondents are reading attorney-authored blogs just as often as they are reading blogs authored by professional journalists.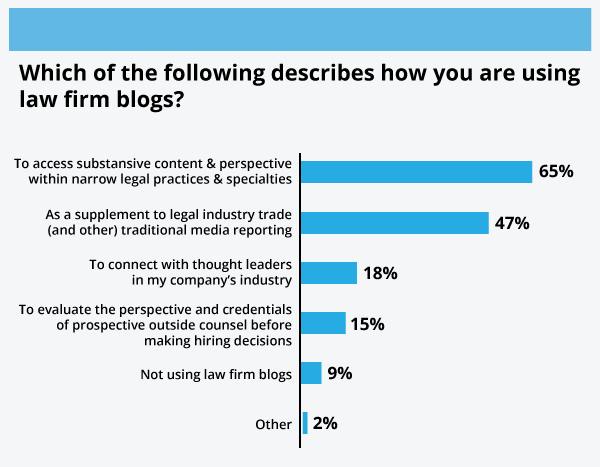 Your clients are using social media listening to evaluate your firm and stay informed about narrow legal practices.
Luckily, your firm can also use broad social media listening to your own advantage, staying informed about your client's business and quickly locating public opinion impacting your client's case or industry.
One tactic is to build a dashboard for each client or industry topic you need to monitor. That way, you can simply login and view the most relevant discussions and emerging trends for about 15 minutes per day.
This allows you to be proactive about unexpected trends or new case developments.
The dashboards below took us about five minutes to configure and require no technical skills.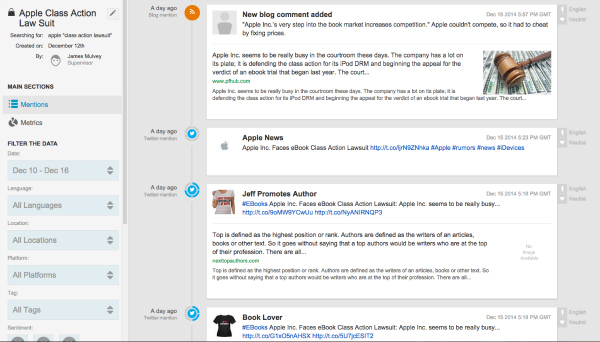 These dashboards can also alert you to new business opportunities, such as pitching new clients on a developing area that matches your specialties or hearing first of a major client leaving a competing firm.
4. Stay ahead of public opinion
Another popular use we've seen among firms is to use broad social media analytics to quickly measure and track changes in public opinion.
In Canada, Jian Ghomeshi, a popular radio host, posted a Facebook message to his fans, announcing a 55-million dollar lawsuit against his former employer, the CBC. The post initially gained positive sentiment and support among fans.
Yet, within 48 hours, the sentiment quickly changed and public opinion began to hear a very different side of the lawsuit through blog posts, viral social media posts, and mainstream media. It was a dramatic shift in public opinion that unravelled both in mainstream media and social networks at an extreme velocity (shown below).
Below, Aleece Germano, an Enterprise Solutions Consultant at Hootsuite, used uberVU via Hootsuite to analyze 175k+ mentions from over 100M unique online sources. Here we can view the Jian Ghomeshi sentiment trendline (or perhaps, "reputation trendline" in this case):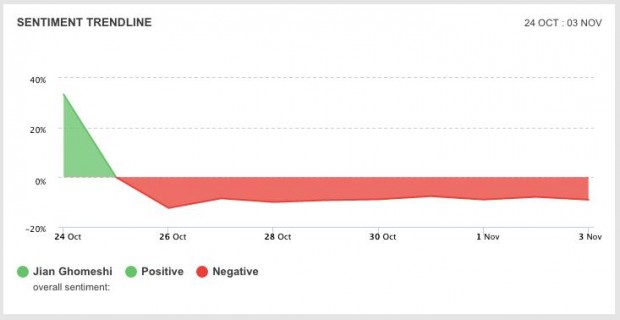 Broad social media listening can help law firms navigate public sentiment in high visibility cases. Broad social media listening platforms will identify unusual spikes in social media activity long before they become mainstream stories, allowing your firm to strategize (or in the toxic case of Ghomeshi, to drop the client as his "high stakes crisis" PR firm did right before the spotlight turned in their direction).
This is particularly useful for class action lawsuits. Wide scans of global social media channels can even help anticipate possible new additions to cases as well.
5. Support litigation with social searches
According to McKinsey, social media data offers broad value to law firms in litigation support.
"Information from social platforms is helping attorneys discredit witnesses and fine-tune jury selection, for example. The Internet and social media allow attorneys to gather immense amounts of information about prospective jurors (e.g., arrest records, political affiliations) and to track their activities on social networks (e.g., blog posts, comments, group affiliations)."
In many cases, trial lawyers have begun to use social media to understand and manage the public perceptions of a case. They have even started using social media to find trial evidence, pulling in data from individual profiles and publicly available comments on forums, YouTube, and brand pages.
Click here for an excellent article on developments in social media evidence.
How to put this into action
Social listening being used as a research solution is only one example of the wider value of social media beyond marketing functions. Law firms have also had success using social media for recruiting top talent and improving collaboration in global firms.
If you want to hear more about our uberVU via Hootsuite solution and how 7 of the top 10 Global 100 Firms (as published by the American Lawyer) are getting results from social, you can request a special demo here.