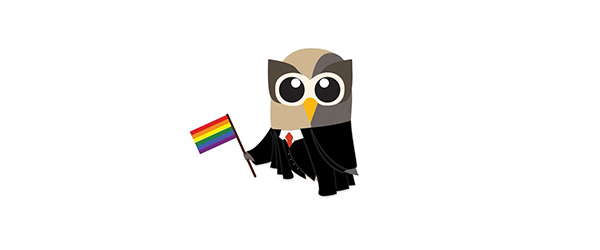 #LoveWins: Brands Spread the Love on Social Media
This morning, at 7AM, the U.S. Supreme Court handed down a historic ruling affirming the constitutional right of same sex couples to be married in all 50 states. Seconds later, social media erupted with the hashtag #LoveWins. Soon dozens of brands had joined the chorus celebrating the decision.
Twitter feeds were radiant with custom rainbow heart emoji, which was included whenever Tweets mentioned the #LoveWins hashtag.
Proud. #LoveWins pic.twitter.com/ADdXKlyhcb

— Starbucks Coffee (@Starbucks) June 26, 2015
#SCOTUS rules that that same-sex marriage is now legal in all 50 states ?????❤️????#LoveWins https://t.co/rlEOQQJInT pic.twitter.com/9jkCWtdOWg

— Cosmopolitan (@Cosmopolitan) June 26, 2015
Forecasting lots of #Love. #LoveWins Photo Credit: @seisenhauer via IG pic.twitter.com/OvjStuaXEo — The Weather Channel (@weatherchannel) June 26, 2015
YouTube celebrated the momentous decision by posting a compilation of videos from the LGBT community of content creators on the networks.
Spotify also celebrated the Supreme Court's ruling in their own way by creating a special #LoveWins playlist that anyone can tune in to.
#LoveWins! We're ready to hit play on your first dance ? http://t.co/p9pfHH7qRm pic.twitter.com/B9yhLxFsVq

— Spotify USA (@SpotifyUSA) June 26, 2015
The message of the day was all about love. It started with Justice Anthony Kennedy, who wrote in the majority decision that "no union is more profound than marriage, for it embodies the highest ideals of love, fidelity, devotion, sacrifice, and family." And that message was heard loud and clear on social media, as Tweets with the hashtags #LoveWins, #pride, and #marriageequality topped the 2.5 million mark by mid-afternoon.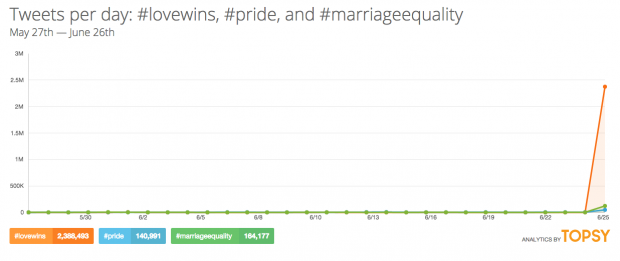 Social media feeds are still sporting all colours of the rainbow, but some of the most creative and well-executed branded posts were among the first to emerge, in some cases within minutes after the decision was first announced. The speed with which brands released their celebratory messages showed that many savvy marketers were well prepared for the occasion.
Why? Because #LoveWins!