Weighing the options between paid vs social media? We'll save you some legwork: you're probably going to want to do a bit of both.
Paid and organic social are different beasts best harnessed for different goals. But for a holistic approach that balances awareness with conversion, it pays to know the pros and cons of each.
If you're new to paid social, 2021 is an interesting time to get started. Confinement during the pandemic had people using social media more all over the world, greatly increasing the number of people advertisers could reach.
And while ad spending initially slowed at the beginning of 2020, it has rebounded to new heights in 2021 — this despite Apple's famous iOS 14.5 update, which resulted in substantial targeting limitations for Facebook and Instagram users on iOS devices.
On the other hand, algorithm updates have made organic social media highly competitive. And many business owners are finding that spending at least a portion of their social media budget on advertising is no longer optional.
So where does that leave your brand's social media marketing strategy? Well, it depends on your overarching goals. Read on to learn more.
Bonus: Download a free guide to social advertising and learn the 5 steps to building effective campaigns. No tricks or boring tips—just simple, easy-to-follow instructions that really work.
Organic social media refers to the free content (posts, photos, video, memes, Stories, etc.) that all users, including businesses and brands, share with each other on their feeds.
As a brand, when you post organically to your account, you can expect that the people who will see it are:
A percentage of your followers (a.k.a. your 'organic reach')
Your followers' followers (if people choose to share your post)
People following any hashtags you use
It sounds pretty simple, but the reason that organic social media is the foundation of every digital marketing strategy today is because it's the best way to nurture a connection with your customers at scale.
For example, brands use organic social to:
establish their personality and voice
build relationships by sharing informative, entertaining, and/or inspiring content
engage customers at every stage of their buying journey
support their customers with customer service
Here are a few examples of typical organic content from businesses:
This hairstylist keeps his clients inspired and informed with a steady stream of portfolio shots that simultaneously give prospective clients insight into his aesthetic, while also reminding current clients how desperately they need him.
This ecommerce furniture shop often shares user-generated content about their products out in the wild. This couch just happens to be in an influencer's home, no big deal.
Pro Tip: Though the two are not mutually exclusive, paid social generally does not include influencer marketing, which is typically arranged directly as sponsored posts. Read our full guide to influencer marketing here.
Here's a flowy dress company posting content with no flowy dresses in sight. (The mood still screams flowy dresses.)
Source: MoonPie
This snack cake brand likes to Tweet warm-hearted jokes as if it were a person, not a snack cake, which draws attention and interaction from other official brand accounts, which generally pleases everyone.
But of course there is a downside to organic social. The reality is, because all the major platforms use ranking algorithms, only a small percentage of your followers will see your organic posts.
For instance, the average organic reach for a Facebook post is about 5.5% of your follower count. For big brands with large followings, it's often even less.
Declining organic reach has been a fact of life for a few years now, as the world's biggest social media platforms reach saturation, attention spans shorten, and platform CEOs prioritize "meaningful" or "responsible" user experiences. In other words: it's harder than ever to get your brand's content seen by your own audience, let alone new eyes.
This is where paid social media comes in.
Paid social media is another word for advertising. It's when brands pay money to Facebook, LinkedIn, Twitter, YouTube, etc. in order to have their content shared with specific new targeted audiences who are likely to be interested, either through "boosting" their organic content, or designing unique advertisements.
Paid social is experiencing a rebound after the uncertainty of 2020, according to eMarketer. Users have not only increased the time they spend on social media, but they are also now, more than ever, accustomed to online shopping via ecommerce or social media stores. This makes ads seem like a more natural part of the social media experience, especially when they are designed with care.
But B2C retailers aren't the only industry focusing on social advertising. More so than organic content, paid posts are the best way for brands to target new audiences on social media, and convert them to customers. Businesses and organizations use paid promotion on social to:
raise brand awareness and attract new followers

promote their newest deal, content, event, etc.
generate leads
drive conversions (including e-commerce sales)
Here are some recent examples we've noted.
Source: Contentful
Cloud-based CMS company Contentful used Facebook leads ads (ads specifically designed to, you got it, drive leads) paired with a cute illustration and direct, simple copy to get prospects to download their Digital Playbook.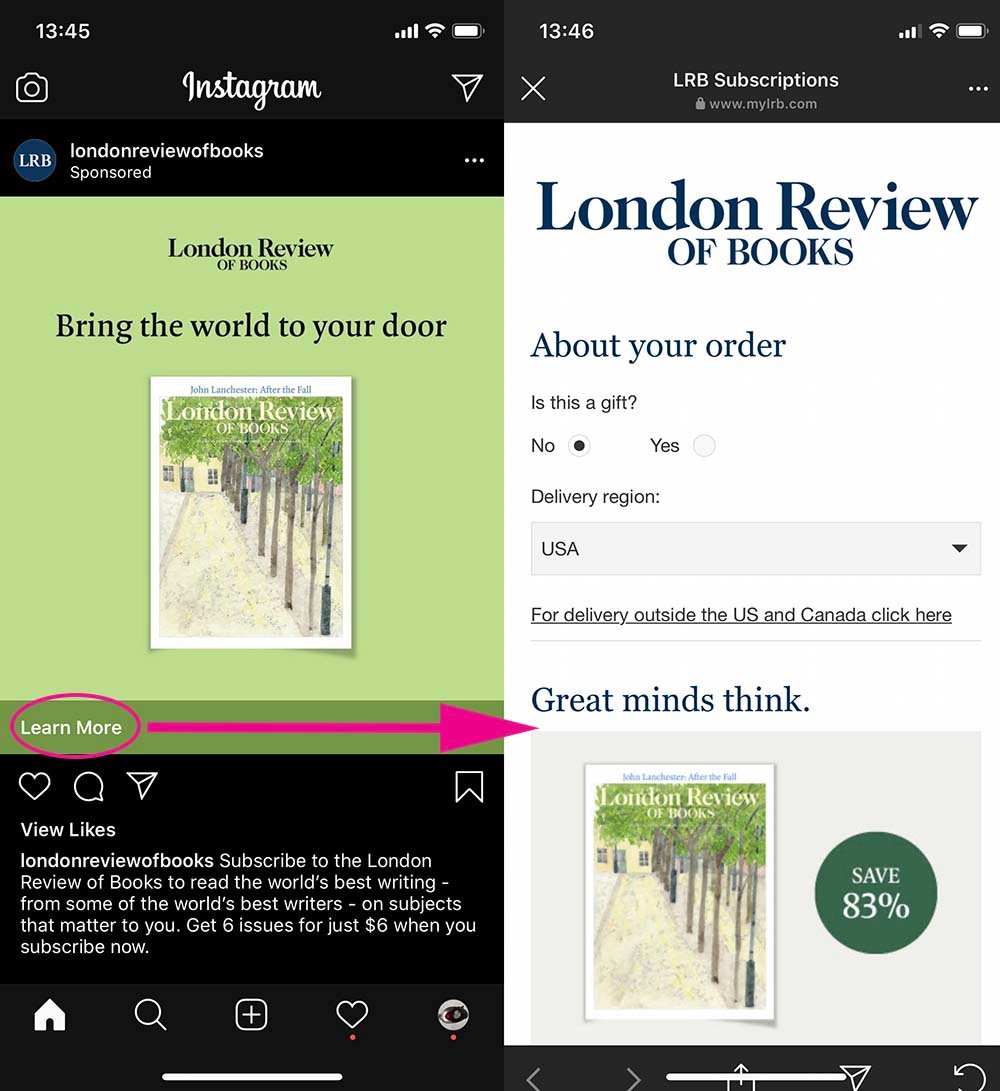 Source: @londonreviewofbooks
A traditional approach is to target users who have already proven their interest in your niche. The London Review of Books, for instance, uses a tried-and-true formula: target people who follow similar accounts (in this case, FSG Books, Artforum, the Paris Review, etc.), offer them a substantial discount, and direct them to a frictionless landing page using Instagram Shopping.
Source: Zendesk
One of the most common types of ads you'll see on LinkedIn are Sponsored Content posts. Since they are most often organic posts that someone decided to boost, they blend right into your feed, so you often don't even realize you're looking at an ad.
This case study video by customer service SaaS company Zendesk is being promoted to reach potential customers who don't already follow them on LinkedIn. It is exactly the same type of content it typically shares on its LinkedIn page.
Organic and paid social strategies each have their own advantages and disadvantages. Let's summarize them.
An organic social media strategy nurtures your relationship with your customers or audience. It helps you:
Establish and grow your brand's presence where people are already spending their time
Support and retain existing customers
Convert new customers by showing them what you're about
However, organic is often slower to reach business goals, and while it's technically free, it takes a lot of time, experimentation and/or experience to get right.
Meanwhile, a paid social media strategy is how you connect with new customers or audience members. It helps you:
That said, it requires a budget, and its own form of expertise (those ads don't monitor themselves).
In short, while organic activity is necessary for relationship-building, it's also true that network ranking algorithms mean pay-to-play is a fact of life on social, now.
The foundation of the majority of integrated social media strategies is using organic to serve and delight your existing customers, while attracting new eyes with paid ads.
Here we'll outline the fine print on how to go about it.
1. Not all promotional posts need to be paid
First things first: only pay for ads when they can actually help you hit your KPIs and ultimately reach your business goals. Ads aren't always the answer on social. (And even if they were, never forget the power of a well-crafted organic post that people want to share.)
For instance, when you're announcing something new—whether it's a partnership, a pivot, or a new iteration on your flagship product—your existing followers need to be informed. A creative, original, organic campaign will build buzz all on its own. Craft a compelling post, pin it to your profile or drop it in your Stories highlights if it's big enough news.
For instance, Netflix launched the highly anticipated Princess Switch 3 as an organic post on Instagram.
All that said, if your organic activity isn't getting the reach or impressions you'd hoped for, then it might be time to open the (corporate) wallet.
2. Boost your best organic content
Your top-performing posts aren't just here to puff up your vanity metrics. Probably the easiest way to dip your toes into the pool of paid advertising is to identify content that has really resonated with your audience, and pay to show it to new eyes.
This is generally considered an entry-level tactic because it's low-risk—you don't need to come up with an ad, let alone an ad campaign. But most social media pros will tell you that when they notice they've got a hit on their hands, it's time to consider supporting it with spend.
For instance, you could start by allocating a small budget to the top weekly or monthly post whenever you run your analytics report. Don't just pay attention to likes, but also conversions, profile views, etc.
Pro Tip: With Hootsuite's Boost tool you can customize triggers to automatically boost posts that are snowballing (for example, whenever your post gets shared 100 times.)
3. Optimize all your posts using A/B testing
We say it all the time, but in our experience, split testing is a step that's skipped way too often.
Before you allocate your entire social media budget to an ad, run versions of it by a smaller audience to see if it's any good. Test your CTA, copywriting, visuals, and the ad's placement, format, and even the audience targeting. You can also test it among different audience demographics (age, location, etc.) before you commit to a larger spend. The benefit here is twofold: a more memorable, enjoyable and successful ad for your audience is also a cheaper one for you.
Meanwhile, for organic posts, you can set up manual split tests and track results by using UTM parameters in your links. Our complete guide to A/B testing on social is over here.
4. Target your ads to people similar to your organic audience
The more you've grown your social presence organically, the more data you have about your ideal customer or audience. Where do they live? How old are they? What are they interested in? What problems are they facing in their lives? How are you helping them?
Capitalize on all this information as you build your ads. This is the place where all your hard work building quality relationships with your audience pays off.
For instance, most social platforms offer the ability to create lookalike audiences based off of your best customers, as you describe them. Perhaps these are your newsletter subscribers, or people who have engaged with your profile or content, or people who've bought a product in the last year. A lookalike audience will be composed of people with similar demographics and behaviors, but who haven't been introduced to your brand yet.
5. Use retargeting ads to stay connected to your organic audience
Retargeting campaigns can be highly effective at a relatively low cost, because you're reaching out to people who already know your business. Often, these are people who've come to your social or web presence organically. Maybe they visited your profile or website, or even abandoned a shopping cart.
The idea here is that they may just need a reminder to come back and convert, and the right ad can convince them.
6. Look at your data and measure your results
Watching a campaign flop is equally painful whether it's organic or paid, but if you pay attention to your social analytics tools, they'll tell you where you need to make changes to get better results.
Using Hootsuite Social Advertising, you can review organic and paid content side by side, easily pull actionable analytics and build custom reports to prove the ROI of all your social campaigns. 
With a unified overview of all social media activity, you can act fast to make data-informed adjustments to live campaigns (and get the most out of your budget). For example, if an ad is doing well on Facebook, you can adjust ad spend across other platforms to support it. On the same note, if a campaign is flopping, you can pause it and redistribute the budget — all without leaving your Hootsuite dashboard.
Source: Hootsuite
7. Automate as much as possible
The bottom line with combining paid and organic social is that it's more: more money, more time, more know-how, more assets, and just more posting.
Whether you're a team of twelve or a lone-wolf consultant, the key is to keep the busy-work to a minimum so you can focus on what's important. To that end, automate as much of your everyday workflow as you can:
Schedule your organic posts in advance
Streamline your approval and copyediting process
And if you're not a fan of jumping from platform to platform to manage your paid and organic social efforts, use a social media management tool like Hootsuite. Using Hootsuite, you can plan, publish, manage, and report on all of your social media activity, including ads on Facebook, Instagram, and LinkedIn.
Integrate your paid and organic social strategies to strengthen connections with existing customers and reach new ones. Use Hootsuite Social Advertising to easily keep track of all of your social media activity — including ad campaigns — and get a complete view of your social ROI. Book a free demo today. 
Easily plan, manage and analyze organic and paid campaigns from one place with Hootsuite Social Advertising. See it in action.
Free Demo