You don't need a film degree to make an excellent social media video these days. Marketers with untrained eyes are creating great social video content with little more than a smartphone. And people are watching.
Facebook and Snapchat have both surpassed 8 billion daily video views and YouTube's 1 billion-plus users are watching hundreds of millions of hours of online video every day. This trend is expected to continue and there are an abundance of statistics to back that up.
Experts predict that 74 percent of all internet traffic in 2017 will come from video and you can bet your competitors are already leveraging this powerful form of content. A 2016 survey by the Web Marketing Video Council found that 61 percent of businesses are using video as a marketing tool. In the previous year, 66 percent of those businesses were not using video at all.
It's clear that companies are quickly recognizing the growing power of video. Do you like the sound of those numbers, but you're still not quite sure where a social video campaign fits into your marketing plan?
Check out our handy guide to learn more about the medium. If you're ready to create a social video, here are 10 video tips to help you make it a great one.
1. Plan ahead so you can tell a story
Thoughtful, emotive storytelling is the heart of any successful social video. When you want to motivate, persuade, or be remembered, start with a story of human struggle and eventual triumph.
Research published in the Harvard Business Review found that a neurochemical called oxytocin is released when we watch a "hero's story" on video. When the brain synthesizes oxytocin, people are more trustworthy, generous, charitable, and compassionate. An association that can be beneficial to your brand.
To determine whether oxytocin is released during video stories, they tested if narratives shot on video, rather than face-to-face interactions, would cause the brain to make oxytocin. By taking blood draws before and after the narrative, they found that character-driven stories do consistently cause oxytocin synthesis.
Determine the beginning, middle, and end to your story, the setting and the conflict to be overcome. Write a real script. Use this video tip and you can capture your customer's hearts by attracting their brains.
2. Keep the camera steady
You wouldn't mail out a thousand brochures with a crooked logo, so why would you make a social video with a shaky hand? Investing in a tripod for your phone can help you make a more professional looking video.
There are many excellent tripod mount models on the market. If you're shooting on a small mobile phone, the 3C Smart Octopus can steady your video. If you're shooting on a larger mobile phone, the GorillaPod will keep your device still. When you're ready to get real fancy, you can mount the phone on a rig like iOgrapher, just like a professional video camera.
Your audience will be able to better focus on the story if the video has a smooth picture quality.
3. If audio is key to the story, consider an external mic
Perhaps your video will feature a few witty bits of dialogue or the sounds of animals crooning in the night. Whatever audio effect you're going for, your story will pack more punch if the viewer can clearly hear all the action.
The built-in microphones on most smartphones leave something to be desired. There are many inexpensive external mics on the market that you can add on to your mobile device. Significantly up the production quality of your video with external mics like the Rode SmartLav+ or a shotgun mic like the Mighty Mic. With a quality external mic, you'll be recording quality audio with your video in no time.
4. Don't use digital zoom
Though it sounds like a good idea in theory, when you use digital zoom, it can make for a very blurry video. Until technologies evolve, avoid the zoom and just move closer to the person or object you're trying to capture.
5. Lighting is key
Smartphone cameras have small image sensors so if you try to shoot in a dark environment, it will give you grainy, low-quality video. Choose a brightly lit setting for your video.
Also keep in mind that the auto exposure on mobile phones is often slow to adjust when changing from one scene to the next, so be mindful when moving from dark areas to bright ones. Avoid backlighting and direct overhead spotlighting.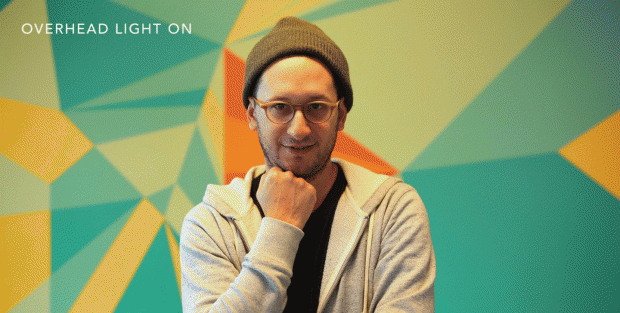 There are a few LED lights on the market that are small and easy to use for shooting in difficult lighting conditions.
6. Shoot for your intended platform
For most social video, landscape mode (horizontal) is best. Videos are almost universally presented horizontally. That's how we watch them on TV and in movie theaters, so it's natural that a landscape mode would be most pleasing to the video watcher's eye.
When videos are filmed in portrait mode, the viewer must watch them with two large black bars on the side, instead of a full picture (unless, of course, they're watching on a platform like Snapchat or Instagram Stories).
Remember, because each social network has a unique audience, social videos must be optimized for different channels. A video that works on Facebook may need a serious edit before it can work on Instagram. And you might have to take an entirely different approach to video on Snapchat or Twitter.
More social networks are rolling out native video, demonstrating its growing value. Snapchat, Facebook, Instagram, and Twitter all have their own video features. And then there are the platforms whose main function is social video sharing, such as YouTube. For live streaming there's Periscope, YouTube, and Facebook, which has updated its News Feed algorithm to favor Live video.
Facebook explained in a blog post: "Now that more and more people are watching Live videos, we are considering Live videos as a new content type—different from normal videos—and learning how to rank them for people in News Feed."
7. Use an editing app to trim unnecessary stuff out
Perhaps the beginning of your video features the speaker preparing or hesitating. Maybe they stumbled over a few words or the audio quality was off. To showcase a professional looking video to your market, you'll need to edit those parts out.
If your editing needs aren't too complex—maybe you just want to compile a few clips together and then add some titles—iMovie, Windows Movie Maker, or the YouTube video editor will do the trick. But if you're hoping to edit something together that is more dynamic, try a program like Adobe Premiere Elements, Final Cut Pro X, or Sony Vegas.
When you shoot the video, consider using interesting angles so that when you go to edit it later, you will have a variety of shots to choose from.
8. Consider using subtitles or on-screen text
Although we'd like to think that the bulk of video watching goes on during leisure hours, the reality is most people watch videos at work. If the message of your video is not easily communicated through the action alone, you might consider adding subtitles. That way, whether or not the sound is on, the viewer can appreciate the story you're trying to tell
And let's not forget how often videos are watched without sound on social media—on Facebook it's 85 percent.
9. Aim to catch attention quickly
The first 30 seconds of a social video is what matters most, according to data from Wista. If you can hook your audience in the first 30 seconds of video, they are more likely to stick around and engage. So make it exciting, make it interesting, razzle-dazzle them.
10. Keep it short
A fascinating scientist giving an enlightening Ted Talk might earn hundreds of thousands of YouTube views with a 15 or 20 minute video, but for the most part, shorter is better. Twitter videos are capped at 30 seconds, Instragram has a 60-second maximum and Snapchat videos are capped at 10 seconds.
Once you get a handle on these quick video tips, you'll be in business. Keep in mind, you need to be able to answer the question "why will people share this video?" before you ever start producing it.
A good way to answer that question?
Listen to your social media followers. See what videos they're already sharing and analyze them. Let these successes inspire your approach to social video.
Use Hootsuite to upload, schedule, publish, share, and monitor your social videos from one platform. Try it free today.