If you've ever wondered how to reduce work stress when you manage multiple social media accounts for clients — or for your own business — you're in the right place.
In this post, we'll walk you through the easiest ways to manage, monitor, and collaborate on all the (many) social accounts you use every day.
How to manage multiple social media accounts
Bonus: Get a free guide that shows you 8 Ways to Use Hootsuite to Help Your Work-Life Balance. Find out how to spend more time offline by automating many of your daily social media work tasks.
The benefits of having multiple social media accounts
As you'll see later in this post, most people have more than one social media account. Why? For the average user, each network serves a different purpose.
For example, reading news stories is the third-most common reason for using social media.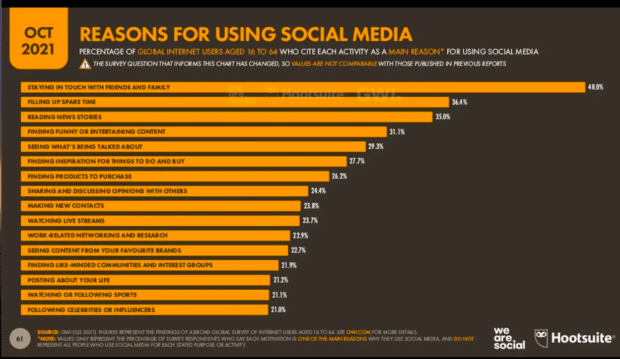 But that use does not apply equally across platforms. About 31% of U.S. adults regularly use Facebook to access news, but only 11% use Instagram for that purpose. Even fewer people (4%) use LinkedIn regularly for news.
For social media marketers, this means you need multiple accounts for different purposes. For example, LinkedIn might be your best choice for recruiting, Instagram for social commerce, and Facebook for building brand awareness.
But this will also depend on your target audience. Demographics vary substantially across platforms, so multiple social accounts allow you to reach a broader segment of the population. Here's a quick look at how social media demographics differ for American users: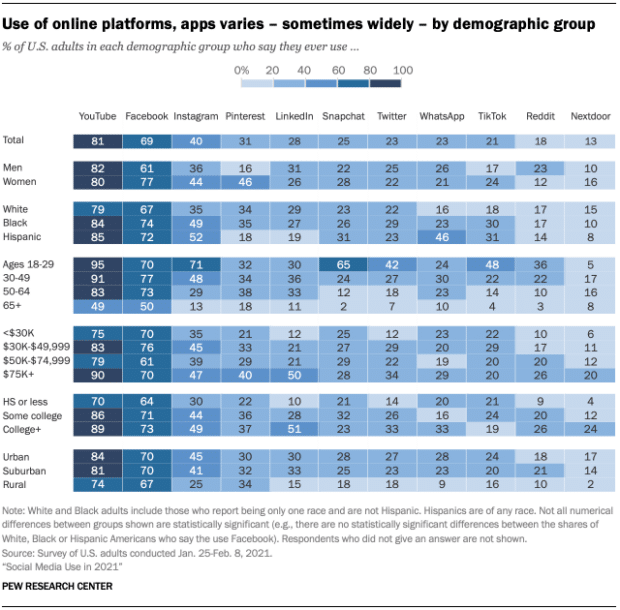 How many accounts should a social media manager have?
Honestly, there's no right answer to this question. It all depends on your audience and your goals. You can reach the vast majority of social media users by posting on one or two big social platforms. But which platforms you use — and how many — will vary.
As we just said, social network preferences vary by age, gender, and geography. The more demographic groups you're trying to reach, the more social accounts you'll need to reach them in the places they spend time online.
The size of your company also has an impact. A small business will likely start with one account per platform. But as you grow, you might need separate handles for, say, customer service and marketing. This is when it becomes critical to understand how to manage multiple social media accounts for business purposes.
The best approach is to start small and grow as you get more comfortable with your tools and brand voice. It's better to do a great job on a couple of accounts than a mediocre job on many.
How many social media accounts does the average person have?
The average person uses 6.7 social platforms every month and spends 2 hours and 27 minutes per day using social media.
Here's a look at how social media usage overlaps among platforms: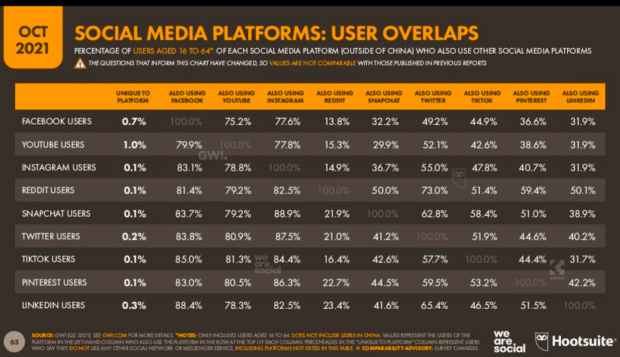 The best software to manage multiple social media accounts
We won't lie: Managing multiple social platforms can be tough. Things get especially risky when you're managing personal and professional accounts from the same device. Or, if you're thinking about how to manage social media accounts for multiple clients. You don't want to accidentally spark a PR disaster by sharing something on the wrong feed.
Trying to manage multiple social media profiles using different apps is also time-consuming and inefficient. The amount of time you spend opening and closing tabs alone adds up fast.
Fortunately, the right software can make the job much easier.
You won't be surprised to learn that we think Hootsuite is the best social media management platform for handling multiple accounts. Centralizing all of your social media activities in one unified dashboard saves a ton of time. It also helps keep you focused and organized.
Hootsuite allows you to:
Curate, publish to, and manage multiple social media profiles on different platforms.
Schedule content in advance and organize posts across accounts in an interactive calendar.
Respond to messages sent to all of your social profiles from one centralized inbox.
Create analytics reports that show results for all your social profiles in one place.
Understand the best time to post for each social account based on your own metrics over the last 30 days.
Edit a single social media post to customize it for each social account rather than cross-posting the same content everywhere.
Business accounts can manage up to 35 social profiles in the Hootsuite dashboard.
If you tend to work on the go or on a mobile device, Hootsuite also offers the best mobile app to manage multiple social media accounts. Like the desktop version of Hootsuite, the app allows you to compose, edit and post content to multiple social profiles, all in one place.
You can also review and edit your content schedule, and deal with incoming messages and comments on all your social accounts from your unified inbox.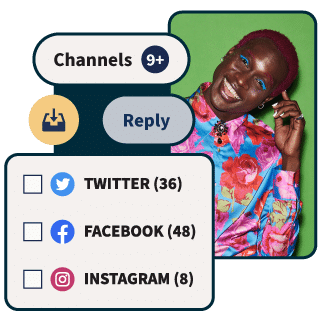 Reduce response time (and your workload)
Manage all your messages stress-free with easy routing, saved replies, and friendly chatbots. Try Hootsuite's Inbox today.
Book a Demo
How to manage multiple social media accounts (without crying)
Here are some key ways to minimize your workload and maximize the time you have to spend on quality content (and self-care).
We've already talked a little bit about why it's risky and time-consuming to manage multiple social media accounts through individual apps. Combining everything into one social dashboard is just a huge time-saver.
Using a social media management tool also allows you to work on all your social profiles from your laptop or desktop computer, rather than from your phone, making it physically easier to work using a keyboard and monitor rather than hunched over a tiny screen typing with your thumbs. (After all, no one wants to get text neck or texting thumb.)
In Hootsuite, you can manage accounts from:
Twitter
Facebook (profiles, pages, and groups)
LinkedIn (profiles and pages)
Instagram (business or personal accounts)
YouTube
Pinterest
2. Automate your busywork
The act of actually posting content to each social network can become quite disruptive if you do it multiple times throughout the day. It's much easier to create content in batches and schedule it to post automatically at the right times (see the next tip for more on that front).
Use Hootsuite to schedule posts in advance or bulk upload up to 350 posts at once.
It's also a huge time suck to pull analytics individually from each social platform. Instead, set up Hootsuite Analytics to automatically send you cross-platform analytics reports each month.
3. Post at the right times and frequency for each network
We talked earlier about the different demographics of different social platforms. And the different ways people like to use those platforms. That means each network has its own ideal posting times and frequency.
The last thing you want to do is spend time creating too much content for any given platform. Give people what they want, not so much as to scare them away.
To start figuring out which times to post at, check out our blog post on the best times to post on Facebook, Instagram, Twitter, and LinkedIn. But remember that these are just averages. The exact best times and frequency to post on each of your social accounts will be unique to you.
A/B testing can help you figure this out, as can various analytics tools. Or, you could let Hootsuite figure this out for you with its customized Best time to publish feature.
If you happen to discover your ideal posting time is 3 a.m. on Sundays, you'll be extra-glad you already implemented tip 2 to automate your posting so that you can get some much-needed sleep.
4. Engage in some tasteful cross-posting
We've tried to hammer home that audiences and their preferences vary across social platforms. This, of course, means that cross-posting the exact same content to each platform is not a great idea. Never mind that varying word counts and image specifications can make your post look wonky if you use an everything-everywhere approach.
That said, you don't need to reinvent the wheel for every platform. As long as you adjust a post appropriately, content based on the same assets can be shared across multiple social networks.
The Hootsuite Composer allows you to customize one post for each social network, all from one interface, so it speaks to the correct audience and hits the right image and word properties. You can also add or remove hashtags, change your tags and mentions, and switch out the links.
Time = saved.
5. Curate and repost ⅓ of your content
Odds are, people in your industry — maybe even your customers — are creating content that would look great on your social feeds. We are absolutely not saying you should simply take it and use it. (Please don't do that.)
But it is a great idea to reach out and connect with these creators to ask if you can share and amplify their content. You can even use strategies like contests and branded hashtags to collect user-generated content to fill out your feed.
Or, on the thought leadership front, share a link to an insightful piece relevant to your industry, along with a quick summary of your thoughts. Content curation is a useful way to bring valuable information to your audience while building connections with leaders in your industry (and, of course, saving time).
6. Use templates for content creation
A recognizable brand look and voice are important for building your following on social media. Templates reduce the amount of effort needed to create a new social post while ensuring your content is always on-brand.
The Hootsuite Content Library allows you to save pre-approved templates and other brand assets so you can create new content in just a couple of clicks.
https://www.youtube.com/watch?v=G4LoyLQEpc8&feature=youtu.be
We've also created lots of templates you can use with or without Hootsuite. This post of 20 social media templates includes a lot of strategy, planning, and reporting templates, but there are also content templates anyone can use for:
7. Put aside time for engagement
Engagement is a critical part of building — and keeping — a social media following. Don't forget to build time into your daily schedule to respond to comments, mentions, tags, and DMs. Seriously, put this in your calendar every day and block off the time to put the "social" in your social media accounts.
Of course, it's a lot faster when you can do all your audience engagement from one central dashboard rather than platform-hopping. Plus, using software to manage multiple social media accounts ensures you never miss out on key opportunities to engage with your audience.
You don't want to spend your lunch break (always take a lunch break) worrying about whether you forgot to check DMs on one of your accounts or missed an important comment.
With Hootsuite Inbox, you can bridge the gap between social media engagement and customer service — and manage all of your social media messages in one place. This includes:
Private messages and DMs

Public messages and posts on your profiles

Dark and organic comments

Mentions

Emoji reactions
… and more.
The all-in-one agent workspace makes it easy to 
Track the history of any individual's interactions with your brand on social media (across your accounts and platforms), giving your team the context needed to personalize replies

Add notes to customers' profiles (Inbox integrates with Salesforce and Microsoft Dynamics)

Handle messages as a team, with intuitive message queues, task assignments, statuses, and filters

Track response times and CSAT metrics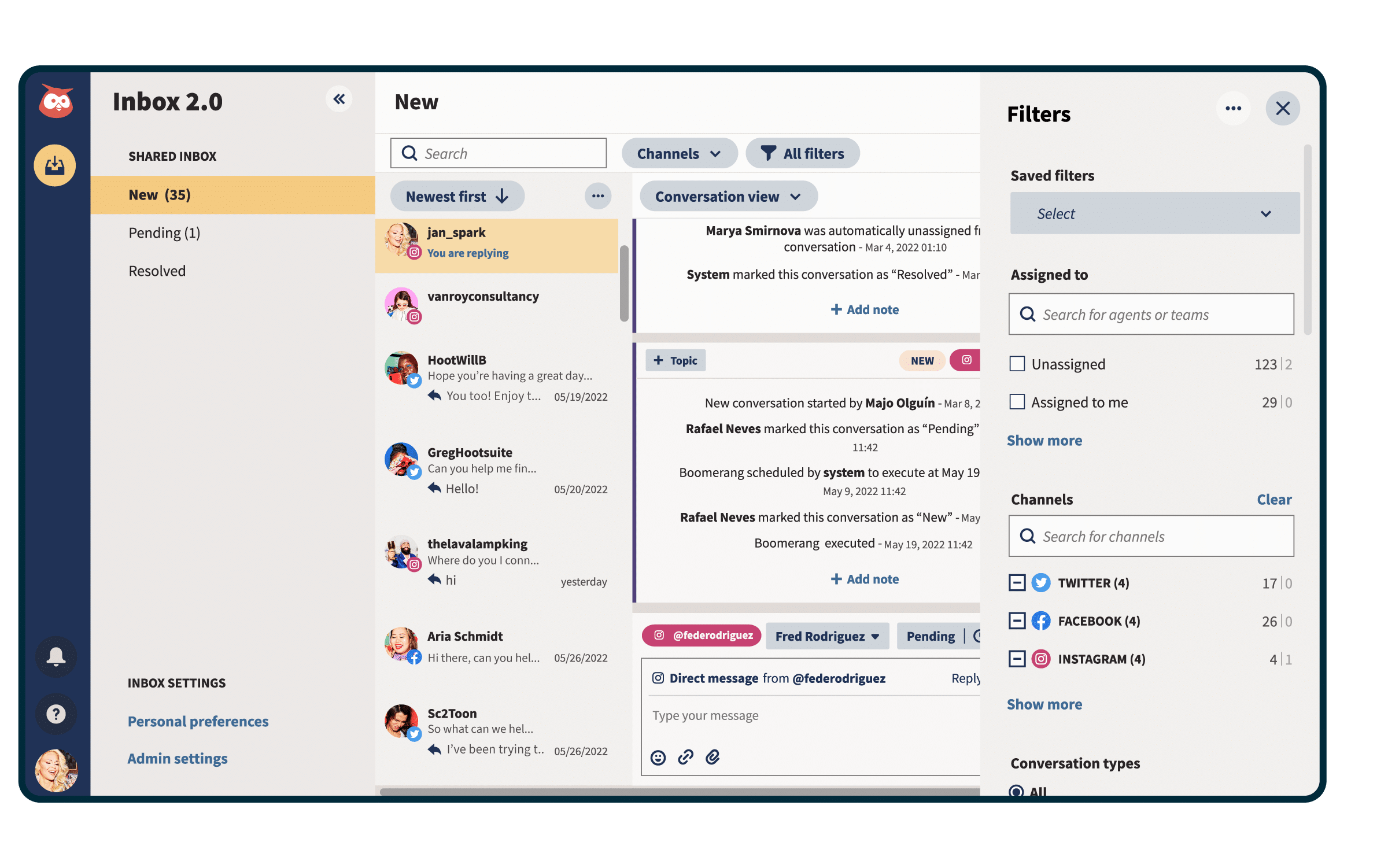 Plus, Inbox comes with handy automations:
Automated message routing

Auto-responses and saved replies

Automatically triggered customer satisfaction surveys

AI-powered chatbot features
8. Make collaboration easy
Realistically, there is only so much any one person can do. As your workload grows, collaboration becomes increasingly important.
A social media dashboard makes collaboration easy by allowing team members exactly the access appropriate to their role, with built-in approval workflows and password management.
You can also use Hootsuite to assign public and private social messages to other team members, so nothing slips through the cracks. And you'll always be able to see if someone is trying to contact you through multiple social channels, so you can make sure to provide a consistent response.
Even better, set yourself up to collaborate with bots designed to answer basic customer queries. Heyday allows you to answer up to 80 percent of customer queries automatically.
9. Unify your analytics
Each of the social media platforms has its own built-in analytics tools. But an analytics program is your best bet when planning how to manage multiple social media accounts for business goals and reporting. For a full understanding of multiple social media accounts, you need a unified report.
Hootsuite Analytics uses templates that allow you to create multi-platform reports quickly, or you can use the custom reporting tools to build reports with the specific metrics that matter most to your organization.
You can also get a picture of your paid and organic social media reporting all in one place.
And, as we mentioned above, you can set Hootsuite Analytics to send you a report automatically every month, so there's one less thing on your to-do list.
Social media tools are not the only business tools in the social media manager's toolbox. Odds are you use third-party tools for tasks like project management, image editing, customer support, and more.
The Hootsuite App Directory includes more than 250 apps and integrations that can help simplify your workday and consolidate everything you need in one place.
https://www.youtube.com/watch?v=dzGwQ05-ouY&feature=youtu.be
Save time managing multiple social media accounts with Hootsuite. From a single dashboard, you can publish and schedule posts, find relevant conversions, engage the audience, measure results, and more. Try it free today.
Do it better with Hootsuite, the all-in-one social media tool. Stay on top of things, grow, and beat the competition.
Free 30-Day Trial