How to Set Up and Use Hootsuite Teams
Mike Allton is an Internet Marketing Consultant and certified HootSuite Solution Partner. This article, on how to schedule social media posts, is the fourth in a series on making the most of your HootSuite account and was originally published on The Social Media Hat. View the original here.
What are HootSuite Teams?
HootSuite allows businesses to create a hierarchy of structure and functionality within the dashboard in order to facilitate internal communication and workflow. HootSuite's Team structure is comprised of Organization, Teams, Team Members and Social Profiles.
Organization: this is the highest level entity in HootSuite and would typically represent your entire business and account. An Organization contains Teams, Team Members and Social Profiles.
Teams: these are groups of users collaborating together on various Social Profiles within an Organization.
Team Members: these are users invited to manage Social Profiles within a Team.
HootSuite account administrators can completely tailor their organization by creating and customizing Teams, shuffling and assigning Team Members, and adding and arranging Social Profiles to best suit your needs.
With this structure in place, administrators can manage a variety of Teams and permission sets. The permission levels are very granular, but default permissions can be set and applied to each new Team Member as they are created.
New Teams can be be created on the fly, and multiple Teams can be merged if needed.

How to Create HootSuite Teams
To get started, you first have to have one or more Organizations. Go to your Profile within the HootSuite Dashboard and click on Start Collaborating. This will get you started on creating your first Organization. You can specify a name for the organization (typically your business), and you can select all possible Social Profiles that are associated with that Organization.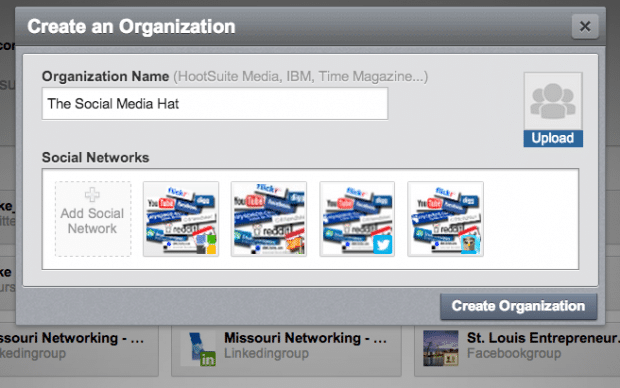 Once finished, you'll see your Organization control center that displays all of your Teams, Team Members and Social Profiles. Initially, it will be just you, and you'll have no Teams. You can add more Team Members by clicking on the Invite Members tab and inserting their email addresses. If you have Teams already set up, you can assign them to appropriate Teams immediately.
To begin creating Teams, simply drag one or more Team Members into the Teams area, or click on Add a Team. Similar to your Organization, you will be prompted to create a Team name, and to assign relevant Social Profiles. Again, this is where Team functionality is so appropriate, as your Marketing Team may not need access to the same social networks and accounts as your Customer Service Team.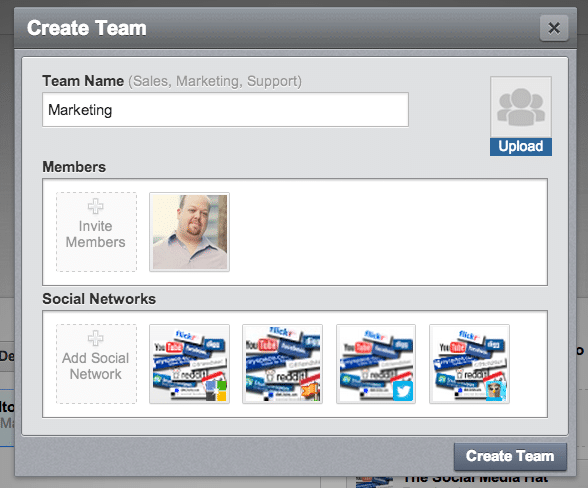 You can create multiple Organizations and switch back and forth as needed using the selector in the upper left corner. Within each Organization, you can add and edit your Teams, Team Members and Social Profiles easily. Each Team, Team Member and Social Profile has a settings icon in the upper left corner if you mouseover that entity that gives you access to manage assignments and permissions.
HootSuite Message Assignment
As mentioned, if one Team Member sees a tweet or status update that another Team or Team Member needs to see and respond to, they can Assign that Message to whomever it would be appropriate. This initiates an internal workflow where the initial message, assignment and resolution is all documented, and your HootSuite administrator view and monitor assignments as needed.
HootSuite Conversations
HootSuite includes an internal chat system for Teams and Team Members that they can use to communicate with each other without having to leave the HootSuite dashboard. While great for team communication, particularly for remote teams, the real value is in it's integration with the rest of HootSuite.
Team Members can send any tweet or message from any connected social network into a Conversation. Teams can then discuss the message, like or retweet or even broadcast back out to social networks.
Using Conversations, Teams can discuss issues or opportunities that come up on social media, come up with a plan of action and response, and then implement it. With the breakneck pace at which social network communication flies, being able to quickly identify, collaborate and respond to such messages can be critical.
Free versus Pro
Teams are a feature that is only found within the HootSuite Pro and Enterprise editions.
Your HootSuite Pro account includes 1 Team Member and up to 9 more can be added. The plan also includes up to 50 social profiles. If you need more users and/or profiles, HootSuite Enterprise is a great option.
Examples and Uses
Businesses who have a Marketing Department and a Customer Service Department might share the same Facebook Page with both department Teams, but have a separate Twitter account just for "help". Whenever the Marketing Department monitors a customer service issue where the client mentioned the primary Twitter account, the tweet can be forwarded to the Customer Service Team and they can respond and assist using their Twitter account.
Corporations who have a CEO and other C-level individuals and plan to use HootSuite for managing their personal social networks can isolate those networks to an Executive Team and leave the branded accounts for the Marketing Team.
Companies can use a Business Development Team that is assigned sales leads that come in as comments and responses to social network status updates, and the Team can be given access to the networks and profiles most appropriate for lead generation and business development. For instance, such a Team may need access to LinkedIn profiles, company pages and groups, but not a branded Facebook Page.
Agencies and Individuals who want to use a single HootSuite account to manage multiple businesses and brands can use Teams to represent each different brand, and connect and assign that brand's profiles accordingly. Though my personal preference is to set up a new HootSuite account for each business that way have complete ownership and control over the HootSuite profile.
These are the ways businesses can use HootSuite Teams to complement internal organizational structure and ensure consistent levels of communication and campaign management.