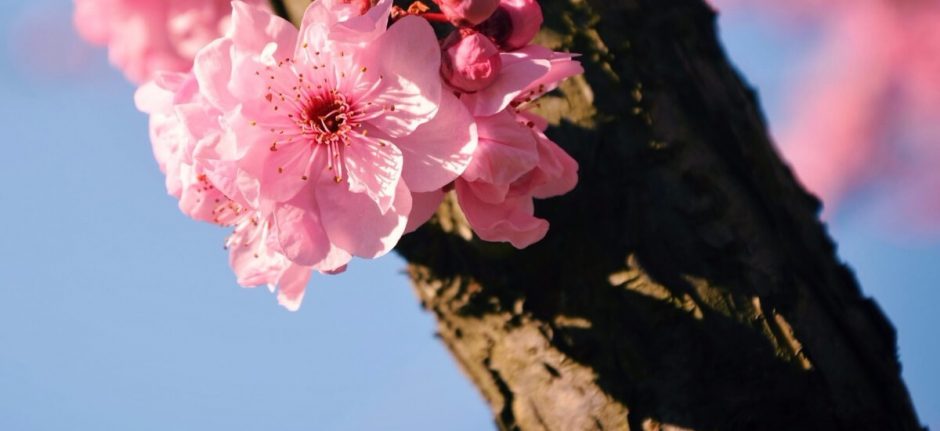 Social Media News You Need to Know: April 2017 Roundup
April was a busy month for news updates—especially for Facebook, who announced a ton of new features and initiatives at their F8 conference.
For the tl;dr, watch the live video below highlighting a few of our favorite updates.
Let's get to it.
Table of contents
Twitter
Location sharing in DMs
On April 3, Twitter announced a new customer service feature for businesses: the ability to request and share locations in Direct Messages. When a business requests a location in a conversation, the person they're talking to will have the option to ignore the request, share a precise location, or pick a place name from a list.
Starting today, businesses can request and share locations when engaging with people in Direct Messages. https://t.co/rpYndqWfQw

— Twitter Marketing (@TwitterMktg) April 3, 2017
Twitter Lite
On April 6, Twitter introduced Twitter Lite, a pared down version of the mobile web experience intended for emerging marketings. Twitter Lite is designed to minimize data usage, load quickly on slow connections, work well on unreliable mobile networks, and take up less than 1MB of storage. It is available globally.
Twitter Lite is a faster, data friendly way for people to use Twitter to see what's happening in the world.

???? https://t.co/AIUgyCAFj0 pic.twitter.com/9EIG7pgK6O

— Twitter (@Twitter) April 6, 2017
Customer Periscope hearts
On April 10, Twitter introduced custom hearts for live and on-demand Periscope video. The new offering gives brands an opportunity to add more branding to their Periscope broadcasts through custom graphics that are activated using a specific hashtag.
In-stream video ads
On April 18, Twitter rolled out In-Stream Video Ads. Brands can now run In-Stream Video ads—including pre-roll and mid-roll ads—to align with videos from Amplify partners (including TV networks, sports leagues, publishers, and more).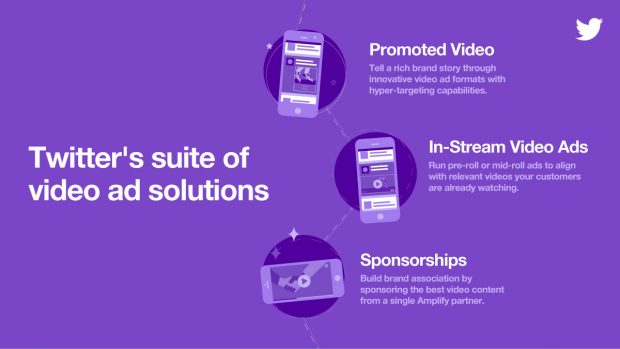 Facebook
Testing free version of Workplace
At the beginning of April, Facebook began testing a free version of Workplace, reported CNBC.
Workplace, the social network's enterprise-focused collaboration offering, originally launched in October 2016 after beta testing with select companies.
The new offering will be called Workplace Standard, while the paid option will be renamed Workplace Premium. Facebook product manager Simon Cross told CNBC that the company hopes the new option will entice companies to test out the product, perhaps within a team or department, before committing to Premium.
Additionally, it makes it easier for smaller companies and those in emerging markets to give it a try.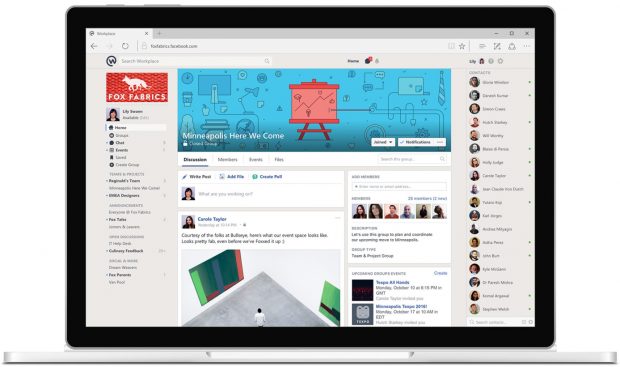 Rocket icon
At the beginning of April, some Facebook users started spotting a rocket ship icon in the mobile app, reported Mashable. Positioned next to the main News Feed icon, the rocket ship shows users popular posts from people and Pages they haven't friended or liked.
A Facebook spokesperson told Mashable: "We are always working to make sure people see the most relevant stories that they care about, but sometimes people haven't liked a Page they may be interested in. In order to help people find relevant stories that might not currently be in their News Feed, we are testing this separate feed."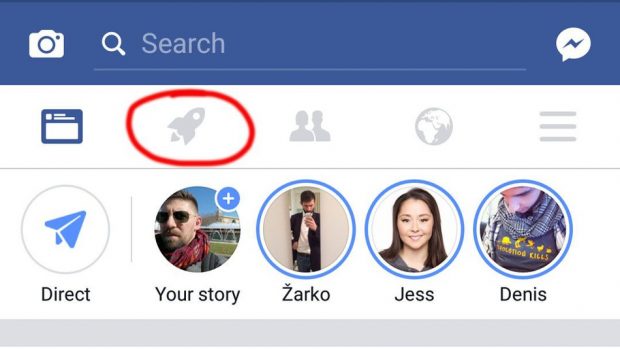 Canvas API
On April 3, Facebook introduced an API for Canvas ads, reported Marketing Land. Advertisers can now create Canvas ads through third-party software tools. Previously advertisers had to create each Canvas ad individually through Facebook's desktop site.
Through the API, marketers can select media—such as photos, videos, text, and product sets—from an already uploaded catalogue and reuse previously created Canvas ads, making the offering more accessible to more advertisers.
Tools to deal with 'revenge porn'
On April 5, Facebook introduced tools to help users deal with "revenge porn." The tools will help victims (and other users) report intimate images shared on Facebook without permission.
Reports will undergo a review process by Facebook's Community Operations team and be dealt with accordingly.
The social network will also use photo-matching technologies to thwart further attempts to share the image on Facebook, Messenger, and Instagram.
Facebook has partnered with safety organizations to offer resources and support to victims of these behaviors.
Ads insights
On April 6, Facebook introduced new and redesigned insights for ads: Delivery Insights and Estimated Daily Results.
The redesigned Delivery Insights feature now provides in-depth auction metrics, guidance for interpreting fluctuations in performance, and trends in an ad set's impressions, amount spent, results, and cost-per-result as well as auction metrics to explain those trends.
Estimated Daily Results is a new feature that will give advertisers estimates on the results they can expect to see in a day, factoring in things like budget, audience, bid amount, and placements selections. It can be viewed as a budget curve or slider bar.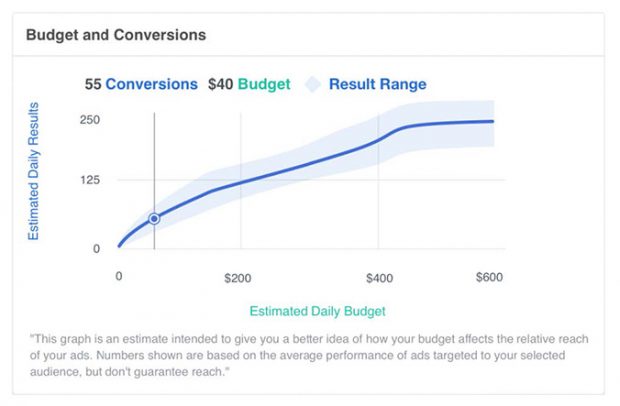 False news education tool
On April 6, Facebook announced that they're partnering with nonprofit First Draft to roll out an education tool aimed at helping users spot false news.
The tool will provide information and resources in the Facebook Help Center, including tips on how to identify false news, such as checking the URL or investigating the source. The tool will be featured at the top of News Feed for several days for users in 14 countries.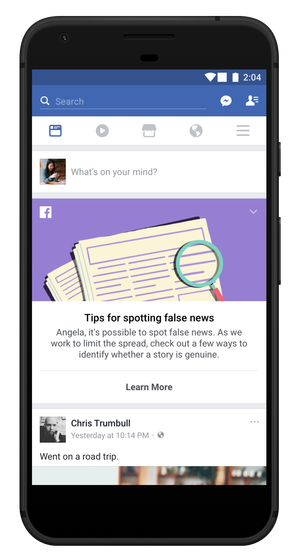 Suggestions for Messenger assistant M
On April 6, Facebook announced the launch of suggestions from M, the company's AI Messenger assistant. M suggests helpful actions in chat in order to expose users to features they may not be aware of.
M recognizes intent in a conversation and will include suggestions such as stickers, payment requests, location sharing, and more. The feature is available to all iOS and Android users in the U.S. and will roll out to other countries in the future.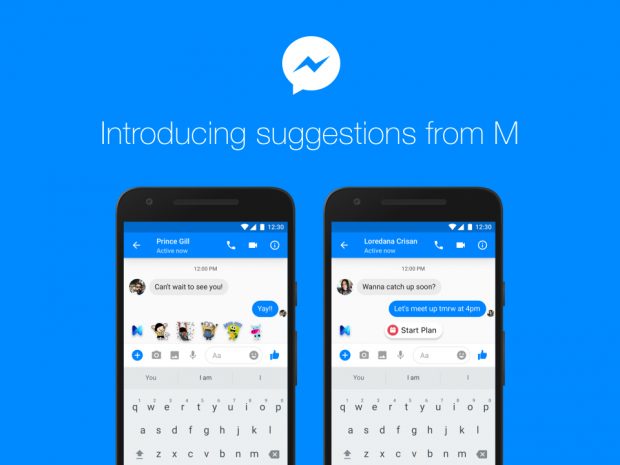 New tools for small businesses
On April 10, Facebook announced new tools for small businesses.
Facebook is expanding single inbox to desktop. Originally released in November 2016, single inbox allows businesses to manage communications across Facebook, Messenger and Instagram from a single unified inbox. It's now available within both the Pages Manager App and on desktop.
The social network has also launched a site dedicated to the Facebook Small Business Council. The site features stories from more than 40 businesses across a variety of industries and regions.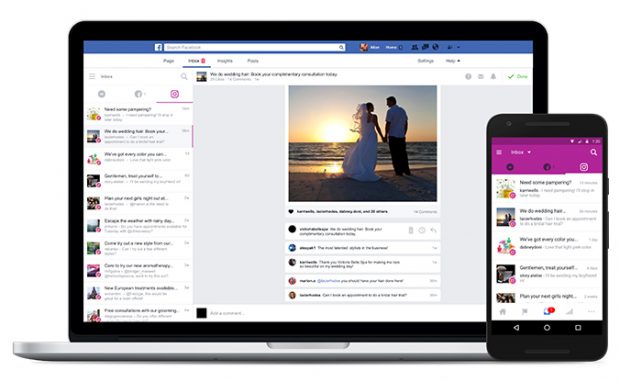 Group payments in Messenger
On April 11, Facebook introduced group payments on Messenger. While this functionality was previously available for individuals, this is the first time it's been available for group chats. It's available on Android and desktop.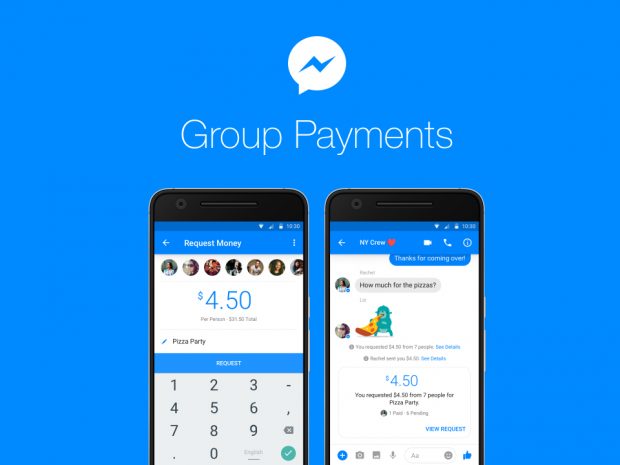 Facebook Spaces
On April 18, Facebook introduced Facebook Spaces, a new VR app. Spaces gives users the chance to hang out with friends in a virtual environment.
Users can upload a photo and customize their VR appearance, draw with virtual markers, relive personal memories from their own Timeline, make calls to "the real world" using Messenger video calling, and more.
Spaces available in beta for Oculus Rift and Touch.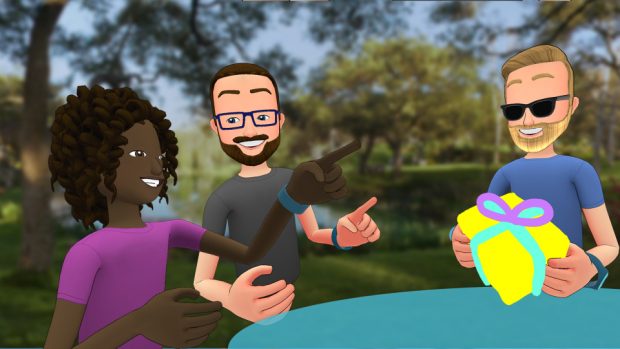 Messenger updates from F8
On April 18, during F8, Facebook announced several updates to Messenger:
Discover tab to make it easier for people to find businesses they care about in Messenger
Messenger codes will enable people to find out more about a bot for Messenger when they spot the code in the real world
Chat extensions to enable multiple people to chat with the same business at the same time by adding a bot (like Spotify, TheScore, or OpenTable) to a group thread
New rich gameplay making it easier to challenge friends to a game in Messenger, as well as adding game bots and turn-by-turn games
Smart replies to help Pages respond to frequently asked questions that small businesses receive, such as business hours, directions, and contact details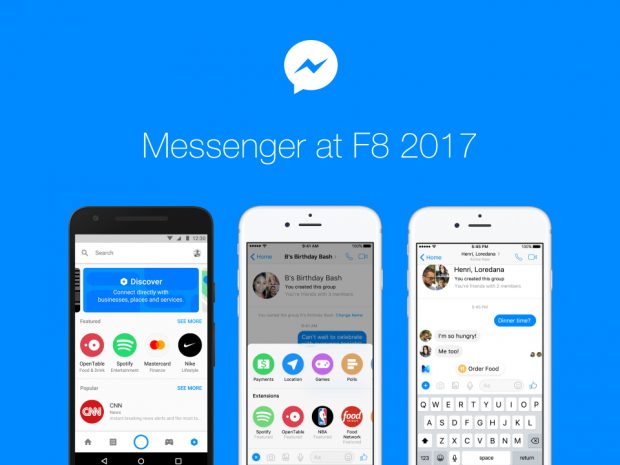 Augmented reality camera effects
On April 18, Facebook launched the Camera Effects Platform, making it possible for artists and developers to create their ow
n effects—masks, frames, interactive filters, and fresh art—for the Facebook camera.
Along with this announcement comes the launch of two new creative tools: Frame studio and AR Studio, giving people the ability to create a full spectrum of camera effects from simple frames to interactive augmented reality (AR) experiences.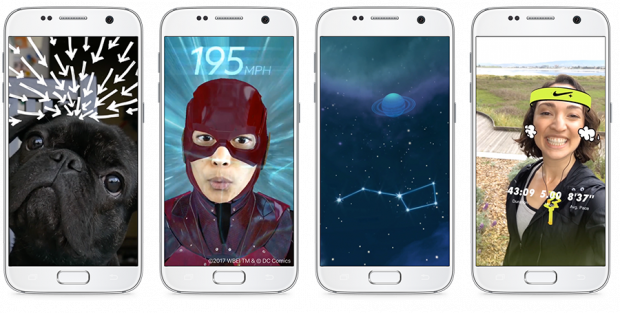 Workplace updates
On April 19, Facebook announced several new updates for Workplace, the company's enterprise-focused professional offering:
New integrations with enterprise cloud services—such as OneDrive, Dropbox, and others—to make it easier to share, preview, and organize files
The ability for Workplace customers to build bots to improve day-to-day workflows in both groups and chat
Support from bot platform partners, such as Converse, PullString, and The Bot Platform
Security and compliance integrations via partnerships with cloud compliance, e-discovery, and data-loss prevention providers, such as Disco and Smarsh
Workplace Live API and production partners
Related articles
On April 25, Facebook began to test Related Articles that appear before users read an article shared in News Feed. While Related Articles have existed in Facebook since 2013, they typically appear after people read an article.
With the new test, the additional articles will appear in a unit below the link prior to a user opening it. In a newsroom post, Facebook explained that they "should provide people easier access to additional perspectives and information, including articles by third-party fact-checkers."
Dynamic Ads for Travel expanded
On April 27, Facebook expanded Dynamic Ads for Travel to include flights. Released last year, Dynamic Ads for Travel give advertisers a way to promote hotels and destinations across devices to people booking trips. The ads can be based on things like location and time.
Now flight advertisers can promote flight inventory by route and schedule based on when and where people want to go. The new offering is available for advertisers globally across Facebook, Instagram, and Audience Network.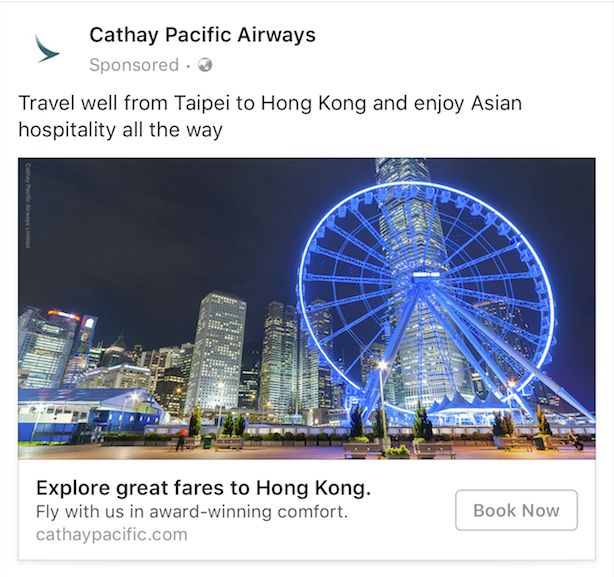 Instagram
New direct messages
On April 11, Instagram made an update to Direct, enabling users to make their conversations more visual. Text and reshares will now appear in the same thread as disappearing photos and videos for a more seamless experience.
Stories and Direct updates
On April 13, Instagram introduced five new updates for Stories and Direct:
1. Selfie Stickers—users can now capture a mini-selfie, which they can turn into a sticker and add anywhere on their Instagram Story or to disappearing messages in Direct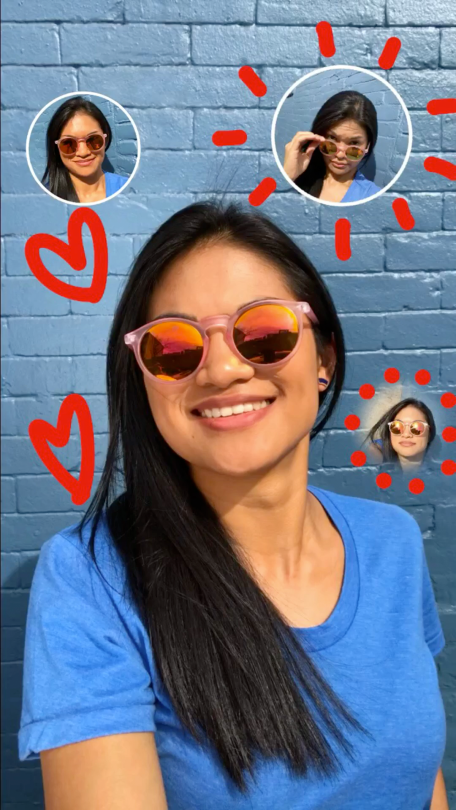 2. Pinning—users can pin stickers, text, and selfie stickers to a specific spot in a video or Boomerang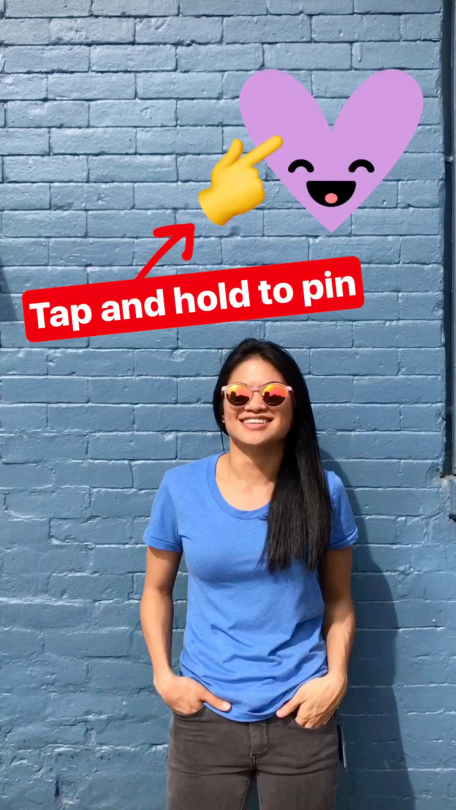 3. Geostickers—Instagram has added geostickers in four new cities: Chicago, London, Madrid, and Tokyo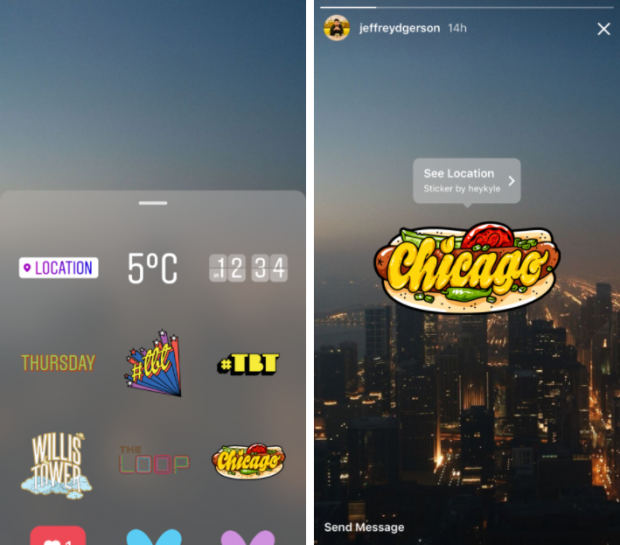 4. Shortcut to favorite stickers—once you tap the smiley to add a sticker to a Story or disappearing message, swipe right to see recently used stickers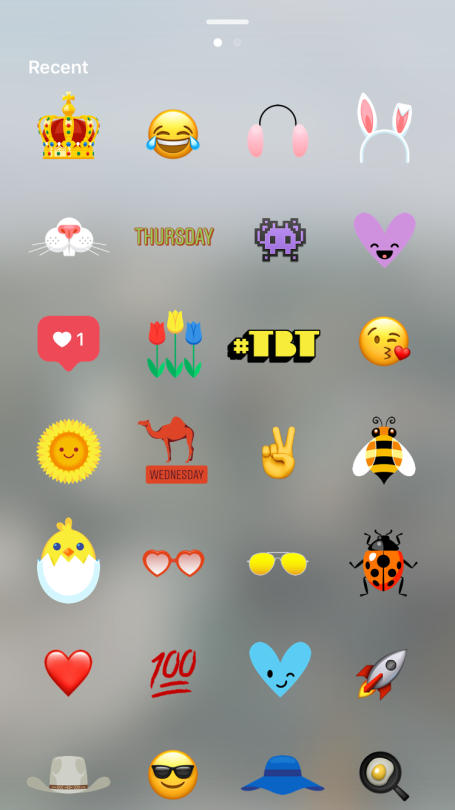 5. Hands-Free countdown—when recording a video using Hands-Free mode, users can tap and hold the button to see a timer that counts down to when the video begins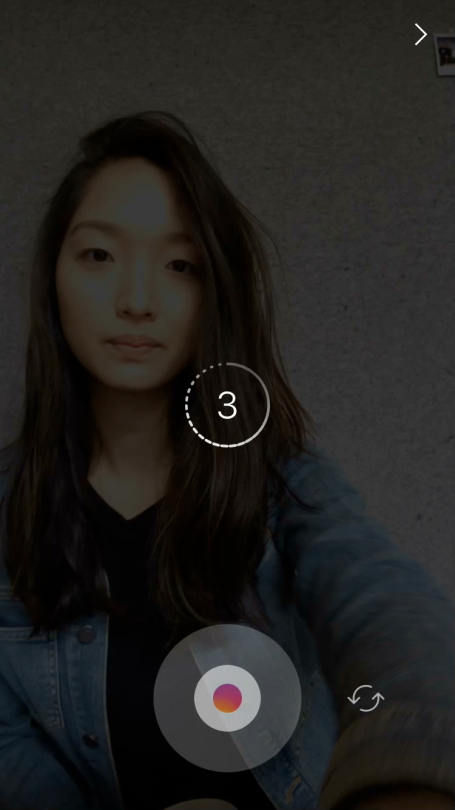 The updates are available for iOS and Android.
Collections
On April 17, Instagram rolled out collections, a way to organize saved posts. Users can tap the bookmark icon underneath any post to save or tap and hold to save it directly to a collection.
When users save a post, they can create and name a new collection or add the post to an existing one.
700 million users
On April 26, Instagram announced that their community had grown to more than 700 million users.
Pinterest
Android shortcuts
On April 3, Pinterest introduced app shortcuts fom Android. When users long press the app icon, they'll see four shortcut options:
Lens—discover ideas inspired by anything users point their camera at
Explore—see which ideas are trending today
Saved—jump right to a saved idea
Search—type in a search to find new ideas
Users can move their most used shortcuts to their home screen. Available for Android 7.1 or higher.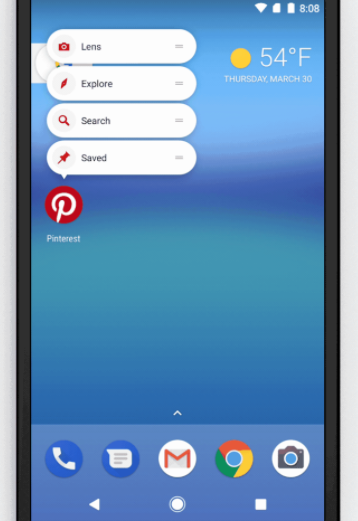 175 million users
On April 5, Pinterest announced that they'd hit 175 million active monthly users.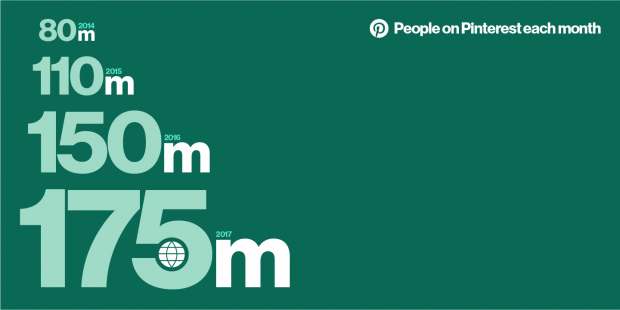 Retiring 'Like' button
On April 20, Pinterest announced plans to retire the like button, stating that because the platform has both a save button and a like button, it hasn't always been clear how the two were different.
The platform says they'll move any Pins a user has liked to a new secret board called "Your Pinterest Likes." The change will happen in the coming weeks.
YouTube
YouTube Go beta in India
On April 4, YouTube launched YouTube Go beta in India. The app is the platform "reimagined for the next generation of YouTube users." It features video recommendations tailored to user preferences, is designed to be offline first, gives users more control over data usage, and allows for easier video sharing.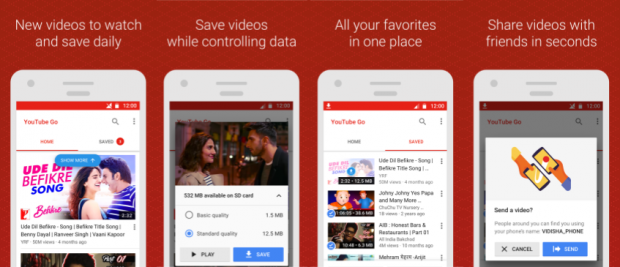 YouTube TV
On April 5, YouTube rolled out YouTube TV. Originally announced in February, YouTube TV is a new cable-like TV service that offers streaming from more than 40 networks. Priced at $35, YouTube TV is currently available in the U.S.'s largest metro areas—New York, Los Angeles, San Francisco Bay Area, Chicago, and Philadelphia—with more markets coming soon.
YouTube is offering a one month free trial for new users as well as a complimentary Google Chromecast after a user's first month's payment.
YouTube Kids app
On April 25, YouTube expanded the YouTube Kids app to select smart TVs. Previously offered on phone and tablet, YouTube Kids will now be available on LG, Samsung, and Sony smart TVs in the 26 countries where the app has launched.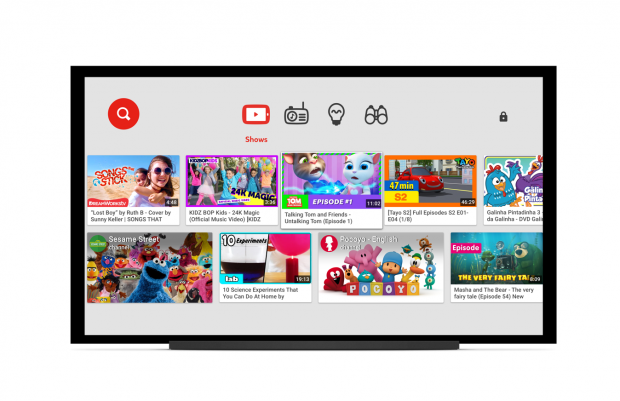 LinkedIn
Lead gen forms
On April 4, LinkedIn introduced LinkedIn Lead Gen Forms, a new way to collect quality leads. Because LinkedIn Lead Gen Forms use seamless pre-filled forms, they're easier for people to complete on mobile devices.
Once someone submits a form, the user collecting leads will receive a comprehensive lead record including the person's name, contact info, company name, seniority, job title, location, and more.
LinkedIn explained: "Because this lead data comes from the member's up-to-date LinkedIn profile, it is typically more accurate and complete than what you'd get from traditional website forms—where people can enter false or partial information."
Messaging updates
On April 13, LinkedIn made several updates to messaging:
Message from anywhere—users can now message professional connections from anywhere on the LinkedIn desktop experience
Insights to start conversations—to make job searching easier, LinkedIn has added relevant suggestions within messaging on Jobs and Company pages to help users start a conversation, like displaying which of the user's connections work there
One-tap replies—when messaging on mobile, users can choose from auto-generated message replies such as "Thanks" or "I'll get back to you"
PointDrive
On April 18, LinkedIn released PointDrive, new functionality inside of Sales Navigator that offers a more professional way to deliver personalized content in order to drive engagement between buyers and sellers.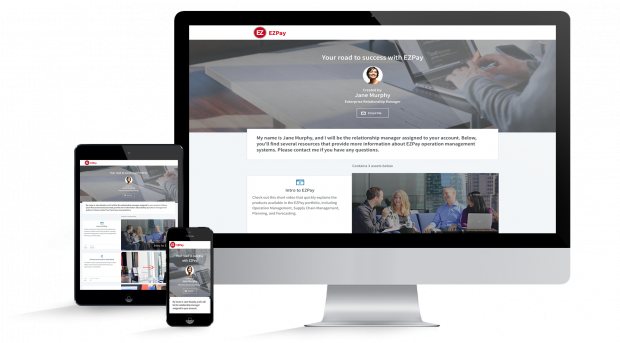 500 million members
On April 24, LinkedIn hit 500 million users.
Hootsuite
Integration Fund and new developer program
On April 26, Hootsuite launched a new $5 million Integration Fund and a new developer program to support enterprise app development.
Snapchat
World Lenses
On April 18, Snapchat introduced World Lenses, a new way for users to engage with Lenses. World Lenses let users activate their rear-facing camera to interact with their environment using augmented reality.
Social media moves fast and keeping up with the rate of change—new platforms and shifting best practices—can be tough. Learn the fundamental social media marketing skills you need to stay ahead of the pack with free training from Hootsuite Academy.